Is your garden covered in leaves and debris? Thanks to some tall trees and some active kids, it happens often in mine! That's where the right garden vacuum can come in real handy. I set out on a mission to test and review some of the UK's top models, seeing not only how well they vacuumed, but how well they shredded and mulched the debris too. After extensive analysis the model that impressed me the most was the Bosch Universal Garden Tidy Leaf Blower & Garden Vacuum. Find out why I think it's the best choice below.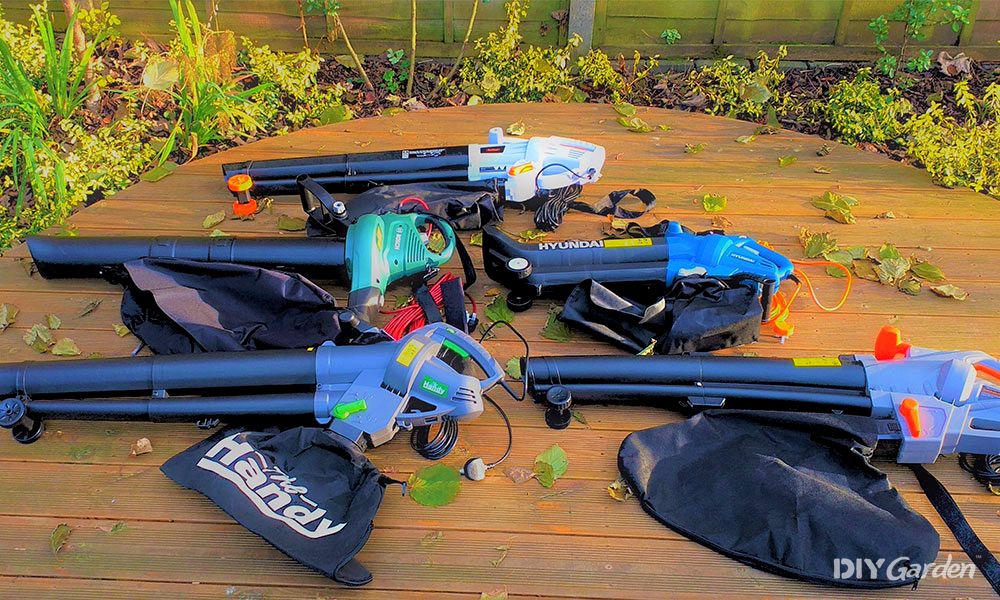 My Top Recommended Garden Vacuums
How I Tested
Product Tester:
I tested some of the best garden vacuums to determine their rank based on assembly ease, design, performance, power, ease of use, safety, and value for money. Here's how I tested these fundamental aspects of each garden vacuum:
Assembly Ease: The designs that could be assembled within 15 minutes or that came pre-assembled were rated as better for the everyday gardener. For some garden vacuums, I had to bang the parts against the ground to connect them because they were so stiff, so those were marked down, as this could be tough for many gardeners. Instructions that were less detailed and didn't have pictures were rated down, as these were much trickier to assemble.
Design: I assessed each model's design and how this impacted its ease of use and performance, with more fiddly models being marked down. I also considered whether the garden vacuums were made from high-quality parts and could withstand heavy use. And I checked the positioning and effectiveness of functional features such as handles, shoulder straps, wheels, and power dials or buttons.
Performance: I tested each model's suction, blowing, and mulching functions. I assessed how well each garden vacuum did for each setting, trying them over different surfaces and materials, such as tables, tight corners, gravel, wet and dry leaves and sheets of newspaper. I checked the width of the suction tube and assessed whether it ever experienced blockages when in use. The model that got blocked was marked down, as you don't want a garden vacuum that blocks easily!
Power: Models with adjustable power settings were more versatile, making them better for everyday use, so these were rated higher than single-power models. Models with 3000+ watts are typically considered better for garden use. However, if it was less powerful, I tested whether the manufacturer made up for this with a clever design or greater efficiency.
Ease of Use: Models that weighed more than 4 kg were marked down as these may be too heavy for people with medium or large-sized gardens. If it weighed more than this, I checked the design for wheels or a sturdy strap to help manage the additional weight. Some models also had handy features like quick-release collection bags, which made them easier to use. I tested these to see how much mess they left when I removed them from the garden vacuum itself. I also tested the balance between how compact and lightweight each model was by trying them out in different garden sizes.
Safety: Safety is key, so I made sure to test all aspects of the garden vacuums for safety. Designs where the motor only starts up when all the elements were safely in place were marked higher, and those with an on/off switch were given top marks as those that didn't would start immediately as you plug them in. Additional features like a thermal cut-out switch or automatic power cut-out when you let go of the trigger were also given top marks.
Value for Money: The 3-in-1 blower, vacuum, and mulcher models were the best value for money, as they offered 3 functions in one tool. When I tested value for money, I considered what features you got with each model and how helpful these features were. I assessed whether the models with power adjustment settings, ergonomic handles, straps, and a good balance between weight and performance were still affordable, and those that ticked the most boxes were given higher marks.
My Product Reviews & Opinions
Compare Product Features Here
Use the dropdown to sort the table by the feature that's most important to you.


Our score
3 in 1?
Power
Shredding Ratio
Max. Blow Speed
Weight
Collection Bag
Cable Length
Tips For Buying a Garden Vacuum
The best garden vacuum will offer 3-in-1 functionality

, allowing you to vacuum, blow, and mulch. However, if that's a bit more complicated than what you're after, machines with a vacuum-only function are still great for garden tidying.

One tip to bear in mind, if you choose a multifunctional machine, is that it will be less time consuming if you don't have to switch nozzles to change between vacuum and blow functions. However, separate blow/vacuum nozzles can improve the accuracy of each function

.

If you have a small to medium garden (approx. 250 – 750 m

²)

then a

1800 W mid-power model will provide enough power to clear up the leaves.

In a large garden (upwards of 750 m

²)

3000 W will be more suitable

.

Weight is another factor to think about. A heavy vacuum of around 5 kg

can get heavy after a prolonged period. Make sure the blower has wheels, or some form of harness, to help manage the weight.
Out of the products I tested, my top pick is the Bosch Universal Garden Tidy. It's a 3-in-1 vacuum, leaf blower and mulcher, with separate heads for blowing and vacuuming to improve efficacy. It can vacuum several leaves at a time (which is more than can be said for some machines!) and doesn't stumble over small twigs either.
READ NEXT: The Best Brushes For Astro Turf
Why You Can Trust DIY Garden
At DIY Garden, we believe your trust is earned through our knowledge and transparency. Our team of experts has over 75 years collective experience in the gardening and DIY space. Since the website's creation in 2016 we've tested over 275 products, ensuring our recommendations are based on real experience. We're open about what we've tried and what we've researched, and this is clearly labelled in our product reviews. Every year, we revisit and update our suggestions to include worthy new additions to the market. Our aim is to give you straightforward, honest, and helpful recommendations, so you can confidently choose the best tools and equipment for your projects.