In this garden sprinkler review, I thoroughly compared design, features, ease of use and value for money for multiple products. After hours of research and testing, I recommend the Kärcher Premium Oscillating Sprinkler as the best garden sprinkler on the UK market.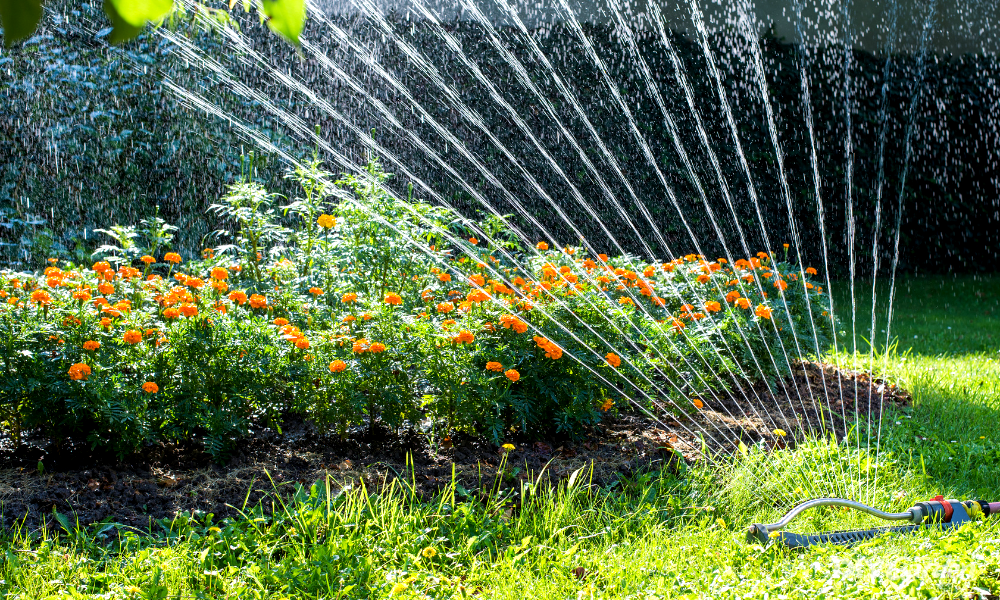 My Top Recommended Garden Sprinklers
My Top Recommendation Based on Real-world Testing
Other Garden Sprinklers Worth Considering
Compare Product Features Here
Use the dropdown to sort the table by the feature that's most important to you.


Our score
Area Coverage
Weight
Tips For Buying a Garden Sprinkler
The type of sprinkler you need will depend on your garden size and shape. For most gardens, a rectangular sprinkler system is the most appropriate. This makes sense, given that our gardens are predominantly rectangular, and will avoid water wastage. Round rotary sprinklers can be useful in larger gardens as they tend to throw the water further.
For most sprinklers to work effectively, you will need at least 4 bar water pressure. If your water pressure is lower than 4 bar, you will need to look for a sprinkler that is specifically designed to work with low water pressure

. Round sprinklers can be a better choice for low pressure areas.

When buying a rectangular sprinkler, opt for a model that offers an area coverage of at least 200 m²

. Realistically, most sprinklers fall short of their advertised area coverage – unless you have excellent water pressure – but 200 m² is a good indication of their power. These sprinklers will generally be able to spread water up to 20- 25 metres.

Some of the best garden sprinklers have adjustable settings, so you can customise their coverage on a case by case basis. It's useful to have a sprinkler that allows you to choose how many jets are on

, as this makes it possible to change the width it covers. Equally, being able to turn the sprinkler off without turning off the tap is a real plus.

Overall, you want a sprinkler with a range of spray patterns that oscillates in a way that suits your space. Also, a quality hose connector is a must – there's nothing worse than a leaking sprinkler! 
With this in mind, I recommend the Kärcher Premium Oscillating Sprinkler as my top pick. If you've ever walked past an allotment in the summer time, you'll no doubt have spotted one in action. They're a very popular choice amongst gardeners, and it's easy to see why, offering a lot of potential for customisation.
Designed with multiple controls to help keep water wastage to a minimum, the sprinkler can be tailored to meet the exact dimensions of your garden. The water flow, oscillation and spray width can all be adjusted to suit any size and shape of lawn.
Why You Can Trust DIY Garden
At DIY Garden, we believe your trust is earned through our knowledge and transparency. Our team of experts has over 75 years collective experience in the gardening and DIY space. Since the website's creation in 2016 we've tested over 275 products, ensuring our recommendations are based on real experience. We're open about what we've tried and what we've researched, and this is clearly labelled in our product reviews. Every year, we revisit and update our suggestions to include worthy new additions to the market. Our aim is to give you straightforward, honest, and helpful recommendations, so you can confidently choose the best tools and equipment for your projects.
How to Choose The Best Garden Sprinkler
A garden sprinkler can save you time and effort, as well as water and money. However, it's important to find the best lawn sprinkler to suit your specific garden.
If you're thinking about buying a sprinkler, take a look at the following tips to help you make an informed purchase.
Different Types of Sprinkler
There are a lot of different lawn sprinklers on the market and knowing more about each style will help you find a good garden sprinkler for the area you want to water.
Rotary Sprinkler
These round sprinklers usually have three or four arms that spin and cover a circular area. One of the best things about rotating sprinklers is how far they can spray water. However, they do not achieve an even coverage because the area closer to the sprinkler receives more water.
A rotating sprinkler will generally have some adjustable spray settings. You may be able to alter the rotation speed and power. However, you can't generally change the spray patterns much.
Unless you have a large garden, you may find that a rotary sprinkler wastes water, watering fences or even your neighbour's garden.
Rectangular Oscillating Sprinkler
These sprinklers have a 'sled' design, and can be placed on the ground or strapped to raised supports to alter the spray angle.
They're some of the top garden sprinklers in terms of versatility. You can get models with lots of adjustable settings making it possible to customise the water spray to the size of the watering area.
Given that most of us have rectangular gardens, these rectangular sprinklers can limit water wastage too.
They're often quite lightweight, so may become unstable if placed on uneven ground; however, as mentioned – they can be attached to supports which helps with stability.
Because of the adjustable pattern and flow control, rectangular sprinklers are suitable for most sized gardens. They attach to a garden hose and can be stored away when necessary.
READ NEXT: The Best Expandable Garden Hoses
Stationary Sprinkler
Unlike the sprinklers above, these do not oscillate or move. Most stationary sprinklers have two spray patterns: full or part circle.
Several stationary sprinklers will need to be used to cover the whole lawn, as their maximum area coverage is limited, so they're better for small or medium sized gardens.
They're also useful if you have low water pressure, as the cover a small area and don't require as much force to spray water as moving sprinklers.
Pop Up Sprinkler
Whilst the sprinklers above are temporary, and attach to a garden hose when required, a pop up sprinkler is part of a more permanent irrigation system.
The sprinkler head sits below the ground until the sprinkler is turned on. It then 'pops up' to start watering.
As you can imagine, this isn't the cheapest sprinkler set-up, and they're also time-consuming to install. Nevertheless, they're a good option for regularly watering the lawn and established plants.
Size of Coverage
Check the water coverage of the sprinkler you want to buy and compare it with the size of your garden. Bear in mind that the coverage may be reduced if your water pressure is lower than 4 bars.
If you have a large garden but low pressure, you'll have to buy several oscillating sprinklers if you don't want to keep moving one around.
Choose a sprinkler that has adjustable spray settings so that you do not waste water. In particular, it helps to be able to adjust the spray width so that you can avoid spraying paths, driveways and patios (as well as passers-by when watering the front garden!).
READ NEXT: The UK's Best Retractable Garden Hose Reels
Quality Matters
Not all sprinklers are created equal. It's important to choose the best garden sprinkler to ensure that you get an even spray without leaks or water wastage causing problems.
A good quality product will give you years of use, whereas a cheap version may cause you nothing but hassle and need replacing after a short time.
Here are some of the properties of a high quality sprinkler:
A stable base which will give strong support to the sprinkler.
Balanced oscillation – if you buy a cheap oscillating sprinkler, it may slow down at the end of each oscillation creating puddles close to the unit!
A high number of jets – the more jets the garden sprinkler has, the more evenly it will water your lawn and garden.
An adjustable spray pattern – buying a sprinkler with plenty of adjustable settings will save you money in the long run. You can customise the settings for your garden to avoid wasting water.
A brass hose connector. This will reduce the likelihood the connector getting worn over time.
READ NEXT: Can You Water Plants With Tea?!
Garden Sprinkler FAQs
Will the Kärcher sprinkler work with Hozelock attachments?
Yes, all of the products in this review will work with Hozelock fittings.
I use a sprinkler, but I still get puddles on my lawn. Why is this?
Assuming you are using a good-quality sprinkler, with around 16 jets, I would say you may be getting puddles either because you have clay soil or are on a slope.
If you have clay soil, you may notice puddles forming even when using a good quality sprinkler. This is because it takes a while for the water to soak into clay, so it will run off and form puddles in any dips. To prevent this, water in short cycles rather than one long spell.
If your lawn is on a slope it is also advisable to water in short spells to prevent all the water from running down leaving the higher sections dry.
When is the best time to use my sprinkler to water my lawn?
If you are using your sprinkler to water your lawn it is best to do this in the morning. There are two reasons for this: it will reduce the amount of water lost to evaporation, and it will prevent diseases that could arise from your lawn being left too damp overnight.