In this retractable garden hose reel review, I thoroughly compared assembly ease, design, practicality and value for money for multiple products. After hours of research and testing, I recommend the Hozelock Auto Reel Hose as the best retractable garden hose reel on the UK market.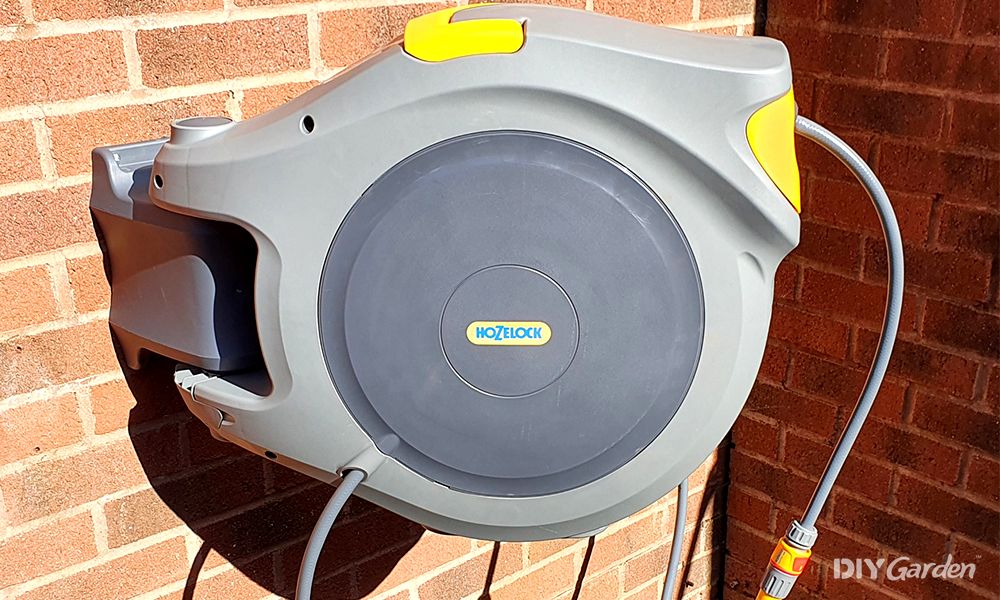 My Top Recommended Retractable Garden Hose Reels
How I Tested
Product Tester:
To simplify garden maintenance and improve your daily watering experience, I thoroughly tested several automatic retractable garden hose reels. I rigorously evaluated a range of options and assessed their ease of assembly, overall design, practicality and, of course, value for money. Here's a breakdown of the tests I conducted:
Assembly Ease: The first test I conducted was assembly. If wall-mounted models were difficult to install or required tools that the average gardener might not own, these were rated down. Models that were lighter and smaller tended to be easier to install, so these received a better rating for assembly ease, whereas bigger and heavier models could prove tricky to install for some, so these received a lower rating.
Design: When assessing design, I was looking for hoses that were hard-wearing, such as those with three layers and an anti-kink design. I also checked out the mounting hardware and outer casing, and any products that were made from high-quality materials like brass (rather than plastic) were rated as the best in terms of design. Models with UV-protected casing were also given top marks, as these wouldn't fade or crack over time. I deemed a suitable hose length 20 metres or more, as this was long enough for most garden sizes and gardening jobs. Any hoses that had shorter hoses of around 15m were rated lower because this inhibited their usefulness in larger spaces.
Practicality: In terms of practicality, I looked out for reels that were resistant to kinks and those that had additional features that made them easier to use, such as auto-rewind technology. Models that were heavier – such as those above 15 kg – were rated lower in terms of initial practicality, as these were difficult to hold and assemble, so could pose difficulties to the average gardener immediately.
Value for Money: I looked out for products that had adjustable spray settings and an on/off valve, and additional features like a hose stopper and auto-rewind technology. Models that sported all of these elements but were still reasonably priced received the best rating for value for money. However, those lacking in important features were marked down, as they were less suitable for different-sized spaces, decreasing their value.
My Top Recommendation Based on Real-world Testing
Other Retractable Garden Hose Reels Worth Considering
Compare Product Features Here
Use the dropdown to sort the table by the feature that's most important to you.


Our score
Type
Retraction
Hose Length
Weight
Tips For Buying an Automatic Retractable Hose Reel
Retractable hose reels help stop kinks from forming in the hose pipe, this is something that can lead to blockages and damage over time.

Instead of having to wrestle with long garden hoses,

retractable garden hose reels present an easy solution. They're suitable for all garden sizes.

Compact units, holding 15 m hoses, are available for small gardens

. In medium gardens, a hose of 20 – 30 m should work well.

Larger gardens will benefit from a 30 – 40 m hose

. You can always attach an additional extension to the hose whilst working.

When the hose is retracted, it will disappear inside a neat unit. When not in use, most wall units protrude a maximum of 30 cm from the wall

. This is a good size as it stops them from being hazardous or encroaching on your garden space.

You should also

look for a casing that is made from frost-resistant plastic 

to help protect the hose if it's left outside during cold weather.

It's good practice to pack the hose reel away during winter, to protect it from weather damage. Therefore, the unit's weight is worth considering. Wall-mounted reels can be quite heavy, especially if they contain a long hose. A hose reel that weighs in the region of 10 kg will be manageable for most gardeners

. If the unit is heavier than this, make sure that you will be able to lift it off its bracket easily. 
When it comes to the best garden hose reel, the dream scenario is a reel that retracts smoothly, is highly durable and supports a hose size that suits your needs. I've gone for the Hozelock Auto Reel Hose as my top recommendation – it's a great option for a large garden and comes with 40 m (130 ft) hose. The hose automatically locks as you pull it out and doesn't kink easily.
Why You Can Trust DIY Garden
At DIY Garden, we believe your trust is earned through our knowledge and transparency. Our team of experts has over 75 years collective experience in the gardening and DIY space. Since the website's creation in 2016 we've tested over 275 products, ensuring our recommendations are based on real experience. We're open about what we've tried and what we've researched, and this is clearly labelled in our product reviews. Every year, we revisit and update our suggestions to include worthy new additions to the market. Our aim is to give you straightforward, honest, and helpful recommendations, so you can confidently choose the best tools and equipment for your projects.
How to Choose The Best Garden Hose Reel
We all know that a hose is an essential piece of kit for anyone wanting to water their garden.
But did you know that using a hose reel will make this job so much simpler? Gone are the days of having the hose trailing behind, getting frustratingly tangled and kinked every five minutes!
If you're thinking about buying an automatic hose reel, here are a few tips to help you find the right hose and reel.
READ NEXT: How Often Should You Water New Plants
Auto-Rewind Technology
The latest generation of hose reels make the watering process even easier by using auto-rewind technology.
Simply pull the hose out to the desired length and it will automatically lock in place.
When you want to extend the hose further, or wind it in a little, a simple tug unlocks it. This makes it much easier to move on to the next section of the garden. Once you have finished, simply tug again, unlocking it, and allow it to rewind evenly back into its casing with no kinks or tangles.
To auto-wind, or not to auto-wind?
Of course, it's up to you whether you choose a garden reel with auto-wind technology or not.
Non-automatic reels use a manual hand crank to wind in the hose. They are often cheaper and lighter than their automated equivalents, making them easier to install and pack away. However, without the automatic mechanism to help you, the task of hand-rolling your hose back on to the reel can be tedious.
Auto-wind reels make it easy to release exactly the right amount of hose you want for a job. No need to fuss about holding it taut while you use it! Packing the hose away is hassle free, and the auto-wind system generally ensures the hose is evenly distributed onto the reel. This can be harder to achieve when doing it manually.
Hose Reels or Expandable Hoses
You might be torn between hose reels or expandable hoses – both options are space-saving ways to get a longer hose in the garden.
We've covered the best expandable garden hoses extensively on DIY Garden, and there are some great options on the market. One of the main advantages of expandable hoses is that they can be longer than hoses in reels, whilst taking up less storage space.
Whether you'll benefit more from an expandable hose or a hose reel comes down to how often you use the hose, and if you can be bothered to get it out of storage each time. Expandable hoses should be packed away and stored in the shed after each use to avoid damage.
Naturally, unlike expandable hoses, a hose in a reel can naturally be left out for most of the year inside the casing.
Choosing the Best Size Hose Reel
You want a hose that will reach the end of your garden without stretching. However, you also don't want to spend extra money on a hose which is much longer than you need. Measure your garden to find out what length of hose will best suit your needs.
Another thing to consider is the size of the reel unit itself. You should make sure you have enough wall space to mount the hose reel that you want to buy, as some of them are quite large.
If the space where you choose to mount your reel is some way from the outdoor tap, you may need to acquire an extra 'leader hose' to connect the reel to the water supply. Also referred to as a 'feeder hose', sometimes you will have to create this yourself by cutting a piece of the hose pipe.
READ NEXT: How to Water Plants When You're on Holiday
Factors That Represent Quality
Garden hoses need to be looked after to prevent damage, but some are better made than others.
If you will be using your garden hose reel regularly, and plan to leave it outside, it is worth spending a bit more money on a good-quality reel to ensure it last for years.
Look for quality casing which has UV protection and is made from durable materials.
That said, you should still position your reel out of direct sunlight. High-quality casing will protect the hose from UV damage, but it will last longer if it is in a position where the temperature is more stable.
Garden hoses should be stored in a frost-free environment over winter, so look out for a unit where the reel can be easily removed from the wall bracket.
In addition, the better quality the hose, the easier it will be to use and less likely to kink or fail to rewind. Superior garden hoses also come with better tap fittings meaning they are less likely to leak.
READ NEXT: The Best Garden Sprinklers
Protecting Your Hose Reel From Theft
If you are mounting your garden hose reel somewhere that other people might be able to reach it, such as a front garden, make sure you secure the reel casing to the wall bracket. Whilst it might not seem like the most desirable item to steal, detachable hose reels can be a temptation to some. Better to be safe than sorry and secure your reel to prevent theft.
Garden Hose Reel FAQs
Most hose reels come with a simple spray nozzle. Can I change this to a spray gun?
Yes, most reels can be used with a variety of fittings including a spray gun.
However, garden hoses come in a range of diameters so check that the spray nozzle is suitable for the size of your hose pipe.
READ NEXT: The Best Hose Connectors
Can I leave my hose reel out all year round?
You can leave garden hoses out all year round as long as they are housed in a reel with a protective casing; however, storing them away when possible is the best idea.
Most casings protect the hose pipe from UV damage and offer frost protection. However, garden hoses may well last longer if stored in a frost-free environment over winter.
You might want to consider buying a reel that can be removed from the wall bracket, allowing you to store it in winter or when you are away from home during hot spells. Many garden hose reels allow you to do this simply and easily.