Our
LawnMaster L12 Robotic Lawnmower

Review

When it comes down to it, the LawnMaster L12 Robotic Lawnmower excels in just about every aspect. It's well-designed, easy to use, performs brilliantly, and has all the features that you really need, plus a few more. Whether you have a small, medium, or large garden, the LawnMaster L12 is a lawnmower that I would most definitely recommend.

B0BX9TP6KN

6939349520228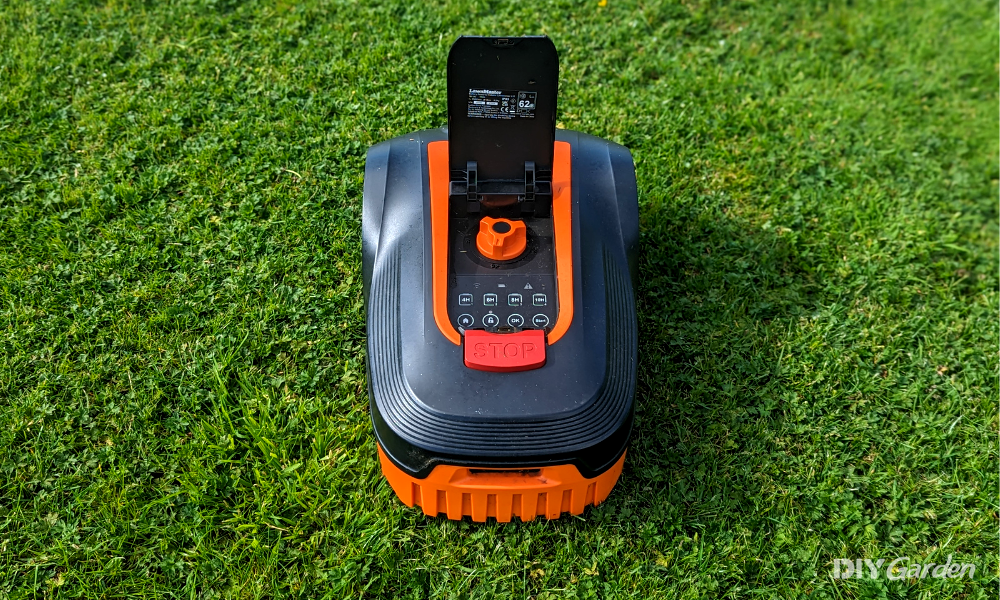 A common recipient of awards for innovation and quality, Cleva is a company that produces a stellar range of home and garden appliances, one of which is the LawnMaster L12 Robotic Lawnmower. This machine is designed to offer the utmost in convenience, as well as a healthier lawn, so I put it to the test to find out just how well it does that.
Read our product testing methodology here.
How I Tested
The LawnMaster L12 Robotic Lawnmower is made for lawns that are up to 800m² in size. My largest lawn is around 500m², so this is where I set the mower up. The lawn here used to be a field, meaning that some patches consist of very thick clover. Many areas are bumpy and uneven, especially due to deep-ish tracks left by a tractor the previous week, so it was the perfect terrain for putting this machine through its paces!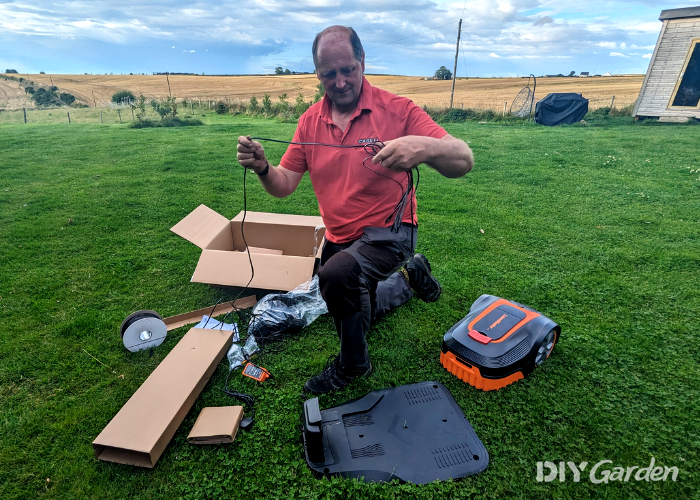 Setting this lawnmower up isn't too complicated. It's a very similar process to the other robotic lawnmowers that I've tested and it's made easier by the fact that the instructions explain everything well.
You begin by positioning the base station. At this point, I also plugged it in so that the lawnmower could start charging while I set everything else up.
The next job is laying the boundary wire. The 150m of wire for this mower comes on a large reel, making it really easy to lay it as you're walking around your garden. Pegs need to be inserted every 50cm or so to hold the wire down. An alternative would be to bury the wire but this isn't something that I would recommend doing, at least not until you've had the lawnmower running for a while and know that all of your edges and angles are in the right place. I ended up having to adjust my boundary wire a couple of times to account for overly tight corners, which would have been a huge hassle had I initially buried the wire.
Once your boundary wire has been laid, you then install the base station. Pegs are provided to secure the base station to the ground, and I also used a leveller to ensure that the base was laid completely flat.
Connecting up the boundary wire is simple too. The two ends of the wire need to first be stripped and, unlike the other robotic lawnmowers that I tested, this one actually comes with a wire stripper. The ends can then be inserted into their corresponding terminals.
In total, it took about 40 minutes from unboxing the product to having it up and running, which is pretty good! With that said, my boundaries weren't too complex – if you have several curves and corners that require extra pegs, or if you're setting up a second cutting area, then you'll need to set aside a little more time.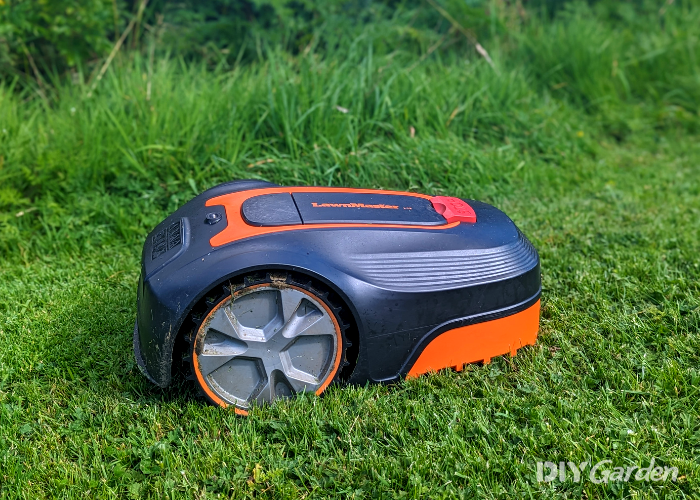 My first impression of this lawnmower was that it looked very sleek. The other robotic mowers that I've used in the past have all been relatively chunky-looking. This one is actually larger in size but its slimline design gives it a modern smoothness. The fact that it's black helps with this too, although I do personally prefer brighter-coloured robotic lawnmowers because of how easy it is to spot them when you look over at the lawn!
This lawnmower has a cutting width of 18cm, which I initially thought was going to be too small for a large lawn (spoiler alert: I was wrong). There are five cutting heights to choose from, ranging from 20-60mm, giving you plenty of variation. To access the height dial, you simply flip open the top casing, which is also where you'll find a few other simple button controls.
Turn the lawnmower over and you'll see three small blades positioned around a circle. These pivot and cut as the lawnmower moves around, with the grass then being mulched and released back onto the lawn.
So far, other than when it comes to its appearance, those design features are very similar to the many other robotic lawnmowers of this calibre. However, there are a couple of aspects that set this lawnmower's design above its competition; the two jockey wheels at the front, instead of just one, and the large back wheels. Both of these features immediately point to how the machine has been cleverly designed for all terrains – they'll significantly help with manoeuvrability and stability on rough and uneven ground.
It's also worth mentioning that this lawnmower is rated as fully waterproof. You won't have to worry about anything going wrong if it ends up raining every day!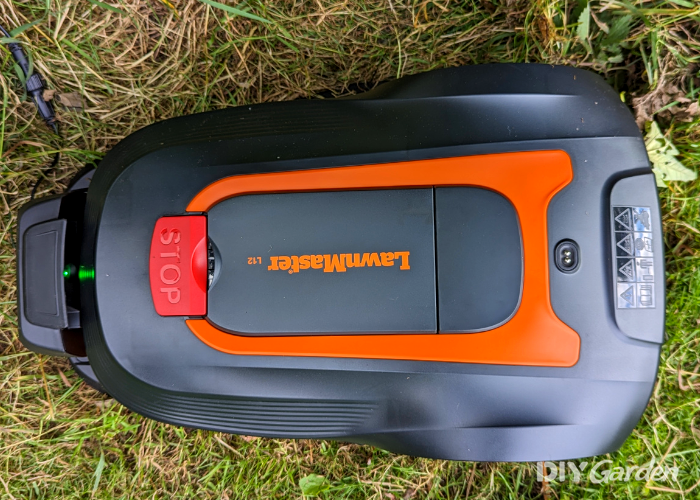 The LawnMaster L12 has a built-in 20V 4aH battery. This should take around 100 minutes to charge, after which it provides a runtime of 120 minutes. In my experience, I found that it takes closer to 120 minutes to charge, but then provides a runtime of a little longer than 120 minutes. Either way, this is the only robotic lawnmower that I've used where the runtime is longer than the charging time!
Once the lawnmower recognises that its battery level is dropping, it turns its blades off and then follows the perimeter wire back to its base. It then drives in head first and slots itself in, where it's charged by mains electricity.
It comes with quite a short power cable but an extension is provided, which gives you a total length of 10m. Since my lawn is located more than 10m away from my outdoor sockets, I connected it up to an extension cable and didn't have any issues using it in this way.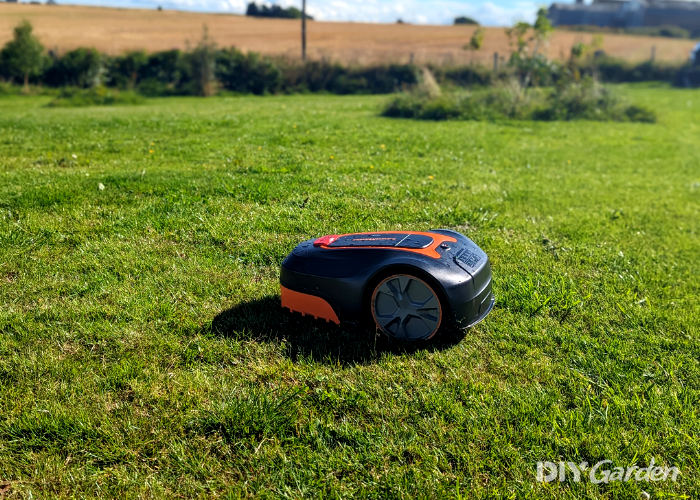 As I mentioned earlier, I was dubious about how this machine's 18cm cutting width would handle a large garden. However, I needn't have worried as its performance is excellent.
This is largely down to its speed and manoeuvrability. It's much faster than the other robotic lawnmowers that I've used – I would estimate that it probably runs at around double the speed. When it hits the perimeter wire, it smoothly spins around and continues cutting, unlike some of the other mowers out there that take several seconds to clumsily reverse.
The additional jockey wheel and the large back wheels enable this lawnmower to happily munch its way over bumpy ground. I was concerned that the lawnmower would view the deepish tracks left by a digger as obstacles, but it zoomed over these without a problem. I was aware that the lawnmower was capable of travelling up a 35% incline but the way in which it moved over such sharp ridges was undeniably impressive.
The quality of the cut produced by this lawnmower is beautiful. It leaves behind an even and crisp finish. The way in which it sometimes cuts in curves rather than in straight lines is a little quirky but these tracks disappear after a few hours, so you won't be left with random curves criss-crossing your lawn.
Speaking of random – that's the cutting pattern followed by this lawn mower. This is a little different from some of the others that I've used, which recognise where they have and haven't cut. I thought that this might put the LawnMaster at a disadvantage, leaving me with random clumps of uncut grass around my lawn, but it definitely didn't. It started with a lawn that hadn't been cut for about a week and brought this down to an even and maintainable height after about six days. After this, its random mowing pattern kept things neat. It somehow manages to cover every inch of grass and doesn't seem to repeat its tracks very often.
The only flaw in this lawnmower's performance is when it gets stuck. Granted, this has always been my fault, rather than the lawnmower's fault (for example, when the perimeter wire didn't provide enough turning room at certain corners, or when the lawnmower drove underneath a sun lounger that was left out and wasn't able to turn to get out).
However, rather than trying for a while and then giving up, which is what the Worx Landroid, for example, does, the LawnMaster seems to repeatedly ram itself back and forth until it runs out of battery. This means that, rather than being able to rescue it and send it on its way again, you then have to place it back onto the base station so that it can fully recharge. With that said, it wouldn't really be fair to penalise the lawnmower on this since it only ever gets stuck due to user error!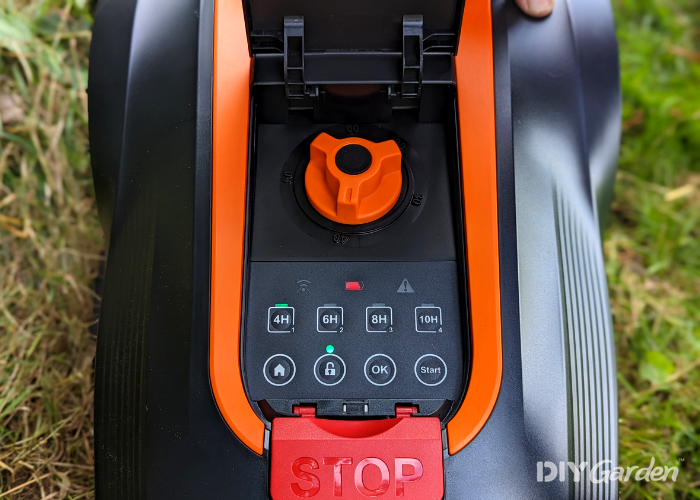 This lawnmower's features aren't quite as cutting-edge as some of the others out there, but they're still customisable enough to provide more than just the basics:
Simple Keypad
This lawnmower doesn't have a screen of any sort and also doesn't require WiFi or Bluetooth for anything. Some may prefer a more high-tech control mechanism but I personally love the simplicity of this machine. You use the eight-button keypad on the front of the unit to make any adjustments – it couldn't really be any easier!
Cutting Schedule
This lawnmower has an adjustable cutting schedule, in the sense that you determine how many hours in total it cuts for in one day. You can choose between four, six, eight, and ten. I set mine to ten but, now that only maintenance is needed, I may drop this down to eight. The time of day at which it starts mowing can be chosen by the user as well.
Another option is to set the machine to mow every other day, rather than every day, once your lawn is at a height that you're happy with.
Rain Sensor
Thanks to the water sensor on the body of this lawnmower, it's able to detect rain. Once it does, it heads back to its base and remains there until its next scheduled cut. If it's still raining, it will skip this cut and hide out at its base until conditions dry up. I definitely appreciated how, unlike some of the others that I've used, this lawnmower's rain sensor isn't too sensitive. Instead of scuttling back to its base as soon as it feels a slight drizzle, it continues to cut until the rain turns relatively heavy.
Perimeter Cut Mode
At the beginning of every third day of cutting, this lawnmower follows the boundary wire all the way around its circuit, ensuring that the edges of the lawn are kept down. If, at any point, you want it to give the perimeter an extra trim, you have the option of manually setting it to do so. This isn't a feature that you'll likely need to use as its preset three-day perimeter cut schedule seems to work well enough!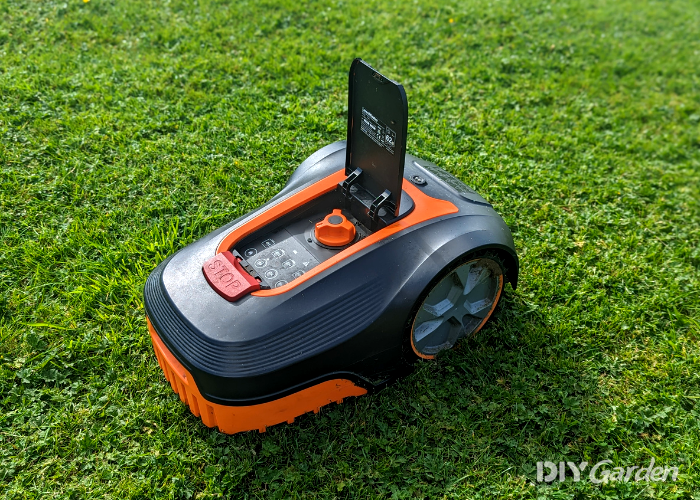 For people with young kids or small pets, the thought of having a robotic mower chomping its way around the lawn can be a little nerve-wracking. However, the LawnMaster really couldn't be any safer.
It is fitted with a number of sensors that immediately stop the blades from turning if the machine is lifted, or even just tilted. It has a bump sensor too, meaning that once it bumps into an obstacle, it reverses and spins away. Although you should avoid having any young kids on the lawn while this machine is running, the gentle bump that they would receive if they were to accidentally stand in this machine's way wouldn't cause any pain or injury. In terms of pets, be it dogs, cats, or chickens, I find that they generally stay out of the lawnmower's way!
Since robotic lawnmowers tend to be quite pricey, this one comes with a couple of features to keep the machine safe from theft. You need to input a pin code before you can do anything with the machine, and it beeps if it's picked up when it shouldn't be.
Considering the fact that this lawnmower has been designed for gardens up to 800m², and has proven that it's more than capable of handling a lawn of this size, I would say that it offers amazing value for money. Other robotic lawnmowers designed for medium to large lawns cost considerably more.
Since the price of this product is in line with models designed for much smaller gardens, it would be a great buy for just about everyone, even if you don't have a large garden. The customisable settings mean that you can simply minimise how often it cuts, saving it from running around aimlessly and wearing out your lawn.
The lack of spare blades with this machine is a shame, but replacement blades are easily available and reasonably priced.
It's also worth noting the two-year manufacturer's warranty that comes with this lawnmower, although, judging by the quality of the machine, I doubt that it's used very often!
When it comes down to it, the LawnMaster L12 Robotic Lawnmower excels in just about every aspect. It's well-designed, easy to use, performs brilliantly, and has all the features that you really need, plus a few more. Whether you have a small, medium, or large garden, the LawnMaster L12 is a lawnmower that I would most definitely recommend.
Why You Can Trust DIY Garden
At DIY Garden, we believe your trust is earned through our knowledge and transparency. Our team of experts has over 75 years collective experience in the gardening and DIY space. Since the website's creation in 2016 we've tested over 275 products, ensuring our recommendations are based on real experience. We're open about what we've tried and what we've researched, and this is clearly labelled in our product reviews. Every year, we revisit and update our suggestions to include worthy new additions to the market. Our aim is to give you straightforward, honest, and helpful recommendations, so you can confidently choose the best tools and equipment for your projects.
About Your Guides
Derek Smith has been farming all of his life, and is an professional landscape gardener with over 22 years experience. He owns a 25-acre farm in Aberdeenshire with a focus on self-sufficiency, living off the land, and working with nature.

Sarah's role as chief editor at DIY Garden is about more than just making sure we're literally dotting the i's and crossing the t's (although she's a stickler for detail, so it's certainly about that too!). It's about proof-reading, fact-checking and continuously researching everything we publish, ensuring that it adheres to our

editorial standards

, so that everyone can really get the most out of their green space.
You May Be Interested In These Other Lawn Mower Products