Our
Murray EC370 Electric Lawn Mower

Review

Overall, I was thoroughly impressed by the Murray EC370. Most of the features are ace, particularly the built-in mulcher and 7-point range of cutting heights.

Provided I wouldn't have to assemble this lawnmower again, I'd purchase the Murray EC370. Even though I found the assembly tricky and the side combs didn't work as well as I might've liked, it was easy to use. Plus, it has a great list of features and I love the renegade design.

From my testing experience, I think the Murray EC370 is one of the best electric lawn mowers for anyone with a medium to large-sized lawn, particularly ones that are uneven or need a lot of TLC.

Because of its design, I also think it'd be a great purchase for anyone looking to own a lawnmower that looks a bit more unique and rebellious than most others available on the market.

B07PV3RN9S

9311446294658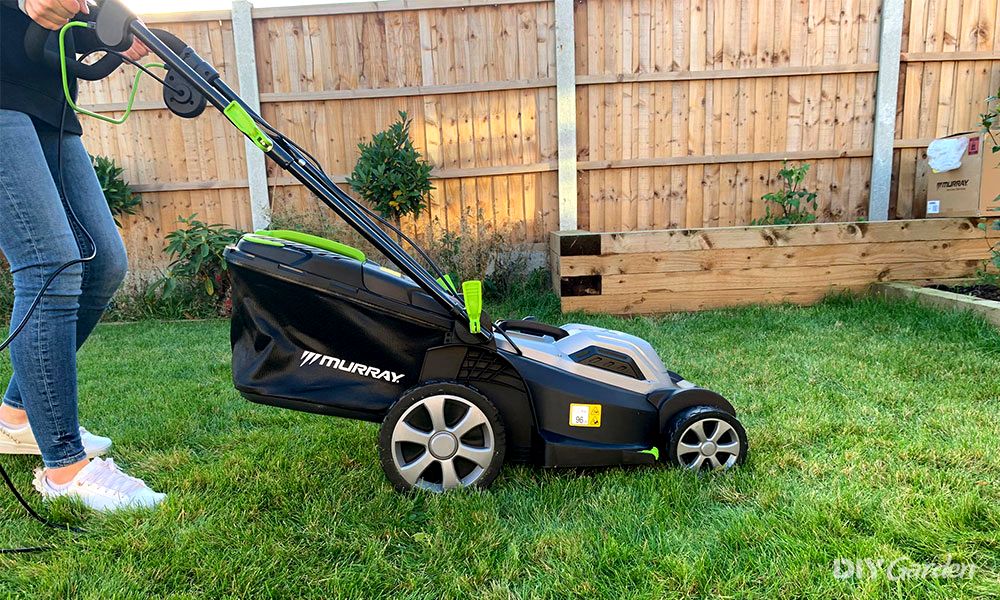 With its powerful 1600 W engine, the Murray EC370 is a retro-looking lawnmower that's well-equipped for medium-to-large lawns. Thanks to its unique and rebellious design, it's the ideal lawnmower for anyone that is looking to express some individuality when out in the garden. When put through the wringer, let's see how well the Murray EC370 will fare.
Read our product testing methodology here.
How I Tested
Since the Murray EC370 is equipped with 7 cutting heights, grass combs to allow close edge cutting and a built-in mulching feature, I wanted to put all these features through a rigorous test.
After trimming the grass on my lawn and trialling its cut around the raised sleepers in my garden, I shipped it over to my dad's house to test the lower cutting settings and the mulching feature.
Overall, the Murray EC370 went through a thorough test on two different lawns: one regularly-cut medium-sized lawn, and one large lawn with heavy growth.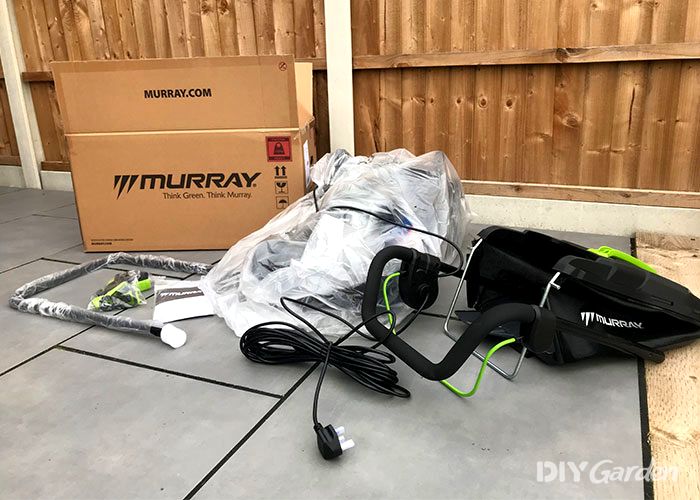 Compared with other lawnmowers I tested and reviewed, I found the Murray EC370 tricky to put together. There were four main steps; unfolding and adjusting the handles, fixing the cable to the handles, assembling the grass box and installing the grass box.
While the steps weren't too difficult to do, the instruction manual made things much more complicated than they needed to be. The images were very small and each included multiple steps. Plus, it wasn't entirely clear which accessory went where – particularly problematic when it came to knowing which screw to use.
Accompanying each image were a set of bullet points that referenced where the different parts go. In theory, this seemed helpful, but I couldn't find a labelled diagram to define which parts of the lawnmower it was referring to. So, personally, I didn't find the bullet points very helpful at all.
Fixing the handles onto the lawnmower was the most difficult step. Different bolts are needed to fix onto the bottom and top half; however, as mentioned, I didn't know which one went where.
The grass box was the easiest thing to assemble. The outer mesh simply needed to be secured to the poles. I did note that the instruction manual missed out this step. Fortunately, it was easy enough to figure out.
When it comes to securing the grass box, you simply remove the mulching tool from the back of the lawnmower and slot the grass box in instead. Once this is done, you're ready to get mowing.
Overall, the Murray EC370 took me 40 minutes to assemble – a very long time for a lawnmower! I think this was mostly down to the unclear instruction manual, as I read it at least 10 times before relying on trial and error to get things right.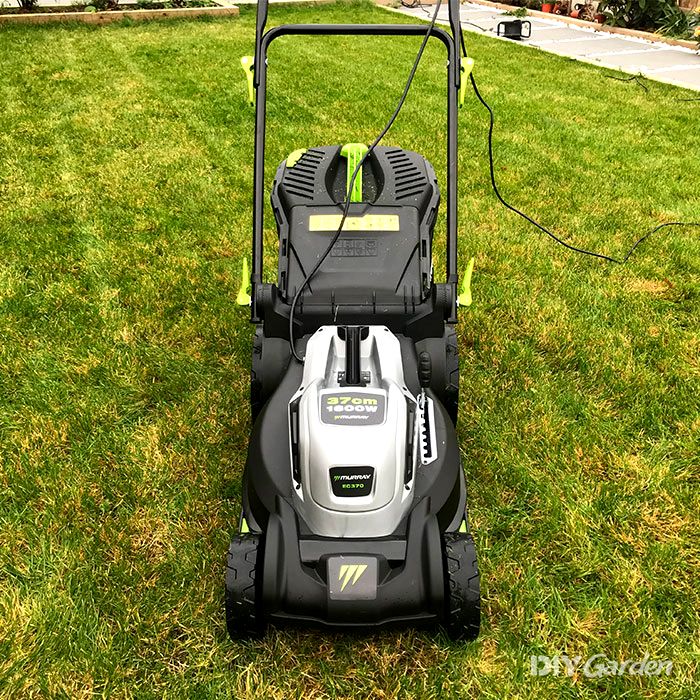 Overall, I was very pleased with the design of the Murray EC370. The base was matte black with a dull grey engine box and bright green accessories.
The lever to adjust the cutting heights is expertly designed. Not only does it look great with its shiny base, but it's also clearly labelled from 1 to 7 so you know which height you're moving it to. Plus, moving the lever between the settings is very easy.
Looking at the lawnmower from the side, you can see that the back wheels are almost twice the size as the ones on the front (with 25 cm rear wheels and 16.5cm front wheels). While this certainly made the mower look more rebellious, it wasn't all good news.
Since the wheels make the back of the mower wider than the front, cutting close to any edges wasn't possible. However, if your lawn isn't bordered by a wall, fence or sleeper, this shouldn't be an issue.
One of the best design features for me is the foam coating on the top handlebar. Not only did it help me keep a firm grip while pushing, but it was also much warmer than holding onto a cold metal bar – which no doubt will come in handy when mowing the lawn in late autumn.
Another great design feature of the handlebar is that the pull-to-start level spans across the entire top handlebar, making it ambidextrous.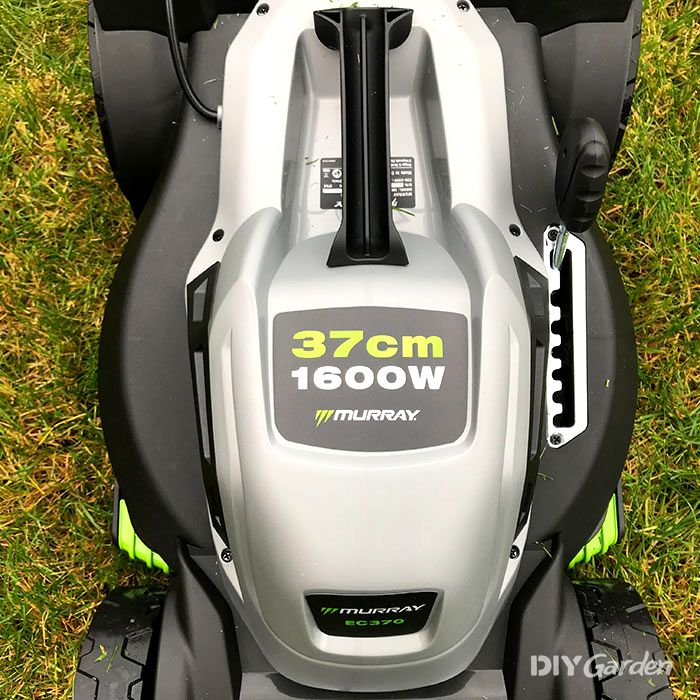 With a 1600W engine, the Murray EC370 is powerful. You could certainly feel the difference compared to a smaller engine lawnmower.
Because of its size and strength, cutting longer patches of grass was a breeze. It even cut through some very tough patches of grass that were coarse and had a heavy thatch build-up.
As expected with a high-power motor, the lawnmower was quite loud when cutting. Plus, as the blade slowed down, it made a shrill shriek. Since I tested a brand-new lawnmower, I'd expect this noise to reduce over time.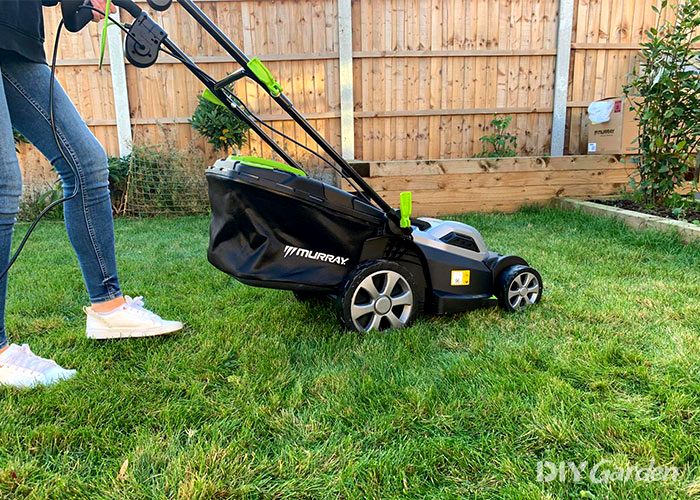 When it came to assessing the performance, the Murray EC370 exceeded expectations. Trimming a lawn with high growth was just as easy and effective as trimming low growth. Taller patches of grass were trimmed down nicely and I never had to go over a patch more than once.
However, as the back wheels were larger than the front, I was concerned about missing patches. You are supposed to overlap the areas you've cut anyway, but I overlapped way more than I normally would to make sure I didn't leave any lines.
Since my dad's lawn had taller grass and an uneven cutting surface, I walked at a slower pace, as recommended by the instruction manual. This was very effective, but I did want to see how it did when I walked quicker. Walking faster on the uneven surface made the mower bounce around a little, but, with the foam handlebars, it was easy to keep a firm grip.
As the Murray EC370 has a built-in mulching feature, I also tested how well it mulched a lawn recently cut down from a tall height. As per the manual's instructions, I set the mower to the highest cutting setting. There wasn't a special switch to turn on the mulching feature, but you did need to take out the grass box and replace it with the mulching plug provided. It performed well and I didn't notice any upward spray.
Pushing the Murray EC370 was smooth and simple. As the handlebars are ergonomic, with a soft grip to minimise vibrations and general discomfort, it was easy to push without feeling any strain.
Since the Murray EC370 is heavier than most, at 14 kg, I thought it would be trickier to manoeuvre than it was. Turning and lifting were very simple, perhaps due to the ergonomic design.
I tested manoeuvrability in three ways; I cut around some tight bends, tested out the turning circle and cut diagonally as well as up and down. Despite its bulky appearance, all these things were easier to do than expected. Some pivoting was needed to get the mower around the tight bends, but, overall, it fared well.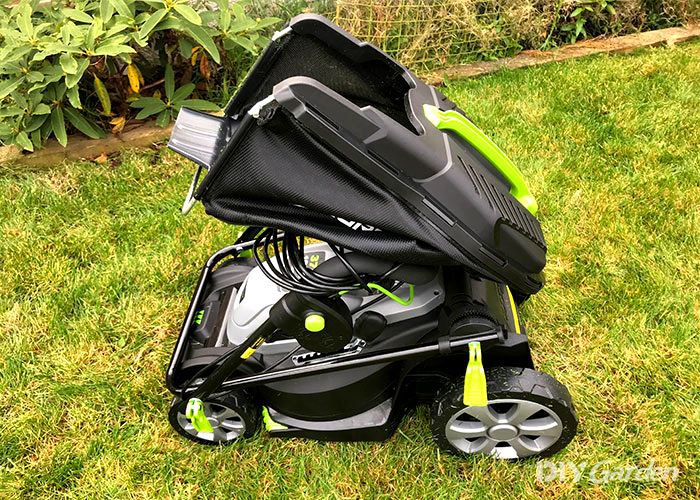 The Murray EC370 has many impressive features. It has a 37 cm cutting width, a 40-litre grass box (with an indicator that notifies you when you've hit capacity), 7 cutting heights (ranging from 25 – 75 mm), a 10 m power cable, mulching abilities, and side grass combs.
All features worked brilliantly, except for the side grass combs. My lawn is surrounded by raised borders, so getting a close cut is always tricky. As mentioned, the problem with the Murray EC370 was that the wheel design conflicted with the working ability of the grass combs. Essentially, this rendered them ineffective for my lawn type.
However, it's worth mentioning that the manufacturers state the side combs can 'reduce' trimming time, not get rid of the need to use a strimmer entirely. In which case, I think the Murray EC370 will always need to be accompanied by a quick strim afterwards. If your lawn doesn't border any walls or fences, this shouldn't be an issue.
The 40-litre grass box was impressive and a great size for mowing medium-to-large lawns. Since the lawnmower is around 40 cm in width (and on the larger side), it makes sense that the grass box has a decent size to match. With its capacity, it's designed to enable coverage of up to 500 m ².
In terms of storage, the Murray EC370 was small enough when folded away. Both handles tuck away and (with a bit of balancing) the grass box rests on top. Since I didn't want to disassemble the grass box (putting it together again is too tricky for me to do frequently), it was quite high when perched on top.
Measured up, the folded away mower came to around 75 cm high and 45 cm wide. You could take the grass box apart to make storage even more compact.
All in all, the features were very impressive. Minus the grass combs, which didn't do well against borders, everything worked exactly as stated.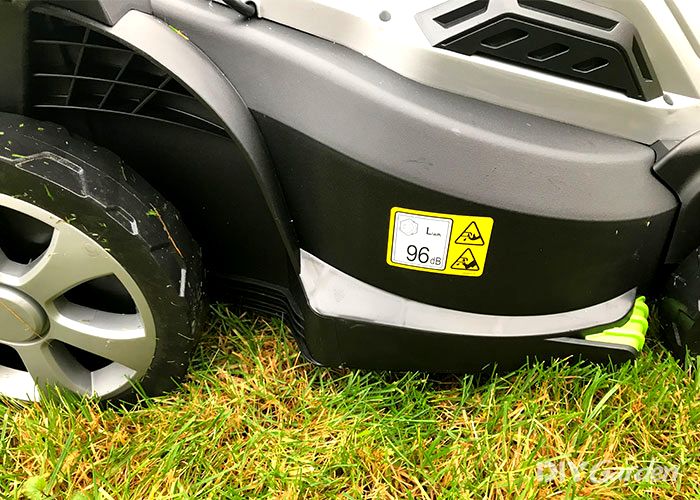 When it came to safety, I was highly impressed with the features of the Murray EC370.
Two cable clips are provided in the accessory pack to secure the loose wires to the handlebars. You can also hook the longer cable onto the machine as an extra safety measure.
There are yellow warning stickers on the mower, and the grass box also has engraved safety warnings. I thought this was a great combination – the bright stickers catch your attention and the engravings are long-lasting.
As an added feature, the Murray EC370 motor is also fitted with Thermal Protection, which means it cuts out if the motor gets too hot.
Even though the instruction manual wasn't my favourite thing when it came to assembling the lawnmower, it was very clear on its safety warnings.
However, you do need to read the full manual to find all the safety warnings, as they are scattered throughout the handbook rather than in one place.
For the price, the Murray EC370 is certainly excellent value for money. It has an outstanding set of features, including a 40-litre grass box, a powerful 1600 W engine, a wide 37 cm cutting width, 7 adjustable cutting heights and a built-in mulcher.
However, if you don't need all of these extravagant features and you have a smaller lawn that you only trim occasionally, you may be better off with something cheaper and less fancy.
Overall, I was thoroughly impressed by the Murray EC370. Most of the features are ace, particularly the built-in mulcher and 7-point range of cutting heights.
Provided I wouldn't have to assemble this lawnmower again, I'd purchase the Murray EC370. Even though I found the assembly tricky and the side combs didn't work as well as I might've liked, it was easy to use. Plus, it has a great list of features and I love the renegade design.
From my testing experience, I think the Murray EC370 is one of the best electric lawn mowers for anyone with a medium to large-sized lawn, particularly ones that are uneven or need a lot of TLC.
Because of its design, I also think it'd be a great purchase for anyone looking to own a lawnmower that looks a bit more unique and rebellious than most others available on the market.
Why You Can Trust DIY Garden
At DIY Garden, we believe your trust is earned through our knowledge and transparency. Our team of experts has over 75 years collective experience in the gardening and DIY space. Since the website's creation in 2016 we've tested over 275 products, ensuring our recommendations are based on real experience. We're open about what we've tried and what we've researched, and this is clearly labelled in our product reviews. Every year, we revisit and update our suggestions to include worthy new additions to the market. Our aim is to give you straightforward, honest, and helpful recommendations, so you can confidently choose the best tools and equipment for your projects.
Murray EC370 Electric Lawn Mower Price Comparison
Price History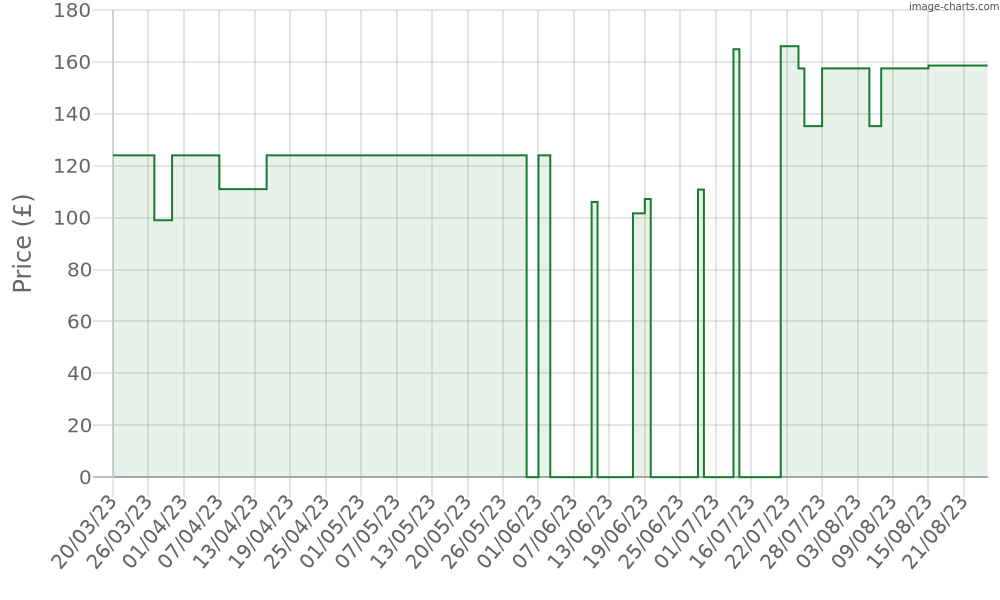 Our Scores:
Assembly Ease

Design

Power

Performance

Manoeuvrability

Features

Safety

Value for Money

Overall
Features:
Lawn Size

Medium to Large

Power

1600W

Cutting Width

37cm

Cutting Heights

25mm-75mm

Collection Bag

40L

Weight

14kg

Cord Length

10m
About Your Guides
Alex is an experienced writer, digital marketer and lover of the great outdoors. After spending over a year living out of a backpack, she decided that a life spent behind a desk was not for her. She now spends as much time as she can in the countryside, with any time inside spent writing blogs and buyer's guides for one of her favourite websites, DIY Garden!

Sarah's role as chief editor at DIY Garden is about more than just making sure we're literally dotting the i's and crossing the t's (although she's a stickler for detail, so it's certainly about that too!). It's about proof-reading, fact-checking and continuously researching everything we publish, ensuring that it adheres to our

editorial standards

, so that everyone can really get the most out of their green space.
You May Be Interested In These Other Lawn Mower Reviews