Our
Ryobi 18V ONE+ Cordless Lawn Mower

Review

When it comes down to it, I would have to disagree with Ryobi's statement about this lawn mower being suitable for an area of 250m² – I would only recommend it for gardens that are up to around 150m² in size, with grass that's already relatively short. If this is the case, then the Ryobi 18V ONE+ Cordless Brushless Lawn Mower will undoubtedly impress with its ultra-lightweight nature, customisable features, and fantastic mulching function. Use it regularly and it will keep your lawn looking tidy and vibrantly green, which is always the ultimate aim!

B07PZXBTQ5

4892210171948,4892210190192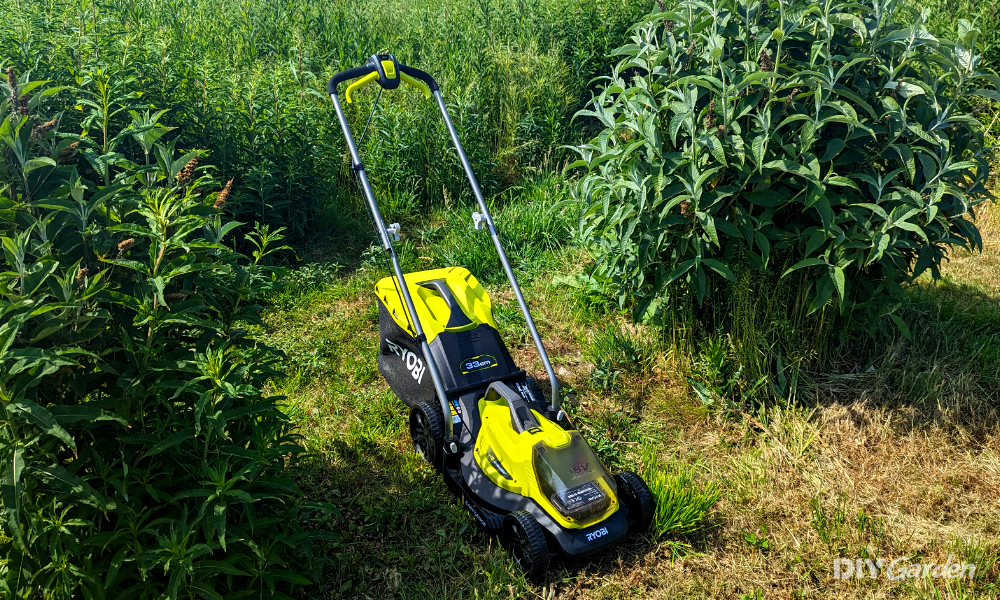 Loved by DIY-ers for its versatile range of tools, Ryobi's products tend to be mid-tier in price yet usually have a few standout features that set them apart from their competition. Having used a variety of the brand's cordless tools in the past, I've always appreciated the one-of-a-kind touches that their products boast, so I was hoping that the Ryobi 18V ONE+ Cordless Brushless Lawn Mower would meet the same standards.
Read our product testing methodology here.
How I Tested
According to Ryobi, this lawn mower has been designed for small to medium lawns. So, I chose two small-ish areas of my 2-acre forest garden to test this lawn mower out on.
One area consisted mainly of meandering clover paths. It had been cut about two weeks ago with a ride-on mower, so the grass was at a manageable length. The second area was a slightly wilder part of my garden that hadn't been cut for about a month. With rough grass and weeds, along with uneven ground, it would give me the opportunity to find out how this lawn mower performs in less-than-perfect conditions.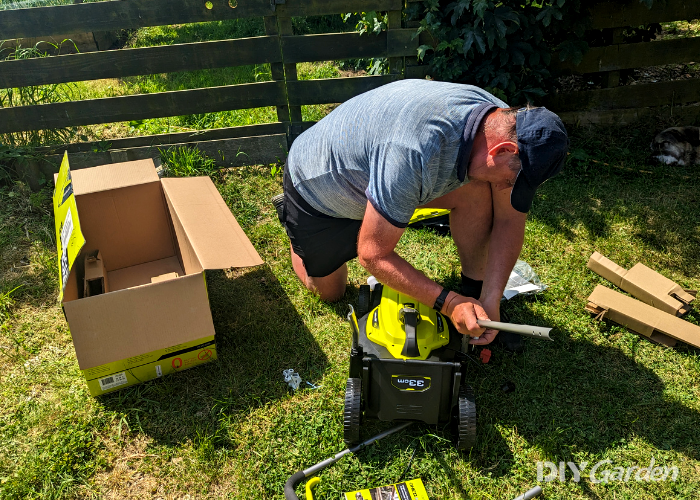 After opening the box, I was delighted to see that the collection basket for this lawn mower was already assembled. It's a task that only takes a minute or two (or a little longer with particularly fiddly bags) but it's always nice when there's one less bit of assembly to do!
This meant that all that was left was to attach the handles and then clip the cable to them. When fixing the handles on, you have three different heights to choose from. Being tall, I went for the highest setting but then found that the cable wasn't quite long enough. I was still able to clip it to the handle but it was very tight, which didn't feel quite right.
Nevertheless, I loved how quickly I was able to put this lawn mower together, with the whole assembly process taking just five minutes.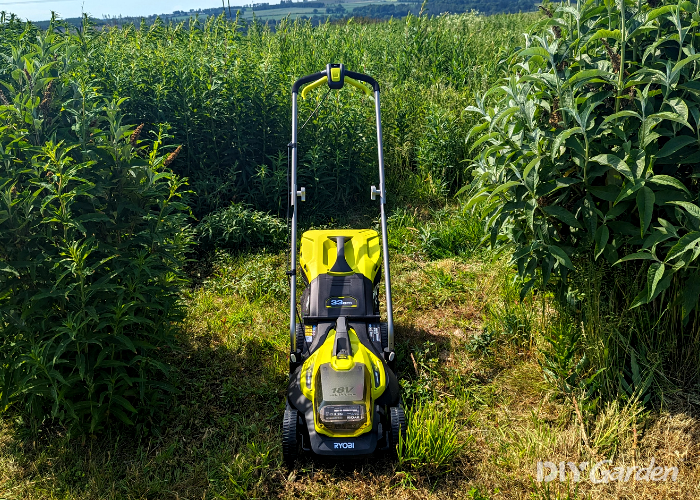 With its lime green and black colours, this lawn mower is quintessentially Ryobi. At first glance, it looks like a pretty solid machine, but once you start handling it, it feels a little flimsy. Although it has a metal blade, most of its other parts are made from plastic, which gives it quite a toy-like quality.
However, I liked its double lever handles, which means that the lawn mower can be used one-handed. The handles also fold right down to make storing this lawn mower easy, while the collection basket is completely collapsible.
Speaking of the basket, it features fabric sides paired with a hard plastic top, making it feel a little less robust than a completely solid box. With a 35-litre capacity, the basket is a little on the small side for my liking, although this won't be an issue if you have a very small garden.
I also noticed that this lawn mower has slightly larger rear wheels. At 18cm, vs the 14cm front wheels, this will help the lawn mower to better adapt to various types of terrain. Not all lawn mowers have considered this in their design, making it worth keeping an eye out for if you plan on using yours on uneven ground.
Finally, let's talk about the brushless motor. This will help the lawn mower to give you more efficiency, not only when it comes to power but also in terms of battery runtime.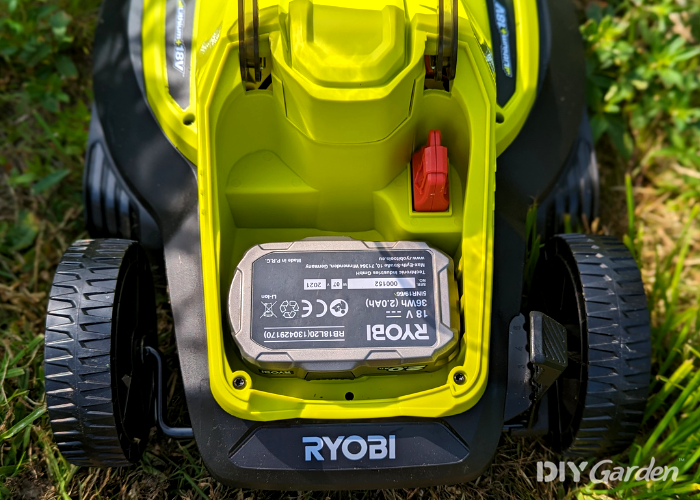 This Ryobi lawn mower runs on a single 18V battery, which takes about three hours to charge. However, if you have one of the ONE+ fast chargers, then it should only take an hour.
According to Ryobi, a 5aH battery should be able to cut a lawn up to 250m² in a single charge, so I was expecting a runtime of around 20-30 minutes. However, I struggled to get more than 10-15 minutes of life from a fully charged battery – this definitely wasn't enough to cut 250m². When using the lawn mower on long, rough grass, the battery lasted even less than this, which was very disappointing.
It's worth mentioning that I also tried using a 2aH battery with this lawn mower while waiting for the 5aH to charge. This lasted for about three minutes, making it pointless using this lawn mower with anything less than a 5aH battery, unless you have plenty of spares!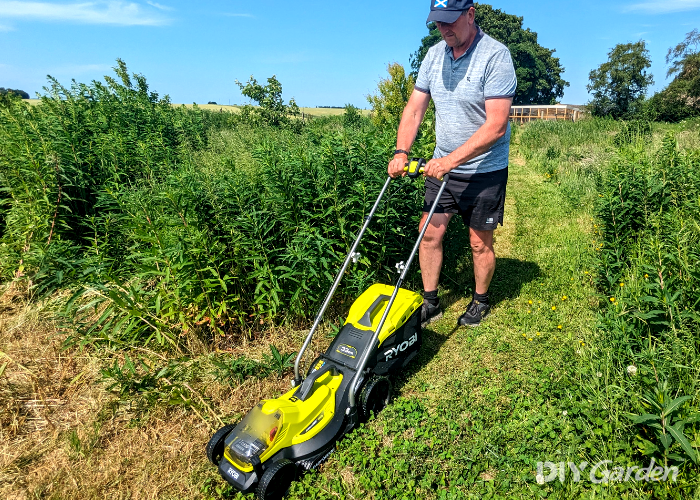 To start with, I took this lawn mower over to a clover lawn that forms a meandering path through my forest garden. Since the grass here had been cut a couple of weeks ago, I set the lawn mower onto its second-lowest cutting height and was pleased with the results. The grass looked neat and even, making it even more of a shame that the short battery runtime didn't allow me to cut more of it in one go!
I then tested the lawn mower out on longer grass, setting it to its highest cutting height. However, even at that, the lawn mower struggled. The grass here was long and sparse rather than thick and dense, so I was surprised that the lawn mower wasn't able to adequately get the job done. Worse still, I found that the machine overheated and cut out a couple of times. I had to stop and wait for a few minutes before I could continue on again. It's safe to say that long grass isn't this lawn mower's forte!
I didn't have any issues with using the collection basket, other than the fact that a larger size would have been preferred to save me from having to empty it quite so often. It slots in and out of the lawn mower easily and is light to carry around, even when full of grass.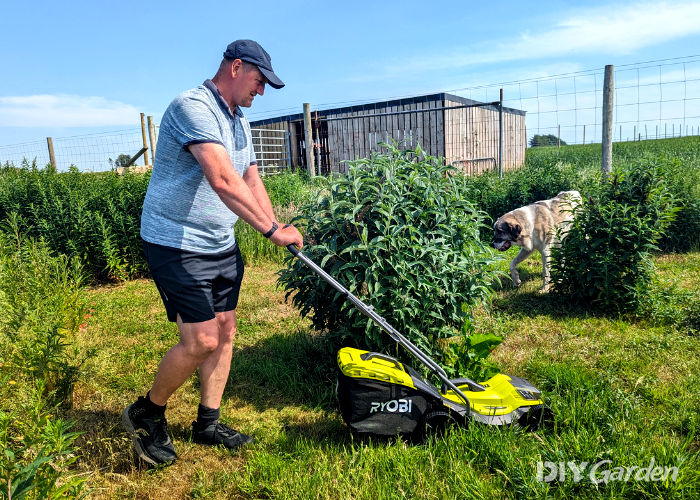 At 7.7kg, this was the lightest of the cordless lawn mowers that I tested. This is partly what gives it its toy-like feel, but this isn't necessarily a bad thing. Many lawn mowers can be so heavy and cumbersome to push around, but this one is the opposite. It would be ideal for anyone that needs to mow steep hills – it would be light enough to do so with just one hand!
This lightweight quality made it a breeze to turn this lawn mower around sharp corners. Again, being able to stand back and twist it around with just one hand, rather than standing behind it, means that you can work it into even the tightest of gaps.
The slightly larger rear wheels made the lawn mower feel stable at all times, even when I was pushing it on bumpy ground.
Its lightweight nature shines again when it comes to moving the lawn mower around when it's not in use. Grab the top carry handle and you'll be able to lift it with one hand, making it a great machine for those who have steps to deal with.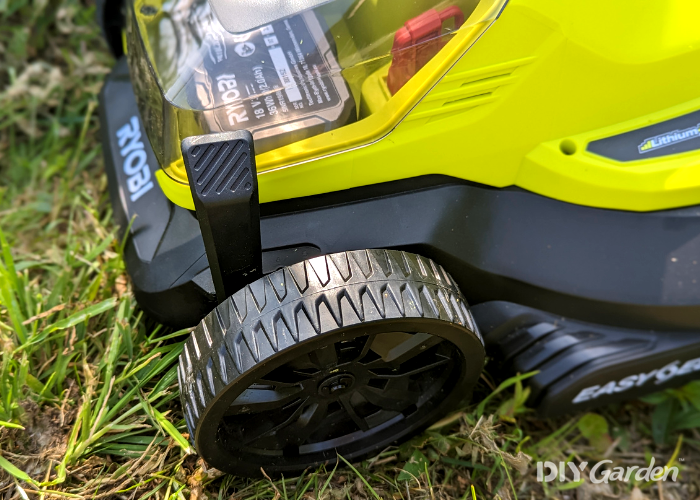 With a 33cm cutting width, this lawn mower is on the small side. However, for very small gardens, this may be all that you need.
The choice of five cutting heights, ranging between 25-65mm, offers a good variety. However, changing the cutting height isn't as simple as it should be. Rather than having a lever beside one of the wheels, this lawn mower's height adjustor is located underneath the machine. In order to access it, you pretty much need to turn the whole lawn mower onto its side. While this isn't too difficult to do since the lawn mower is so light, it's definitely inconvenient.
However, the fact that there are five handle heights to choose from slightly helps to make up for this. As I mentioned earlier, there are three heights to pick from when assembling the product. In addition to that, there are two extra height settings by the handles, making it so easy to adjust them in a way that's most comfortable for you to use.
This lawn mower has been designed with grass combs, which enable it to cut right up to edges. I found that this feature worked quite well, although there were a few edges that would have benefited from some neatening up with a strimmer.
Finally, my favourite feature; the mulching function. With this, you can remove the collection basket, insert the provided mulching plug, and mow your lawn, with the machine mulching and releasing the grass as it cuts it. This gives nutrients back to the lawn, which is great for the grass, and also gets around the issue of the small collection basket.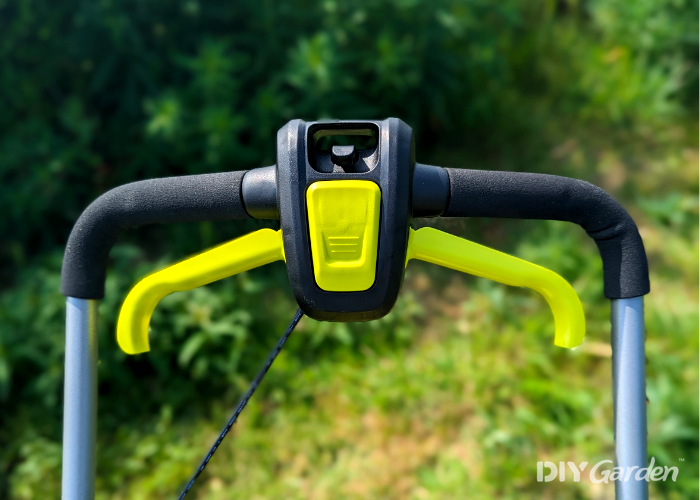 In terms of safety features, this lawn mower comes with all of the usuals. In order to turn it on, you need to turn the battery key, press a button, and then pull the levers, meaning that there's not much chance that someone would accidentally set it off.
The batteries are also safely tucked away in a hard plastic enclosure, keeping them safe.
However, there are a couple of safety-related letdowns worth mentioning. The first is how you have to turn the lawn mower upside down in order to change its cutting height. Not only is this more of a hassle than simply flicking a lever, but it's also pretty unsafe as it puts you in close proximity to the blade.
The fact that the cable feels so tight when the handles are set to their tallest height is also concerning as it wouldn't take much for that cable to break. You can obviously get around this by lowering the handles, but it's still a disappointing oversight.
The price of this lawn mower will definitely appeal to those who are on a budget. It's one of the lower-priced models out there yet its range of customisable features makes it seem like a high-end machine.
However, based on its low runtime and inability to handle long grass, the machine doesn't offer great value for money. While it does have a few features worth paying a little more for, such as the mulching function and the adjustable handles, these don't make up for only being able to use the lawn mower in 10-15 minute stretches.
Of course, you could get around this if you use multiple batteries. However, if you don't already own them, then this would get very expensive, making it worth simply going for a different brand that offers a longer runtime (such as all of the other cordless lawn mowers on this page that I've reviewed).
When it comes down to it, I would have to disagree with Ryobi's statement about this lawn mower being suitable for an area of 250m² – I would only recommend it for gardens that are up to around 150m² in size, with grass that's already relatively short. If this is the case, then the Ryobi 18V ONE+ Cordless Brushless Lawn Mower will undoubtedly impress with its ultra-lightweight nature, customisable features, and fantastic mulching function. Use it regularly and it will keep your lawn looking tidy and vibrantly green, which is always the ultimate aim!
Why You Can Trust DIY Garden
At DIY Garden, we believe your trust is earned through our knowledge and transparency. Our team of experts has over 75 years collective experience in the gardening and DIY space. Since the website's creation in 2016 we've tested over 275 products, ensuring our recommendations are based on real experience. We're open about what we've tried and what we've researched, and this is clearly labelled in our product reviews. Every year, we revisit and update our suggestions to include worthy new additions to the market. Our aim is to give you straightforward, honest, and helpful recommendations, so you can confidently choose the best tools and equipment for your projects.
Our Scores:
Assembly Ease

Design

Power

Performance

Manoeuvrability

Features

Safety

Value for Money

Overall
Features:
Lawn Size

250m²

Power

18 V

Battery Life

10 minutes

Charging Time

2 hours

Weight

7.5 kg

Cutting Width

33cm

Cutting Heights

5

Collection Bag

35L
About Your Guides
Derek Smith has been farming all of his life, and is an professional landscape gardener with over 22 years experience. He owns a 25-acre farm in Aberdeenshire with a focus on self-sufficiency, living off the land, and working with nature.

Sarah's role as chief editor at DIY Garden is about more than just making sure we're literally dotting the i's and crossing the t's (although she's a stickler for detail, so it's certainly about that too!). It's about proof-reading, fact-checking and continuously researching everything we publish, ensuring that it adheres to our

editorial standards

, so that everyone can really get the most out of their green space.
You May Be Interested In These Other Lawn Mower Products