Our
Webb Classic WEER33 Electric Lawn Mower

Review

Overall, the Webb Classic WEER33 performed well in all key areas. It was powerful, gave a clean cut, trimmed close to the edges, and reduced the number of times I needed to empty the grass collector.

Even though the design wasn't to my taste and the assembly instructions could've been clearer, I wouldn't hesitate to buy this lawnmower. It was easy to use, had a nifty design that could reach into tight corners, and even cut close to my raised sleepers (which it didn't claim to do).

B01N210MSJ

5055661901079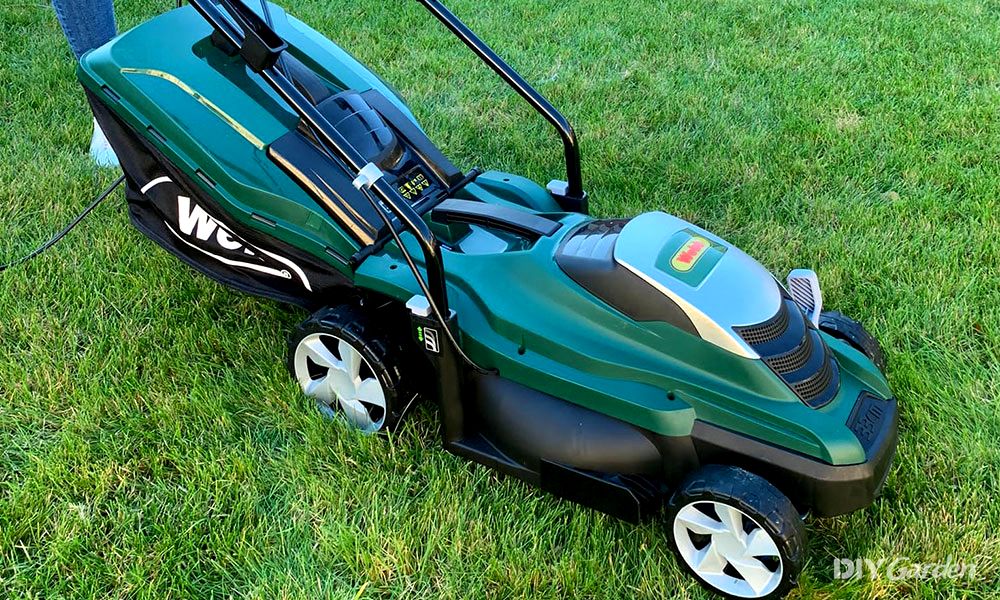 Equipped with 5 cutting heights and a 35-litre grass bag, the Webb Classic WEER33 is a compact lawnmower designed for smaller gardens. Since Webb has a long-standing reputation for selling superior quality products, I wanted to see how the Classic WEER33 design fared when put to the test.
Read our product testing methodology here.
How I Tested
As the Webb Classic WEER33 is designed for smaller lawns, I put the 5 cutting heights (ranging from 25 – 65 mm) through a thorough test on a smaller lawn area with low-to-medium growth.
Since it's also equipped with a 1300 W engine, I also wanted to see how well it fared when cutting taller, denser growth in damp conditions. My overall goal was to test whether the Webb Classic WEER33 could perform to its renowned high standard when cutting both a well-kept lawn in good conditions, and tougher terrain in less-than-ideal conditions.
A selling point of the Webb Classic WEER33 is its compact design, so I also wanted to see how well it cut around a lawn with raised borders and tight turning spaces.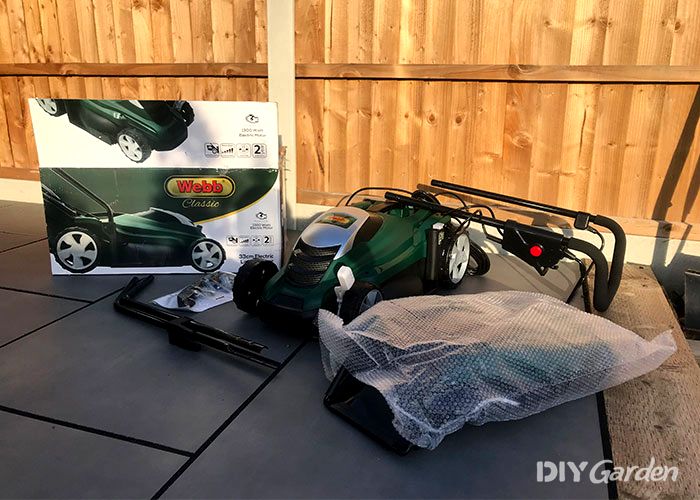 Assembling the Webb Classic WEER33 was easy. There were four main steps; installing the lower handles, screwing in the upper handles, securing the cable clips, and putting the handle on the grass collector.
While everything was relatively self-explanatory, the instruction manual wasn't very clear. With only four small images to show the four steps, it required a bit of squinting (even with my glasses on) to see which piece was what.
A few bullet points also explain the process, but you still need the images to see which way around things go. Luckily it was all quite intuitive, so you could figure things out with a bit of trial and error if worst comes to worst.
Only the top handles needed to be screwed in. The lower handles slot into the base very easily. Even though I managed it alone, having two people assemble the top part would be quicker and easier.
Two plastic cable clips are included in the accessory pack. Styled grey to match the lawnmower, they need to be secured in the designated notches for safety reasons. Not all lawnmowers tell you where to place the cable clips, so having indents is a nice touch.
The grass box was already mostly made up, so all you need to do is clip the handle on.
In just 15 minutes, I had the Webb Classic WEER33 fully assembled and ready to go. With two people, I think it could be done in less than 10.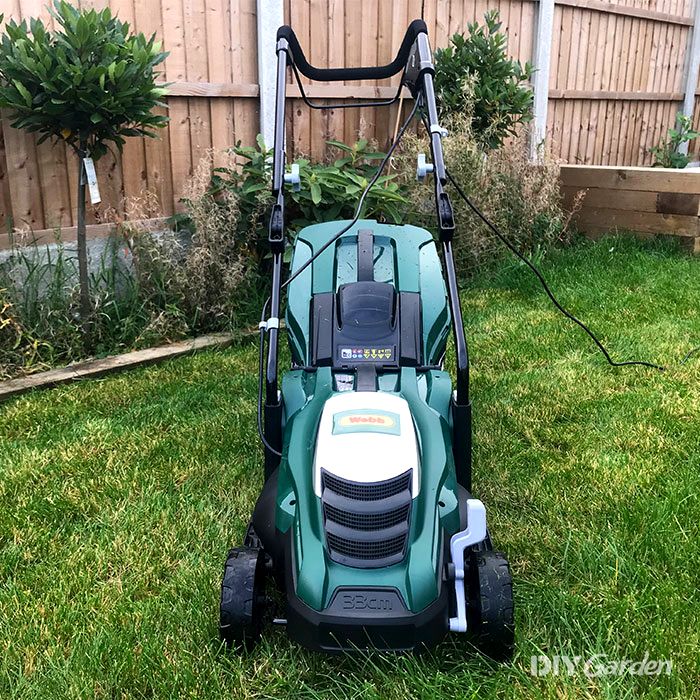 The Webb Classic WEER33 has a great design. The base is dark green with a shine to it. All the buttons and levers are grey to match the front of the lawnmower.
During unboxing, I was pleasantly surprised that the only things wrapped in plastic were the grass collector and bolts. Most lawnmower manufacturers provide layers of plastic around everything, so it was great to see this minimised.
To help improve airflow, the grass collector is made of mesh instead of plastic. Some mesh designs feel flimsy, but the Webb felt strong and high-quality. It's also branded with the Webb logo, which I thought made it look sleek and professional.
However, mesh grass collectors can easily tear, especially if they're overfilled. Luckily there's a flap indicator on the Webb Classic WEER33 that tells you when the collector is getting full, so the risk of breakages should be reduced. The only downside to the mesh design is that it was much harder to brush it clean of debris after use.
On the handlebars, the pull-to-start lever spans across the entire bar, which made it easy to find a comfortable place to hold it while mowing. Plus, there's also a foam covering that prevents the bar from getting too cold – which is great for keeping your hands warm during late autumn mows.
The only flaw I could find with the design was in the handlebar paintwork. A few bits flaked away while I was assembling the mower. While it wasn't a huge issue as there were only small bits that fell away, it made it feel slightly cheaper in design.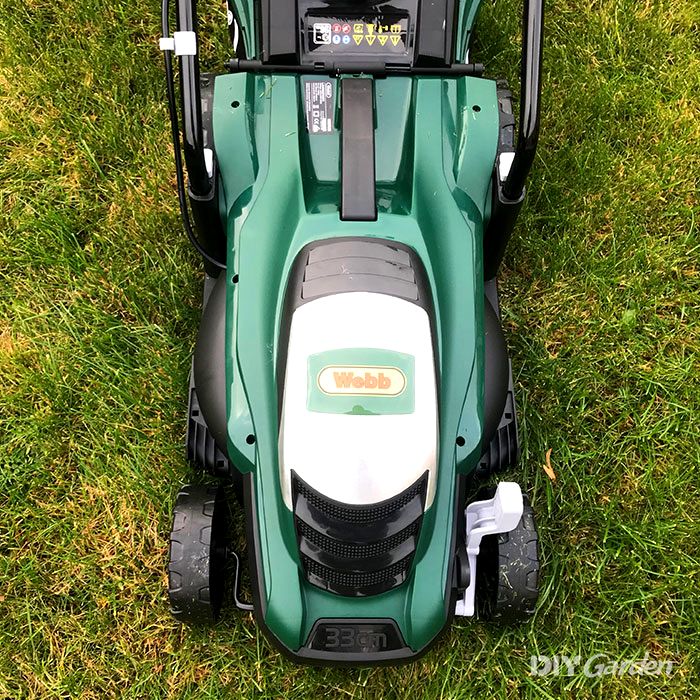 Fitted with a 1300 W electric rotary motor, the Webb Classic WEER33 has a decent amount of power behind it for such a compact lawnmower design. With minimal pushing effort, it easily cut through low-to-medium growth.
Mowing inclines greater than 15° should be avoided (according to the instruction manual), so I stuck to cutting a flat lawn with little-to-no slope.
When I tested it in areas with taller, thicker grass, it performed just as well.
Even damper areas in the shade (which you're not supposed to cut) were still a breeze with the powerful engine behind it.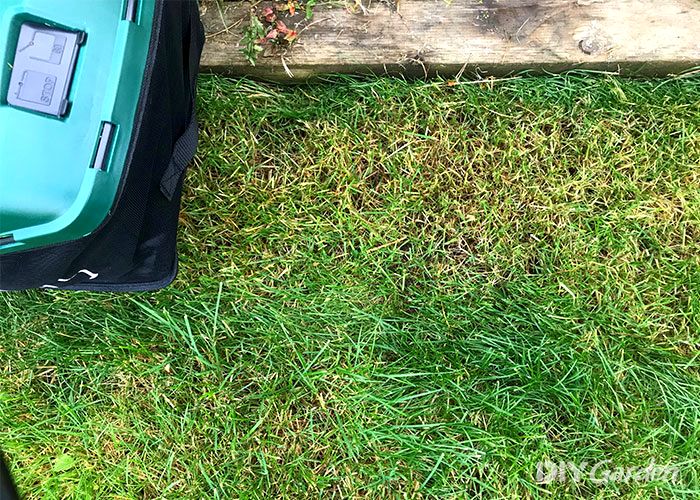 Performance-wise, the Webb Classic WEER33 impressed. Every patch of grass had a clean and even cut. I didn't have to double back over a single area once.
When cutting taller grass, the instruction manual notes that slower walking does a better job. I trimmed a few longer corners of grass very slowly and it worked just fine.
I did notice that when I was cutting around the edges of my lawn (which have raised sleepers) walking slower achieved a better result than walking fast. For the rest of the low growth, I walked at a normal pace and it cut just fine.
Since my lawn is surrounded by raised borders, getting a close-edge cut is always tricky. The Webb Classic WEER33 didn't boast close edge-cutting as a feature, but it should have done.
I positioned the lawnmower right next to the borders to see how it faired and it did a great job. It was even better than some other corded electric lawn mowers I've reviewed that claim to cut close. A few strands were folded downwards and needed tidying up with a strimmer afterwards, but that's to be expected with high borders like mine.
The Webb Classic WEER33 is branded as a lightweight lawnmower that's easy to manoeuvre around smaller lawns. Since it only weighs 8.8 kg, it's lighter than many other lawnmowers you find on the market.
Carrying it wasn't too bad. It wasn't heavy, but I found it difficult to get a good grip on the carry handle. It was vertical rather than horizontal, which made it a little trickier to hold.
My lawn has many tight corners, so I normally have to do a lot of lifting and manoeuvring around the edges to get a clean cut. However, because of its compact design, the Webb Classic WEER33 was quick and easy to turn, especially in these tighter areas.
The only downside was that the 35-litre grass box made the mower feel quite bulky. But this capacity is a decent size for such a nifty lawnmower, and I personally hate having to empty the bag more than once, so I'm not complaining.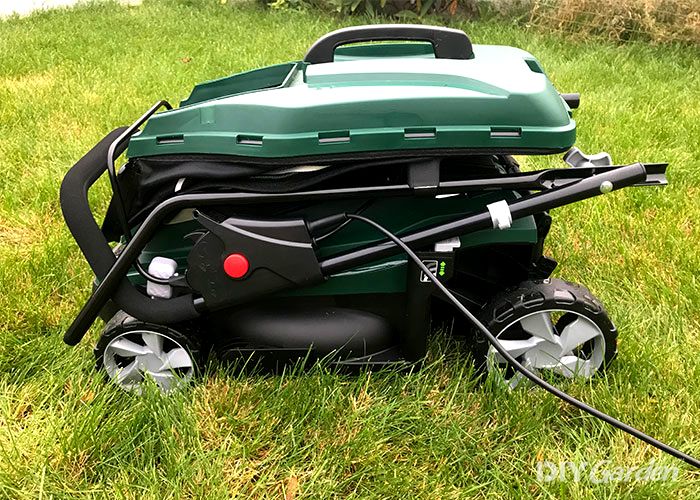 The Webb Classic WEER33 has many features. It has a 5-point cutting height range (from 25 -65 mm), a 35-litre bagging capacity, a 33 cm cutting width, a 10 m cable, and an indicator on the grass collector that tells you when it's getting full.
I tested 2 of the 5 height settings and they both worked brilliantly. Plus, they were easy to change, as you simply pull the handle up or down. It was a shame the heights aren't labelled on the mower, but it isn't difficult to figure out which setting you're on.
For such a compact lawnmower design, the 35-litre grass box is decent. Since the Webb Classic WEER33 is designed to make mowing smaller lawns easier and quicker, it certainly helps reduce the number of emptying trips you need to make. For the 40 minutes I spent mowing the lawn, I still didn't fill it up.
Even though the cable length isn't as long as some other lawnmowers, it's what you'd expect from a design targeted at households with smaller gardens.
The feature I like the most about the Webb Classic WEER33 is how easy it is to adjust the height of the handlebars. A button at the base can simply be pushed in to move the handlebar height up or down.
This feature also made it easy to remove the handles for storage. They simply pop out from the base when you push the button and pull the handles towards you. The only thing that needs unscrewing to achieve compact storage is the top handlebar.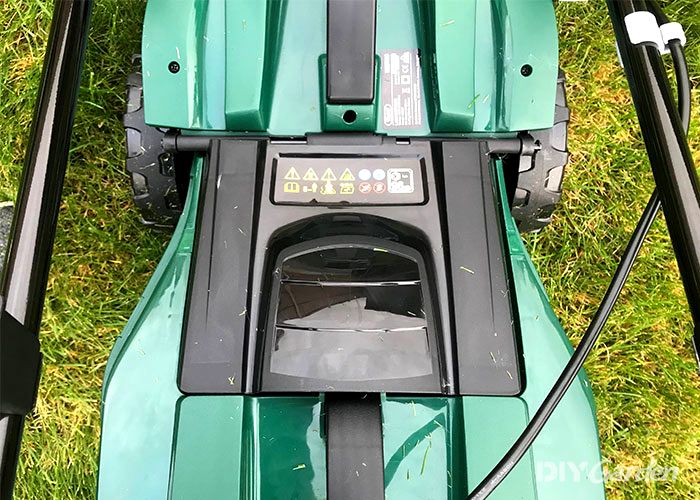 Overall, the safety features of the Webb Classic WEER33 are more than satisfactory. On the opening where the grass box slots in, there is a safety warning sticker. It isn't as bright as some other safety labels I've seen on lawnmowers, but it's still hard to miss.
Like most lawnmowers, the Webb Classic WEER33 has a two-step start, requiring you to push the power button and pull the lever towards you. As soon as you release the lever, the lawnmower cuts out. This wouldn't be easy to turn on by accident.
It also has an overload protection device. When it detects the lawnmower is overloaded, it automatically shuts off. While this should be a rare occasion, it's comforting knowing the protection is there. If it does overload, the instruction manual states it should be left for 5 to 10 minutes to cool down before using again.
With the range of features, the high power and quality of the results, the Webb Classic WEER33 seems to be great value for money. Even though it's a simple design with few noteworthy features, it has more than enough for the average gardener to deal with universal lawn types.
This design is targeted at smaller lawns, but there's no reason why it wouldn't be a great purchase for someone with a medium-sized garden – especially since the grass collector has a 35-litre capacity.
Overall, the Webb Classic WEER33 performed well in all key areas. It was powerful, gave a clean cut, trimmed close to the edges, and reduced the number of times I needed to empty the grass collector.
Even though the design wasn't to my taste and the assembly instructions could've been clearer, I wouldn't hesitate to buy this lawnmower. It was easy to use, had a nifty design that could reach into tight corners, and even cut close to my raised sleepers (which it didn't claim to do).
Why You Can Trust DIY Garden
At DIY Garden, we believe your trust is earned through our knowledge and transparency. Our team of experts has over 75 years collective experience in the gardening and DIY space. Since the website's creation in 2016 we've tested over 275 products, ensuring our recommendations are based on real experience. We're open about what we've tried and what we've researched, and this is clearly labelled in our product reviews. Every year, we revisit and update our suggestions to include worthy new additions to the market. Our aim is to give you straightforward, honest, and helpful recommendations, so you can confidently choose the best tools and equipment for your projects.
Webb Classic WEER33 Electric Lawn Mower Price Comparison
Price History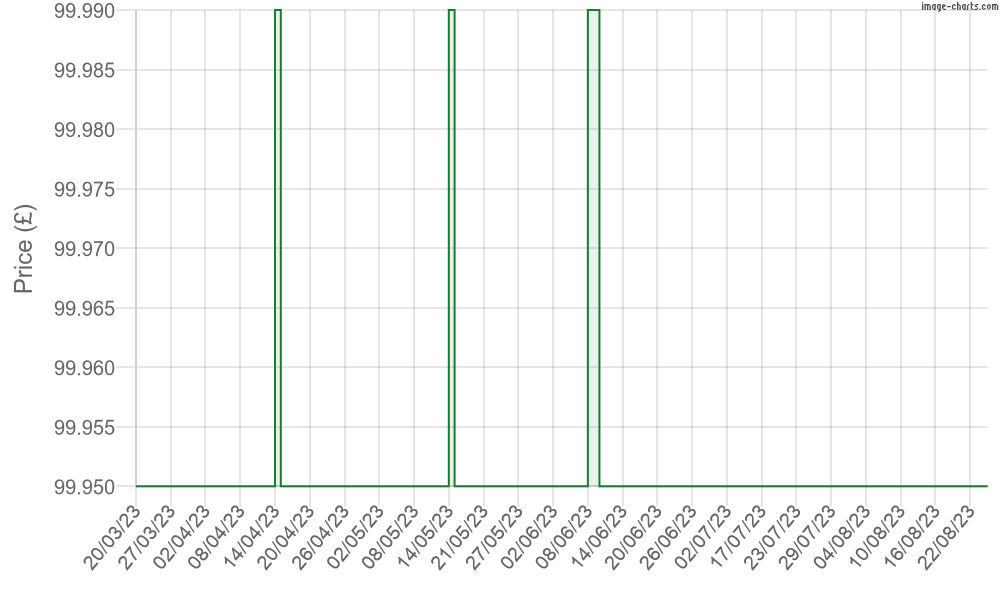 Our Scores:
Assembly Ease

Design

Power

Performance

Manoeuvrability

Features

Safety

Value for Money

Overall
Features:
Lawn Size

Small

Power

1300W

Cutting Width

33cm

Cutting Heights

25mm-65mm

Collection Bag

35L

Weight

8.8kg

Cord Length

10m
About Your Guides
Alex is an experienced writer, digital marketer and lover of the great outdoors. After spending over a year living out of a backpack, she decided that a life spent behind a desk was not for her. She now spends as much time as she can in the countryside, with any time inside spent writing blogs and buyer's guides for one of her favourite websites, DIY Garden!

Sarah's role as chief editor at DIY Garden is about more than just making sure we're literally dotting the i's and crossing the t's (although she's a stickler for detail, so it's certainly about that too!). It's about proof-reading, fact-checking and continuously researching everything we publish, ensuring that it adheres to our

editorial standards

, so that everyone can really get the most out of their green space.
You May Be Interested In These Other Lawn Mower Products