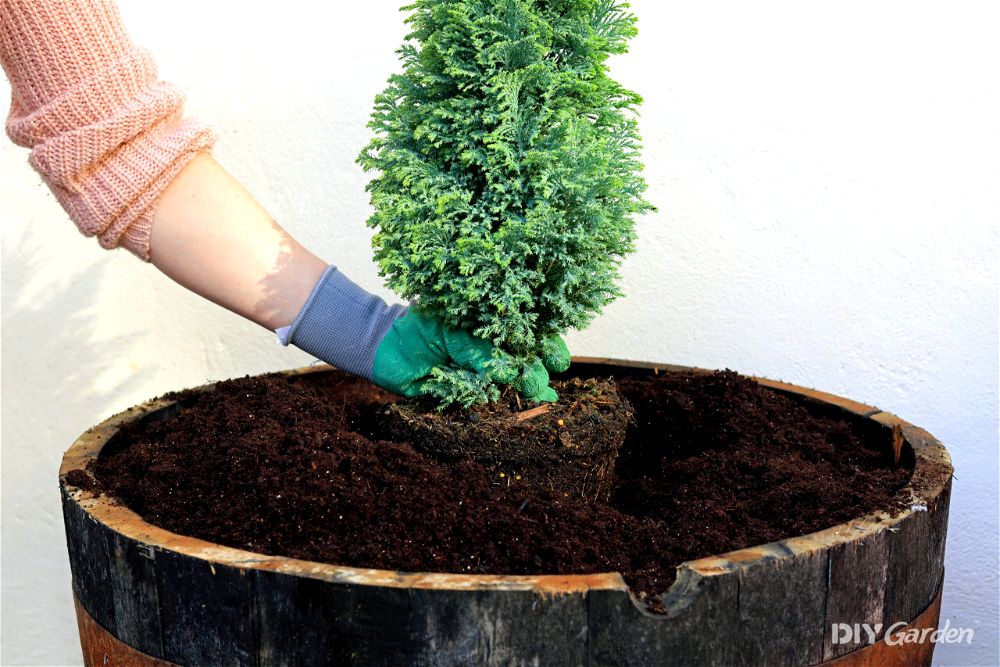 The Best Whiskey Barrel Planter Ideas
Whiskey barrel planters are a popular choice for adding a touch of rustic charm and character to outdoor spaces. Not only do they provide a unique and visually appealing way to display plants, but they are also durable and long-lasting.
If you're looking for inspiration for your whiskey barrel planter, look no further! We've compiled 27 of the best UK whiskey barrel planter ideas to help you transform your outdoor space into a beautiful and welcoming oasis.
From herbs and flowers to water features and birdhouses, there's something for everyone on the list. Whether you're a seasoned gardener or new to the world of plants, these whiskey barrel planters are sure to inspire and delight.
1. Use a Whiskey Barrel to Grow a Small Fruit Tree
Whiskey barrels make great fruit tree containers as they take up less space than typical fruit tree pots and can be easy to move around. Dwarf citrus, apple, and peach trees are excellent choices for whiskey barrel planters, as well as fruit trees with small root systems like fig and olive trees.

2. Create a Succulent Garden in a Whiskey Barrel Planter
Creating a succulent garden in a whiskey barrel planter is a fun and easy way to add some greenery to your outdoor space. Sedums are one of the best succulent species for pots, as they're hardy and low-maintenance and come in various shapes, sizes, and colours. Echeveria is another popular choice for whiskey barrel planters due to its rosette shape and unique shades.

3. Fill a Whiskey Barrel Planter With Herbs
Add some flavour to your outdoor space by filling a whiskey barrel planter with a variety of herbs. Herbs are easy to grow, so they are perfect for a barrel planter placed just outside the back door. Some herbs that are well-suited to growing in containers include basil, rosemary, parsley, and thyme.

4. Whiskey Barrel Planter Ideas With Lights
Transform your whiskey barrel planter into a stunning evening feature by adding lights. There are many creative ways to incorporate lights into a whiskey barrel planter, such as stringing fairy lights around the rim of the barrel, placing solar-powered lanterns on top of the soil, or installing LED lights inside the barrel. Adding lights to a whiskey barrel planter creates a cosy and inviting atmosphere and can be a fun way to showcase your plants at night.

5. Half Whiskey Barrel Planter Ideas
Get creative with your garden design by using half whiskey barrels as planters. Half whiskey barrels are a understated yet eye-catching option for container gardening, and you can use them to grow a wide variety of plants. While the most common way to display a half whiskey barrel may be by cutting it crosswise, you could try cutting it lengthwise (like in this design) to add a touch of unexpected flair.

6. Whiskey Barrel Planter Flower Ideas – Annuals
Annuals are well-known for their bright and colourful blooms and long flowering periods. Annuals are also easy to care for, making them excellent for adding interest in many styles of containers, including whiskey barrel planters. Some of the best annuals for UK gardens are geraniums, marigolds, petunias, fuchsias, and begonias.

READ NEXT: How to Line a Wooden Planter Box
7. Mix Herbs and Veggies in Your Whiskey Barrel Planter
Create a beautiful and fragrant display by mixing herbs and vegetables in your whiskey barrel planter. Consider pairing chives with miniature carrots, as chives repels the incredibly irritating carrot fly, as well as aphids and whitefly. You could also try planting one or two cabbage plants with dill, as this delicious herb improves the crops' health, flavour, and growth.

8. Whiskey Barrel Planter Decorating Ideas
There are many ways to decorate a whiskey barrel planter to add style and personality to your outdoor space. You could add a lick of paint, giving your whiskey barrel planter a fresh new look and tying it in using a complementary shade. Adding decorative accents such as hanging baskets, wind chimes, and bird feeders is another excellent decorating option. Alternatively, you could add a personal touch by personalising your whiskey barrel planter, adding a monogram or special message.

9. Plant a Climbing Rose in a Whiskey Barrel Planter
Add romance to your outdoor space by planting a beautiful climbing rose in a whiskey barrel planter. Climbing roses are a gorgeous, aromatic addition to any garden and are well-suited to growing in containers. To plant a climbing rose in a whiskey barrel planter, ensure you position your rose plant in the centre of your container, with the root ball level with the soil level. As your rose plant grows, train it to climb up a trellis or other support structure.

10. Fill Your Whiskey Barrel Planter With Edible Flowers
There's nothing more whimsical and practical than planting edible flowers in your whiskey barrel planter. The perfect edible flower species to plant at home are borage, nasturtiums, and calendulas. As the flowers grow, enjoy their colourful blooms, then pluck them and add them to your favourite dishes to add visual appeal to your meals.

11. Celebrate Trailing Plants in Your Whiskey Barrel Planter
Showcase the beauty of trailing plants in your whiskey barrel planter by choosing varieties that spill over the edges of the container. Some good options for trailing plants are ivy, million bells, sweet potato vine, and creeping jenny. Plant the trailing plants in the centre of the whiskey barrel, allowing them to spill over the edges or create a cascading effect. Alternatively, place a vibrant annual plant in the centre and your trailing plants at the whiskey barrel's border.

12. Stuff Your Whiskey Barrel Planter With Shade-Loving Plants
Brighten up your shady garden with easy-care perennial plants such as coral bells, lungwort, dead nettle, primroses, and foxgloves. If you'd prefer a less floral alternative, try Japanese forest grass. Hostas are another greener option, but they won't perform their best in full shade; they love partially shady conditions, though! For something a bit different, try coleus – these are available in a variety of vibrant shades and sport unique fuzzy leaves.

13. Create a Vertical Whiskey Barrel Planter
Vertical whiskey barrel planters are the perfect way to make the most of your garden's vertical space. To create a vertical whiskey barrel planter, start by choosing a sturdy wall or fence that can support the weight of the barrels. Next, attach the barrel to the wall or fence using screws. Or, if you don't want to attach it to a wall or fence, use strong posts with wooden supports to keep the whiskey barrels in place.

14. Whiskey Barrel Planter Idea – Full Sun
Make the most of the summer rays with a whiskey barrel planter in all its glory, positioned in full sun. Tulips, daffodils, hyacinths, and pansies are spring-flowering, full-sun-loving plants that will create a cheery display as the cold days disappear and the warmer weather arrives. Either choose a combination of various species to bring a variety of looks, textures, and heights or go for a single-plant display, like in the design below, to celebrate a single flower species.

15. Fall Whiskey Barrel Planter Ideas
Create a beautiful and colourful fall display in your garden with a whiskey barrel planter filled with chrysanthemums, ornamental cabbage, and kale. For added fun, consider incorporating a small pumpkin as a decorative accent. The pumpkin will bring a sprinkling of whimsy and increase the festive spirit in your outdoor space. As the plants grow, enjoy the rich, autumnal colours and textures they bring.

16. Whiskey Barrel Planter Flower Ideas – Perennials
Perennials are the go-to option if you're prioritising longevity in your whiskey barrel planter. Perennials are plants that come back year after year, providing long-lasting colour and interest. Hydrangea is one of the best perennials for the job, especially if you're looking for a showstopping display of big, bushy blooms. Lavatera, clematis, azalea, and sedum are excellent options, too.

17. Add a Trellis to Your Whiskey Planter
Enhance your whiskey barrel planter's visual interest and functionality by adding a trellis. A trellis can provide support for climbing plants, such as jasmine and honeysuckle, and add height and dimension to your garden. Whether you're willing to splash the cash or are sticking to a tight budget, there are trellis options for you. A great, budget-friendly trellis option is to buy simple bamboo canes and create an obelisk (as shown in the design below), tying the tops together with natural string.

18. Use a Whiskey Barrel to Create a Small Water Feature
Transform your whiskey barrel into a peaceful, calming water feature by adding a small pond pump and some aquatic plants. To create a small water feature in a whiskey barrel, start by drilling a hole in the bottom of the barrel for the pond water cord to pass through. Next, fill the barrel with water and add the pond pump according to the manufacturer's instructions. It's time to add the aquatic plants! Try planting water lilies or irises in the barrel around the pond pump. Then, simply bask in the soothing sound of trickling water in your garden as the water circulates and the plants grow.

19. Mix Annuals With Perennials in Your Whiskey Barrel Planter
Mixing annuals and perennials in your whiskey barrel planter will provide a continuous, year-round colour display. This combination allows you to incorporate a wide range of colours, textures, and shapes in your garden, and it's relatively cost-effective! Perennials are easy to maintain, while annuals ask for a little more attention, making it the perfect balance for someone who likes to spend a moderate amount of time in the garden.

20. Turn the Whiskey Barrel On Its Side for a Tumbling Planter
Looking for something a little different? Convert your whiskey barrel into an awe-inspiring feature in your outdoor space by turning it on its side and using it as a tumbling planter. For a tumbling planter, you'll need to check the whiskey barrel is in good condition with a sturdy base; otherwise, you may have a collapsed – rather than tumbling – planter on your hands! Trailing plants make the best tumbler plants, so try adding trailing lobelia, ivy, pansies, bacopa, or verbena to your display.

21. Add Tiers to a Whiskey Barrel
Bring an element of dimension to your garden by adding tiers to a whiskey barrel. To add tiers to a whiskey barrel, start by choosing a barrel that's in good condition and has a sturdy base. Then, cut the barrel into sections to create the number of tiers you want. Attach the tiers to the bottom of the barrel using screws and bolts, ensuring you securely fasten them. Finally, fill your striking, tiered whiskey barrel planter with all your favourite plants!

22. Build Legs for Your Whiskey Barrel Planter
Elevate your whiskey barrel planter and add a touch of style by building legs for it. You'll need four strong, durable pieces of wood that are long enough to support the weight of the barrel and some weatherproof screws. This is a cheap, easy way to bring even more uniqueness to your rustic whiskey barrel planter, and it makes gardening far easier on the back!

23. Insert a Birdhouse Into Your Half Whiskey Barrel Planter
Are you a big fan of nature? If so, inserting a birdhouse into your half whiskey barrel planter may be the design for you. A birdhouse will provide a safe, cosy place for birds to nest and raise their young while creating an interesting decorative element for your whiskey barrel. Inserting a birdhouse into your whiskey barrel planter can be a fun, rewarding way to add beauty and charm to your natural space.

24. Transform Your Whiskey Barrel Planter Into a Teacup
If whiskey barrel planters weren't already fun enough, go ahead and add a quirky handle and a lick of vibrant paint to create a cute, cottage-style teacup planter. This whiskey barrel planter idea is ideal for a wildlife-inspired or eclectic garden design, and it's easy to make yourself! Simply choose a piece of wood for the handle, and attach it with some screws. Then, give the whole thing a coat of paint in the colour of your choice, and you're away!

25. Grow Moss in a Whiskey Barrel Planter
Moss has a fluffy, delicate appearance, making an unusual yet striking addition to a garden. It requires very little care and thrives in varied conditions due to its hardy nature, so it's a perfect choice for those with limited time on their hands. Suppose that's not enough to sway your interest. In that case, moss is also an incredibly environmentally-friendly plant option, as it helps to absorb excess moisture in the soil, preventing erosion and reducing the need for frequent watering.

26. Make a Barrage of Barrel Planters
Make a bold and eye-catching statement in your garden with a barrage of whiskey barrel planters. You'll want to start by selecting a variety of whiskey barrels in different sizes and shapes. Either line them along a fence or path, as shown in the design below. When it comes to planting, you have a couple of options – you can prioritise variety by choosing a wide array of different plants with varied looks or go for a similar theme by sticking with the same colour or plant combinations.

27. Stack Whiskey Barrels to Create a Multi-Level Planter
Create a multi-level planter with a stunning visual impact by stacking whiskey barrels. Stack whiskey barrels on top of one another and fill them with a mixture of potting soil and compost. Plant your favourite plants in the barrels according to the recommended spacing guidelines, and ensure they're in a spot that meets their sunlight requirements. As the plants grow, they'll create a vertical display that wows.

Final Word on Whiskey Barrel Planters
We hope these 27 whiskey barrel planter ideas have inspired you to create a beautiful, unique outdoor space. Whether you're planning to go simple with a half whiskey barrel or max out on the DIY with a tiered or vertical whiskey barrel planter, the choice is entirely yours.
Now, you could um and ah about which option to choose. But why wait? Choose an idea that piques your interest, then grab your tools and materials, and get planting!