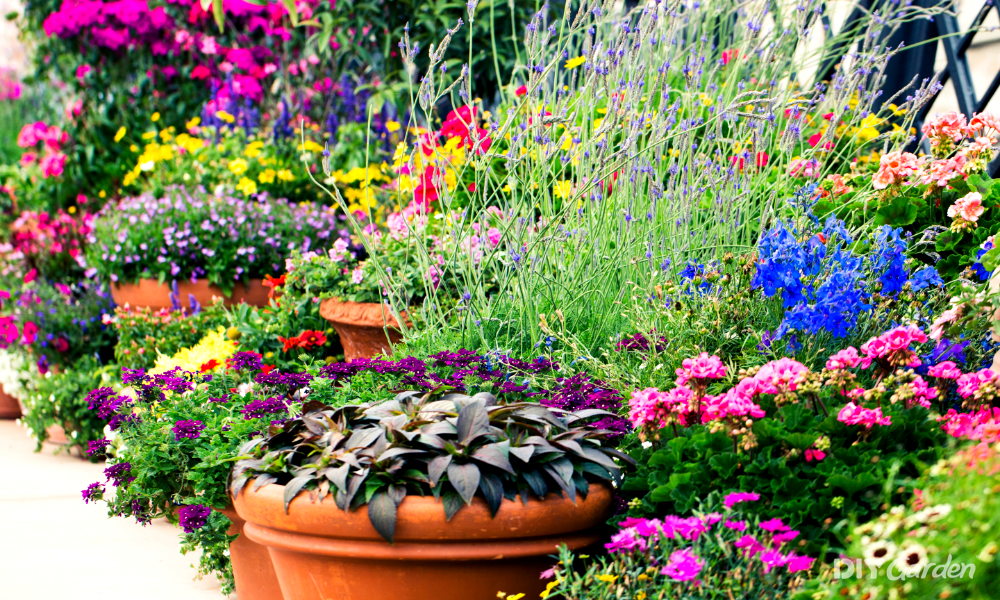 As the days get shorter and the temperatures drop, it's easy to assume that your outdoor space needs to hibernate until spring.
But what if we told you that there are plenty of plants that can breathe life and colour into your winter pots?
In this blog post, we'll introduce you to a variety of the best plants for winter pots that can thrive in the colder months, giving your garden a fresh and vibrant look even when the weather isn't cooperating.
​
---
Key Takeaways
Brighten up your winter garden with frost-resistant flowering plants, evergreen shrubs, and colourful bulbs for a lively display.
Add texture to your container gardens with foliage plants like heuchera and ivy.
Grow nutritious fruit & veg in pots this winter for a vibrant outdoor space!
---
Frost-Resistant Flowering Plants
Imagine a garden that remains beautiful even during the coldest months – that's achievable with frost-resistant flowering plants.
These beauties are a game-changer when it comes to adding life and colour to your winter pots.
Some of the best of the bunch are:
Pansies
Violas
Primroses
Cyclamen
Winter-flowering cherry
Winter jasmine
Let's take a closer look at each of these hardy, colourful flowers.
​
---
1. Pansies and Violas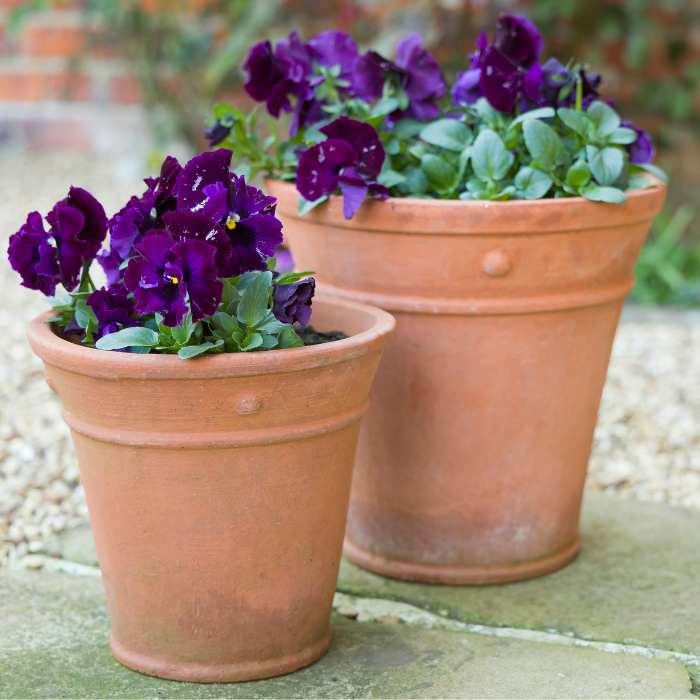 Pansies and violas are a gardener's dream when it comes to winter plants. They're hardy, colourful flowers that can survive cold temperatures. And they'll also add a touch of charm to your winter pots.
These plants can be found at garden centres during the colder months, so you won't have to go hunting for them! This makes them an easy and accessible choice for brightening up your outdoor space.
Planting pansies and violas in autumn ensures that they establish well in their new environment, and placing the pots where they'll receive morning sunlight and afternoon shade will help them thrive.
​
---
2. Primroses
If you're looking for low-cost winter plants that can bloom from late autumn to early spring, primroses are the answer.
These vibrant filler plants thrive in part-shade and can transform your winter pots with their bold, cheerful colours.
One particular variety, the 'Zebra Blue' primrose, blooms in late winter through late spring and simply loves sitting in partial shade.
With their extraordinary colours and easy care, primroses are an excellent addition to any winter container garden.
​
---
3. Cyclamen
Cyclamen is another fantastic option for winter pots, with its flag-like, long-lasting flowers available in a range of colours.
The hardy types, such as Cyclamen coum or Cyclamen hederifolium, are perfect for winter containers.
To provide the best conditions for your cyclamen, you'll need to:
Plant them at the same depth as the pot they came in. If you plant them too deep, their dainty stems may not reach the surface!
Place the pots in a sheltered spot away from heavy rain.
Ensure they receive adequate sunlight (partial shade, such as under a tree or alongside a wall that faces east).
These versatile plants can even be grown in hanging baskets, adding another dimension to your winter garden display.
READ NEXT: Cyclamen Care Guide: How to Grow Hardy Cyclamen in Your Garden
​
---
4. Winter-Flowering Cherry
For a delicate and elegant touch to your winter pots, consider the winter-flowering cherry.
This deciduous tree blooms in mild weather from November through April, providing a delightful pop of colour with its pale pink flowers.
To ensure the health and beauty of your winter-flowering cherry, plant it in well-drained soil in a sunny spot, and water it when its soil dries out!
And one more top tip if you decide to choose the hardy ol' cherry tree – mulch the base of the tree in winter. This can help protect the roots from frost.
​
---
5. Winter Jasmine
Winter jasmine is one of the best winter flowering plants to brighten up your winter pots and attract pollinators.
This fragrant plant has slender, willowy branches and bright yellow flowers that bloom over a period of 6 to 8 weeks, creating a stunning visual display.
To care for your winter jasmine, plant it in a sunny spot and prune it after the blooming season ends.
But, there's a catch – you can't hack back at your jasmine any which way. Winter jasmine blooms on the previous year's growth, so it's important to prune it back immediately after flowering in early spring.
Remove any dead, damaged or weak stems, as well as any growth that is overcrowding the plant. This helps maintain a tidy and healthy jasmine plant!
​
---
Evergreen Shrubs for Winter Pots
Evergreen shrubs can provide structure and year-round interest in your winter pots, making them an essential addition to your cold-weather garden.
Some excellent choices for winter containers include:
Boxwood
Skimmia
Holly
Dwarf conifers
Hebe
These shrubs can withstand difficult climates and cold temperatures while adding a beautiful touch to your winter containers.
Let's explore each of these evergreen shrubs and their unique characteristics, including their evergreen foliage.
​
---
6. Boxwood
Boxwood is a versatile evergreen shrub that can be shaped and pruned to create the perfect winter pot display.
The dwarf English Boxwood, in particular, is an excellent choice for containers, and you can even prune it into perfect spheres for a formal look.
Known for its adaptability, boxwood is an outstanding addition to any winter container garden.
READ NEXT: The Foolproof Guide to Container Gardening
​
---
7. Skimmia
Skimmia is an evergreen shrub with glossy leaves and an abundance of little red berries (from March to April), making it an attractive choice for adding colour and texture to winter pots.
Birds simply adore skimmia as it provides them with an all-important winter food source. That's a great bonus in our eyes!
These plants thrive in partial shade and can bring a pop of colour to your winter garden, even in the coldest months.
Planting skimmia in your winter containers is an excellent way to incorporate warmth and vibrancy during even the coldest months.
​
---
8. Holly
Holly is a classic festive plant known for its verdant green, glossy leaves and captivating red berries.
This evergreen shrub can be paired with other plants, such as the Holly 'Touch of Gold,' to create a stunning and eye-catching winter garden.
Whether you're looking for a traditional festive touch or just a splash of vibrancy in your winter garden, holly is a knock-out.
​
---
9. Dwarf Conifers
Dwarf conifers offer height and structure to winter pots, with a variety of shapes and shades to choose from. Some of the main varieties are:
Juniper
Cypress
Spruce
Pine
These can bring an element of formality and elegance to your winter container garden.
With their unique shapes and sizes, dwarf conifers can make a bold statement in your winter pots, creating an eye-catching display that stands out in the colder months.
It goes without saying that these plants are a great way to add texture and interest to your winter garden.
​
---
10. Hebe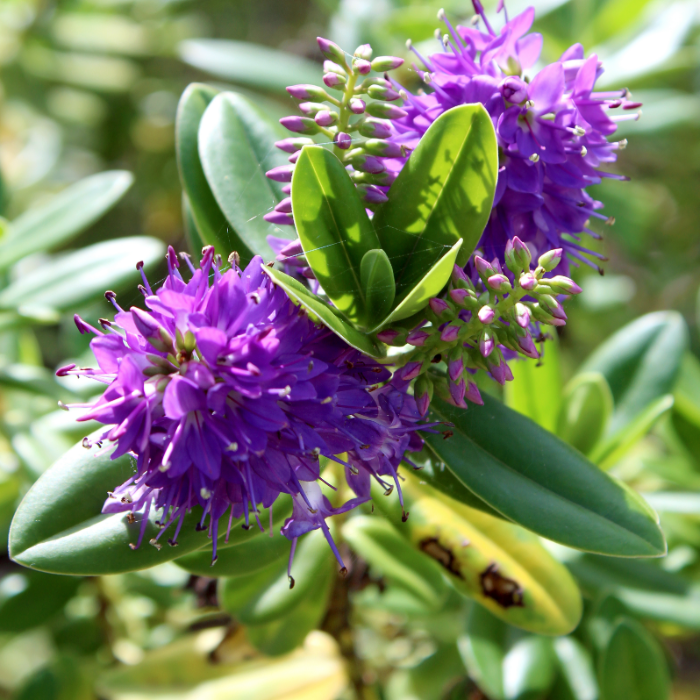 Hebe is a low-maintenance shrub with attractive foliage and flowers. It's evergreen, retaining its foliage throughout the year even when most other plants are looking a little sad (cough, winter, cough)
Hebes bloom during winter with little clusters of small flowers in shades of pink, purple, or white. We're not kidding, they really do brighten up a dreary-looking garden!
This plant is a no-brainer if you become a hermit in winter, as it requires next-to-no maintenance. This means minimal pruning and barely any watering once the plant is established!
---
Winter Bulbs for Pots
There aren't many gardeners who don't experience a pang of excitement when spring begins to swing around, no matter how much we enjoy blankets and hot chocolates during winter!
Winter bulbs mark the beginning of spring for many. Here are some of the most joyous winter bulbs to include in your garden:
Snowdrops
Crocuses
Hyacinths
Winter aconites
Dwarf iris
Winter daffodils
These plants are perfect for making your garden come to life, even after the harshest of winter conditions.
Let's delve deeper into each of these winter bulbs and their unique characteristics.
​
---
11. Snowdrops
Snowdrops are delicate, white flowers that can bring life and colour to your winter pots.
These charming little plants attract bees, hoverflies and butterflies, making them a valuable addition to your garden if you pride yourself on helping local wildlife.
Plant your snowdrops in late summer to early autumn so their root network can become established before the cold winter days and nights set in. This will almost guarantee their return year after year!
​
---
12. Crocuses
Crocuses are early bloomers, typically flowering in late winter or early spring, depending on the variety you choose! You can choose crocuses in a variety of colours, from intense purple, to orange, to pure white.
Some of the best crocus varieties for winter-flowering are:
Crocus chrysanthus 'Blue Pearl'
Crocus chrysanthus 'Cream Beauty'
Crocus chrysanthus 'Prins Claus'
Crocus tommasinianus 'Barr's Purple'
Crocus sieberi 'Firefly'
Mix these five varieties together, and your garden will erupt in a burst of colour as winter draws to a close.
To grow crocuses in pots, follow these steps:
Choose a container with good drainage.
Fill the container with a well-draining potting mix.
Plant the corms (e.g., the bulbs) about 2 inches deep and 4 inches apart.
Place the pot in a sunny spot.
Enjoy the beautiful blooms throughout the late winter months.
​
---
13. Hyacinths
Hyacinths are fragrant, colourful bulbs that can be forced for early blooms in winter pots.
These beautiful flowers not only add awe-inspiring colour to a winter container garden, but they also provide a delightful scent that can brighten even the dreariest of winter days.
Plant hyacinths in well-drained soil and care for them by watering if the top two inches of soil become dry.
And remember, hyacinth bulbs can be toxic, so it's best to wear gloves when handling them!
READ NEXT: How to Plant Hyacinth Bulbs
​
---
14. Winter Aconites
Winter aconites are cheerful, yellow-flowering bulbs that bring a beam of sunshine to winter pots.
These hardy plants require minimal care and can be planted in clusters for a stunning display of bright, buttercup-like blooms.
If you opt for aconites, remember to use humus-rich, moisture-retentive soil and plant them in semi-shade. This gives them the best chance of resurfacing next year, and maybe even the year after that!
​
---
15. Dwarf Iris
Dwarf iris adds elegance to winter pots with its jewel-like colours and compact size.
Varieties such as Pauline, Harmony, and Frozen Planet are popular choices for adding a pop of colour and sophistication to your winter container garden.
Plant dwarf irises in well-drained soil and enjoy their beautiful blooms as they brighten your outdoor space during the colder months.
​
---
16. Winter Daffodils
Winter daffodils have three main qualities that make them one of our favourite winter plants. For starters, they're hardy bulbs that can survive extreme temperatures, even the UK's cold winters! That's one.
Secondly, they're attractive, both to look at and smell, due to their cheery yellow, white, or bi-colour flowers and sweet scent. That's two.
And finally, they naturalise. What does this mean? Well, they spread over time. So, when you buy one packet of winter daffodil bulbs, you can actually end up with a whole load! That's three!
To care for your winter daffodils:
Plant them in a sunny spot.
Water them if their soil is dry.
Prune them after the blooming season ends to keep them looking great and ready for the next year's display.
---
Foliage Plants for Winter Containers
Foliage plants like heuchera, ivy, ornamental grasses, carex, and winter creeper can add texture and interest to your winter pots, creating a visually appealing and dynamic display.
These winter bedding plants can be used as filler or thriller elements in your winter container garden, providing a unique and eye-catching look that will make your garden stand out.
Let's get to it – starting with heuchera!
​
---
17. Heuchera (Coral Bells)
Heuchera, also known as coral bells, is a colourful foliage plant that can be used as a filler in winter pots.
Coral bells are known for one quality in particular – the various shades of their leaves. Depending on the variety you choose, their leaves may be:
Pink, such as Heuchera 'Berry Smoothie'
Caramel-colour, like Heuchera 'Caramel'
Deep purple, such as Heuchera 'Palace Purple'
Maroon, like Heuchera 'Midnight Rose'
Black, e.g., Heuchera 'Obsidian'
Apricot, such as Heuchera 'Marmalade
Lime, like Heuchera 'Lime Marmalade'
Pewter grey, e.g., Heuchera 'Silver Scrolls'
Combine some of these different colours together and you'll have yourself a gorgeous foliage garden for winter!
​
---
18. Ivy
Ivy is a low-maintenance, trailing plant that can soften the edges of winter pots and provide year-round interest.
This evergreen plant is perfect for creating a lush, green backdrop to your winter container garden, and it requires very little care.
Plant ivy in well-drained soil, water it when the soil becomes dry, and prune it as needed to keep it looking its best and prevent overgrowth.
​
---
19. Ornamental Grasses
If you want to appeal to your sense of hearing as well as your sight, then ornamental grasses are the prime choice.
Ornamental grasses add texture and movement to winter pots, with a range of colours and sizes to choose from.
They also sway at the slightest breeze, producing soft rustling sounds that can be gentle on the ol' ears, making your garden feel like a more tranquil, calming space.
What's more, wildlife can suffer with limited spaces for habitats during winter, but the seed heads and stems of grasses can attract birds, such as finches and sparrows, who rely on them for shelter and food.
Plus, the insects love them, too!
READ NEXT: 34 Evergreen Grasses for Pots
​
---
20. Carex (Sedges)
Carex, or sedges, are versatile, low-maintenance grasses that can be used as fillers or thrillers in winter pots.
These plants are perfect if you need to cover a sparse area of ground quickly, as some varieties will form dense clumps and spread quickly.
Carex oshimensis 'Evergold' or Carex buchananii are two of the best for this!
Sedge plants are also ideal for moisture retention and weed suppression, so they will work in your garden as well as in pots!
​
---
21. Winter Creeper (Euonumus fortunei)
Winter Creeper is an evergreen plant with variegated leaves that can add interest and colour to winter pots.
Some of the best types of winter creeper with variegated leaves are Euonymus fortunei 'Emerald 'n' Gold' or 'Emerald Gaiety.' These combine green, gold, and white to put on a stunning show!
You can use winter creeper as a filler or thriller in your winter container garden, so it's a great, dynamic plant to have around!
---
Fruit and Veg Plants for Winter Pots
Want fruit and veg plants that will survive the winter? Look no further! You'll want to go for fruit and veg plants like:
Ornamental cabbage and kale
Winter lettuce varieties
Spinach
Leeks and parsnips
While many gardeners may immediately discount winter for producing food, it's always a good time to add an edible element to your garden!
Let's explore each of these plants and their unique characteristics.
​
---
22. Ornamental Cabbage and Kale
Ornamental cabbage and kale are extremely cold-tolerant plants, making them ideal for winter gardening in the UK.
They can withstand frost and chilly temperatures while providing continuous colour and beauty throughout the season.
And if you're still looking for reasons to add cabbage and kale to your winter container collection, these plants are long-lasting! In fact, their colours actually intensify as the temperatures drop!
Unlike other plants that wilt and fade over winter, these maintain their visual impact for several months!
​
---
23. Winter Lettuce Varieties
Winter lettuce varieties can be grown in pots for a fresh, edible addition to your winter container garden.
They grow relatively quickly compared to other crops during the winter season but maintain a compact size, meaning they will suit any sized garden, big or small!
If you're wondering why you'd grow lettuce in pots rather than a bed or border, here's why: pots protect lettuce from slugs, snails, and rabbits.
Elevating them off the ground places them in a controlled environment, which reduces the risk of pests significantly!
The top three lettuce varieties for winter pots are:
'Winter Density'
'Arctic King'
'Marvel of Four Seasons'
READ NEXT: How to Grow Fresh Salads Through the Winter
​
---
24. Spinach
Spinach is a hardy, leafy green that can be grown in pots for a nutritious and attractive winter display.
Its nutritional value is one of the main reasons spinach is on this list – packed with vitamins, minerals and antioxidants; you'll struggle to add a healthier plant to your winter container garden.
Try the 'Winter Bloomsdale' and 'Tyee' varieties to ensure they last the cold winter temperatures.
​
---
25. Leeks and Parsnips
Leeks and parsnips are more than happy to grow in pots provided the container is large enough to accommodate their root networks.
We recommend a pot with a depth of at least 30 cm for leeks and 30 – 45 cm for parsnips!
In both cases, make sure the pots have adequate drainage holes to prevent waterlogging and promote healthy root growth.
Providing a nutrient-rich potting mix with good moisture retention is also important for successful growth.
---
Final Word on Plants for Winter Pots
There's no need to let your garden hibernate during the winter months.
With a variety of frost-resistant flowering plants, evergreen shrubs, winter bulbs, foliage plants, and fruit and vegetable plants to choose from, you can create a stunning and vibrant winter container garden that will brighten up your outdoor space and provide fresh, edible produce.
So don't let the cold weather hold you back – get planting and enjoy the beauty and bounty of your winter pots all season long.
If you enjoyed this, you'll love our piece on Making the Most of Your Winter Garden. Check it out!
---
Frequently Asked Questions
What are some frost-resistant flowering plants for winter pots?
Brighten up your winter outdoor space with a few pots of colourful pansies, violas, primroses, cyclamen, winter-flowering cherry, and winter jasmine – all of which are frost-resistant and will bloom through the coldest months.
These plants will add a splash of colour to your garden and help make it look inviting even in the depths of winter. They will also attract wildlife, such as birds and butterflies, to your garden.
​
---
What are some evergreen shrubs that can be used in winter pots?
Adding some evergreen shrubs to your winter pots is a great way to add colour and texture throughout the colder months.
Varieties such as boxwood, skimmia, holly, dwarf conifers, and hebe are all suitable choices.
​
---
What types of winter bulbs can be grown in pots?
Brighten up your winter patio with a splash of colour – grow snowdrops, crocuses, hyacinths, winter aconites, dwarf iris, and winter daffodils in pots.
​
---
What are some foliage plants that can be used in winter containers?
If you're looking for foliage plants that thrive in colder months, try heuchera, ivy, ornamental grasses, carex, and winter creeper.
These hardy plants bring a touch of greenery to your winter containers.
​
---
What fruit and veg plants can be grown in winter pots?
For winter pots, ornamental cabbage and kale, winter lettuce varieties, spinach, leeks, and parsnips make great edible additions that can grow successfully in colder weather.