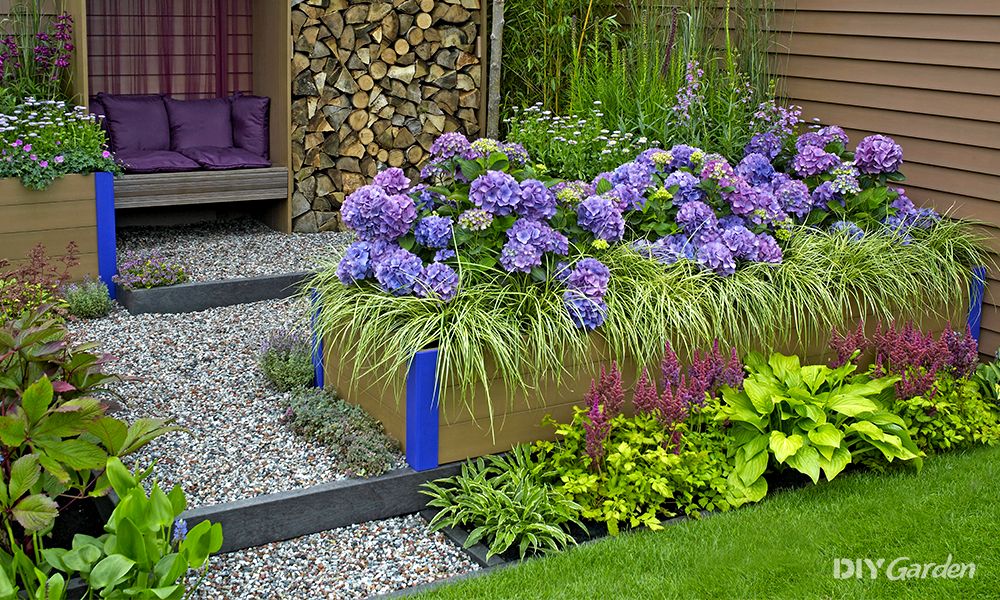 While we're firm believers that any garden can benefit from a raised bed, there's a lot of things to think about when it comes to implementing this style of bed into your garden. Size, design, material, location and soil type all need considering, and the options for each are seemingly endless!
From ultra space-efficient multi-tiered beds, to those specifically made for your favourite fruit and veggies, there's a raised bed plan to suit any and every outdoor space.
Not sure where to start when it comes to designing a raised bed garden? We've put together our 50 favourite plans and ideas.
Opt for a No-Frills Garden Bed
Raised beds don't have to be ultra-fancy! If you're not wanting to spend hours building a state-of-the-art raised bed garden, opt for a simple raised bed made from bricks. Lay some bricks on their side, fill the bed with soil and voila! A simple yet charming raised bed.
Create Extra Space with Two Tiers
Two-tier raised beds are more space-efficient than regular raised beds, and they also offer a key advantage when it comes to planting. In regular raised beds, taller plants can stop sunlight from reaching the smaller plants, leading to stunted growth. Two-tier beds allow you to grow taller plants on the lower tier, and smaller plants at the top.
Make Access Easy with a U-Shaped Bed
Allowing for more efficient maintenance than a longer, rectangular bed, U-shaped beds give you access to all areas of the bed from one spot. U-shaped beds can be a lot larger than rectangular beds while providing the same easy maintenance. Integrating a bench seat will give you a cosy and contained area to relax.
Stay Organised by Square Foot Gardening
If you're struggling to keep your garden organised, the square foot gardening method can help. This technique involves dividing a 4′ x 4' raised bed into 16 equal size sections. Each area can be used to grow an individual plant.
Keep Costs Down with Timber
One of the most popular choices of raised bed materials, timber has a long lifespan, attractive appearance and it's very affordable. Beds made from timber should warm faster in the spring, meaning you can start planting earlier.
Be Good to the Planet With Upcycled Furniture
Eco-conscious gardeners should consider using upcycled furniture for their raised beds. This can be sustainably and affordably sourced, spruced up with a lick of outdoor paint and used to create a charming raised bed herb garden!
Create a Rustic 'Wattle' Bed
Create a rustic raised bed using branches or scrap wood sourced from the garden. This method is affordable, good for the planet and highly rewarding. Longer branches can be weaved together to create a 'wattle' bed. You'll need upright stakes and long, supple branches.
Get Creative with a Vertical Pyramid Raised Bed
Thanks to their easy maintenance and hassle-free harvesting, pyramid raised beds are an excellent choice for gardeners short of time. Try filling each tier with your favourite herbs. Most perennial herbs have shallow root systems so suit this style of raised bed perfectly.
Prevent Aches and Pains with Waist-High Beds
Waist high raised beds are easier to tend to than those lower to the floor, especially for senior users or those with mobility issues. You can either stand or sit while pruning, weeding, watering and harvesting.
Child-Friendly Raised Garden Bed
There's not much more rewarding as a green thumbed parent than seeing the little ones following in your footsteps! A raised planter box with legs can be adjusted so it's the perfect size for your kids. Teach them to plant, care for, and harvest carrots, peas and lettuce!
Invest in a Rot Resistant Cedar Bed
Cedar is a popular choice of material thanks to its natural rot resistance and long lifespan. Cedar boards are stronger than other types of wood, and this is one of the more sustainable woods to source. It's biodegradable so, provided it's not treated, will eventually break down into the earth.
Prioritise Easy Maintenance
Elderly gardeners can find tending to ground-level beds difficult, as there's often a lot of kneeling and crouching required. If you're worried about tending to your plants as you get older, opt for a taller raised bed. These will require less bending over and allow you to sit on the edge to tend to your plants. You could also invest in a self-watering system if you're not able to manually water.
Save on Supermarket Costs with a Raised Bed Vegetable Garden
Many people choose to grow veggies in their raised beds. Most vegetables love the improved quality of the soil that raised beds can offer, plus is there anything better than heading out to the garden to harvest vegetables for your evening meal? Ensure your veggies are planted in full sun and in well-drained soil.
Upcycle Wooden Pallets for a Unique Raised Bed
Wooden pallets can be used to create quirky upcycled furniture and unique garden beds. Pallets can often be picked up for free. Simply stack the pallets on their sides, secure together and fill with the perfect soil blend, or break the pallets apart and use them to create slimline raised beds.
Keep Pests Away with an Enclosed Raised Bed
Every gardener will have to deal with pests at some point, but if you've reached the end of your tether when it comes to unwanted visitors, you may want to think about enclosing your garden beds. Go for tall mesh walls to keep pets, deer and foxes out of your flower beds.
Create a Curved Raised Bed with Cinder Blocks
Cinder blocks can be used to make affordable and long lasting raised beds. The smaller size means you'll have more flexibility when it comes to shape and height. Incorporate curves into your raised bed or opt for a more formal straight-edged layout.
Make the Most of Space with an L-Shaped Bed
Make the most of the space you've got available by opting for an L-shaped raised garden bed. These fit neatly into a corner and can even be combined with a seating area.
Relax Amongst the Plants with a Raised Bed Seating Area
Integrating a bench seat into your raised bed is a great way to make the most space. There's a number of ways to do this, but the image above shows one of the most practical. Growing herbs in the raised bed will mean you can simply pluck off a garnish for your summer G&Ts!
Invest in a Deer-Proof Enclosure
While not every gardener will have to endure deer invading their raised beds, those that do will reach the end of their tether fairly rapidly! Invest in a large cover like the one pictured above to save your raised beds from deer.
Protect Raised Bed Plants in Winter with Horticultural Fleece
It's important to protect your perennials from frost in the winter, and those in raised beds are even more susceptible to damage as the soil is exposed at the side as well as the top. Place horticultural fleece or hardware cloth over your raised beds to keep them warm.
Embrace an Industrial Look with Corrugated Metal
Corrugated metal is one of the most popular choices for raised beds thanks to its industrial look and durability. It's important the metal used is galvanised so it doesn't rust. For style and durability, go for a combination of corrugated metal and wood like the image above.
Keep Raised Beds Warm in a Garden Greenhouse
If you're wanting to grow less hardy plants or those that prefer warmer temperatures, a garden greenhouse is one of the best investments you can make. Walk-in greenhouses are great if you've got a lot of space, but mini greenhouses with just a couple of shelves will extend your growing season without taking over your garden.
Grow your Own Garnishes in a Raised Bed Herb Garden
Perennial herbs do very well in raised beds thanks to the improved soil quality and better resistance to diseases. The important thing to consider is location. You don't want to have to traipse to the end of your garden for a few basil leaves! Place your herb garden in a spot near your kitchen where you're likely to actually use it.
Grow Cucumbers in Sunny Raised Beds
Cucumbers do very well in raised beds, but they do need a depth of around 18" to grow properly. Give them a spot in full sun and protect them from frost in the winter months. Growing them on stakes or a trellis like the image above will give you more space beneath.
Liven Up a Drab Decking with Raised Beds
The beauty of raised beds is that they can be installed virtually anywhere! Liven up your decking with some bright and bold flowers, or opt for a raised bed herb garden to ensure you're never far away from a garnish for your drink or salad!
Create a Striking Centrepiece with an Octagonal Raised Bed
Octagonal raised beds make a striking centrepiece and can be used to plant virtually anything. A larger sized bed can accommodate a small tree or shrub, and look beautiful when surrounded by shade-loving plants.
Make Most of Space with a Triangular Raised Bed
Triangle raised beds are space-efficient and perfect for those awkward corners of the garden that you don't know what to do with. Triangle planters can be purchased online, or else they can be easily built using a few old planks of wood.
Increase Planting Space with a Three Tier Corner Planter
Corner planters make the most of often unused garden space. A three-tier corner planter gives you a huge amount more planting space than single tier planters, plus they can add some vertical interest to your garden.
Integrate a Trellis for Climbing Plants
Integrating a trellis into your raised bed will maximise production and create more space. Plants that can be grown on trellises include vegetables such as pole beans, peas, tomatoes and cucumbers. Some trellises are permanently attached to the raised bed, while others can be installed temporarily and taken down in the winter months.
Use Portable Raised Beds as a Less Permanent Solution
The benefit of a portable raised bed is that it can be moved to a sheltered location in bad weather. Large planters or pots offer the same benefits. Fixing wheels to your planter like the model pictured above will make moving it around your patio exceptionally easy.
Upcycle Wine Barrels to Create Quirky Flower Beds
The perfect mini raised bed, wine barrels are great for brightly coloured flowers or even small trees. Their portability means they are a good solution for renters, as you can simply bring them with you when you move house. As they don't have an open base, the barrel can be filled to suit whatever it is you are growing.
Integrate a Trellis for Growing Tomatoes
Tomatoes are one of the most popular edible plants to grow. It's easy to adapt the soil to suit your variety of tomato, while the increased soil warmth will give your tomato plants a head start in the spring. Stakes or trellises can be added to give your tomatoes more support as they grow.
Keep Cooking Ingredients Nearby with a Patio Herb Garden
The beauty of raised beds is that they can be placed anywhere, and even those with smaller outdoor spaces can enjoy a raised bed. Herb gardens can add a fresh look to any patio or seating area, while it's easy to nab a few sprigs of rosemary or basil for your meals.
Cut Down on Maintenance with a Self-Watering Raised Bed
Gardening can be time consuming and if you're wanting to make it that little bit easier, a self-watering raised garden bed is worth considering. This style of bed is perfect for those who spend a lot of time away, and means you don't need to lug heavy watering cans around with you!
Create Smart and Durable Beds with Concrete Blocks
Concrete block raised beds are cheap, easy to build and, thanks to the small size, can be built to almost the exact height you require. Concrete blocks can be installed over the top of your grass, making this a quick-to-install raised bed option.
Use Raised Beds to Create Zones
Divide different sections of your garden such as the patio and lawn by using raised beds. Creating zones in your garden can make the space appear bigger, while also screening certain areas from overlooking neighbours.
Protect Plants with Puppy-Proof Raised Beds
If your dog hasn't quite grasped the concept of not digging up your perfect peonies, a puppy-proof raised bed is worth considering. Depending on the size of your dog, you could install a raised bed which they are unable to reach. Taller beds have the added benefit of being easier for you to tend to and maintain.
38. Create More Planting Space with Multi-Tiered Beds
If you're feeling extra creative, go for a 3 or even 5 tier elevated planter box. The perfect spot for herbs with shallow root systems or your favourite flowers. Purchase ready-made, or great creative with a few planks of wood and put this bed together yourself.
Screen your Patio with Large Planters
Planters have the same benefit as raised beds. You can select the best soil for whatever you're growing, plus the closed base means they can be installed on any surface. Strategically placing planters around your patio can give your garden more privacy while also adding a life to a plain seating area.
Make the Most of Narrow Areas with a 2' x 6' Raised Bed
If you've got a long, narrow space, a 2' x 6' raised bed is perfect. This style of bed can be slotted against a garden wall or used to section off your patio from your lawn.
Opt for a Compact 4' x 4' Raised Bed
This 4' x 4' raised garden bed is a manageable size but still provides plenty of planting space. This size of bed is the first step towards creating a square foot raised bed, which is a great way to keep your plants and produce well-organised.
Go for a Large Raised Bed
If you've got more space to work with, an 8' x 8' raised bed will allow you to grow to your heart's content. Keep in mind that accessing the plants in the middle can be tricky, so you're best using this size of raised bed for ultra low maintenance perennials.
Upcycle Old Tyres
If you're wanting to create a raised bed very quickly and you don't fancy doing any DIY, old tyres are a great idea. Tractor tyres are perfect for larger raised beds, while the rubber should help keep the soil warm on sunny days.
Create Waves with Curved Garden Beds
If you've not got a huge garden, creating curved beds can help give the illusion of more space. Go the extra mile as in the image above and opt for a two-tiered curved garden bed. That's almost double the planting space!
Use Logs to Keep Costs Down
Raised beds don't have to be made from fancy materials. A few old logs can be put together to create a rustic and fully sustainable raised planter!
Keep Things Simple with an Ultra-Easy Fabric Raised Bed
If you're lacking skills in the DIY department, a fabric bed like the one pictured above requires no building whatsoever. Fabric pots can be purchased in a range of sizes and used to make instant raised beds.
Build your Own Wooden Planter Boxes
If, on the other hand, you fancy putting your DIY skills to the test, a wooden planter box is fairly easy to put together. Wooden boards can be cut to the right size and glued together. Once the glue has dried, drill screws into the wood for added strength.
Integrate Storage into a Raised Planter
Make your planter multi-use by integrating a storage section into the bottom of it. This storage area could be used to store watering cans, a hose, or anything else that makes gardening easier.
Use Raised Beds to Conceal Certain Areas
If you're strategic with your garden planning, you can use raised beds to conceal unsightly areas! Use a raised planter to section off the area where your wheelie bin is stored, or go for taller raised beds to conceal an ugly garden fence.
Do Something Different with Round Raised Bed Planters
Raised beds don't have to be square or rectangular! A circular raised bed makes a beautiful focal point and can add some character to a plain garden.