Our
DeWalt DWS774-GB Sliding XPS Mitre Saw

Review

It didn't take long for me to realise the DeWalt DWS774-GB Sliding XPS Mitre Saw is ideal for someone like me. It's a strong and capable saw that can tackle decent-sized pieces of timber without being overly complicated.

As a bonus, it's the easiest to carry around thanks to the two big handles that also help to extend the table. I wouldn't think twice about unbolting it from the workbench, throwing it in the car, and taking it with me to a job.

This saw is tough enough for trade use, even though it doesn't feature some of the tricks that pro carpenters would use daily. It lacks things like quick reference stops and table extensions, but I can forgive it that because it's so compact yet completely brilliant.

READ NEXT:

INDIVIDUAL MITRE SAW REVIEWS:

B01AYHBMTG

5035048614075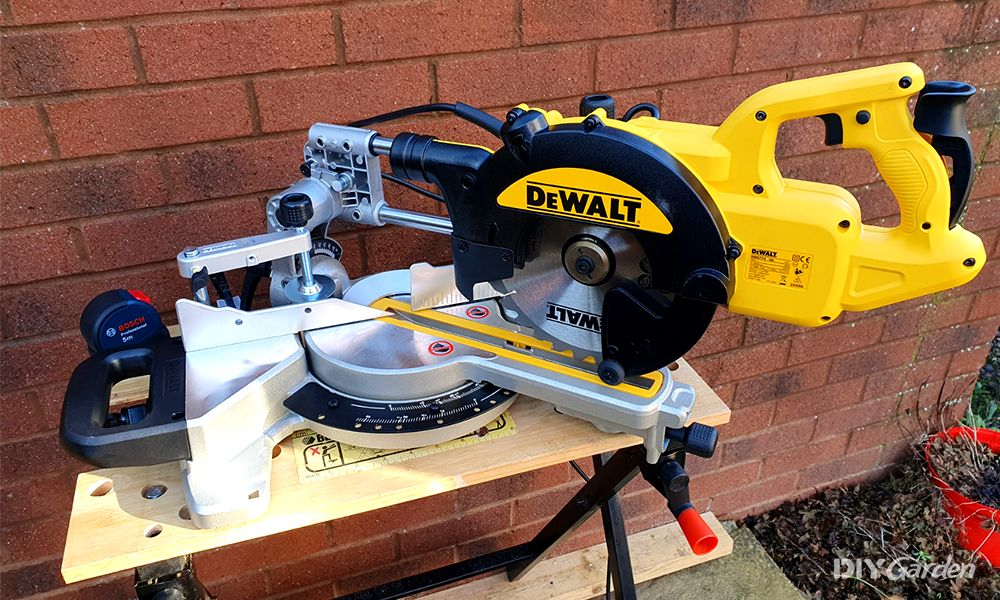 There's a good reason why a lot of tradespeople and experienced DIYers think that DeWalt make the best mitre saws on the market. It's probably because they invented the radial arm saw back in 1922! That's a century of experience behind some of the most capable cutting machines out there right now.
The DeWalt DWS774-GB isn't recent technology, it's a refined version of their tried and tested small mitre saw. With a name like DeWalt attached to it, this saw has a big reputation to uphold. I'm going to take a closer look and see if it's worth the money.
Read our product testing methodology here.
How I Tested
The only way to truly evaluate these mitre saws out is by a side-by-side comparison. Since the best chop saws are designed to make precise, accurate, and repeatable cuts in timber, it's exactly what I did!
To assess the saw's ability to cut accurate mitres and make compound cuts, I made multiple repeated cuts into standard CLS timber. It's the sort of material used for stud walls and other building projects thanks to its strength and durability. The object was to see if this saw cuts the same way at 0° and 45° every time.
The other thing that a mitre saw needs to cut straight and true is a fine adjustment. It would be nice if all saws came perfectly calibrated from the factory, but it's not usually the case. So, the next test would be to find out if the saw could be made to cut straight quickly and easily.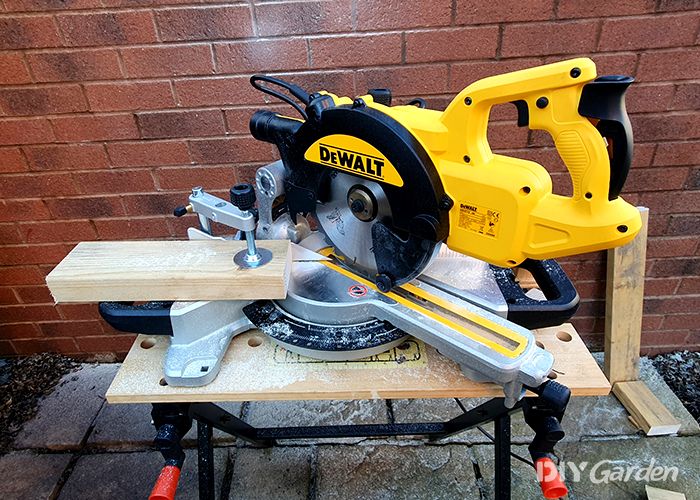 One of my favourite things about this saw is how amazingly compact it is! Compared with the Metabo KGS216M, you don't have the enormous sliding rail sticking out the back. The capacity isn't quite as much, but if you're strapped for space then this is a brilliant solution.
With a maximum capacity cut at 90° of 250 x 60 mm, I was surprised at the impressive capacity of this saw. On first inspection, I didn't even see the hidden slide mechanism that improves the capacity without increasing this tool's overall footprint.
It does have a sliding rail section for those extra-sized bits of timber, but the whole saw telescopes towards you, saving precious space behind the saw. The only time you'd need clearance behind the saw itself is when you attach a dust extraction hose.
Something that this saw lacks however is the ability to set any sort of depth stop. Compared with the Bosch Professional GCM8SJL's multiple turret depth stops for making trenches and dado joints, this saw is left wanting.
The mitre action is as you'd expect from a brand like DeWalt, everything's chunky and solid and the action is as smooth as butter. It's smooth to operate, if a little stiff, but I'm sure it will become easier with use or even a bit of grease.
There are positive stops on common angles, and I'm more than pleased to say they're tight and accurate. Once you're locked on the mitre stays just where you need it. The positive stops are at 15°, 22.5°, 31.6°, and 45°, which should cover you for almost any job.
The rear fence is made from a pair of solid pieces of machined aluminium. They feel rigid and dependable, and thanks to the clever design of the telescopic slide they don't need to be removable. Compared with the Bosch GCM8SJL it feels more compact and a bit less fussy.
The right side fence also has the distance from the blade in centimetres machined into the surface. I checked it with a trusted ruler and it's dead-on from the centre of the blade. The only thing missing from the mitre saw bed are extensions on either end. There's no straightforward way to set stops for ganging up repeated cuts of the same length.
Some users couldn't care less about "gimmicks" like lasers to help you hit the cut line. It's also a pain when the laser needs adjusting before it accurately matches where the blade is going to hit. This isn't the case with the DeWalt, and I can't say this enough either, the XPS shadow line system is the best!
Not only do you get a work light that illuminates the workpiece but because it's positioned behind the blade it casts an exact shadow onto the timber. It precisely shows where the blade will touch. It's extremely useful as you can be sure that where the shadow falls, the blade is going to cut. I absolutely love this system and prefer it to a dodgy laser line on any day of the week.
As good as the handle feels, it has one of my least favourite design features. The safety button, that you need to press to allow the blade to spin, is only on the left-hand side. I can't believe that the company who invented the saw won't fit an ambidextrous safety switch. If you're left-handed, or you just want to perform a cut with your left hand, it takes a lot of finger gymnastics to press the little button.
On the front side of the handle is a big black safety lever. This is an interesting bit of kit that is shared with some of DeWalt's bigger trade level saws. If you've used mitre saws a lot, an annoying part of it is having to push the blade guard back with the workpiece when you make a cut. This can jog the timber off the cut line if you're unlucky and stops the smooth cutting action.
This is where DeWalt's patented safety lever comes into its own. When you engage the safety lever with the palm of your hand, it physically moves the blade guard up and out of the way. This happens before the blade meets the work. It's simple, it's clever, and ensures a smooth cut every time.
One of the key benefits of this saw is how easy it is to move around. Weighing in at just 12 kg, it's not difficult to pick it up and take it with you to the next job. There's a bonus of two large black plastic handles that are attached to either end that make carrying quite comfortable. They have two jobs in fact, as they also extend the table a bit to accommodate large bits of timber.
Another thing that makes this one of the best jobsite mitre saws I've tested out is how well the saw is balanced. If you need to carry it up a few flights of stairs, for instance, the big handles spread the load. Compared with the awkward shape of the Bosch GCM8SJL or Metabo KGS216M, I know which one I'd prefer to lug around!
The final secret of the big black handles is found on the right-hand side. Nestled into the hard ABS plastic is a quality double-ended hex key. One end is 6 mm, and the other is 4 mm for adjusting all the bolts on the saw. It's just a shame that there doesn't seem to be any onboard storage for the blade spanner.
Talking about the blade spanner leads me on to another niggle that I've got with this saw. Changing the blade on this chop saw is like changing the disc on an angle grinder. Rather than having a spindle lock button, you need to use the spanner and the hex key to get the blade off. It's definitely fiddlier compared with the Metabo KGS216M, and I'd hate to lose the blade spanner on a job!
DeWalt have made a point of mentioning their improved dust extraction efficiency but haven't thought to include a dust collection bag. For those DIYers that haven't upgraded to a powered dust collection system, they won't get a chance to find out! I'm generally not a fan of those little dust bags, but they're better than nothing.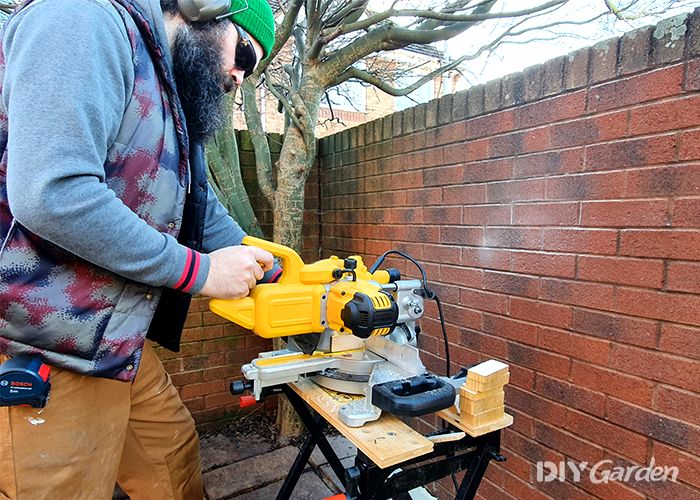 Before I got down to the business of chopping up some perfectly good CLS timber, I wanted to find out whether the saw was sent from the factory in a good state of adjustment.
The instructions in the manual were straightforward enough, you use a reliable set square to check the blade sits plumb and true to the table. Making fine adjustments is not an issue either, as almost everything can be adjusted with the double-ended hex key that's stowed in the right side carry handle. If you need to move the angle indicator plates, you can do it with a cross-head screwdriver.
Cutting through my CLS timber was like a hot knife through butter. The motor starts up instantly, but there's no noticeable kickback. The XPS line isn't the easiest thing to see in bright sunshine, but it still marks exactly where the blade will hit.
The telescoping slide is smooth and confident and allows you to make several passes when cutting timber to try and avoid tear-out. The only fault I can think of when using this saw is that the handle isn't that comfortable. I prefer mitre saws with horizontal handles like the Evolution has, but it's a matter of personal preference, that's all.
In comparison with the rest of the saws on my list, I absolutely love this one! It's a compact, confident, and extremely capable bit of kit. Cutting angles and bevels are just as easy as cutting straight, which is no mean feat.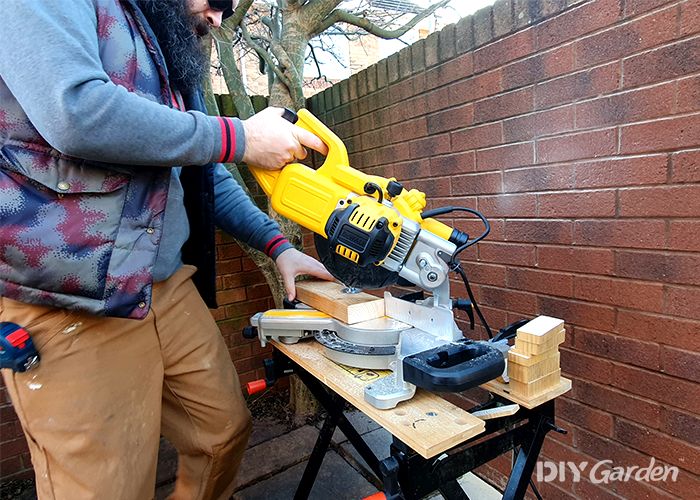 The powerhouse for this chop saw is one of DeWalt's tried and tested 1,400 Watt motors. It spins the 216 mm blade up to an impressive 4,500 rpm. It reaches top speed almost instantly, which is a welcome improvement on older mitre saws, and makes it more efficient to use.
If you could invent a silent mitre saw, you'd end up rather rich. There's no way around it, big spinning blades make a lot of noise! This saw is rated at 104 dB for sound power, which is like a loud rock band at full volume.
The noise it makes is refined though. There's none of the grinding that I experienced with the Bosch GCM8SJL, and it sounds like a precise instrument when in use. I wouldn't dream of cutting timber with this saw without my best ear defenders on though!
You won't be able to use this saw for long periods of time without annoying your neighbours, but that's the case with most power tools on the market.
There's a bit of a technique you need to get used to before you can run this saw. There's not just one, but two steps to take before the blade decides to spin up. The big black safety handle needs to be pushed in, then you can press the safety button, and only then can you pull the trigger and start the saw.
Some users might even complain that DeWalt have added too many safety features to this saw. There are times when you might want to use a non-standard grip to operate the saw at an angle, for example.
The real problem I have with this saw when it comes to safety is if you happen to be left-handed. I'm always shocked to find a safety button on a power tool that doesn't work on both sides. It forces left-handed users to either use their "other" hand to operate the saw or perform finger gymnastics to disengage the safety button. It's a disappointing feature on an otherwise excellent saw.
To make sure you're using this saw in as safe a way as possible, it's important to read all the safety instructions in the manual. Always wear the correct personal protective equipment (PPE) and never allow your hands to come within 10 cm of the spinning blade.
Luckily, the manual for this saw is filled with diagrams that thoroughly explain how to use the saw safely.
This isn't a cheap bit of kit for the casual DIYer. The way this saw is set up is, to me anyway, ideal for tradespeople or DIYers that value portability and durability over huge cutting capacity or gadgets. If you're looking for a saw that you can easily carry up stairs or get in and out of the back of your car, it's worth every penny.
The performance is top quality, the XPS shadow line is the best cutting assistant, and DeWalt's blades are some of the finest in the business as well. For most DIYers, and professionals too, there are some brand names that are associated with certain tools. For DeWalt, it's chop saws, so they're never going to be the cheapest on anyone's list. It's still a great saw though.
It didn't take long for me to realise the DeWalt DWS774-GB Sliding XPS Mitre Saw is ideal for someone like me. It's a strong and capable saw that can tackle decent-sized pieces of timber without being overly complicated.
As a bonus, it's the easiest to carry around thanks to the two big handles that also help to extend the table. I wouldn't think twice about unbolting it from the workbench, throwing it in the car, and taking it with me to a job.
This saw is tough enough for trade use, even though it doesn't feature some of the tricks that pro carpenters would use daily. It lacks things like quick reference stops and table extensions, but I can forgive it that because it's so compact yet completely brilliant.
READ NEXT:
INDIVIDUAL MITRE SAW REVIEWS:
Why You Can Trust DIY Garden
At DIY Garden, we believe your trust is earned through our knowledge and transparency. Our team of experts has over 75 years collective experience in the gardening and DIY space. Since the website's creation in 2016 we've tested over 275 products, ensuring our recommendations are based on real experience. We're open about what we've tried and what we've researched, and this is clearly labelled in our product reviews. Every year, we revisit and update our suggestions to include worthy new additions to the market. Our aim is to give you straightforward, honest, and helpful recommendations, so you can confidently choose the best tools and equipment for your projects.
DeWalt DWS774-GB Sliding XPS Mitre Saw Price Comparison
Price History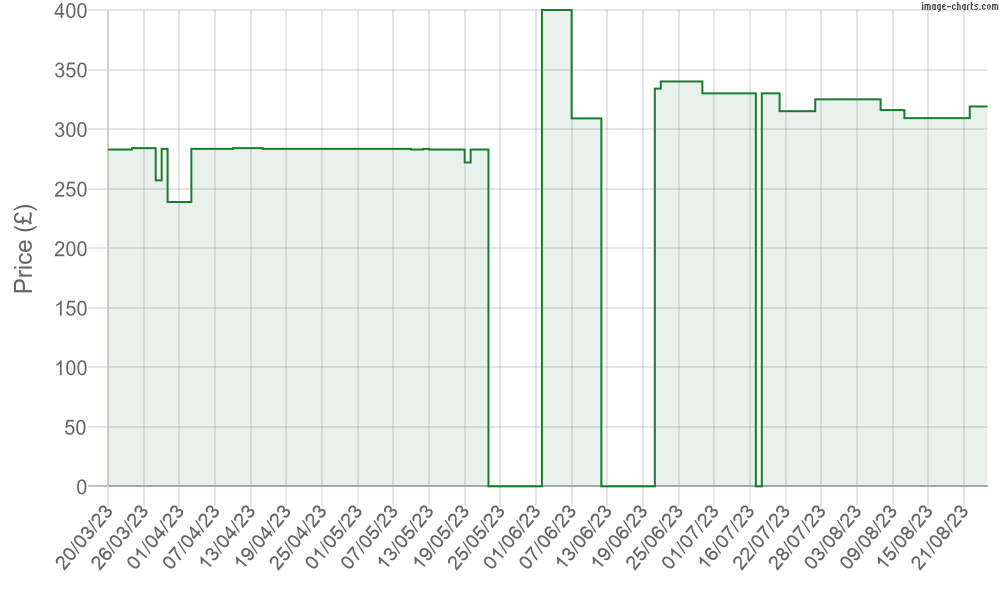 Our Scores:
Design

Performance

Power

Noise

Safety

Value for Money

Overall
Features:
Bevel

Single

Power

Mains - 1,400W

Blade Speed

4,500rpm

Blade Diameter

216mm

Max Cut 90x90°

250 x 62mm

Max Cut 90x45°

265 x 48mm

Max Cut 45x90°

177 x 62mm

Max Cut 45x45°

190 x 48mm

Weight

12.0kg
About Your Guides
Harry Duncton is a jack of all trades with experience ranging from carpentry and furniture restoration to tree surgery and gardening. Happiest when found in his shed, he hopes his daughter will find a passion for making things as well.

Sarah's role as chief editor at DIY Garden is about more than just making sure we're literally dotting the i's and crossing the t's (although she's a stickler for detail, so it's certainly about that too!). It's about proof-reading, fact-checking and continuously researching everything we publish, ensuring that it adheres to our

editorial standards

, so that everyone can really get the most out of their green space.
You May Be Interested In These Other Saw Reviews