Our
Makita HS7601J Circular Saw

Review

The Makita HS7601J circular saw is one of the more affordable ones that Makita produce. It doesn't mean that it's not a high-performance bit of kit though. It's solid, extremely sturdy, and feels like it will last for decades of reasonable DIY use.

Of course, if your main concerns are lightweight portability, then this heavy beast and its power cord won't tick either of those boxes. It's not the sort of saw that you'll dash up a ladder with and cut roofing joists. It's much more suitable as a workshop tool when you've got mains power within easy reach.

I won't beat around the bush with this power tool. I know several tradespeople that have owned this saw for years and use it on-site daily. It's an incredibly reliable and consistent circular saw that will give you years of good service. It might not have all the bells and whistles that other saws have, but I don't think it needs them. If I wanted to buy the best corded circular saw on the market today, this is it.

READ NEXT:

INDIVIDUAL CIRCULAR SAW REVIEWS:

B012CKRAYY

0088381686129

Best for quality, performance and value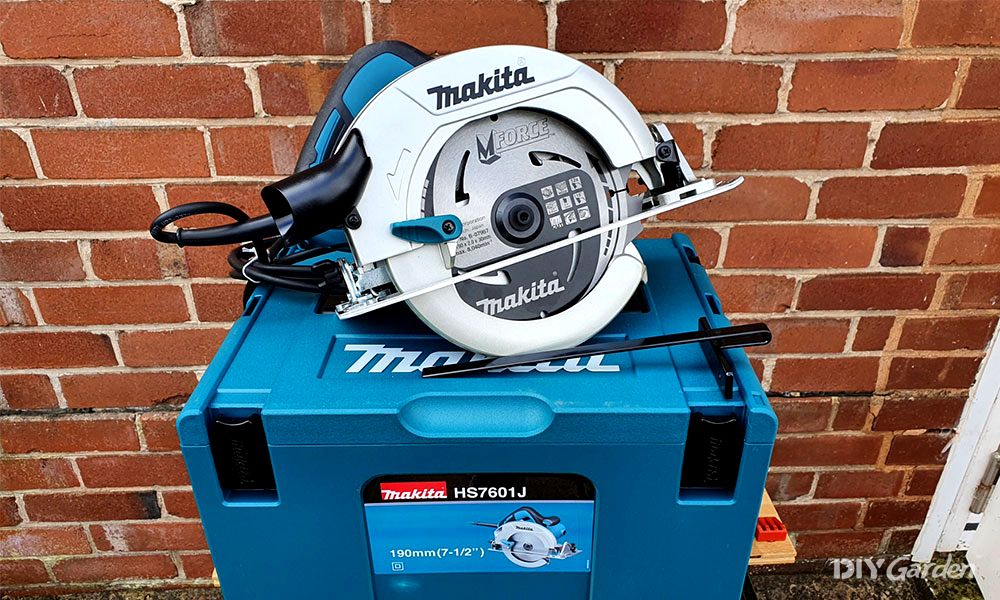 One of the biggest tool manufacturers in the world, Makita is also one of the few truly independent brands left. With more than a century of service, their recognisable green drills and saws can be found in workshops and sheds around the World.
The Makita HS7601J circular saw is first and foremost a dependable workhorse. Favoured by professional tradespeople for its reliability, it's built to last and extremely capable. I tested this saw out because it's more than enough for the home DIYer and comes with a brilliant hard case to boot.
Read our product testing methodology here.
How I Tested
Comparing the best circular saws called for a lot of side by side testing. The best way I could make a fair evaluation of these tools is to put them through what an average DIYer might do. Starting off with some regular constructional timber, I made a series of simple 0° cross cuts then did the same at 45°, to strain the motor a little more.
The next material to test out was some English oak I had milled up a couple of years ago. It was nice and dry and much harder than the CLS I had. Again, I made a series of 0° and 45° bevelled cuts to see how good the finish was and to gauge how well the saw would cut.
The next task was to try out a guided rip cut. Rip cuts go along the grain of the wood and are much harder to do than cutting across the grain. Using the included rip fence gave me an idea of how well the saw performed and if it was comfortable to make one of these long cuts.
And the final test, to evaluate how well engineered the saw was, I set the depth adjustment to 40 mm on the onboard scale and made a cut. I'll make it clear now that the HS7601J doesn't have an onboard depth scale. In this test, I was forced to mark it as a failure.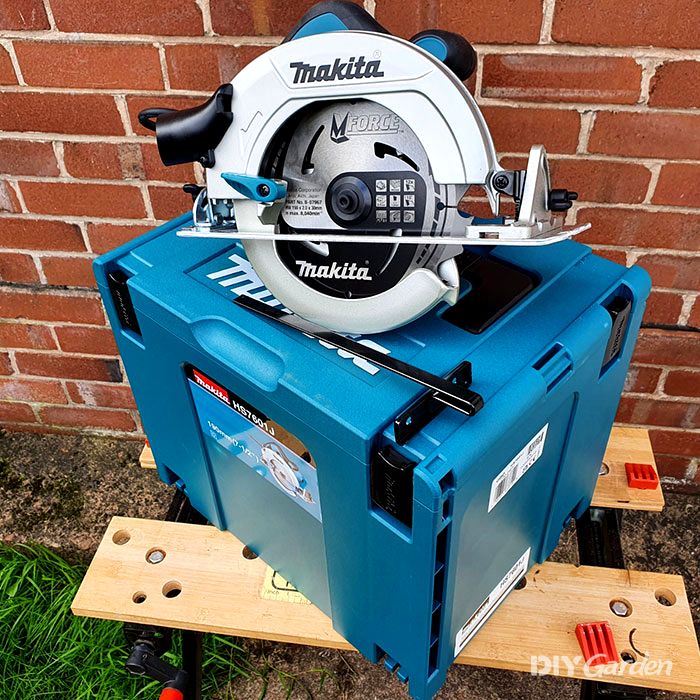 Unboxing the Makita HS7601J circular saw made me feel like a kid at Christmas. Seeing a MAKPAK arrive on my doorstep was a lot more exciting than a cardboard box, no matter how bright and colourful it might be. If you're not familiar, the MAKPAK is Makita's own type of stackable case system. Made from rigid ABS plastic, it's one of the best ways to store and transport your tools in safety.
The case supplied with this kit is the large 315 mm tall version. The black plastic clips on top and receivers on the bottom mean you can stack the boxes up as high as you like. And something that makes these types of stacking container even better is that they're compatible with other tool brand boxes including the likes of DeWalt and even Festool.
You also get a plastic insert inside the MAKPAK. This should stop the tool from rattling about in the box, but it doesn't fit the saw particularly well. It does give you a place to put the tool down between cuts to keep the baseplate from getting scratched though.
Everything about this saw screams heavy duty and extreme durability. There are no flimsy plastic parts that look like they'll snap if you look at them too hard. It feels like it's built for a tradesperson as much as a DIYer. This is not a lightweight saw. It's a heavy beast, but that's because everything on it's built like a tank. And like a tank, it feels ready to take on just about any type of timber you can throw at it.
The aluminium baseplate is an incredible 4 mm thick. It's incredibly rigid and straight, it feels like it's built to last and is wonderfully smooth underneath. You can also fine adjust how the bed sits with a pair of screws in the baseplate, should things go wonky over time. I love how easily the shoe glides over the surface of timber, it makes cuts that bit easier to make.
This is a heavy saw. There's no other that you could have so many solid, chunky components without it adding to the weight. It's still lighter than the Evolution saw, but if you're planning on using this tool all day, you'll get a workout.
Setting the bevel angle is made easier with a large wingnut fastener, rather than the squared off knob favoured by the DeWalt and Ryobi saws. What sets this circular saw apart as a professional level tool is that you can lock the bevel angle at the front as well as the back of the shoe. This just means the baseplate is supported on both ends, guaranteeing a rigid and accurate bevel angle.
Don't expect to be able to make an angle bigger than 45° though. Unlike the Evolution saw that offers up an incredible 60° of bevel angle, you're stuck with a maximum of 45°. That's fine for most jobs, but you'll miss the extra few degrees on occasion.
The power cord, as you'd expect from Makita, is top quality. It's marvellously thick but it's also extremely flexible, so it won't tug on the saw or coil up unexpectedly. I'm a bit disappointed that it's not a bit longer though. At just 2.5 m, it's fine for smaller bits of timber, but it's just not long enough for big rip cuts without resorting to an extension cord.
The relief boot, or rubber sleeve that protects where the power cord meets the tool, is long enough and strong enough to safeguard the cord from strain. It also projects the power cord out and away from the saw, making it harder for the cord to get in the way during use.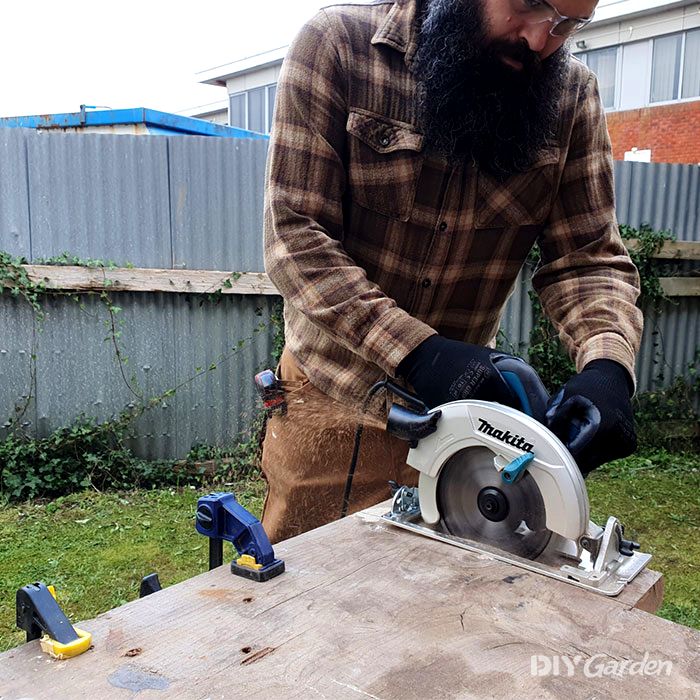 The Makita HS7601J circular saw cut through the constructional timber like it wasn't there. The large motor on the left hand side means you need to think about your hand position if you're using a roofing square though. It slides over it easily enough, but you need to flatten your hand like a snooker player cueing up for a difficult shot.
There's cutting power in spades to play with. I didn't notice any slowdown at all when making multiple crosscuts in the 38 mm deep CLS. It felt the same when making a series of 45° as well. The 46 mm maximum cut depth at 45° is generous enough for standard 2 x 4" constructional lumber with blade length left to spare.
One issue I came across when making 45° cuts is that the end of the blade guard scores a line into the timber on the left of the cut line. Seeing as it's made from cast aluminium, it's hard enough to mark the surface of soft wood when you're pushing the saw across the surface.
The only way you could avoid making this mark is by holding back the blade guard. This is a risky technique favoured by professional carpenters when making compound cuts. I wouldn't recommend it for the average DIYer. It's not the most comfortable way to make a cut and it's not the safest method unless you really know what you're doing and trust your skills.
The finish left on the CLS I cut wasn't exactly clean. The internal fibres of the wood were left smooth, but there was a little more tear out and some fibres left on the top edge of the cut. I'd put this extra mess down to the more aggressive blade that comes with this saw.
The 12 tooth MForce blade is a bit of a beast. Specially designed by Makita for portable saws, it's good for rip cuts as well as cross cuts thanks to their special "M" shaped blade tooth profile. If you opted to swap the blade out for one with a higher tooth count, this saw would work well for finer finish work as well, I'm sure.
Cutting through the oak timber was surprisingly easy. I expected a lot from a corded saw with 1,200 Watts of power, but this was still better than I expected. I think the weight of the saw and the large, smooth, and heavy aluminium baseplate really helped as well.
I was quite honestly blown away by how well this saw performed a rip cut. Even though the rip fence is as basic as they come, this saw made effortless work of ripping some decent size softwood board. I made several rips of more than 120 cm quickly, cleanly, and without needing to take my eye off the line. It's fantastic!
The performance of this saw isn't the cleanest of all the saws on my list, but it's more than powerful enough for first fix work. Operation is smooth, and I feel like I could use this saw all day without it missing a beat.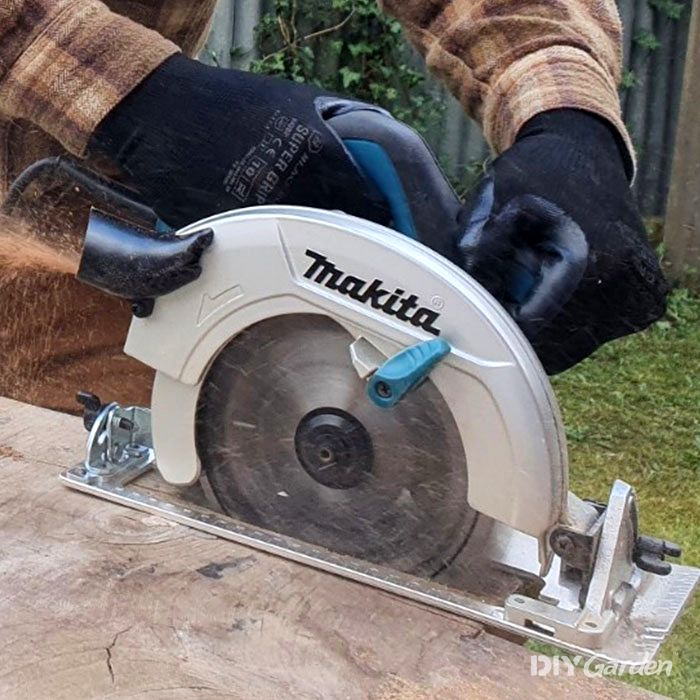 The power plant for this saw comes in the shape of a sturdy 1,200 Watt brushed motor. It spins up the MForce blade to an astonishing 5,200 rpm. This blade speed makes this one of the most powerful circular saws I've had the chance to try out.
Some users would probably prefer a brushless motor over a brushed one, but this isn't as essential in a corded power tool than a battery powered one. Seeing as you're plugged into the national grid, you don't need to worry so much about having the most efficient powerplant available. Swapping out the brushes doesn't look like a big job either.
There's no such thing as a quiet circular saw. Even the "quiet" cordless ones make a racket when the blade bites into the timber.
The difference with a corded saw like this one is the overrun once you've let go of the trigger. It takes close to seven seconds for this saw to wind down to a complete stop from full speed. If you're in an environment where you need to talk to or always hear the person next to you, get a cordless saw.
Rated at 98 dB, that's almost as loud as a tractor driving right past. It's no louder than any of the other circular saws on my list. It's still going to annoy your neighbours if you decide to do some work at 3 am though.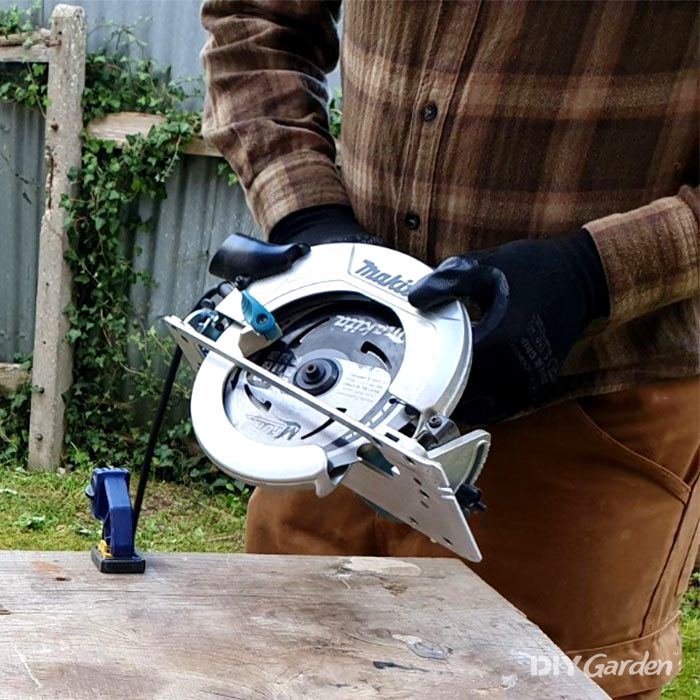 Any circular saw has the potential to cause serious injury if it's used incorrectly. Holding that amount of rotational power in your hands must be treated with the respect it deserves.
The only standout safety issue I can see from this saw is that it's corded. Cutting the power cord and opting for a battery powered saw frees you up from the dangers associated with trailing cables. Most accidents at work come from trips and falls. Not having to think about where your cord is frees up brain space for concentrating on the job at hand.
The solid metal parts that make up this saw fill me full of confidence. The die-cast aluminium safety cover might add a little more weight. But, compared with the plastic parts found on saws like the Ryobi, I know what I would rather have between my hand and a spinning blade.
Corded power tools need to protect the user against shocks from 240 Volt mains electricity, so I'm glad this saw is double insulated.
Seeing as this kit comes with one of Makita's coveted 315 mm MAKPAK connector cases, it's already a good buy in my books. They're not exactly cheap on their own, so having a robust case alongside an incredibly capable saw for this price is a real bargain. None of the rest of the saws on my list come with such a brilliant bit of storage.
Tough case aside, this is one of the best reliable circular saws available on the market right now. It doesn't feature a fancy work light or the widest range of bevel angles, but it's built like a tank and just as dependable.
The Makita HS7601J circular saw is one of the more affordable ones that Makita produce. It doesn't mean that it's not a high-performance bit of kit though. It's solid, extremely sturdy, and feels like it will last for decades of reasonable DIY use.
Of course, if your main concerns are lightweight portability, then this heavy beast and its power cord won't tick either of those boxes. It's not the sort of saw that you'll dash up a ladder with and cut roofing joists. It's much more suitable as a workshop tool when you've got mains power within easy reach.
I won't beat around the bush with this power tool. I know several tradespeople that have owned this saw for years and use it on-site daily. It's an incredibly reliable and consistent circular saw that will give you years of good service. It might not have all the bells and whistles that other saws have, but I don't think it needs them. If I wanted to buy the best corded circular saw on the market today, this is it.
READ NEXT:
INDIVIDUAL CIRCULAR SAW REVIEWS:
Why You Can Trust DIY Garden
At DIY Garden, we believe your trust is earned through our knowledge and transparency. Our team of experts has over 75 years collective experience in the gardening and DIY space. Since the website's creation in 2016 we've tested over 275 products, ensuring our recommendations are based on real experience. We're open about what we've tried and what we've researched, and this is clearly labelled in our product reviews. Every year, we revisit and update our suggestions to include worthy new additions to the market. Our aim is to give you straightforward, honest, and helpful recommendations, so you can confidently choose the best tools and equipment for your projects.
Our Scores:
Design

Performance

Power

Noise

Safety

Value for Money

Overall
Features:
Power

Mains - 1200W

No-Load Speed

5200 rpm

Blade Diameter

190mm

Blades Supplied

1 X 24 TCT

Cut Depth @ 90°

66mm

Cut Depth @ 45°

46mm

Bevel Capacity

45°

Weight

7.19kg
About Your Guides
Harry Duncton is a jack of all trades with experience ranging from carpentry and furniture restoration to tree surgery and gardening. Happiest when found in his shed, he hopes his daughter will find a passion for making things as well.

Sarah's role as chief editor at DIY Garden is about more than just making sure we're literally dotting the i's and crossing the t's (although she's a stickler for detail, so it's certainly about that too!). It's about proof-reading, fact-checking and continuously researching everything we publish, ensuring that it adheres to our

editorial standards

, so that everyone can really get the most out of their green space.
You May Be Interested In These Other Saw Reviews