One step up from dining outside is cooking the entire meal al fresco, and I don't mean just grilling a few burgers on the barbecue. Outdoor kitchens have taken off this year – as a knock-on effect of lockdowns but also because of the trend to bring the indoors out.
While a high-end, bespoke outdoor kitchen can cost between £20,000 and £150,000, a few specialist firms are producing pre-designed layouts at a fraction of the price. Here's the lowdown on creating that outdoor culinary experience without breaking the bank.
Think Modular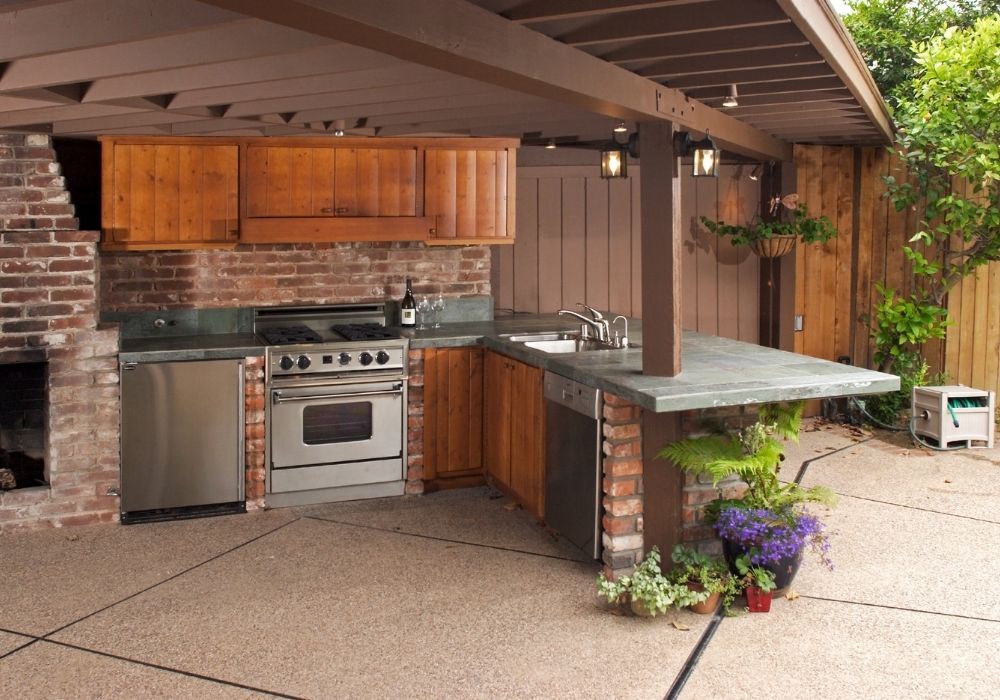 With modular kitchens, customers can mix and match cabinets or pick a pre-designed layout. This can range from a single cupboard with worktop and BBQ to a straight run of units, L-shaped and U-shaped layouts, and island designs – much as you would find indoors.
The Vantage range from Grillo, for example, is constructed from heavy-gauge carbon steel. It includes modular cabinets, sink, wine cooler and bin unit, bar table and stools, planter or ice-cube-holder corner units, and a choice of barbecues. Layouts can be personalised with doors, feature walls, and rear fascia designs in carbon steel and iroko, while worktops are made of porcelain.
Customers typically pay around £7,500 for a kitchen with one or two barbecues, a worktop with fridge or sink, including installation.
Opting for a concrete frame, The BBQ Shop has launched three modular ranges: Yukon, a 3m straight run; Calgary, a 5m L-shape; and Vancouver a 6m corner design.
Ranging from standard to Deluxe/Deluxe Pro options, these kitchens consist of a framework of patented concrete boxes into which brushed steel cabinets, doors and drawers are fitted. There is a choice of four BBQ grills – BeefEater, Broil King, Napoleon and Whistler Grills – three granite worktops, and five porcelain cladding tiles.
The company recommends these kitchens are installed professionally, as the granite worktop and some concrete boxes will need cutting – it provides a guide and cut-out templates.
Prices start from £5,899 for a standard Yukon Beefeater outdoor kitchen.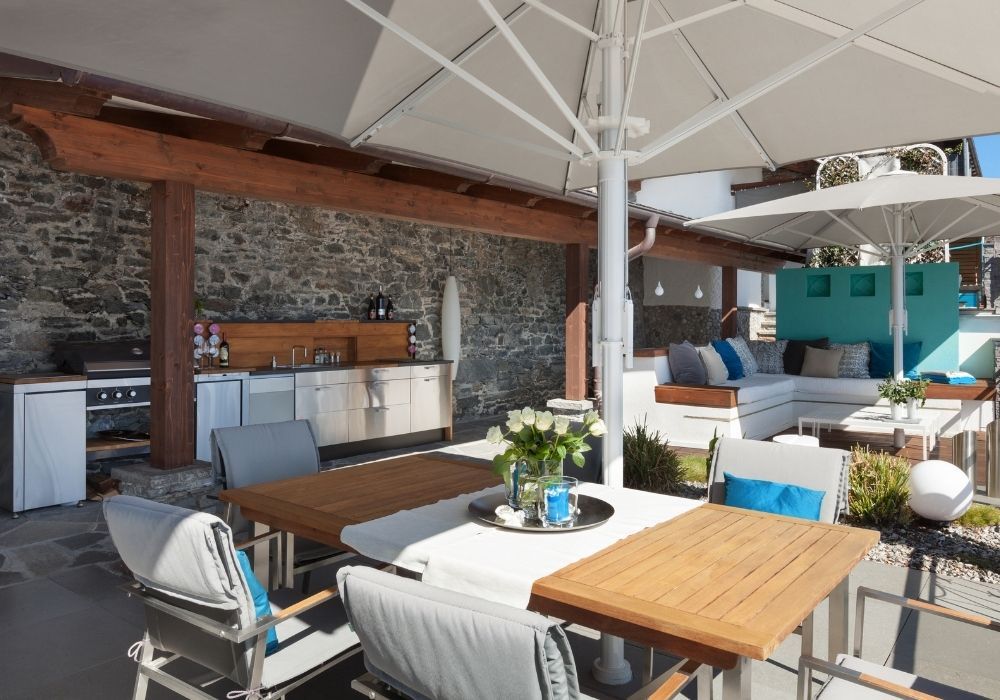 Another system that requires professional installation is ProFresco's Fresco machine-cut framing system, which slots together in a choice of seven pre-designed, straight-run layouts.
Made from galvanised steel, it can support granite worktops and your choice of back and side cladding, from stone and tiles to timber, glass and steel.
Prices start from £9,000 for a linear run including a BeefEater or Napoleon barbecue grill, outdoor fridge, granite worktop, and outdoor cabinets.
To keep costs down, you could go down the DIY route: Sumo Outdoor Kitchen Frames arrive in pre-built sections ready for you to install.
You will need to supply a list of appliances to fit within the frame, the size of the worktop and the kitchen layout – either a straight run, G-shape, L-shape or U-shape. Then the frame will be delivered in sections with the cut-outs and spaces built in to take the work out of installing the barbecue, wood-fired oven, sink, and fridge.
Once the galvanised steel frame is fixed into position, you can then add a specialist building board, which can take natural stone and granite worktops, tiles, composite cladding, external render, and brick or stone slips.
Prices start from £850 for a small Sumo frame ready to kit out, while an L-shaped frame costs between £2,100 and £2,800 – and around £9,000 once you've added worktop, cladding and appliances.
Sumo's owner Scott Paterson has an online course (£59.95) you can download on how to design and build an outdoor kitchen with steel frame. Aimed mainly at professionals, he says it can benefit DIY'ers who want to avoid any pitfalls.
Check Out the Barbecues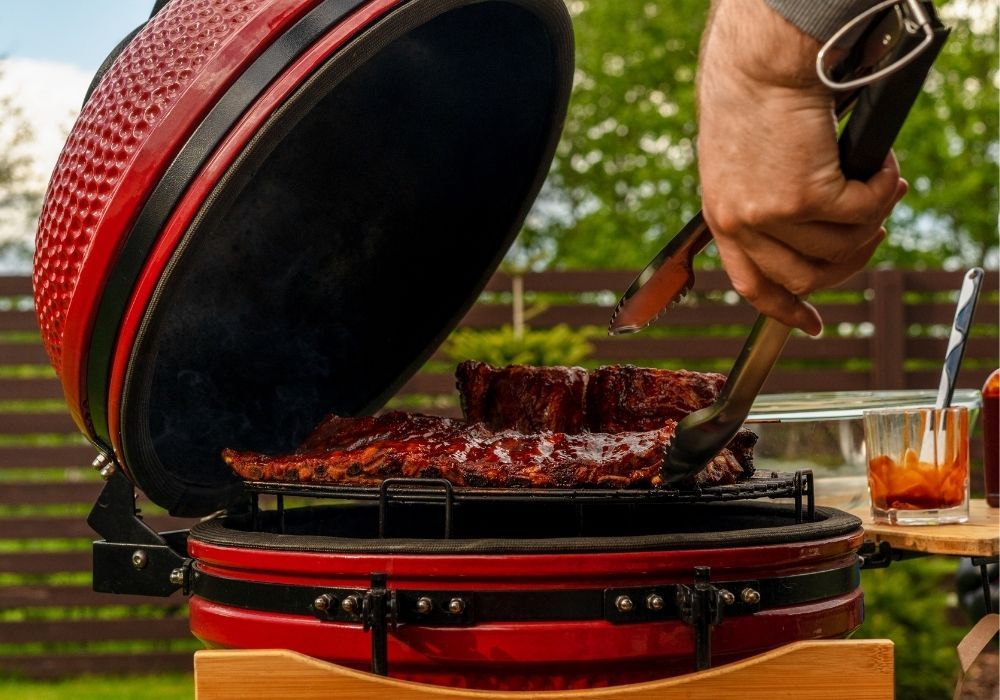 Starting from around £2,500, a gas-fired barbecue grill will use up a large slice of your budget – and that doesn't include other outdoor ovens you can add.
Many of these high-spec grills have been designed in the US and Australia, so you can be sure of their barbie credentials. For example, Aussie brand BeefEater's Signature range features a stainless-steel roasting hood with glass window plus four cast-iron burners and flat griddle plate, a warming rack and stainless-steel side burner for cooking sauces.
You can add a kamado charcoal barbecue – these ceramic, egg-shaped barbecues have thick walls that lock in heat and moisture, so are ideal for slow roasts or to add a smoky flavour. Popular brands include the Big Green Egg and Kamado Joe.
Wood-fired pizza ovens are another option, hitting high temperatures in around 20 minutes – like the Alfresco Chef, DeliVita or Ooni Karu – though you can buy a pizza-oven accessory that sits on a barbecue grill or a pizza stone for a kamado.
For serious entertaining, you can find wood-burning barbecues/fire pits – like the BBQ Shop's OFYR range or Grillo's chef's anvil. As well as socialising around the fire, you can cook at different temperatures on a steel hotplate.
"Now it's getting more common for people to have a barbecue gas grill for convenience and speed, as well as a Kamado Joe or Big Green Egg because it's their passion," says Scott. "They'll spend all day playing around with it, smoking food, slow cooking or preparing pizzas for a party."
Where to Place an Outdoor Kitchen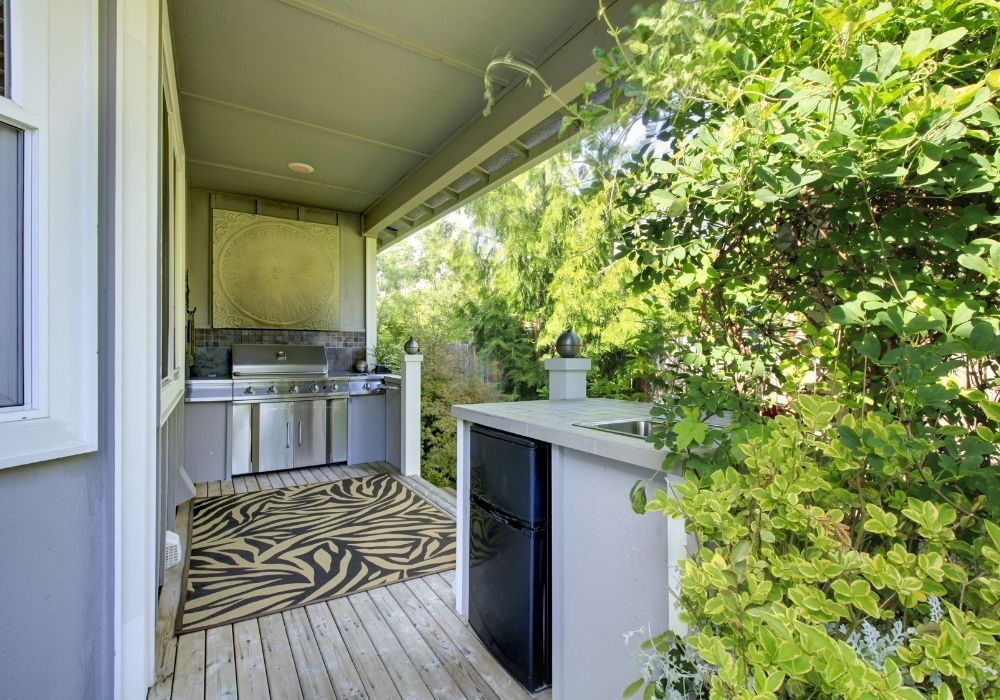 There are two main areas that gardeners choose for their outdoor kitchen – either on the patio as almost a back-up to their main kitchen or in a separate zone elsewhere in the garden as more of a lifestyle, aspirational choice.
"With any elements in the garden, the closer they are to the house, the more value they will add," says Ross Worrod of Grillo. "If you can keep your outdoor kitchen near the house, you will have that 'indoor-outdoor living' crossover."
"When outdoor kitchens first came in, they were purely functional: you would have a barbecue, a bit of workspace and a cupboard tucked away against a wall," adds Ross. "Now it's not just about cooking outside, it's the social aspect of getting guests closer to the cooking."
As long as the barbecue is well covered, the kitchen can be left exposed to the elements. But providing some shelter – perhaps a pergola, gazebo or louvred roof system – means it can be used all year and offers some protection from the sun and frost.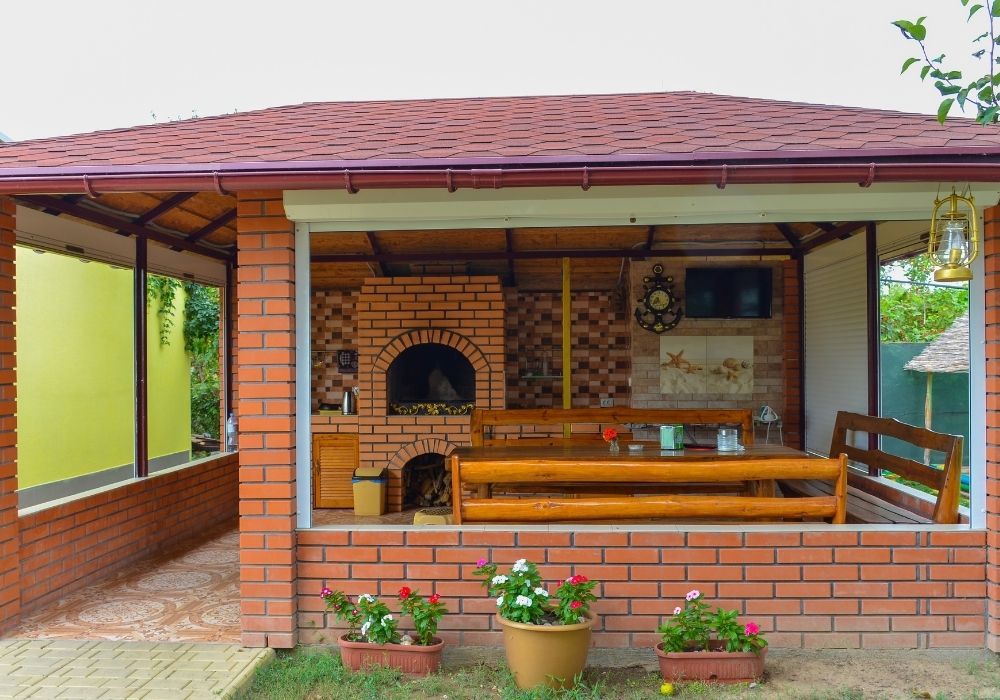 "It's important to select a spot in the garden that isn't exposed to blazing sunshine, as UV light can be an issue on some surfaces, as can frost," says Scott.
"People tend to carry out this type of project when they are renovating the garden or patio – it's easier to set services up then and decking will need to be reinforced with a concrete pad underneath. These kitchens are heavy once worktops and appliances are in."
Running mains gas and water to an outdoor kitchen is increasingly popular. But if you are on a tight budget, you can use bottled (LPG) gas to run a gas-fired grill, an ice bucket for drinks and water from an outdoor tap or water butt.
Last but not least, you need to get your skates on if you want an outdoor kitchen in place this summer. While it can take three to eight weeks for a kitchen frame to be delivered, some barbecues – shipped from overseas – are in short supply.
But once you've got your outdoor kitchen up and running, and news spreads of your outdoor culinary exploits, friends and family will be queuing up to visit.