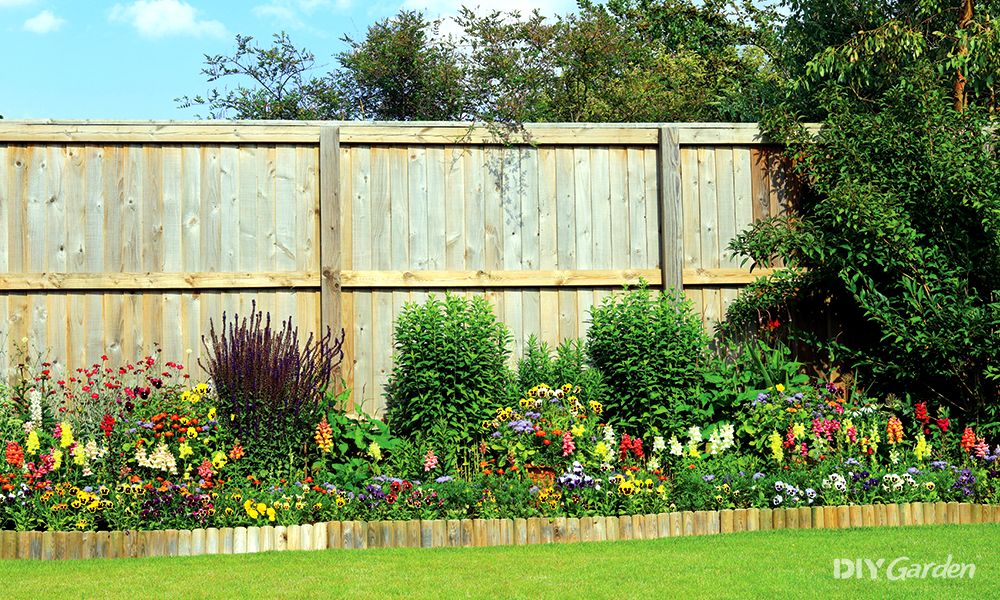 Here Are The Most Creative Flower Bed Ideas
Want to add some pizzazz to your garden with a breathtaking floral display? There's no better way to do this than with a flower bed. But once you've decided on a flower bed, a problem comes: how can you create a display that stuns for months to come?
Luckily, you're in the right place. Here, you'll find 43 creative flower bed ideas. Whether you want to conjure up a flower bed with a contemporary colour palette or unveil a moody, mysterious array with dark hues, there's something here for you.
You'll see species upon species of combination flowers, standout show-stoppers, and plants that stand small or tall. We won't leave you high and dry without tips on how to add them in, either.
Flower beds are the perfect way to inject personality into your garden. There's something here for all budgets, tastes, and style preferences.
1. Sit Containers Atop Stone Flower Beds
There's nothing to say your plants must be planted in your bed. These dark bowl containers with wild agave feature plants provide textural appeal against the softer, smaller plants underneath. The various green tones demonstrate a striking contrast against the light stones the containers sit atop.

2. Add a Bench Seat to Your Flower Bed Ideas
You can't enjoy your flower beds fully unless you've got somewhere to sit, right? Rather than forking out on expensive outdoor seating, why not add a simple bench seat to your flower bed? Here, they've installed two wooden planks, giving a rustic seating space where you can entirely immerse yourself in the greenery.

3. Modern Flower Bed Ideas
Contemporary gardens are all about precision – clean lines and well-ordered flower beds. Ornamental grasses offer exciting, bold textures and mirror the crisp lines accompanying the modern style. Here, they've used longleaf mat-rush to divide different garden spaces. Try fiber optic grass or black mondo grass to bring a hint of more colour.

4. Incorporate Sensory Elements into Your Flower Bed
We all want a flower bed that's nice to look at. But what about our other senses? To create a full sensory experience, we need to incorporate smell. And what better way to add a sweet aroma to your garden than with roses? They're available in all different shades, varieties, and scents. Alternatively, give lavender, lilies, gardenia, or hyacinths a go.

5. Create a Cottage-Style Flower Bed That Wildlife Adores
Certain blooms will attract wildlife species in droves. Packing a central flower bed with asters, morning glory, lupines, violets, and geraniums, is sure to bring wildlife species in their many. Then, provide contrast with the stunning, silvery touch of Senecio 'Angel Wings'.

6. Ideas for Large Flower Beds: Bring Order With Colour Rows
If an overgrown cottage garden isn't your style, bring some order to a large bed with rows of plants organized by colour. Start with a soft, gentle plant like the low-growing lobelia, then begin to bring some pops of colour with geraniums and delphiniums.

7. Line Your Fence With Floral Finesse for a Stand-Out Garden Bed
We all know that roses are an exemplary cottage bloom, but we're much more used to seeing them growing up an obelisk or archway. Why not line your white picket fence with this gorgeous rose variety? Then, complement these delicate, pale blooms with the vibrant flower spikes of the perennial purple salvia.

8. Go All-Out With Bundles of Colour in Your Creative Flower Bed
This powerful colour combination will catch any onlooker's eyes for its vibrance and exceptional layering. The tall, triangular shapes of the delphinium, hollyhock and fiery red hot poker plants are softened by the gentler, low-growing species like the daisies.

9. Keep Your Flower Bed White and Bright
You can't beat unicolour planting schemes, especially in beds. If you know that white is your colour of choice, here are some ideas. You could choose the bright and sunny shasta daisy, tall-stemmed tulips, or the cascading flower clusters of lily of the valley. Bring in the August-lily hosta to complete the look and add a vegetative element.

10. Put a Curve in Your Garden Bed
A simple, S-shaped flower bed provides a softer alternative to the standard rectangular bed. This will give your garden a sense of flow. Why not choose delicate, circular blooms like white and Fuschia-pink petunias to accompany this fluid design, as they've done here?

11. Add a Water Feature to Your Flower Bed
Adding a water feature, stone urn, or birdbath in your flower beds will give your garden a vintage feel. This style is flawless for a traditional cottage or wildlife garden. Surround your feature with vegetation with contrasting colours, like the ostrich fern, two hosta varieties, and dainty white alyssum.

12. Flower Bed Decoration: Accentuate Flowers With Decorative Lighting
Our gardens seem to brim with interest in the daytime, but what about once it's dark? Yes, you can have pathway lights, but this often doesn't capture the magic of your well-thought-out flower beds. To keep it interesting, whatever the time of day, add decorative lighting like they've done here using a watering can and string lights.

13. Get Creative With Your Flower Bed Location
Who said a flower bed had to be set in the ground? This is an alternative way to add a splash of colour to an otherwise bare patch of lawn. Not only will this natural, readily-available material go easy on your bank balance, but it'll also provide vital habitat for local insect species.

14. Set the Place on Fire With a Campfire-Themed Flower Bed
Anyone up for a campfire? While setting light to these logs may not be in your best interest, it does form quite the focal point of the lawn, doesn't it? You can add any plant to this design, but it's best to go for red, orange, and yellow blooms to make the fire look authentic.

15. Full Sun Flower Bed Ideas: Spring-Flowering Plants
These flower beds are a true testament to spring – with tulips in various shades from red to orange to pink. Then, protruding between these blooms are little bunches of hyacinths, standing proudly on sturdy stems. When spring is through, just swap these early bloomers for summer annuals like poppies and cornflowers.

16. Give Your Flower Bed Fence a Moody Makeover
Nothing makes green shades pop like a black fence. Combine your dark fence with verdant green and deep purple foliage, and you'll have a moody-looking flower bed ideal for shaded spaces. If you want more than vegetation, add dark-leaved dahlias like the 'Wishes n Dreams' and 'Sunshine' varieties.

17. Small Flower Bed Ideas: Pair Whispy Grasses With Bold Blooms
Bold blooms catch your gaze, and soft grasses keep it there. And what better way to draw the eyes than bright pink echinacea varieties? This informal border is perfect for a smaller garden. If attracting wildlife is a must for you, you'll love the butterflies this array of blooms brings.

18. Low-Maintenance Flower Bed Ideas: Hostas Front of House
Hostas are a great non-flowering, low-maintenance option for a flower bed. They're faultless if you worry about how your bed will change through the seasons, as hostas provide year-round aesthetic appeal. They even thrive in shady spots! Feature different varieties so that your bed isn't too samey – try pairing a single-coloured green hosta with a variegated green variety.

19. Celebrate Verticality With Flower Bed Climbers
If you want real verticality in your flower bed, add a support for a climber to scrabble up. Here, they've recycled branches to create teepee-style supports for aromatic sweet peas. Alternatively, you could use an obelisk or trellis. When it comes to plants, you've got the pick of the bunch – jasmine, climbing roses, clematis, and honeysuckle.

20. Install a Flower Bed Around Your Pond
Does your garden have a pond? Has it seen better days or needs some zhuzhing up? The prime solution to your problem is creating a flower bed around your pond. While this doesn't look like your average bed, the combination of ferns, water gladiolas, and pink pom-pom blooms makes it a worthy addition to any garden.

21. Low-Maintenance Flower Bed Ideas: Drought-Tolerant Plants
You need to choose hardy plants if you want a flower bed that's easy to maintain. And there's nothing hardier than drought tolerance! These can handle the harshest of conditions and whatever the ever-changed climate throws at them. Some drought-hardy plants that will stand the test of time are lantana, coneflower, Russian sage, catmint, California poppy, and veronica.

22. Creative Flower Bed Edging Ideas
Pavements stick out like a sore thumb in a garden, with their harsh lines and contrasting colours. To soften the blow, create flower beds alongside your pathway. If you get the flower choices just right, you won't be able to see the pathway edges! Here, they celebrate purple and pink shades with balloon flowers, lobelia, and asters.

23. Set the Mood with a Stunning Array of Dark Shades in Your Floral Bed
All you need to do is look at this purple prince alternanthera to understand the power of adding dark shades to your flower bed design. You can create a stunning, dramatic display that is sure to catch anyone's eye with dark purple and even black plants. Some of the best out of the bunch are black peonies, dark sunflowers, black pansies, and scabiosa 'black night'.

24. Perennial Flower Bed Ideas
Perennials are an excellent flower bed choice because you won't need to chop and change them yearly – they'll keep going for two years, at least! This awe-inspiring textural design features yellow daylilies, creeping phlox, purple rock cress, Shasta daisies, and zinnias. But if you're using daylilies, make sure to divide them after a year – they spread like crazy!

25. Add a Splash of Colour to Your Garden Bed With Bulbs
Bulbs are a worthy addition to any flowering bed. For one, the splash of colour their flowers produce can't be beaten. Secondly, there are so many options available! You can choose to champion dahlias like this stunning display, or daffodils, snowdrops, crocus, hyacinths, bluebells, and alliums are also excellent options.

26. Swap Flowering Plants for Aromatic Herbs in Your Flower Bed
Flower beds don't have to be purely floral-themed. Why not incorporate a touch of flavor with a veg or herb-filled flower bed? That's precisely what they've done with this raised herb bed – featuring sweet basil, rosemary, and a variety of other herb species. To make it hardy, keep it strictly to winter-tolerant herbs like mint, parsley, rosemary, sage, thyme, oregano, and chives.

27. Set the Place Alight With a Red Flower Bed
Red is the colour of energy, passion, warmth, and strength, making it the go-to choice if you're looking to create a fiery flower bed display. Pairing the Indian blanket flower with the sedum telephium 'Xenox' certainly works for this flower bed. You could also choose rudbeckia 'cherry brandy,' the Aztec sunset mixed zinnia, and the sunset chrysanthemum to bring the heat.

28. Add a Round Feature Flower Bed
Who said flower beds have to be rectangular? While rectangular flower beds serve a purpose, you can't beat a rounded flower bed for creating a garden focal point. You can use a round flower bed to surround a tree or lamp or add it smack-bang in the middle of your lawn to bring a bit of flare to an otherwise dull space.

29. Separate Your Spaces With Structural Flower Beds
Flower beds are the perfect solution to an open-plan space. They seamlessly separate your seating area from your garden, creating a semi-open barrier that keeps the rest of your garden in view. This retains the size of your garden while giving you more secluded areas. This design cleverly includes tall alliums in its display to bring height and a splash of colour.

30. Flower Beds for Beginners: Line a Balcony With Flower Beds
Balconies can be plain spaces. One way to bring them to life is by lining them with flower beds. The prime choice, if you're going low-maintenance, is drought-tolerant plants such as grasses, or you could go for a more oriental theme, adding Asian plants like bamboo, azaleas, iris, and hydrangea.

31. Surround a Patio With a Wrap-Around Flower Bed Display
The sharp lines of a patio can seem severe in contrast with the softness of a well-kept lawn. What better way to soften those lines than to add a wrap-around flower bed? It's the ultimate way to enclose a seating area. Either go a bit wayward with high wildflowers or stick with a more orderly style to keep it contained.

32. Experiment With Natural Materials
There is no need for a flower bed to be boring. Rather than the usual designated area of earth, you can experiment with natural materials for your flower bed. This could involve using an old, hollowed-out log as your flower bed, just like they've done here.

33. Lead the Way With Tactical Flower Bed Placement
Who says you have to put down stone or tiles to create a walkway? You can make a path simply by adding flower beds around an area of lawn. In this design, the curving flower beds clearly lead you through the garden, acting like a warm hug around the soft grass pathway.

34. Fill Shaded Flower Beds With Shade-Loving Showstoppers
Beautifying a shaded flower bed can be tricky, as the lack of sunlight limits your plant choices. But don't lose hope – there are still many flowers to choose from. Violas, begonias, hostas, toad lilies, dicentra, and primrose are some of the most spectacular shade-loving plants. To add height, try ligularia, bugbane, or bear's breeches.

35. Pack a Powerful Punch With a Purple Flower Bed
You can't get much brighter than purple, so it's a great option if you want your flower bed to pack a powerful colour punch. But don't stick to one hue – this will look samey and lackluster. To really make a purple bed sing, bring in a wealth of shades, as they've done with this combination of Cinerarias.

36. Stick With Tradition Using Rectangular or Square Flower Beds
Rectangular flower beds have stood the test of time – their popularity hasn't diminished over the years. This traditional style is ideal for a compact garden because it optimizes your available space. Adding a rectangular flower bed full of fresh veg and herbs near the back door creates the perfect kitchen garden.

37. Keep Tall Plants Along the Property Line
With blue oat grass in the forefront and hydrangeas and sculpted pom-pom trees in the background, this flower bed makes the importance of layering abundantly clear. If you plan to layer a border, ensure the plants go from smallest to tallest, with the loftiest plants at the property line.

38. Small Flower Bed Ideas: Vintage Containers
If you're working with a small space, or are renting and can't play around with your garden's landscaping, go small and subtle with a vintage container like a bird bath or urn. This whimsical garden urn is filled with low-maintenance, waxy succulents, but you could include whatever you like! Try a trailing plant like lobelia or verbena for a bit of cascading magic!

39. Full Sun Flower Bed Ideas: Add a Terrace Effect
Sometimes, one level just isn't enough. If you want to add height to your flower bed but don't know how to do it, try this stone-terraced multi-layer approach. This design includes a double-height layer of spring-flowering bulbs, including tulips and hyacinths. If you choose the terrace effect, choose warmth-loving plants because the stones will retain the sun's heat.

40. Use the Less Is More Approach in Your Creative Flower Bed
Your bed doesn't have to be brimming with blooms to be aesthetically appealing. Accent pathway lighting with brightly-coloured flowers. In this design, they use hot pink azaleas, then spice things up as the path progresses to the door, displaying height with pampas grass and a blue-tinted cypress.

41. Create Complex Shapes With Quirky Flower Bed Designs
If you like all things quirky, why not show a bit of your personality in a flower bed sporting a complex shape? This unique, flower-shaped bed shows off various colours. You could also try a heart-shaped or geometric-style flower bed to keep it interesting.

42. Sport Built-In Decking Flower Beds
There isn't always space for flower beds to wrap around your patio, so why not remove a couple of paving slabs and get creative? My recommendation for this type of flower bed is to fill it to the brim as they've done here – add plants that spread quickly, like calendula, alliums, foxgloves, and poppies. These produce a profusion of blooms that will bring your decking to life.

43. Flower Bed Ideas Using Big, Bushy Blooms
When it comes to big, bushy flowers, hydrangeas are the go-to. Flaunting bushels of blooms in striking shades of pink, purple, and blue, these plants certainly have the shock-and-awe appeal that makes a flower bed really stand out. This design features a curved side yard flower bed showing off nothing but hydrangeas.

Putting It to Bed
Flower beds are a must-have for any garden, whatever its size, shape, or configuration. The problem is that once you know you want to add flower beds to your garden, the sheer number of options can be overwhelming. Luckily, now you've got loads of ideas, you're finally able to put the befuddlement to bed!
So, what will it be? Keeping it clean with a single plant species, opting for controlled chaos with a wildflower bed, or mixing up the traditional shape with something quirkier? Whatever it is, you're sure to have a lot of fun for years to come!