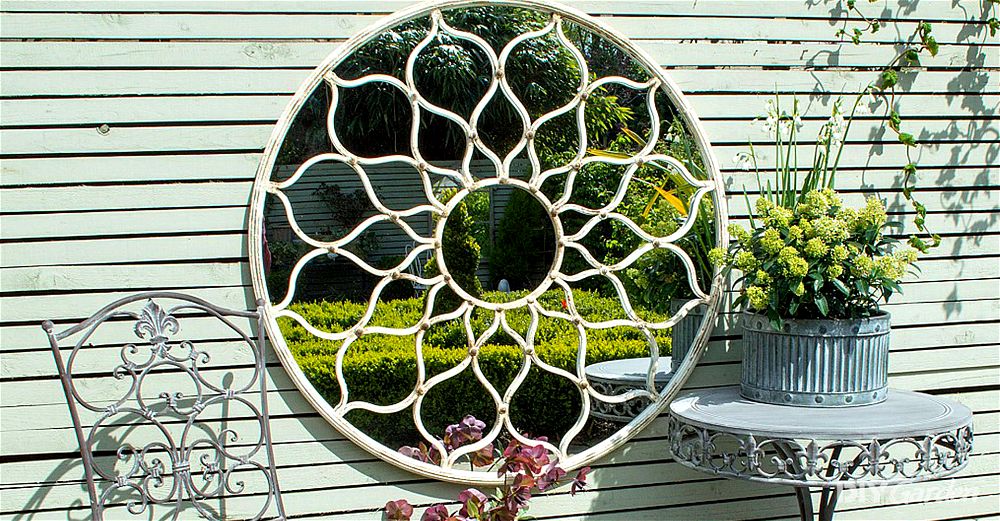 In recent years, garden mirrors have become a popular addition to garden design, and it's easy to see why. Besides looking rather enchanting, and adding a 'Secret Garden' feel to the space, mirrors reflect light and can make gardens look bigger – another reason they're coveted by garden designers.
When positioned on walls and fences, mirrors can look like windows, creating the illusion of another garden on the other side of the looking glass. For small gardens in particular this is great news; anything that creates more flow and breaks down the solidity of garden borders will always help make gardens look bigger.
Another thing that mirrors are known for is reflecting light, and this is particularly welcome in dark corners of the garden. If your garden space is a little shaded, incorporating a couple of angled mirrors to help bounce light through the space could brighten gloomy areas.
Another, more practical, reason to consider a mirror in the garden is to deter cats and wild animals from soiling your lawn and flower beds. There is reason to believe that cats don't recognise their own reflection. Therefore, when they see their reflection, they believe it is actually another cat, causing them to fear they are stepping on another feline's turf. It might not be a fool proof deterrent, but anything that might help keep the lawn a mess-free zone surely can't hurt.
I've chosen my top 5 favourite garden mirror ideas to give you some inspiration on how to use different mirrors in your own garden, with options to suit a range of styles and budgets.
1) Acrylic Heart Garden Mirror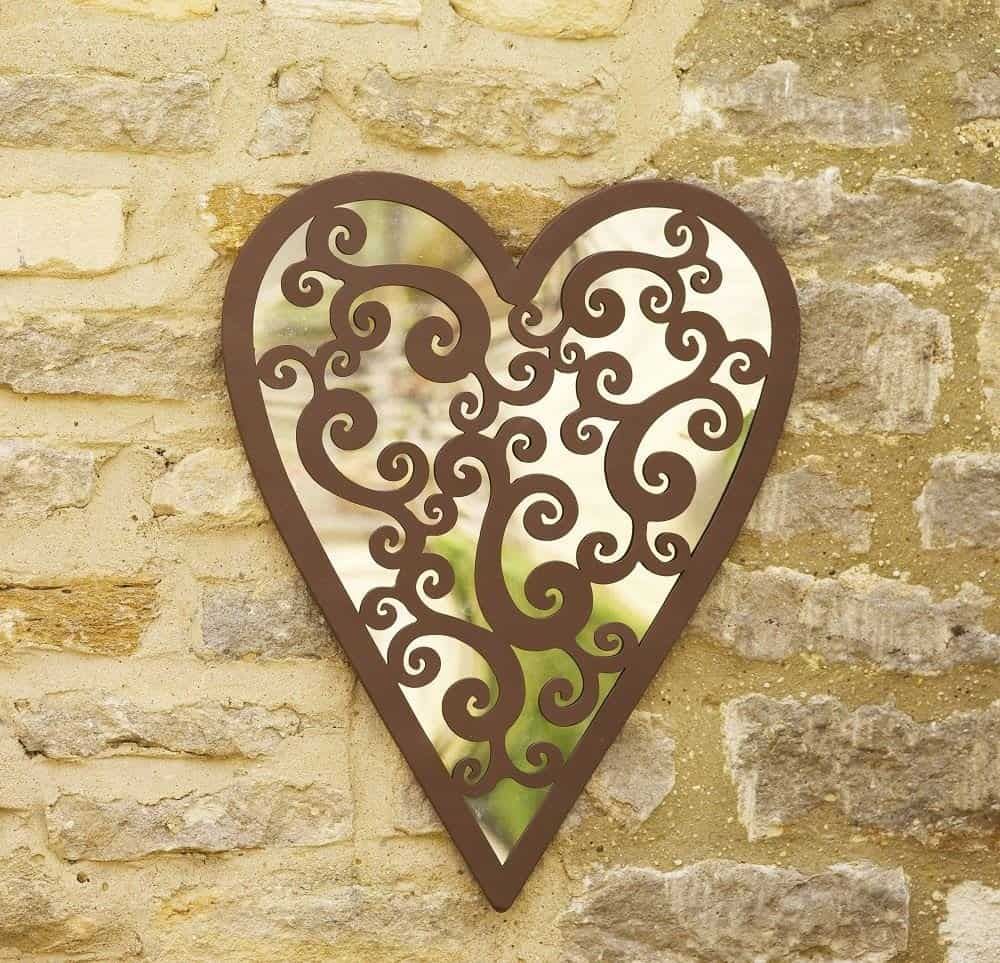 This Acrylic Garden Heart Mirror is an excellent example of how mirrors can bring beauty and interest to garden walls and fences. The heart-shaped design demonstrates how mirrors don't have to be boring – there are a range of quirky shapes and styles on the market to suit different garden styles.
In particular, a heart-shaped garden mirror will look great in kitsch, country spaces. This particular design is softened by the additional decoration, but a plain heart-shaped mirror would also work well in contemporary gardens.
When choosing mirrors with a unique shape, you could opt for one large mirror, or several smaller ones. A wall featuring a variety of heart-shaped garden mirrors en masse would also look very striking in the garden.
If you're concerned about safety when it comes to having a mirror in the garden, and are worried that the glass might break, one of the best garden mirror ideas is to choose acrylic mirrors like the one above. Acrylic is shatterproof, so if an acrylic mirror were to fall off a garden wall there wouldn't be the same danger of broken mirrors and shattered glass to deal with. Although this is a worst-case-scenario situation with glass mirrors in the garden, if you're at all concerned then why not consider acrylic instead.
2) Green Distressed Wooden Garden Mirror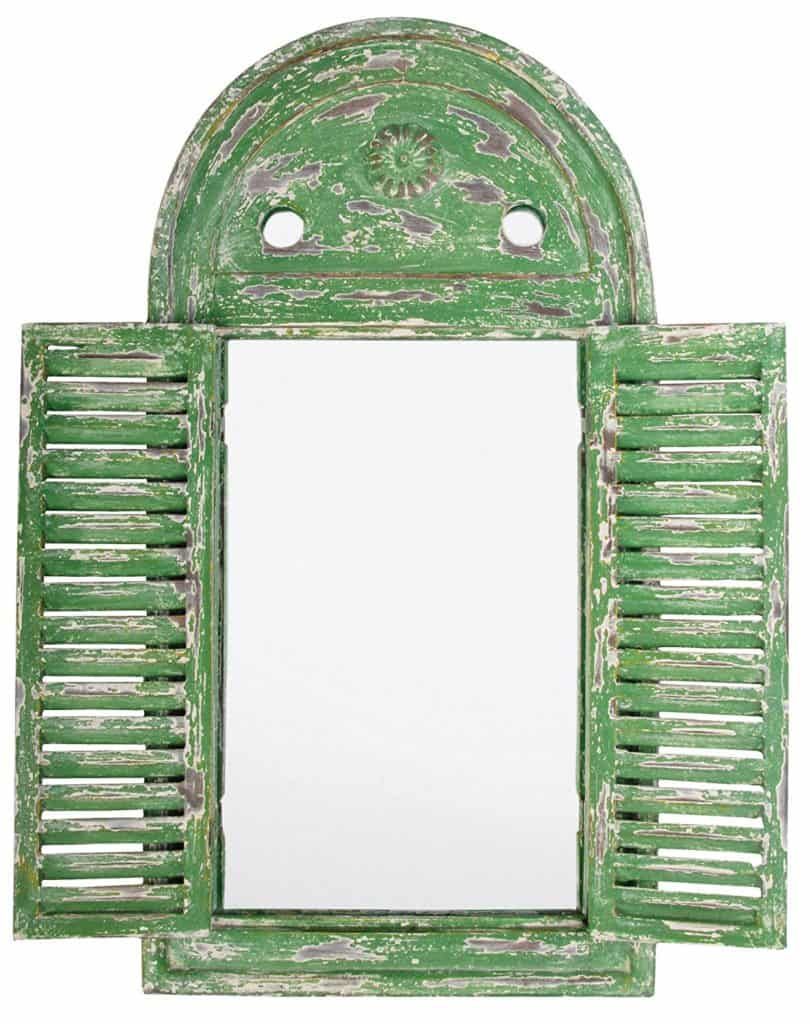 This Green Distressed Wooden Garden Mirror demonstrates the way that mirrors can be used to give gardens rustic, country charm. The design above is clearly intended to look like a window, echoing the designs of old Mediterranean villas.
An outdoor mirror like this could be positioned anywhere: on a wall near the house, on the shed, or at the end of the garden. It would also look great on its own, or as a series of similar mirrors.
As garden mirror ideas go, this is probably one of the easiest to try recreating at home if you fancied an upcycling project. You could make one of these mirrors yourself by procuring an old window frame or some shutters, resulting in a totally unique window mirror for your garden space. One of the most charming features of this mirror is how convincingly aged it looks, thanks to the peeling paint. There are several techniques that can be used to help age furniture and a quick internet search should help you recreate similar results.
3) Gothic Stone Garden Mirror
This Gothic Stone Garden Mirror is very reminiscent of traditional churches and country halls. It's an excellent style for anyone who loves a bit of classic, gothic décor and certainly helps to add to the 'Secret Garden' feel.
One of the best ways to incorporate this type of mirror into your garden is to position it on an old brick or stone wall. Try to persuade creeping ivy and climbing plants to grow around the mirror for an authentic churchyard feel.
You don't need a large space for this garden mirror to work – it would look just as good in a small courtyard garden as it would in a larger area. One garden mirror in this style is really all that's needed to make a dramatic statement.
As you can imagine, a genuine stone mirror could be pretty hard to carry, move and hang. That's why the majority of 'stone' mirrors are in fact stone effect, made from durable plastic resin. Resin is a great option for gardens because it's lightweight and can be moulded to look like a range of materials, from stone to wood. It's also weatherproof and doesn't fade which will help protect your purchase.
4) Large Rustic Garden Mirror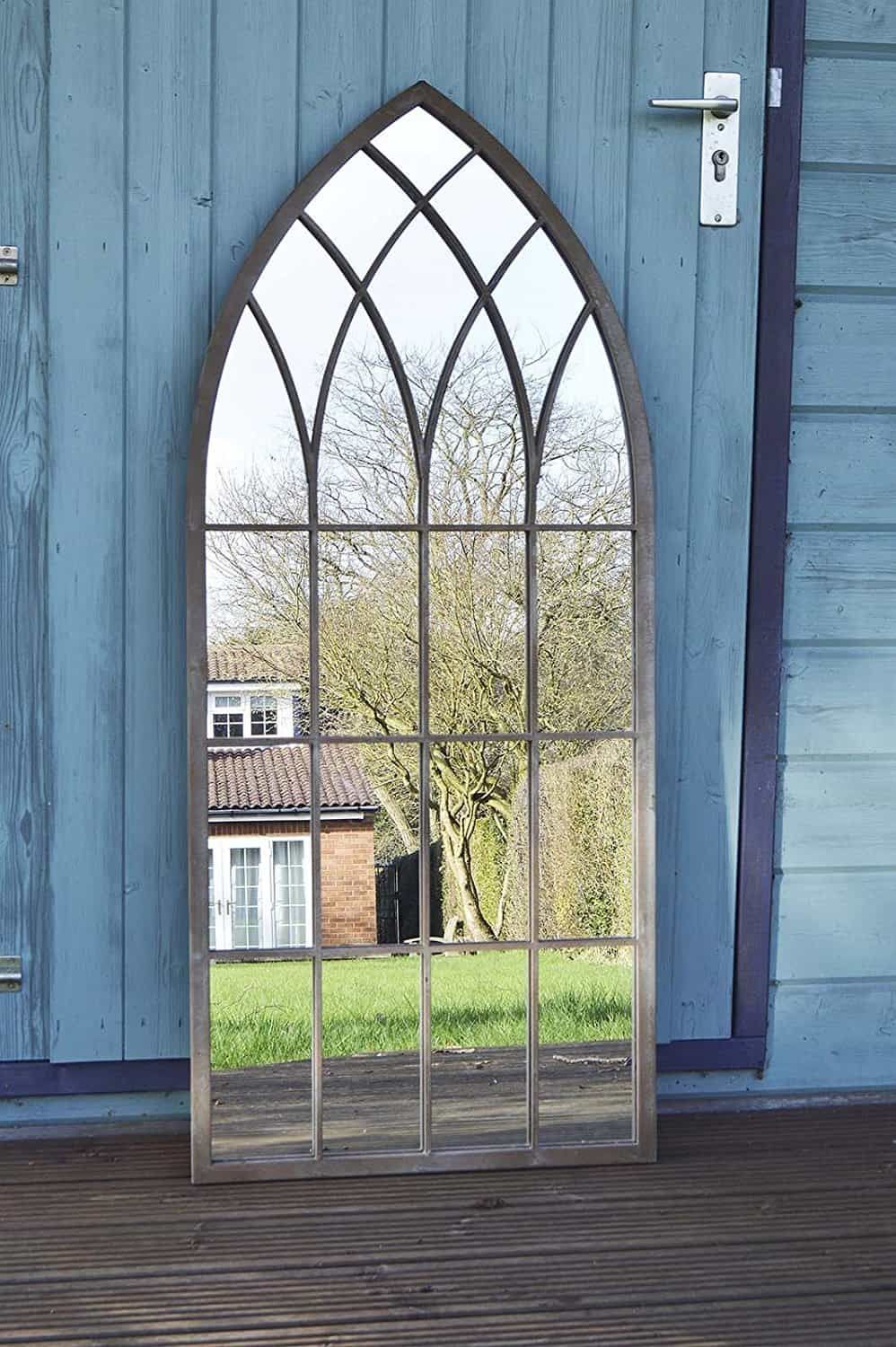 Metal mirrors like this Large Rustic Garden Mirror are great for adding a chic and industrial tone to your outdoor space. The window mirror style will look great in a range of gardens. If you choose stainless steel, the mirror shouldn't rust, though it may start to slightly wear over time. If anything, when it comes to industrial design, a bit of wear and tear can be quite desirable!
If you want an option that will age more dramatically, consider copper, brass or bronze mirror frames. Over time, this may gain a patina as the metal mixes with chemicals in the air. If you don't want to wait for the natural aging process to take place, there are plenty of mirror frames on the market that have already been decorated with a 'patina'.
5) Gothic Arch Outdoor Mirror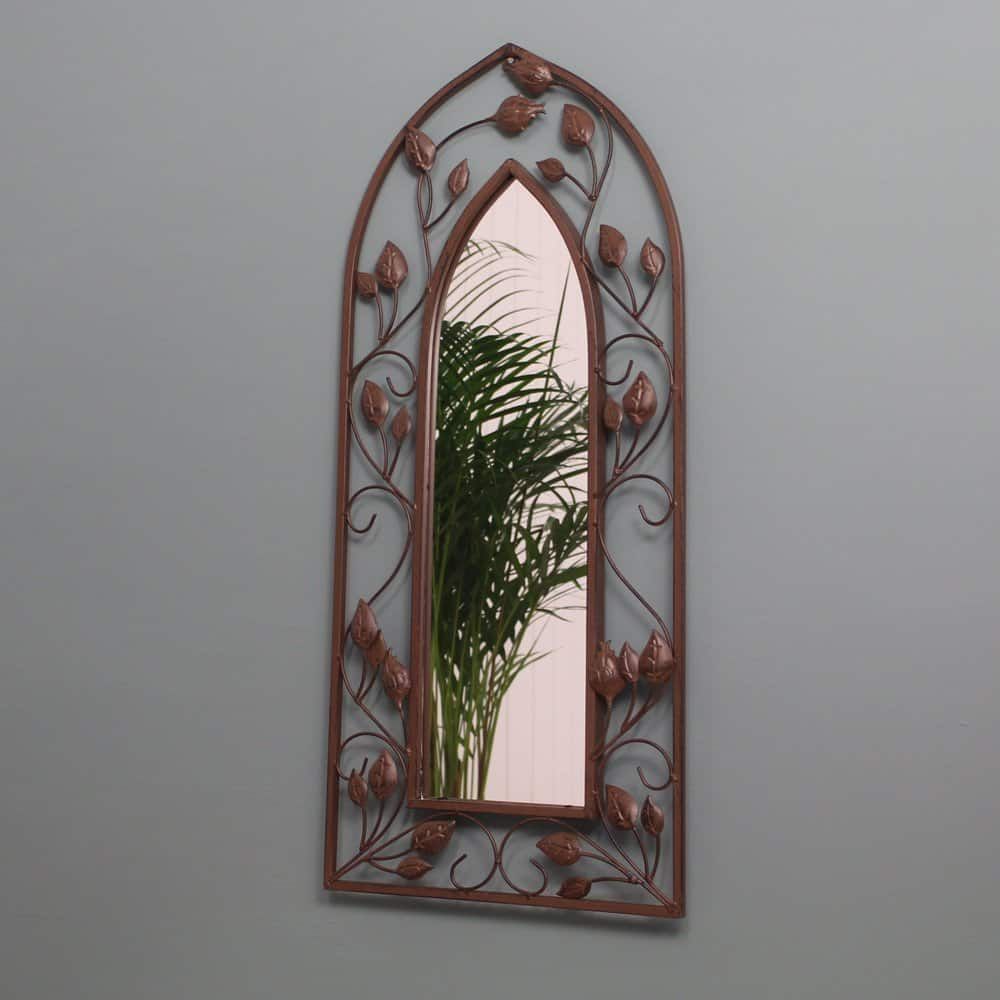 This Gothic Arch Outdoor Mirror nods its hat towards gothic styling, without being as out there are the stone mirror features at no. 3. The narrow design of this mirror, along with the welded decoration, make it a style that would work in a variety of gardens. In fact, it could even be used as an indoor mirror as well.
If you have a modern garden, this is an excellent mirror shape to look out for – it's contemporary because it's streamlined, and the copper colours are also worth considering. This colour palette contrasts nicely with the green hue of plants, and will also look striking against modern white garden walls.
That said, copper metalwork mirrors will also work well in country gardens. They'll look great in gardens with plenty of terracotta pots and exposed brickwork, and will combine stylishly with climbing roses and cottage-style planting.
As garden mirror ideas go, this window design is a versatile option that lends itself to a variety of garden styles, one of the reasons it gained its position in this Top 5!
FAQs
How can I use garden mirrors to illuminate dark areas in the garden?
If you've got a dark, shady corner in the garden that you would like to illuminate, a strategically-placed series of mirrors can help make a difference. The key is to place mirrors in the recess at angles to each other. The aim is that the mirrors will reflect the natural light between each other, giving the impression of a bright, airy space. This is a great technique for drawing light into dark areas of the garden.
Additionally, large mirrors are also excellent for lifting and brightening drab, dull surfaces such as lengths of fencing and shed walls.
Could I use a full-length mirror in the garden?
There are several ways you could use a full length mirror in the garden. You could use a full-length mirror either vertically or horizontally for different results.
Using a full-length mirror vertically will create an "otherworldly" garden feature – the mirror will give the illusion of a portal or doorway. This works exceptionally well in vibrant, colourful spaces and is an excellent accompaniment to fairy gardens and other quirky focal points.
Using a full-length mirror horizontally works well on walls, particularly the walls behind seating areas. Positioning a mirror in this way creates a large reflective surface, bringing in plenty of light and also reflecting a large amount of the garden. Any lights in the garden will be reflected, helping to illuminate the seating area at night time. Positioning lights around the seating area will also create beautiful reflections in the horizontal full-length mirror.
How can I make my small garden feel bigger?
Does your small garden feel claustrophobic and closed in? Or are you uninspired by its bland square shape? Strategically placed mirrors can add an amazing new dimension and unlimited depth to your back yard. Cramped enclosed areas can be transformed into open, airy spaces. Mount large mirrors horizontally to create the impression of width or vertically to create the impression of height. You will be amazed at the difference a few mirrors can make!
Of course, mirrors are just one of many ways to make a small garden feel bigger, there are many other strategies that you could employ! Check out this page with 50 Clever Ideas to Make a Small Garden Look Bigger.
How can I quickly use mirrors to improve my garden space?
One of the easiest ways to use a mirror in the garden is to place one in the patio dining area. Mount a full-length mirror directly behind your table to create some wonderful soothing ambience. This effect is amplified if you have candles or other soft lighting dotted around. This technique will instantly improve the ambiance and feel of your garden. If you don't have a patio dining area, use the same trick behind a bench.
Is it safe to use mirrors in the garden?
A normal mirror is safe to use in the garden. However, acrylic garden mirrors are shatterproof and offer better protection against the outdoor elements. Another option is to consider mirrors made from mirror polished stainless steel. They might not quite have the same clarity as glass, but they're not bad and they won't shatter if they fall. It just depends when your priorities are.
Water tends to damage regular mirrors by separating the reflective surface from the glass. This can be prevented in an outdoor setting by sealing the edges of your mirror with waterproof tape.
Little birds are often unable to distinguish mirrors and are prone to flying into them and injuring themselves. You can prevent this by frosting your outdoor mirrors, or simply by allowing the reflective surface to weather over time so that it's not so convincing to our feathered friends. The best way to avoid avian collision is to position your mirrors in areas that birds generally don't fly towards like patio corners and along hedging.
Check that your mirrors are secured properly to prevent any accidents or injuries.
To avoid any potential fire hazard, you should always ensure that your mirror isn't placed in direct sunlight. A mirror in direct sunlight may reflect and concentrate the force of the sun onto other objects – this can cause them to get so hot that it starts a fire.