Our
Worx WG252E.9 18V Cordless Pole Hedge Trimmer

Review

In all honesty, this isn't the hedge trimmer to go for if you have a very thick and dense overgrown hedge – it'll still get the job done but it will feel like hard work. However, if you've already been trimming your hedges regularly and need an easy-to-use, lightweight, and long hedge trimmer to help you stay on top of new growth, then the Worx WG252E.9 18V Cordless Pole Hedge Trimmer would be a good buy.

B07ZHM74QL

6924328340607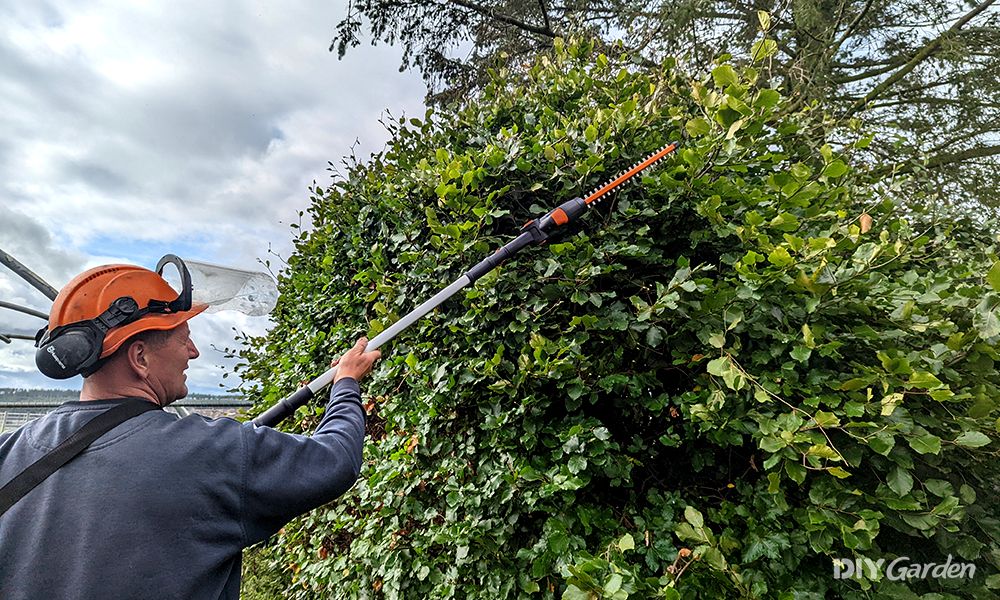 With a wide range of garden equipment and power tools available at affordable prices, Worx is a brand that has made quite the name for itself since it was launched in 2004. It's a brand that I'm very familiar with, so I was excited to be giving their WG252E.9 18V Cordless Pole Hedge Trimmer a try – its thoughtful features looked as though they would be perfect for the overgrown hedges in my garden.
Read our product testing methodology here.
How I Tested
The first test for this hedge trimmer was a very overgrown beech hedge in desperate need of a haircut. The hedge needed to be taken back and down by a few feet, meaning that there were plenty of thicker branches that would really put this machine through its paces.
Next to the hedge was a cherry tree that needed a tidy up, as well as a few metres of brambles that were taking over a holly bush. Hopefully, the Worx WG252E.9 18V Cordless Pole Hedge Trimmer was up to the task!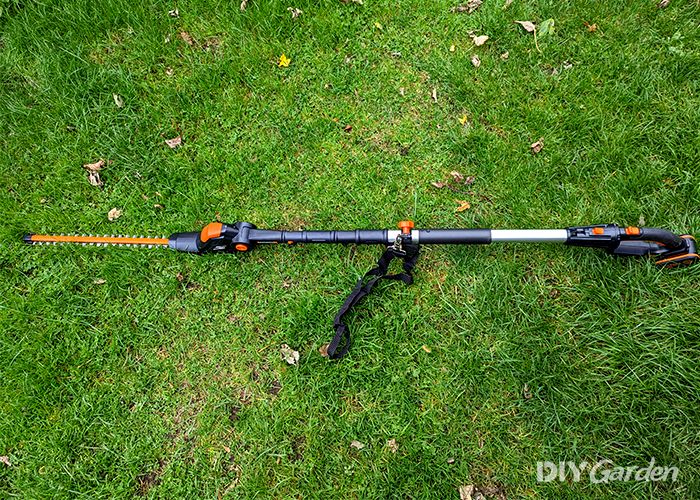 While some hedge trimmers are designed with a few different parts that you need to put together, this Worx model came in two halves – simply slot them together, flick the orange clips to tighten them in, and you're good to go. It only takes a minute or two to assemble and doesn't require much know-how, making it ideal for those who aren't already familiar with hedge trimmers.
As soon as I had put this machine together, I noticed that it had quite a heavy head. This made the machine feel more unbalanced when I was holding it. What made this worse was the lack of a D-handle – instead, there's just a rubberised section of the pole that you hold on to instead.
However, other than that, the rest of this hedge trimmer's design features were pretty impressive. Its 45cm blades are diamond ground, which usually means that the blades will be extremely sharp – ideal for a clean finish.
Not only does the head of this hedge trimmer tilt to 8 different positions, which is more than you get with most other brands, but the rear handle at the base can also be rotated with the press of a button. This simple little feature may not seem like much, but it should provide good manoeuvrability – you won't need to twist your hand around when cutting, since you'll be able to simply turn the handle instead.
In terms of reach, this hedge trimmer extends to 2.8m. This makes it one of the longest hedge trimmers that I've tested, which is ideal for those of you with tall hedges.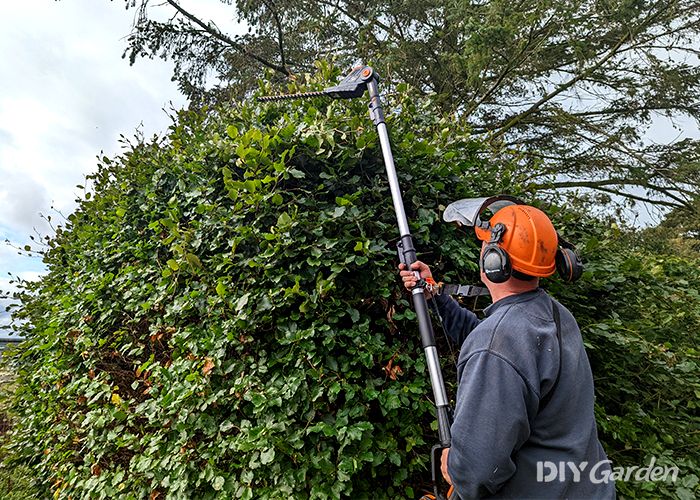 In many ways, the design of this machine is very similar to that of the VonHaus hedge trimmer that I tested, so I was expecting the two of them to perform in similar ways. However, I have to say that there were a couple of different aspects that let this Worx model down.
Firstly, the heavy head that I mentioned. This not only makes it difficult to balance the machine in a way that gives you a smooth, sweeping cut, but it also gets very tiring if you use the hedge trimmer for long periods of time. While it does come with a shoulder strap, this doesn't make the task much easier.
I also noticed that, unlike the other hedge trimmers that I tested, this one struggled with thicker branches. With 16mm teeth spacing coupled with diamond ground blades, this really shouldn't have been the case. However, I often had to use a bit of force to persuade it to slice through my thick beech hedge, which other hedge trimmers ran through like butter.
When I used this hedge trimmer on areas of the hedge that were thinner and more spindly, I didn't have this issue. It also made light work of brambles and holly, but when I attempted to prune thin branches on a cherry tree with it, the branches were left looking rather chewed up.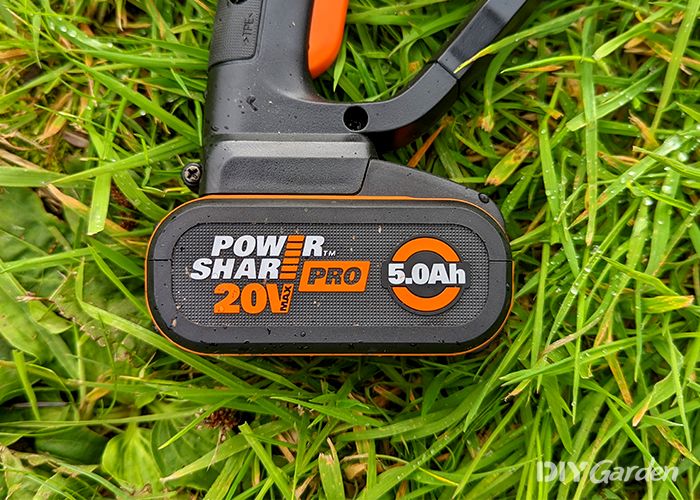 This hedge trimmer is battery-powered, which makes it much more versatile as you don't need to worry about getting tangled up in cables or having a stash of petrol to hand.
The main downside to battery-powered garden tools is that you have a limited runtime. However, since I used a 5aH battery with this machine, I didn't have that problem. I was able to use it almost continuously for just under two hours, and there was still a fair bit of life left in the battery (there's an LCD display on the battery that indicates how much charge it has left). The larger battery size also made the hedge trimmer feel more powerful than some of the other cordless models that I tested.
That said, if you don't already have other cordless Worx tools (the 18V/20V PowerShare batteries are interchangeable), then you'll most likely end up purchasing a 2aH battery with this hedge trimmer. This should give you a runtime of about 20-30 minutes, which some may find a little limiting.
This was definitely one of the quietest hedge trimmers that I tested. At 89dB, you won't have to worry about disturbing your neighbours if you're using the machine in close proximity to their home, although it's still worth wearing ear defenders for your own safety.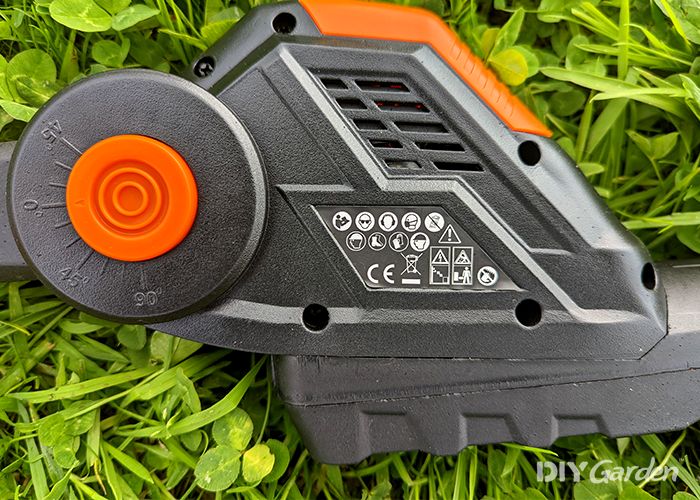 There are a few noteworthy safety features incorporated into this machine. The first is the plastic sheath that covers the blade. While all of the hedge trimmers that I tested came with one, some were very questionable in quality. This one was sturdy and strong – exactly what you need for safely covering a sharp blade.
It's also equipped with a dead man's switch – ie. an extra button that needs to be pushed before the trigger can be pulled. This prevents anyone from accidentally sending those blades whizzing around.
As I mentioned earlier, this hedge trimmer's rear handle can be rotated. If you don't click the handle into place properly once you've chosen a position, then the machine won't start. This was a thoughtful touch, as if the handle isn't secured in place, then it wouldn't be safe to use the machine.
Whether or not this hedge trimmer will offer you value for money depends on what you're looking for. While its low price is definitely appealing, there are other budget hedge trimmers out there that perform more efficiently.
However, where this model shines is in its reach – it extends further than most other low-cost hedge trimmers. So, if you have a tall hedge with branches that aren't too thick, then this machine would be a bargain.
It also helps to know that this hedge trimmer comes with a two-year warranty, which can be extended to three years if you register the product online.
In all honesty, this isn't the hedge trimmer to go for if you have a very thick and dense overgrown hedge – it'll still get the job done but it will feel like hard work. However, if you've already been trimming your hedges regularly and need an easy-to-use, lightweight, and long hedge trimmer to help you stay on top of new growth, then the Worx WG252E.9 18V Cordless Pole Hedge Trimmer would be a good buy.
Why You Can Trust DIY Garden
At DIY Garden, we believe your trust is earned through our knowledge and transparency. Our team of experts has over 75 years collective experience in the gardening and DIY space. Since the website's creation in 2016 we've tested over 275 products, ensuring our recommendations are based on real experience. We're open about what we've tried and what we've researched, and this is clearly labelled in our product reviews. Every year, we revisit and update our suggestions to include worthy new additions to the market. Our aim is to give you straightforward, honest, and helpful recommendations, so you can confidently choose the best tools and equipment for your projects.
Worx WG252E.9 18V Cordless Pole Hedge Trimmer Price Comparison
Price History
Our Scores:
Design

Performance

Power

Noise

Safety

Value for Money

Overall
Features:
Max. Width

16 mm

Max. Pole Length

2.8 m

Weight

3 kg

Power

18 V

Rotation Degrees

180°

Blade Length

45 cm

Shoulder Strap

Yes

Safety Trigger

Yes

Battery Included

No
About Your Guides
Derek Smith has been farming all of his life, and is an professional landscape gardener with over 22 years experience. He owns a 25-acre farm in Aberdeenshire with a focus on self-sufficiency, living off the land, and working with nature.

Sarah's role as chief editor at DIY Garden is about more than just making sure we're literally dotting the i's and crossing the t's (although she's a stickler for detail, so it's certainly about that too!). It's about proof-reading, fact-checking and continuously researching everything we publish, ensuring that it adheres to our

editorial standards

, so that everyone can really get the most out of their green space.
You May Be Interested In These Other Hedge Trimmer Reviews