In this water butt review, I thoroughly compared ease of setup, design, ease of use, stability and value for money for multiple products. After hours of research and testing, I recommend the Charles Bentley 100L Slimline Water Butt Set as the best water butt on the UK market.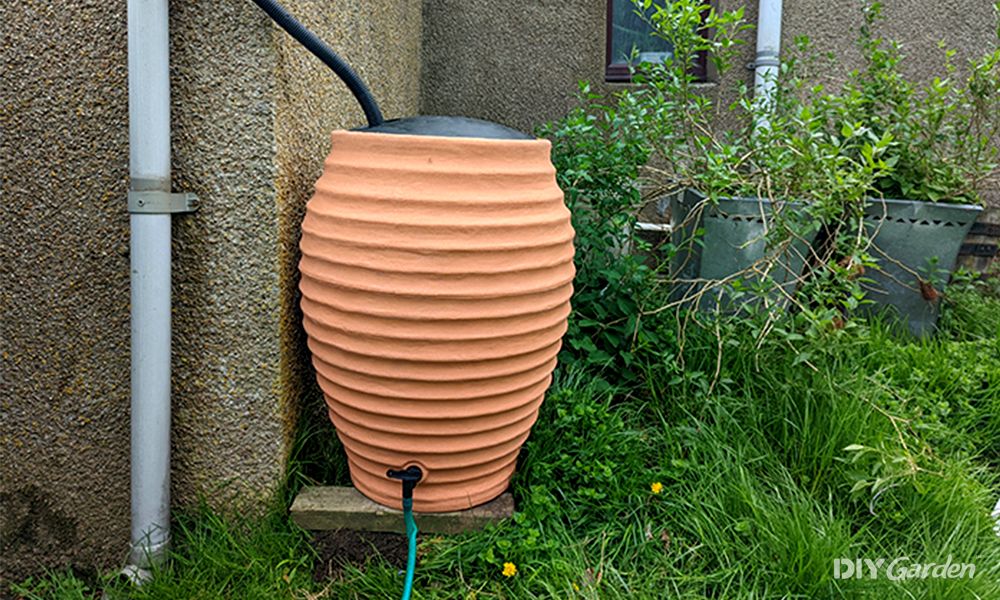 My Top Recommended Water Butts
My Product Reviews & Opinions
Compare Product Features Here
Use the dropdown to sort the table by the feature that's most important to you.


Our score
Capacity
Material
Dimensions
Weight
Tips For Buying a Water Butt
First, work out how often you'll be using your water butt. If you plan on

filling a watering can a few times a week, then a 100 litre water butt

would probably suffice, considering that the average watering can holds 10 litres. These water butts also usually have

slimmer designs

that take up less space.

However, for more heavy-duty use, go for a larger 200-300 litre

design. Don't forget that you also have the option of

connecting multiple water butts together

, so long as the design of each water butt allows for this (most of the traditionally-styled ones do).

Some water butts come with a couple of key extras; a diverter kit

, which is what you'll use to attach your water butt to your drainpipe, and

legs or a stand

. If yours doesn't, you'll need to purchase these separately as both are a must for being able to properly use the water butt.

If you're eco-conscious, consider what the water butt is made from. Designs produced in the UK from high-density recycled plastic tend to feel stronger and more robust

, while also being kinder to the environment.
Bearing all this in mind, and after some all-season testing, we've chosen the Charles Bentley 100l Slimline Water Butt Set as the best water butt overall. It's a quality option that fits easily into the corner of gardens. It's easy to set up and has good water flow.
Why You Can Trust DIY Garden
At DIY Garden, we believe your trust is earned through our knowledge and transparency. Our team of experts has over 75 years collective experience in the gardening and DIY space. Since the website's creation in 2016 we've tested over 275 products, ensuring our recommendations are based on real experience. We're open about what we've tried and what we've researched, and this is clearly labelled in our product reviews. Every year, we revisit and update our suggestions to include worthy new additions to the market. Our aim is to give you straightforward, honest, and helpful recommendations, so you can confidently choose the best tools and equipment for your projects.
How to Choose The Best Water Butt
Water butts offer an eco-friendly way to keep your plants hydrated. Instead of using fresh water from the tap, water butts collect and store rainwater ready for use.
The two main benefits of a water butt are that they keep your water bill down by making use of recycled water, and they benefit plants because the water is free from chemicals like chlorine.
The best water butts have a good capacity without being overbearing in the garden. Certain things can be useful to look out for:
READ NEXT: The Best Expandable Hoses
Size and Capacity
Water butts come in a range of sizes. Naturally, having a small water butt is better than none, so even a 100 L model can be useful, especially in small gardens.
These smaller water butts often have a very small footprint (around 40 x 40 cm) so they're the best water butts to tuck away into courtyards and patios – they won't take up too much space. 100 L is not a large capacity though, and can fill up with just a couple of days of rain.
Small water butts are most suited to small gardens and gardens without many plants. You may need to supplement the water from the butt with some from the mains tap if it doesn't hold enough water for your garden.
If space isn't too much of an issue, water butts of between 250 – 300 litres are standard size. They're the best water butts for most domestic small/medium gardens.
Larger water butts are available, going up to a capacity of several thousand litres, but these are generally too big for traditional gardens – they can take a long time to fill up, and be hard to tuck away.
Another important consideration when it comes to size is: can a watering can fit underneath the tap?
Some water butts do not come with a base, which can make it difficult to fit a watering can under the tap if the water butt is small. Take note of how high the tap is when buying a water butt.
If it doesn't come with a base you should consider buying one separately. Not only will it help with filling a watering can, it will also help retain the shape of the water butt.
READ NEXT: The Best Hose Reels
Features to Look Out For
The best water butts have additional features which make them more practical to use or assemble:
A water diverter kit – used to help divert rainwater from the guttering into the water butt (we'll cover water diverters in a lot more detail in the following section). Some water butts come with a 'water butt kit', including diverter, whilst others don't. It's also necessary to check that the diverter is the right size to fit on the downpipe.
An included stand – not all water butts come with a stand, but most of the time you'll find that one is necessary. Unless the water butt is very large and rigid, a stand should be used to protect the tank and help it stay upright. Another reason why a stand is so important is that it makes it possible to fit a watering can underneath the tap. Without a stand, the tap will generally be too close to the floor.
Pre-drilled holes – these make it a lot easier to set up the water butt. If holes are not pre-drilled, you will need to make a hole of around 25-30 mm to connect the water diverter. Given that most people don't have a drill bit of this size, this can be quite a difficult process. If you want a water butt with pre-cut holes, try to find a model with several pre-cut, plugged holes on different sides of the water butt. This will give flexibility on where the diverter can be connected, and where the water butt can be positioned.
Hose-fit tap – some water butts have hose fit taps that are compatible with standard hose fittings, such as those for Hozelock Hoses and Gardena hoses. Generally, compatibility will be stated. In order to get a more forceful flow of water through a hose, a pump will need to be placed in the water butt.
Using a Water Diverter
A lot of the best water butts will come with a water diverter included. If not, you will likely want to buy one separately in order to connect the water butt to the guttering in order to collect rain water.
The water diverter connects to the downpipe of a drainage system. It diverts some of the run-off rainwater away from the main drainage route and into the water butt.
Given that there are both round and square drainpipes, it's possible to get differently shaped water diverters in order for them to fit on the drain.
READ NEXT: The Best Hose Connectors
Installing a Water Diverter
Putting in a water diverter involves cutting through the downpipe of the guttering. In most cases, these pipes are plastic and the job isn't too difficult. However, be aware that if you have metal pipes, the job will be more complicated.
The basic procedure for installing a water diverter is as follows (but check any manufacturer instructions for differing information):
Ensure the water butt is positioned within 50 cm of the downpipe
If the water butt does not come with pre-cut holes for the diverter, you will have to make these yourself. Measure approx. 10 cm down from the top of the water butt, on the side facing the downpipe, and mark where the hole will go. Use a hole saw with the correct size bit (as per the water butt instructions) to create the hole.
Using a spirit level, measure directly across from the hole and make a mark on the downpipe. You will need to make two marks, parallel with the top and bottom of the hole you have created.
Saw the marked section in order to remove it from the downpipe.
Fit the rubberised splash seal to the top section of pipe, then connect the diverter between the two sections. Make sure that the outlet hole is at the bottom. Then pull the splash seal down over the join.
Connect the hose: feed the hose through the hole in the water butt and secure it in place with a screw nut. Then attach the other end of the hose to the diverter.
READ NEXT: How to Water Plants When You're on Holiday
Water Butt FAQs
Can I fit a hose to my water butt?
Some of the best water butts will come with a hose connector tap. Check this before purchasing the water butt as it's not always possible to detach the existing tap.
Alternatively, in some cases a hose-compatible connector can be fitted over the tap. The hose will not produce a powerful jet, but it will allow for water to be transported around the garden. To achieve a jet of water you will need to fit a pump inside the water butt.
How can I connect a water butt to the guttering?
Water butts fit to a gutter's downpipe, so the first step is to choose a suitable downpipe in a location that is convenient. The water butt should be positioned a maximum of 50 cm away from the downpipe.
Place your water butt on its stand. Measure 10 cm down from the top of the water butt and drill a hole large enough for the water diverter. Use a spirit level to measure across from this hole, and mark it on the downpipe. Use a hacksaw to cut the downpipe at this mark. You can then fit the rainwater diverter to the downpipe.
Some water butts come with the tap preinstalled. However, some won't, meaning that you can choose where to position your tap. If it isn't pre-installed, you will need to drill a hole and connect the tap through this hole. Make sure you have enough room to fit a watering can under the tap comfortably. Bear in mind that the tap won't work once the water level goes below it, so don't place it too high up.
How big a water butt do I need?
The size of water butt you should buy will be dictated by two factors: how much space you have in your garden, and how much watering you need to do.
If you only have a small garden or patio, purchasing a slimline 100 L water butt is recommended. It won't hold a lot of water, but it should be sufficient for most small watering jobs and it won't take up too much space.
If you have a small/medium garden, a standard water butt has a capacity between 250 – 300 litres. This will be sufficient for most of the year. Larger models are available, including water butts with a capacity of 1000 litres +, you just need to have enough space to store them.
The water in my water butt has gone green, what should I do?
When left to sit and stagnate, algae and bacteria can grow on the water in a water butt. Whilst this might not seem like a problem, some of the bacteria can actually be harmful to plants when they are watered – especially baby seedlings.
There are chemicals that can be added to the water, but it's always a risk using chemicals around plants as you never quite know what affect they will have on the delicate chemical balance of the soil. Some gardeners like to use an organic, biologically safe solution of 'friendly bacteria' to clear the harmful stuff out.
Of course, this problem doesn't happen if water isn't left to stagnate, so some of the best advice is to use the water butt regularly and clean it every year. Keeping a water butt in a cool, shady place will stop it from getting too warm which can also encourage the growth of bacteria.