Our
Flymo EasiStore 340R Li Cordless Rotary Lawn Mower

Review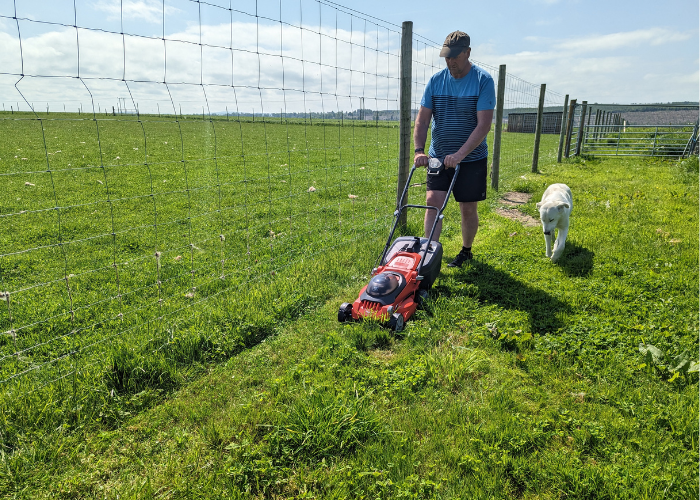 If you have a small garden and you need a small lawn mower to match, then this machine is definitely worth considering. The only real letdown to this lawn mower is its lack of features, but it still gives you everything that you need to mow a lawn, and to get the job done well. It's basic, but this also means that it's extremely easy and convenient to use, and the fact that it effortlessly munched through my wild and unruly lawn was an impressive testament to its sheer power. 
If you're on a budget but don't want to compromise when it comes to quality, then the Flymo EasiStore 340R Li Cordless Rotary Lawn Mower won't let you down.
B082BRR7DZ
7392930297265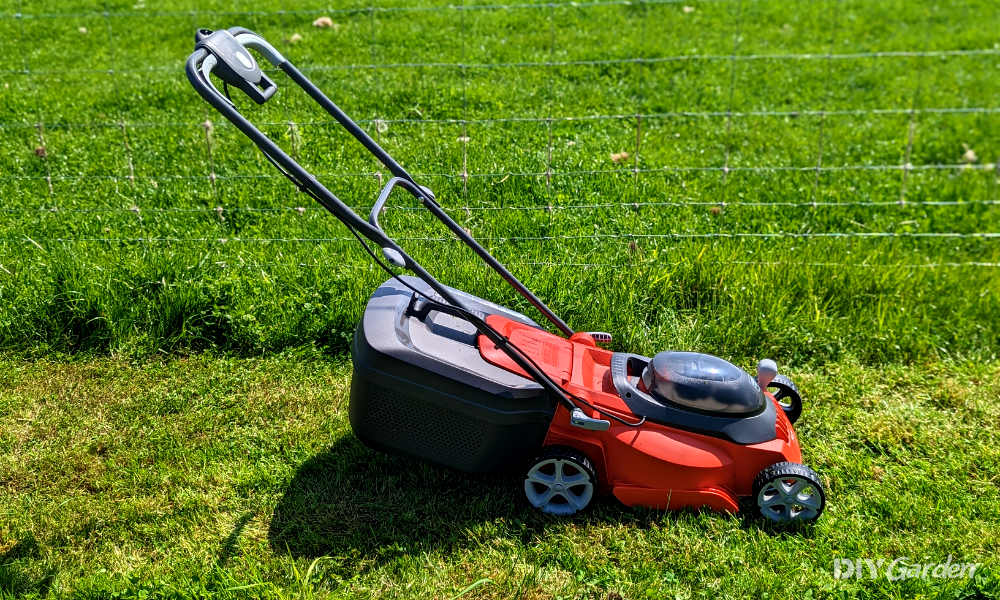 Flymo established its reputation for innovation back in the 60s by inventing the first hover mower. Today, the brand is still known and loved for its smart technology and boundary-pushing ideas, and I was excited to find out if the Flymo EasiStore 340R Li Cordless Rotary Lawn Mower held up to this too.
Read our product testing methodology here.
How I Tested
When testing out a new lawn mower, I always like to give it a good challenge. Most lawn mowers will be able to tackle a short lawn without any issues, but what happens when it has long and thick springtime growth to deal with?
To find out how the Flymo copes, I decided to test it out in a garden that hadn't been cut for about six weeks. The grass was long and interspersed with a variety of weeds. Some areas of the lawn were relatively flat but others were extremely uneven, with deep ridges provided by the roots of the mature apple tree that sits in the middle.
Once the Flymo proved (or disproved) its worth on the long grass, I then intended to run it around the garden again with a shorter cut to see whether or not the rear roller would provide a noticeable finish.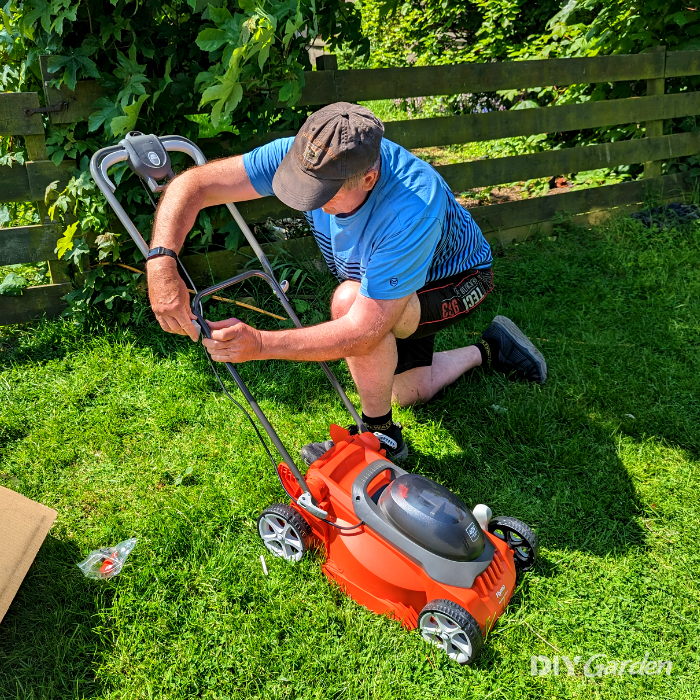 This lawn mower was pretty simple to assemble, which is always appreciated! It took about ten minutes in total before it was good to go, although this doesn't include the time that the batteries need to charge.
I started by putting the collection box together. Since it's a hard box, rather than fabric, it takes no time at all to click the pieces together – it's so much faster than assembling a fabric box, and much less fiddly.
I then attached the handles to the base unit, which, once again, was easy. There are two handle heights to pick from, which isn't quite as much choice as some other lawn mowers offer (Ryobi's cordless lawn mower, for example, gives you five different handle height settings) but is still better than having just one single height!
Once the handles are on, the cables can then be secured to them with the provided clips. This prevents them from getting in the way while you're working.
After this, I inserted the provided plastic key into the section of the lawn mower that holds the batteries. The key is required to turn the lawn mower on and, thankfully, Flymo also included a spare key in the box.
Once this is done, the batteries can then be inserted and the lawn mower is ready to use!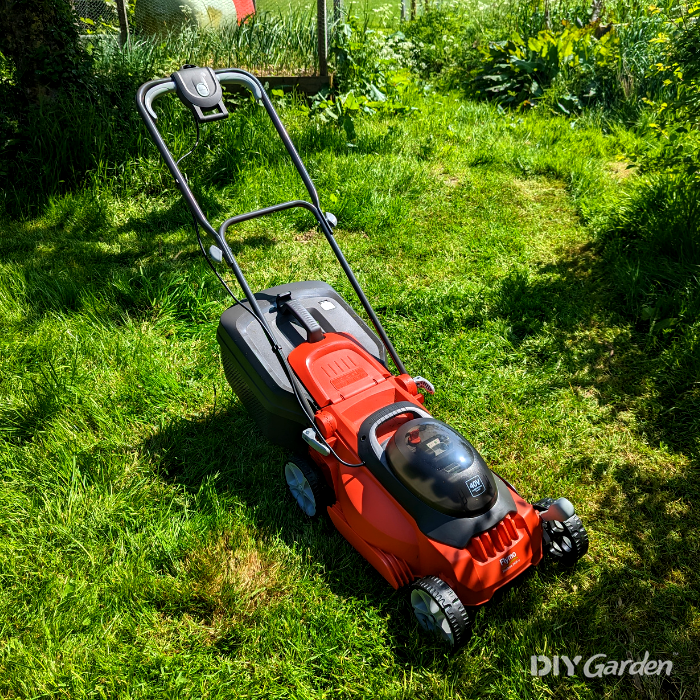 The first thing that stands out about the design of this lawn mower is its colour. As you would expect from Flymo, it boasts the brand's signature orange and grey colour palette. It's bright but not overly so – it still manages to look more like a tool than a toy (which can't be said for all cordless lawn mowers!).
As mentioned, this machine comes with a hard plastic collection box, rather than one made from fabric. This means that the box is much stronger and sturdier than many of the others out there. With a 35-litre capacity, it's on the small side, but, to be fair, this lawn mower has been designed for small gardens.
While some lawn mowers have a thin metal bar that you pull on to run the machine, this model has been fitted with plastic levers at the handles. There's a lever on either side, meaning that you could operate this machine with one hand if you needed to.
The handles also swivel and fold to make transportation and storage easy, with an additional carry handle that you can use instead. When it comes to storage, one option is to store this lawn mower vertically, with a stand that you can pull out to keep the entire unit, complete with the collection box, straight and sturdy. You can also pretty much fold the handles down completely, giving you a very compact unit that won't need much shed space when it's not in use. This is where Flymo's innovative nature really shines – there aren't many other lawn mowers out there that are so versatile in terms of storage!
Turn the machine upside down and you'll notice that it has a rear roller. The purpose of this is to give the lawn a striped effect as the machine cuts the grass. It's a common addition in high-end lawn mowers, but it's one that you don't often see in compact cordless lawn mowers.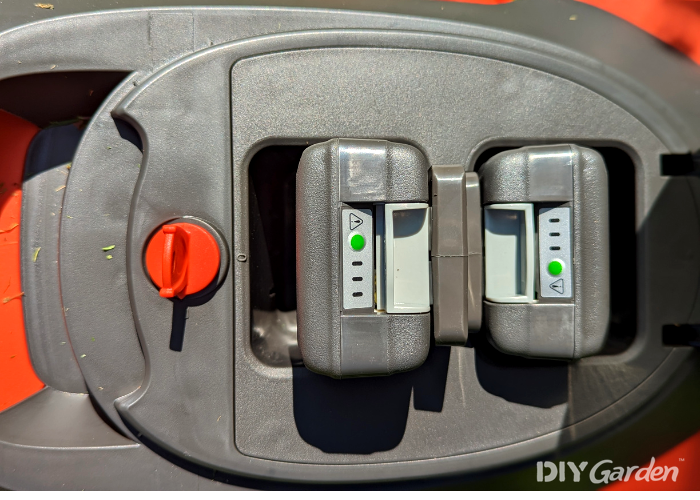 At 40V, this Flymo lawn mower is one of the most powerful of all of the cordless lawn mowers that I've tested, with some of the others dipping down to as low as 18V. The higher the voltage, the more powerful the machine. Although you may not technically need 40V for a small garden, having this extra power will enable you to get the job done faster, as well as more efficiently.
The 40V is provided by two 20V batteries. A dual charger is included so that you can charge both batteries at the same time. The batteries take about four hours to charge, with a full charge giving you a runtime of about half an hour if you were to use the machine continuously. I usually stop and start a fair bit, so I was able to use the lawn mower for about 40 minutes before the batteries ran flat. Compared to the other cordless lawn mowers that I've reviewed, this runtime is a little longer than average, which is always a bonus.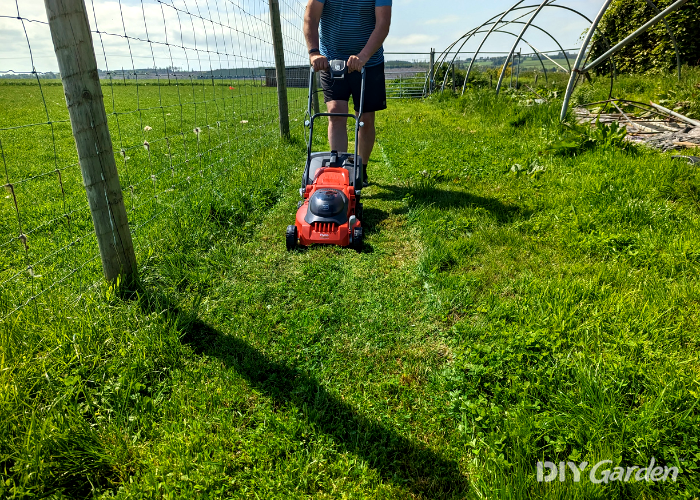 I started by testing this Flymo out on long grass, although some areas were more weeds (docks and willowherb, mostly) than grass. Needless to say, I had it on its highest cutting height, and it surprised me by effortlessly chopping its way through even the thickest patches of long grass.
I then went over the same area again on a lower cutting height, which beautifully completed the job. Its cut was neat and clean, even on bumpy ground. Some areas of the lawn were quite wet too, but the lawn mower didn't clog or cut out even once.
The machine also managed to fully fill the collection box each time. There's an air vent on the box that closes when the box is full and needs to be emptied, and I never had to stop to empty a half-filled box. That said, a 35-litre capacity is pretty small. Since I was cutting long grass at the beginning, the box needed to be emptied after every other row, although it held out a little longer during my second run on shorter grass.
The only real downside was the way in which the lawn mower's rear roller performed. It should have left my lawn with neat stripes but these were barely noticeable. I wasn't sure whether or not this was because I was working on rough grass and uneven ground, so I then gave the mower a go on an area of lawn that's cut regularly with a robot mower. However, again, there were no stripes to be seen. In my opinion, this is because of how light the lawn mower is – it lacks the weight needed to push down on the rear roller to produce that striped effect.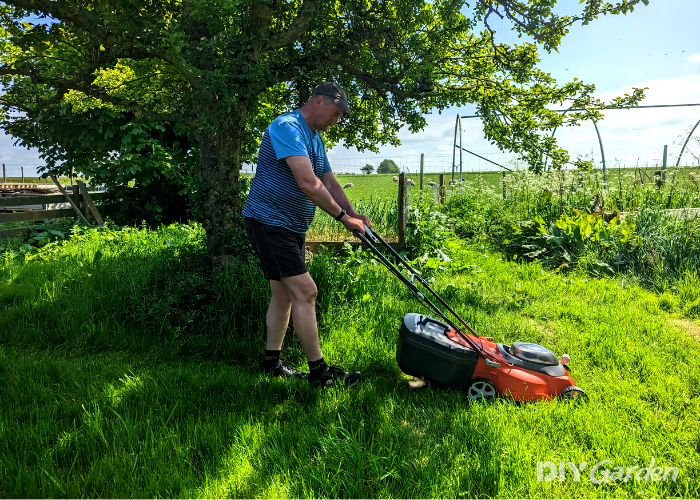 Although the lightweight nature of this lawn mower is detrimental when it comes to the rear roller, it's definitely a bonus in terms of manoeuvrability. At 11.2kg, this is one of the lightest cordless lawn mowers that I've used, making it so easy to zip around tight corners. It also doesn't put too much of a strain on your arms if you're pushing it over bumpy ground or up a hill.
The dual levers make it easy to move the machine around too. They enable you to easily use the lawn mower with one hand, meaning that you can pivot the machine into even the tightest of spaces.
Manoeuvring this lawn mower when it's not in use is pretty much effortless as well. The carry handle at the top allows you to easily pick the machine up with just one hand. The handle is perfectly positioned on the unit to evenly balance the weight of the lawn mower. Most of the other lawn mowers that I've tested also have this handle but haven't mastered the weight balance in the same way, meaning that the lawn mower tilts to one side when it's picked up from the top handle. If you intend on frequently lifting the lawn mower in and out of a car or up and down steps, then this simple handle will make all the difference when it comes to convenience.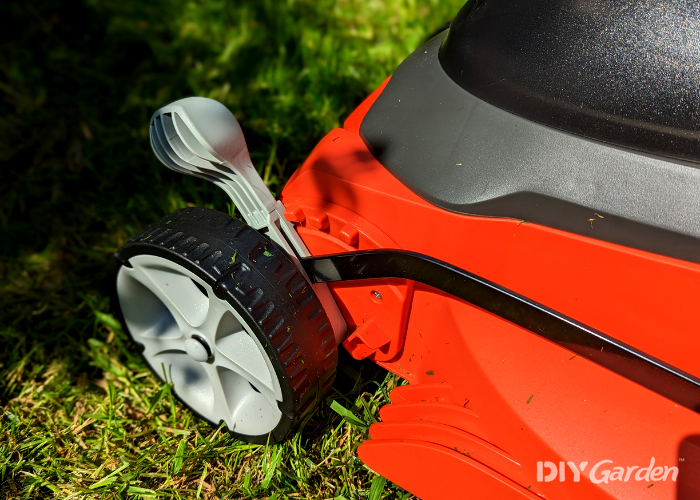 Although the features that this Flymo lawn mower provides are relatively basic, you don't really need much else to get the job done well.
For starters, the fact that this lawn mower is fitted with one lever that adjusts the cutting height on all four wheels may not seem like much. However, it helps in a big way with convenience and speed – some lawn mowers have two or four levers that need to be adjusted, while others require you to turn the entire machine upside down in order to adjust cutting height. The Flymo's single lever, which clicks over to different heights quickly and smoothly, makes life easy.
In terms of cutting height, you have three to choose from, giving you a range of 20-60mm. This machine actually provides the shortest cut of the cordless lawn mowers that I tested, although the others make up for that by giving you more than three height settings to pick from. However, with a 34cm cutting width, this machine will enable you to get the job done a little faster than some of the others out there.
Another feature promoted by Flymo is this machine's cutting deck, which allows it to cut right up to edges. It did this well, but so did the other cordless lawn mowers that I tested, so don't let this feature alone sway you.
As I mentioned earlier, this lawn mower comes with a rear roller too. However, it didn't make a noticeable difference in terms of leaving stripes on my lawn. To be fair, any lightweight lawn mower would struggle to do this because it always helps to have a bit of weight behind that rear roller. If the stripes are important to you, then a heavier machine would be a better choice.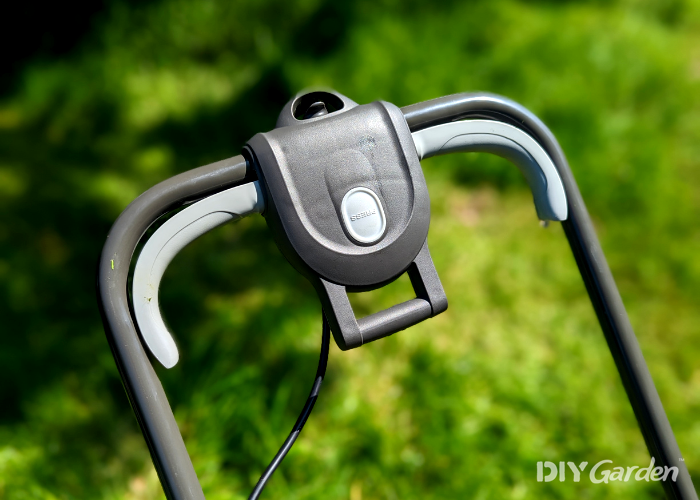 Flymo seems to have thought of just about everything when ensuring that this lawn mower was as safe as possible.
For example, it would be very difficult to accidentally turn this machine on. The batteries need to be inserted (and charged!), the key needs to be turned, the button at the centre of the handles needs to be pressed, and then the levers need to be pulled, after which the lawn mower will kick into action.
The batteries are safely encased in hard plastic too, preventing water or stones from damaging them.
Although it may be slightly lacking when it comes to features, this becomes much more understandable when you take the lawn mower's price into consideration. It's one of the least expensive of the cordless lawn mowers that I reviewed, yet it was also extremely powerful, and undeniably capable.
For this reason, I would say that this lawn mower offers fantastic value for money. It may not have the same bells and whistles that some other lawn mowers boast, but when it comes to power and efficiency, it's a winner.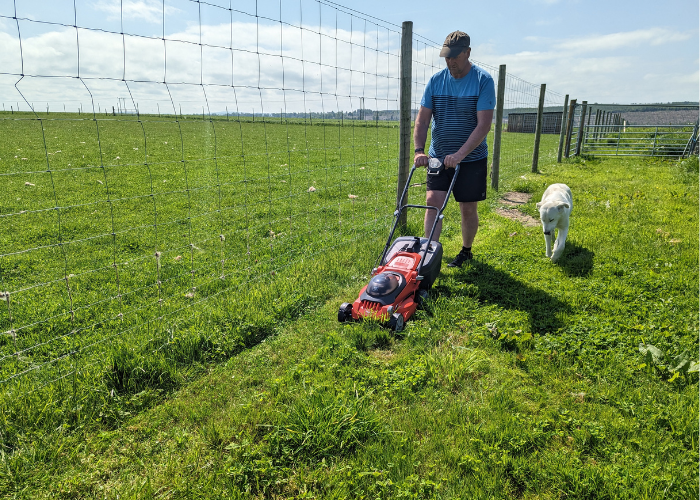 If you have a small garden and you need a small lawn mower to match, then this machine is definitely worth considering. The only real letdown to this lawn mower is its lack of features, but it still gives you everything that you need to mow a lawn, and to get the job done well. It's basic, but this also means that it's extremely easy and convenient to use, and the fact that it effortlessly munched through my wild and unruly lawn was an impressive testament to its sheer power. 
If you're on a budget but don't want to compromise when it comes to quality, then the Flymo EasiStore 340R Li Cordless Rotary Lawn Mower won't let you down.
Why You Can Trust DIY Garden
At DIY Garden, we believe your trust is earned through our knowledge and transparency. Our team of experts has over 75 years collective experience in the gardening and DIY space. Since the website's creation in 2016 we've tested over 275 products, ensuring our recommendations are based on real experience. We're open about what we've tried and what we've researched, and this is clearly labelled in our product reviews. Every year, we revisit and update our suggestions to include worthy new additions to the market. Our aim is to give you straightforward, honest, and helpful recommendations, so you can confidently choose the best tools and equipment for your projects.
Our Scores:
Assembly Ease

Design

Power

Performance

Manoeuvrability

Features

Safety

Value for Money

Overall
Features:
Lawn Size

400m²

Power

20 V

Battery Life

35 minutes

Charging Time

4 hours

Weight

11.2 kg

Cutting Width

34cm

Cutting Heights

5

Collection Bag

35L
About Your Guides
Derek Smith has been farming all of his life, and is an professional landscape gardener with over 22 years experience. He owns a 25-acre farm in Aberdeenshire with a focus on self-sufficiency, living off the land, and working with nature.

Sarah's role as chief editor at DIY Garden is about more than just making sure we're literally dotting the i's and crossing the t's (although she's a stickler for detail, so it's certainly about that too!). It's about proof-reading, fact-checking and continuously researching everything we publish, ensuring that it adheres to our

editorial standards

, so that everyone can really get the most out of their green space.
You May Be Interested In These Other Lawn Mower Reviews