In this strimmer review, I thoroughly compared design, performance, ease of use, noise, safety and value for money for multiple products. After hours of research and testing, I recommend the BLACK+DECKER Cordless String Grass Trimmer as the best strimmer on the UK market.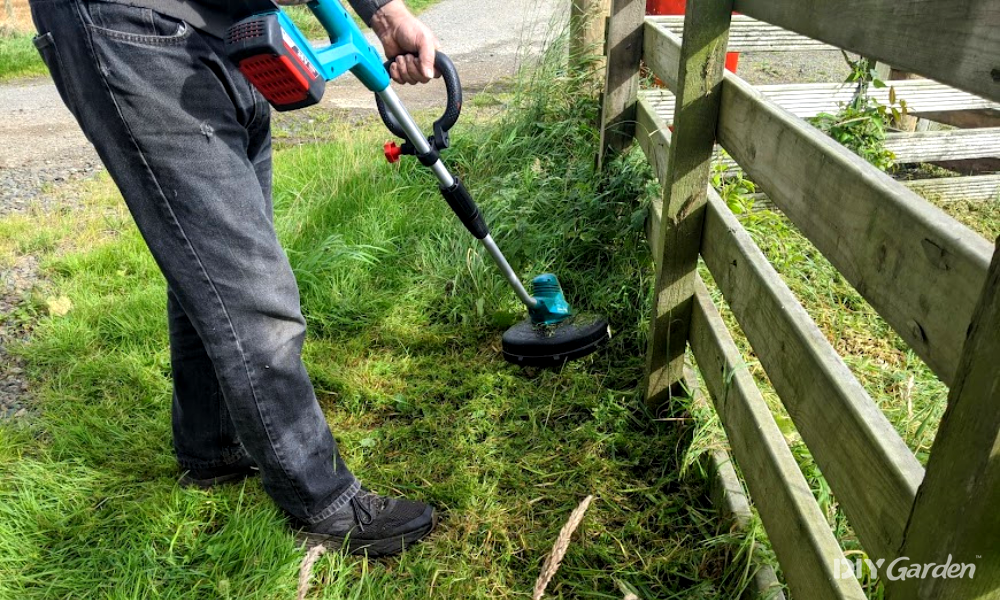 My Top Recommended Strimmers
My Product Reviews & Opinions
Compare Product Features Here
Use the dropdown to sort the table by the feature that's most important to you.


Our score
Type
Weight
Cutting Width
Max. Speed
Telescopic Shaft
Tips for Buying a Strimmer
You'll first need to choose between a

petrol

,

mains powered

or

cordless strimmer

. This depends on the amount of power you'll require, the size of your garden and personal preference.

If purchasing a cordless strimmer, opt for one with a decent battery life. 

You'll also need to choose between two types of cutting mechanisms:

cutting line

or

cutting blades.

Choose blades for convenience, particularly if you've grown tired of feeding the cutting line through when it breaks. Cutting blades need to be changed every few hours of use.

For line strimmers, you may prefer a

bump-feed system

to stop you from using line unnecessarily.

A telescopic shaft

and

adjustable handle

will improve user comfort. A second handle makes controlling the strimmer easier, particularly on mower powerful models.
Why You Can Trust DIY Garden
At DIY Garden, we believe your trust is earned through our knowledge and transparency. Our team of experts has over 75 years collective experience in the gardening and DIY space. Since the website's creation in 2016 we've tested over 275 products, ensuring our recommendations are based on real experience. We're open about what we've tried and what we've researched, and this is clearly labelled in our product reviews. Every year, we revisit and update our suggestions to include worthy new additions to the market. Our aim is to give you straightforward, honest, and helpful recommendations, so you can confidently choose the best tools and equipment for your projects.
How to Choose The Best Strimmer
Using a strimmer is a great way to achieve a neat and tidy lawn, with none of the back breaking effort of lawn shears or scissors. 
As tools go, strimmers are up there with the most useful and versatile, plus the cost of purchasing and maintaining a strimmer is fairly low. 
Here's some useful information to bear in mind before buying a grass trimmer. 
What's a Strimmer Used For?
As tools go, strimmers are up there with the most useful and versatile, plus the cost of purchasing and maintaining a strimmer is fairly low. 
Strimmers are used for cutting back overgrown grass, shrubbery, weeds and brambles. Some have more power than others. While some strimmers have enough power to cut back dense areas of shrubbery, others are better suited to thin, tall grass. 
They are great for cutting in awkward places that you wouldn't be able to reach with a mower, such as around the base, the corner of a lawn or on steep slopes. They're far more efficient than lawn shears and scissors, and more manageable than lawn mowers. 
Many strimmers also double up as lawn edgers. They can be transformed into an edger and used to trim borders and edges that your lawn mower isn't able to get to.
In short, strimmers are great all-round tools that can really neaten up your garden! 
READ NEXT: How to Use a Strimmer
How Strimmers Work
Grass trimmers tend to use one of two cutting mechanisms, a cutting line, or cutting blades. 
Cutting line strimmers have one or two lines of nylon string inside the head of the strimmer. They cut using centrifugal force; whilst the line is no good for cutting when at rest, it becomes stiff and blade-like when spun very quickly. 
As the line wears down, new line needs to be fed into the cutting head from the spool. This is either done manually or using an automatic or semi-automatic process. 
There are two main systems for distributing more line. The first is an automatic feed, where more line is fed each time the machine is turned back on. This will ensure you're never using weak, blunt line, but it does mean you can get through more line than you otherwise would, which ends up more expensive. 
The 'bump-feed' system is another option. These require you to 'bump' the end of the strimmer on the ground to release more line. You are in control of when more line is released, allowing you to control how quickly it is used. 
Bladed strimmers have two nylon blades on the head which spin at speed. The blades will require replacing after every couple of hours of use. 
The Different Types of Strimmers
Strimmers are either petrol or electric powered, with the electric powered strimmers either cordless or mains powered. 
Petrol powered strimmers aren't generally used for small jobs. They are tough machines that are suited to clearing large areas and tough undergrowth. They can generally make their way through brambles, nettles and thicket, cutting branches of up to 15 mm in diameter. They aren't always easy to manage however, and require a fair amount of maintenance. 
READ NEXT: The Best Petrol Strimmers
The main pros of petrol strimmers are:
They are powerful and can clear large, dense areas

They are cordless so you've got lots of freedom to move around larger areas
The main cons of petrol strimmers are:
They can be trickier to manage due to the increased weight and power

They are fairly heavy, usually over 10 kg

Require prep and maintenance 
Mains powered strimmers are another good option. These can still have a lot of power thanks to the constant energy flow, but they're unlikely to make it through very large areas of dense brush.
READ NEXT: The Best Corded Electric Strimmers
Mains powered strimmers are: 
Able to clear thicker patches of weeds while still remaining manageable

Can be used for any amount of time as the power supply is constant – no refuelling or battery charging required

Bring a large amount of power without the maintenance or fumes of petrol powered models
The main cons are: 
The power cord keeps you tethered to your power source. If you've got a larger garden, you'll likely need an extension cable

It's easy to cut through the power cord by mistake!

Not suitable for very dense areas
Finally, there's battery powered strimmers. These are best for light strimming jobs, for example, cutting the grass and clearing small weeds. They aren't suitable for thick plants or dense areas. 
READ NEXT: The Best Cordless Battery Powered Strimmers
The pros of battery powered strimmers are:
You are not restricted by a cable. You've got freedom to move around the garden

There's no chance you will cut through the power cord, as there isn't one!

They tend to be very lightweight 

Are practical for neatening up areas where the mower can't reach. The light weight means they're easy to get out of the shed
The cons of battery powered strimmers are: 
Battery life is often short – around 20 minutes, so you may need to stop and recharge which can take a long time

Lack the power of petrol and cordless models
Strimmer FAQ
What's the difference between a strimmer and a trimmer?
There is no difference between a strimmer and a trimmer! The terms are used interchangeably, although strimmer is the more colloquial term.
This is the case for grass trimmers, but if you are talking about a hedge trimmer, then you are talking about a different tool. Hedge trimmers are used to level hedges and cut back branches, very different to grass strimmers. 
What's the difference between a brush cutter and a strimmer?
Brush cutters and grass strimmers are different tools with different purposes. Strimmers are designed for cutting hedges and hard to reach areas of the lawn (for instance underneath garden furniture).
Brush cutters are designed for, as the name suggests, brush. They are suitable for tackling dense weeds, grasses and areas of thick vegetation. Brush cutters can be used as strimmers, but they are both more powerful and heavier. 
Are strimmers with plastic blades any good?
Strimmers use either cutting line or cutting blades to cut grass and weeds. Those with plastic blades can generate a lot of cutting power but they will need replacing every couple of hours. They are often damaged while cutting, and will occasionally get lost in dense undergrowth. 
You should be careful using them around hard objects like trees, rocks and other hard surfaces. 
Are corded trimmers better than cordless?
This depends on your specific needs. Both corded and cordless strimmers are suitable for domestic use. 
Corded trimmers tend to be more powerful than battery powered strimmers and there's no need to worry about battery life. They are better suited to heavy duty tasks than battery powered models. 
The downside is that you're limited by the cord length, and you may need an extension cable. 
Cordless strimmers offer you unlimited freedom to move around the lawn, but they can only be used for a certain amount of time before they run out of power. 
They are usually lighter in weight than corded models, and easier to manoeuvre. There's also no chance that you'll accidentally cut through the cable!
Can a strimmer cut long grass?
Yes, strimmers are ideal for cutting long grass which would be too long for a lawn mower. Once the grass has been cut to an appropriate length, you can go over it with the mower. 
However, for very tough or long grass, you may need to use a brush cutter. 
READ NEXT: How to Use a Strimmer on Long Grass
Can I use a strimmer to mow the lawn or trim hedges?
Strimmers can be used to get the lawn ready for a lawn mower, but it won't be able to produce the same finish as a lawn mower. Cutting the grass with a strimmer requires steady hands, and you'll almost definitely find it more tiring than using a lawn mower. 
Strimmers can be used to trim hedges, although for very dense hedges, you'll need a hedge trimmer.