Stylish Garden Fence Ideas to Elevate Your Garden
A garden fence can be so much more than just a practical boundary line.
Fences are an easy way to bring colour, style and character into the garden. There are so many ways to customise a garden fence that you're sure to find a design that you love.
In fact, the fence could easily become your favourite garden feature!
Need some inspiration? Take a look at these 41 garden fence ideas – you'll be ready to start transforming your garden in no time!
1. Front Garden Fence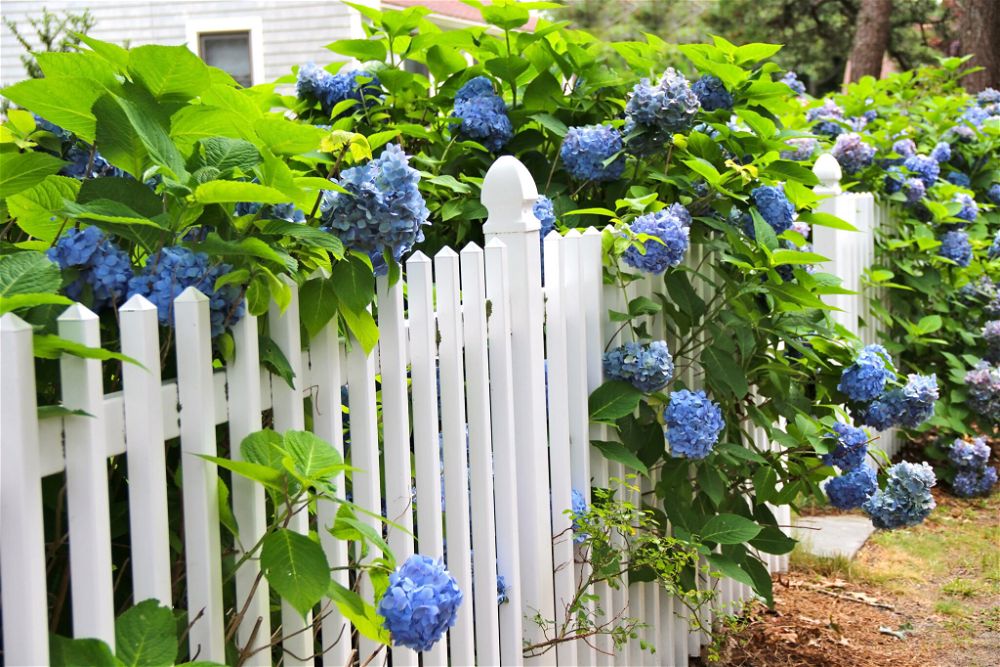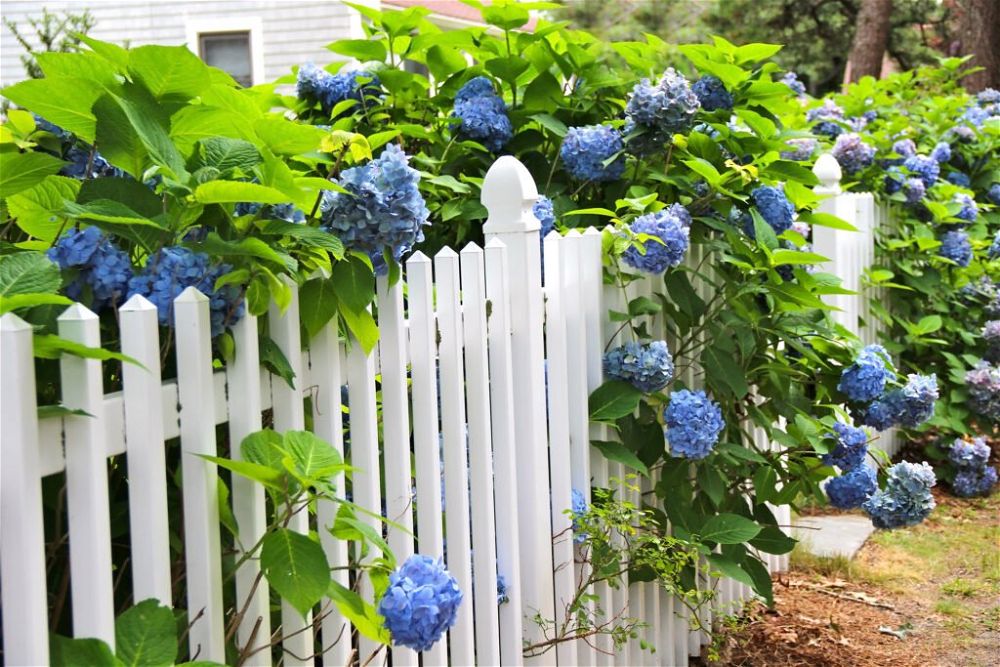 A front garden presents your home to the world so it needs to look good.
A white fence always looks fresh, and fence posts let in plenty of light to keep your flowers healthy.
These are hydrangeas, but you could choose any shrub you like such as evergreen holly, white spirea, or purple lavender to fill the space with colour.
2. Small Garden Fence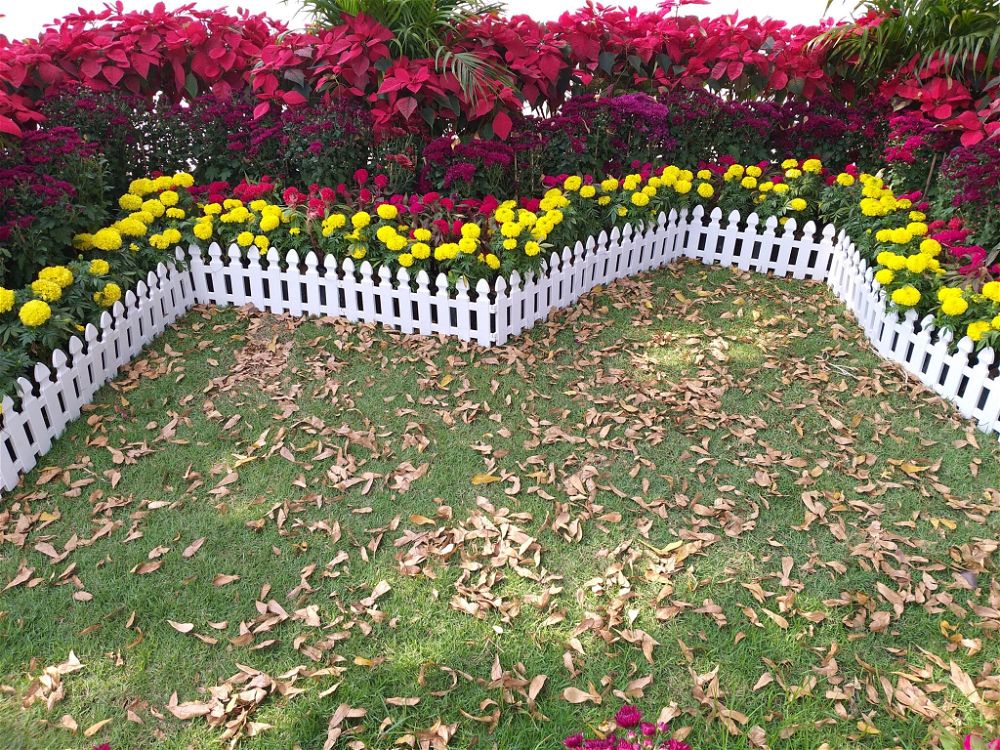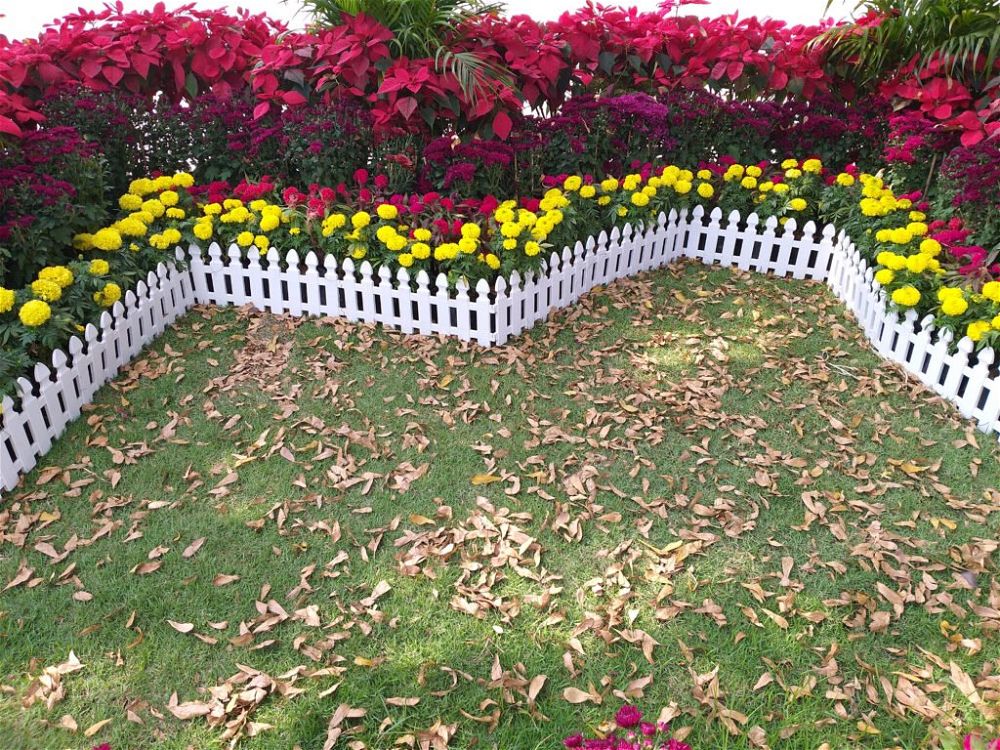 You can't beat a white picket fence and when the fence is small, a pale colour shows up so you won't trip over it.
Small fences are easy to manage and can be used in all patterns such as this small tidy fence that marks a garden border from the lawn.
3. Garden Fence Colour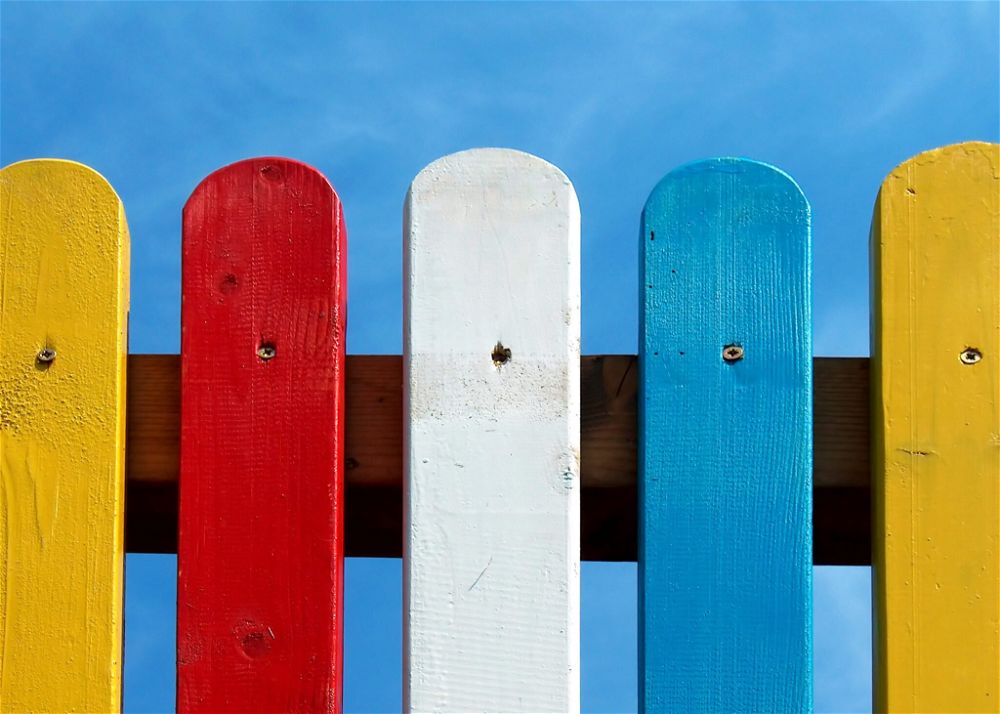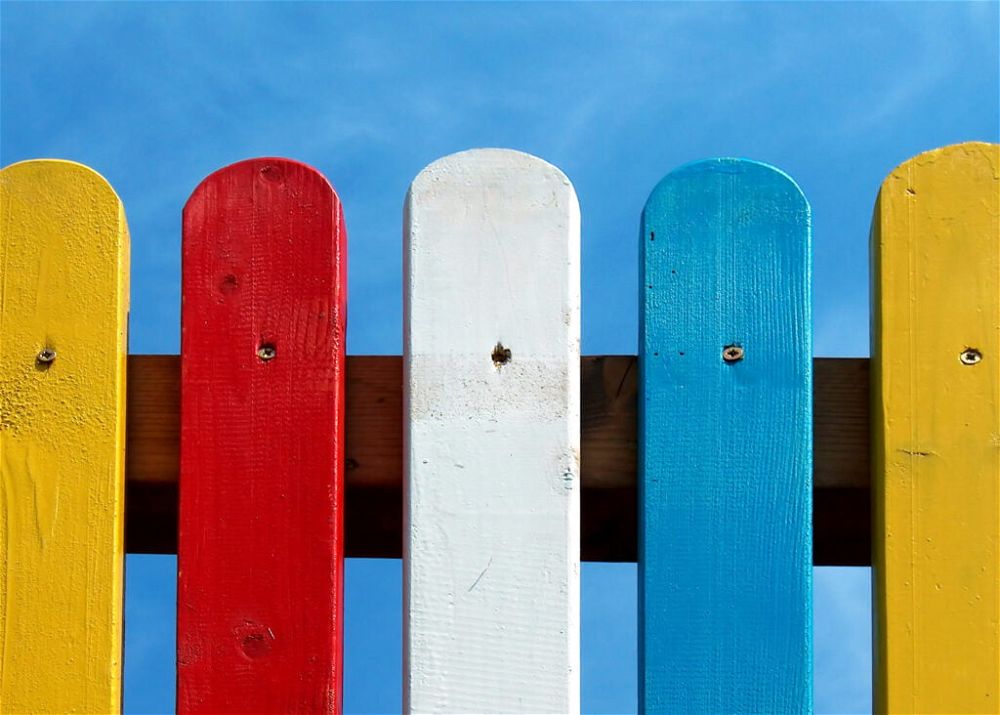 There's always a trend in garden colour. Follow the trends or go with your favourite shade – the choice is yours. Fence paint is much cheaper than replacing a fence, so if yours is looking a bit sad, freshen it up with a colour that makes you smile.
4. Garden Fence Decoration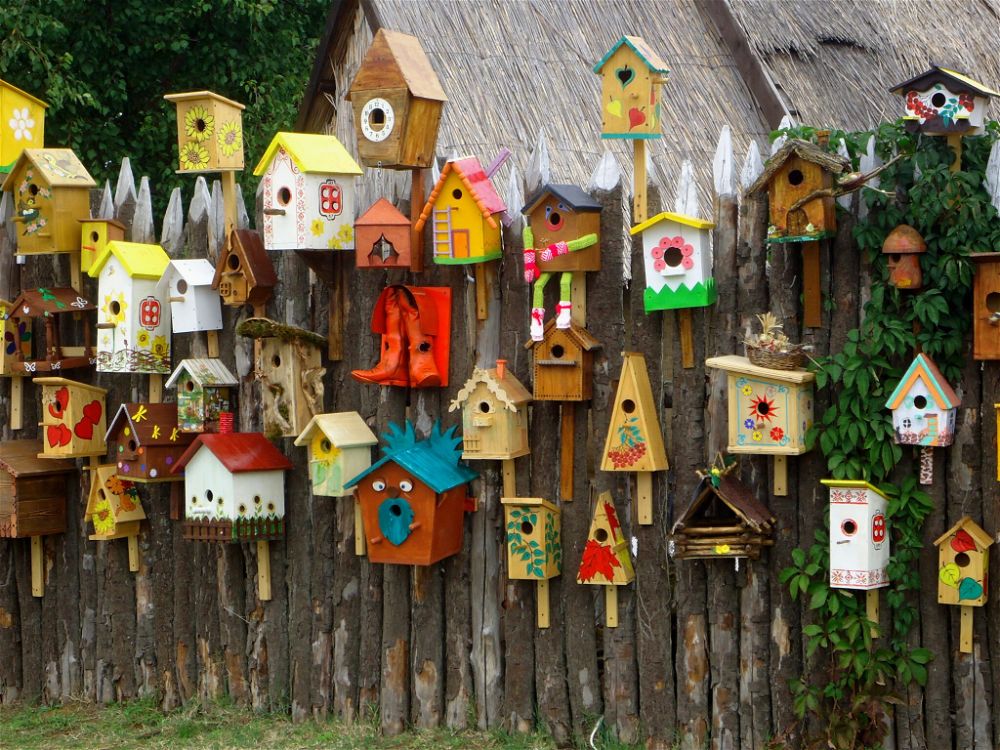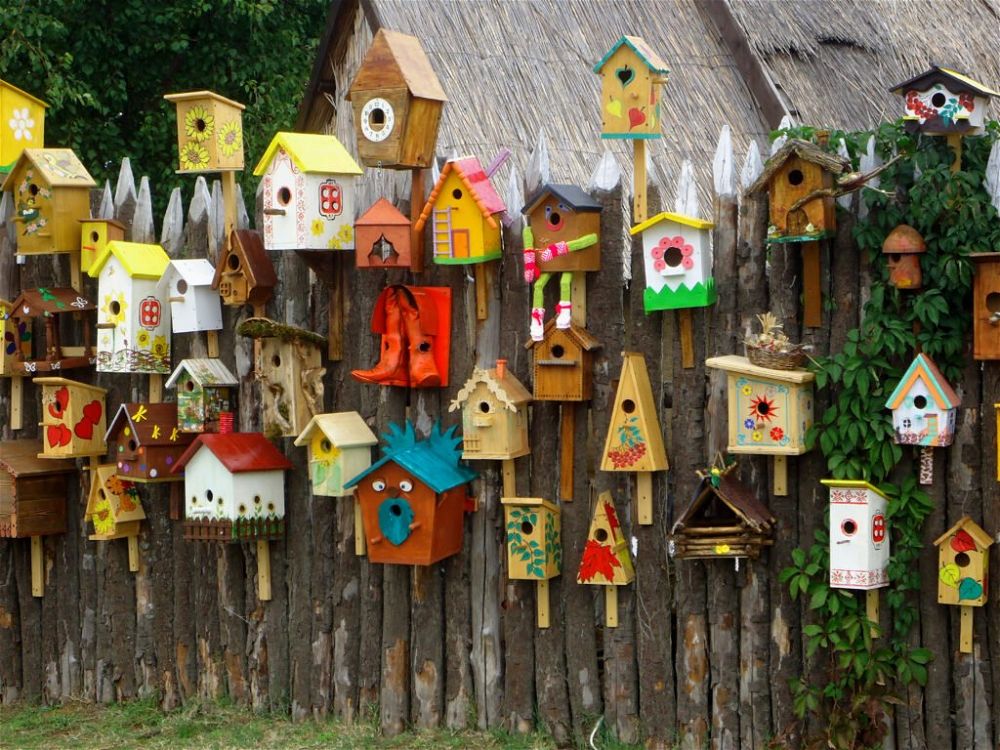 Garden fences can be boring, but decorating it is a cost-effective way to improve your practical fence quickly.
Why not get wildlife-friendly? This fence is decorated with birdhouses. You could choose birdhouses (robins love old teapots), bee houses, insect houses, and get the kids involved too. If that's too much colour for your taste, paint them all one colour!
5. Garden Fence Paint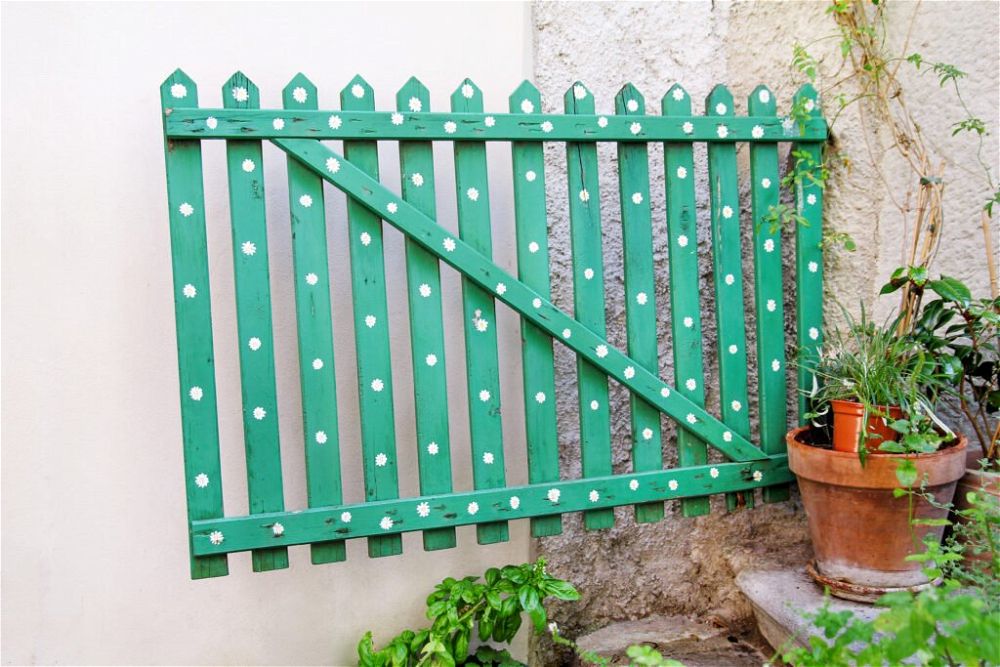 A rainbow of colours on the garden fence is certainly going to wake you up in the morning, but there are plenty of other designs and patterns you can try out too.
This one is minty green with white flowerheads. It'll match well with hostas or other green or white plants including long grasses.
6. Garden Fence Security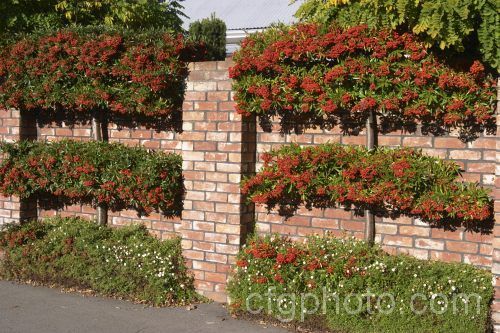 Rather than attaching dangerous spikes to your fence, try growing a thorny bush.
Pyracantha in this picture is not only beautiful but its long thorns put off any would-be intruder. They will grow in any soil and need very little care once established. Other good prickly plant choices include native hawthorn and holly.
7. Garden Fence Lighting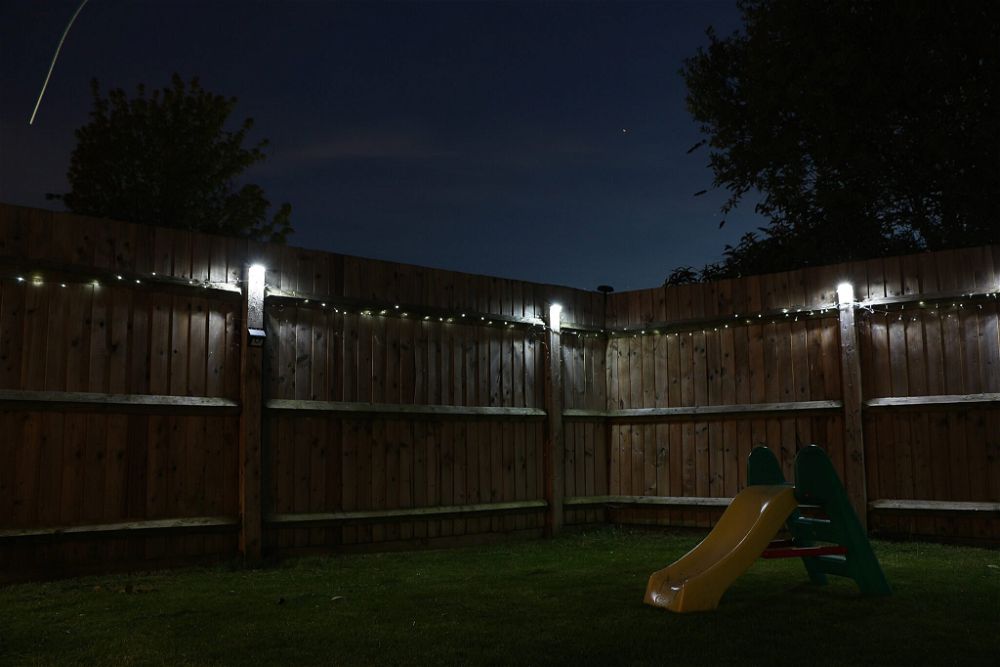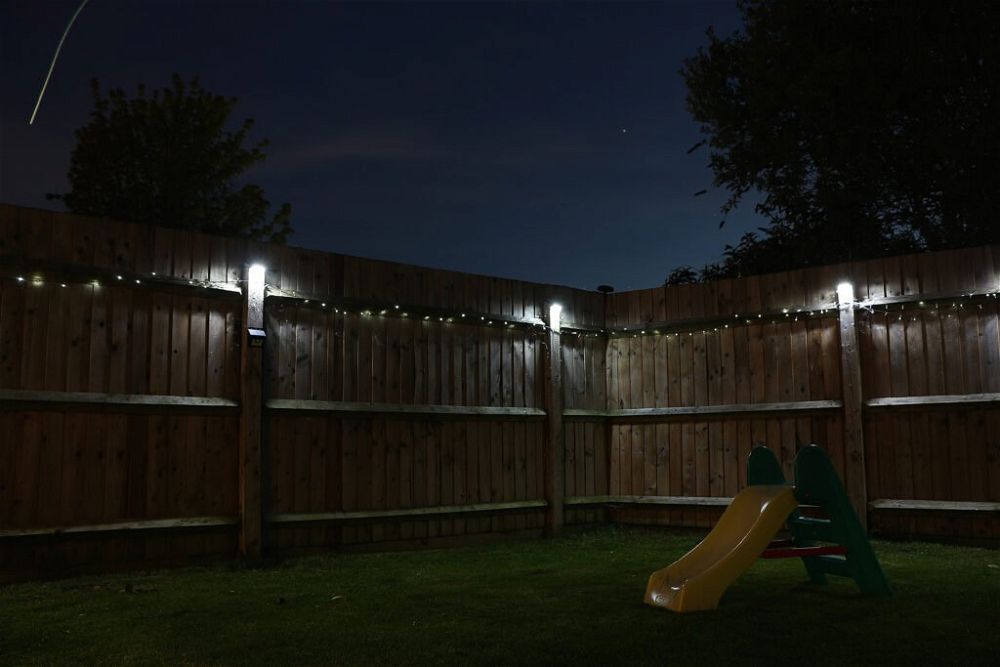 Outdoor lighting makes your garden usable when the sun goes down. Try draping strings of fairy lights along your fence for low-cost lighting.
If you don't fancy running electrics out there choose solar-powered lights like these. They charge up during the day and automatically come on when the sun goes down.
8. Garden Fence Design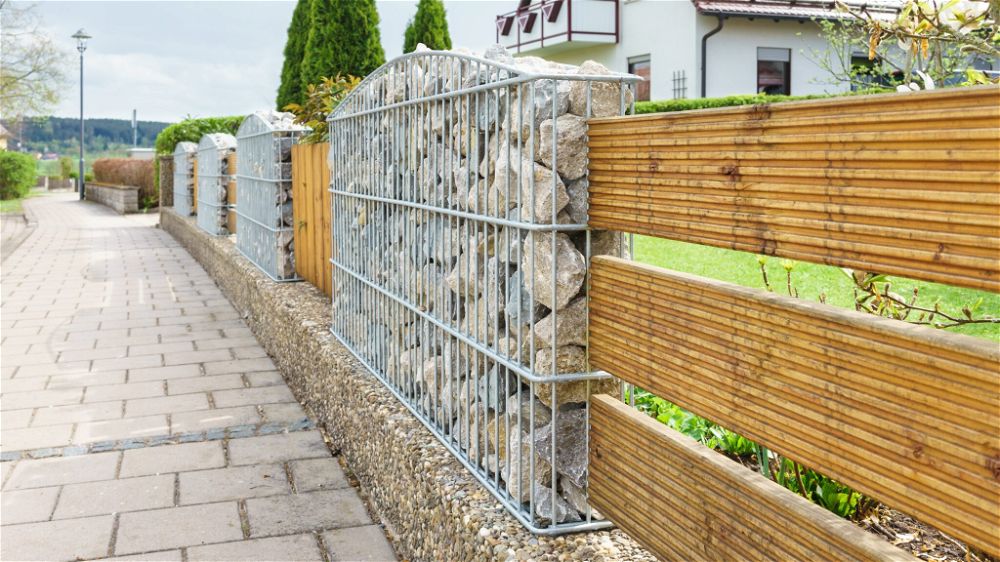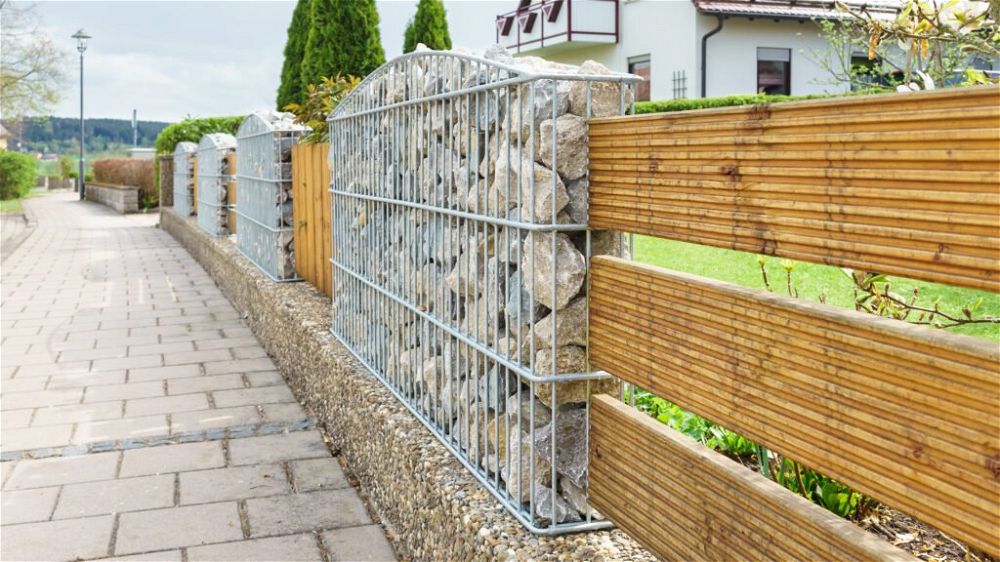 Wave goodbye to boring brown fence panels that go mouldy green over the year.
Here the fencing is not only wood, but includes stone gabions, pebbles, and metal so you'll never get bored. Stones look even better wet and provide a home for pollinating insects to overwinter too.
9. Cheap Garden Fence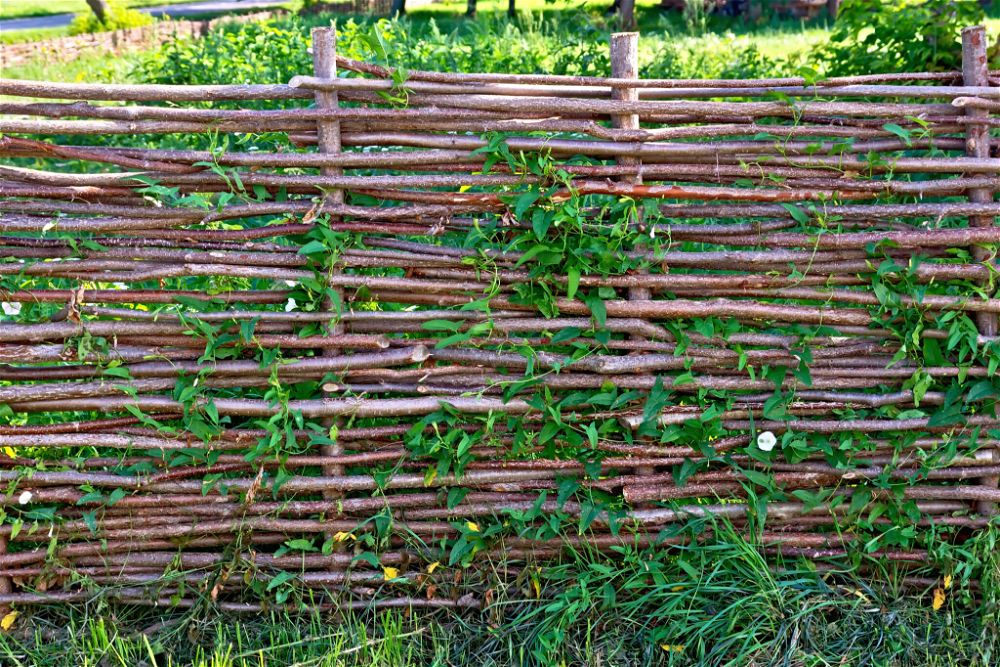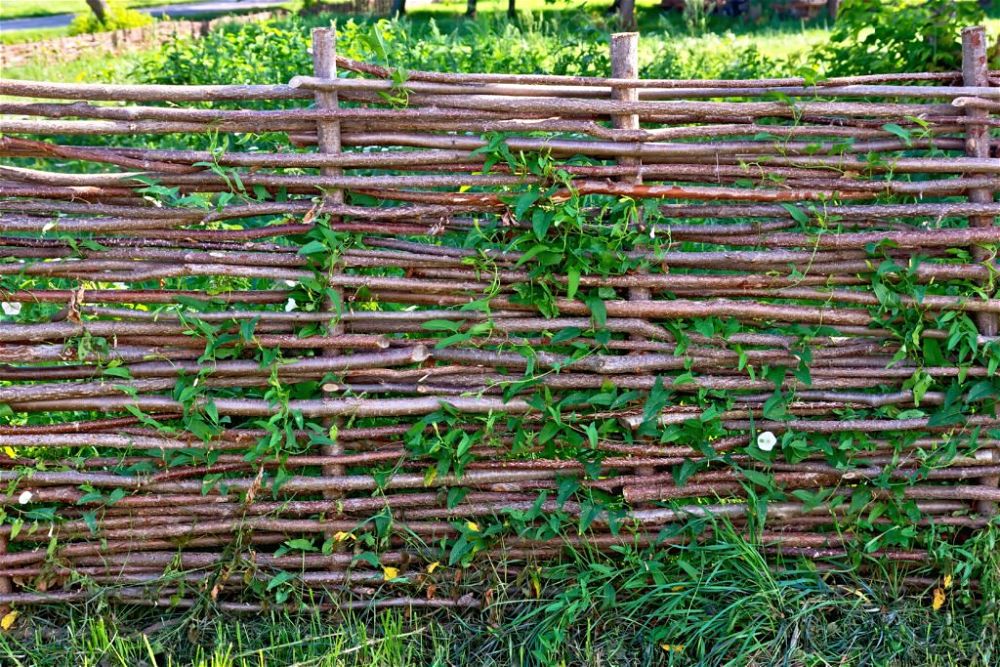 A cheap way to make a garden fence is using free or cheaply bought materials. Willow is one of the most natural materials you can use to weave a practical and stylish fence.
Upright posts in the ground give you a sturdy framework to weave whippy willow branches left and right until its high enough. This is a traditional country way to make fences because they were cheaper than sawn timber or iron.
10. Modern Garden Fence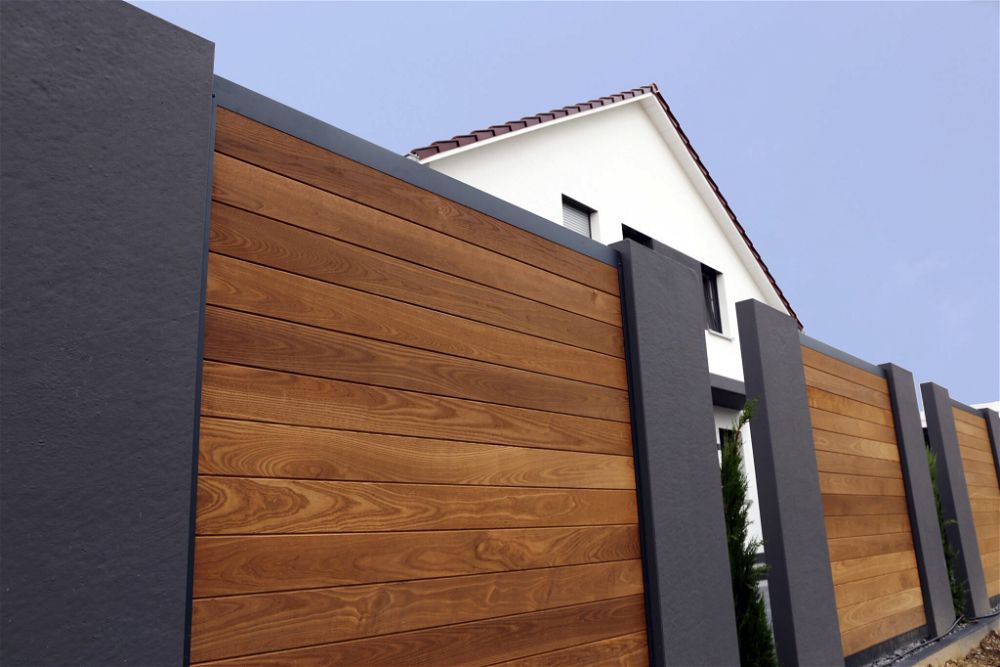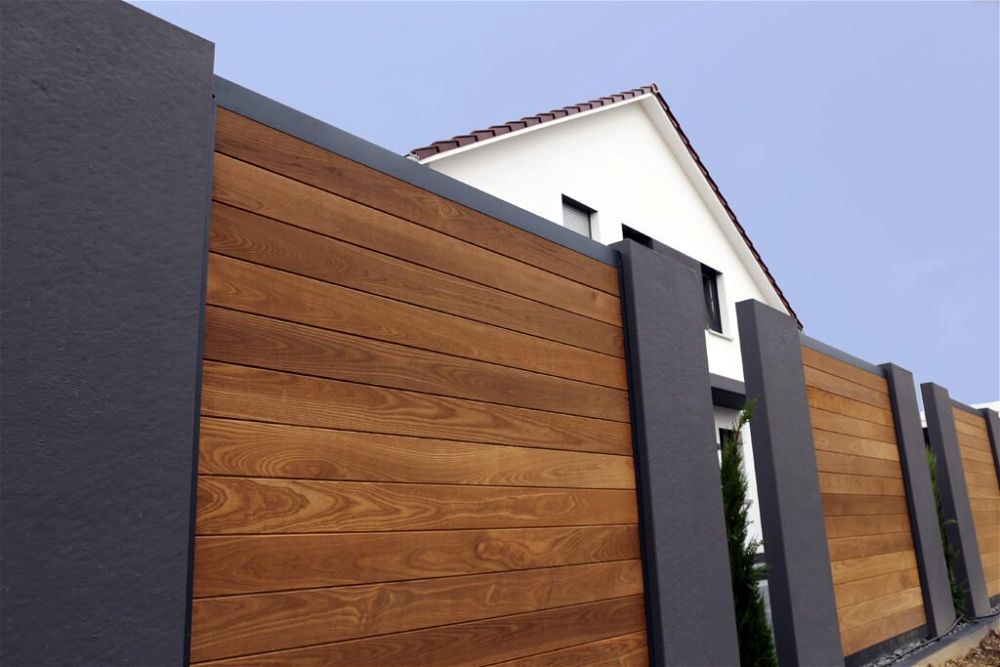 A new modern garden fence gives any type of property a makeover. This fence is not a solid wall of impenetrable wood, but single panels with small evergreen conifers between, so it feels welcoming. Horizontal oak-coloured slats and rendering shout bold, modern, and chic.
This modern garden fence brings front gardens right up-to-date and will improve your home's kerb appeal.
11. Cover Garden Fences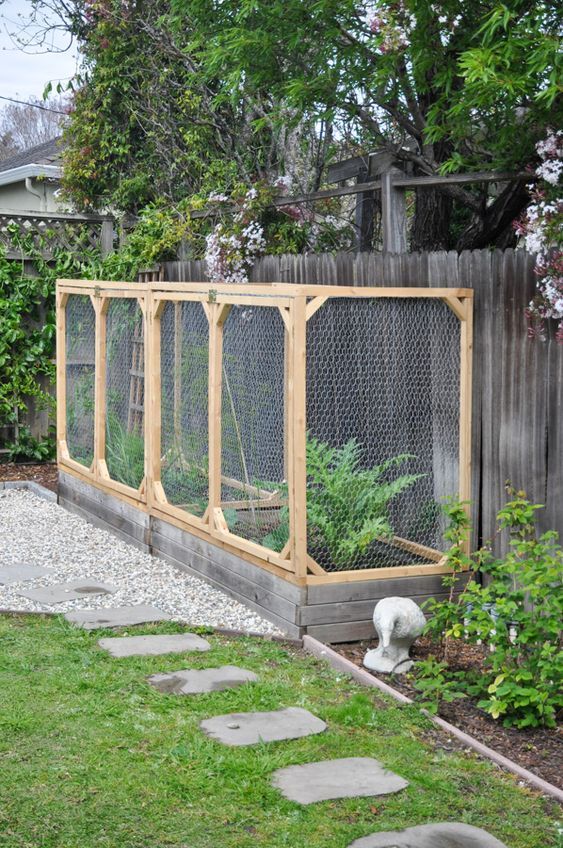 Instead of painting your garden fence, why not use it practically? Here raised beds have been built using the fence line as a back wall and stabiliser for wired frames. This is a great idea because it makes the most of small spaces and you can grow delicious fruit and veggies safely covered from birds, cats and other pests.
12. Low Garden Fence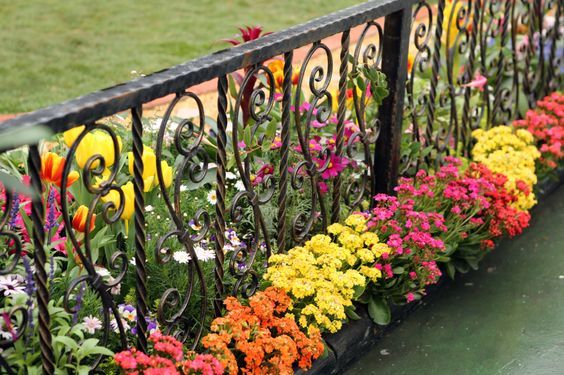 Low fences mark a boundary if you have several 'rooms' in your garden and they look great lining a walkway.
For a low, practical, and stylish garden fence you can't get better than wrought iron. Iron withstands the elements and with a lick of paint each year looks as good as new. The open framework is great for growing plants as it lets in plenty of light.
13. Garden Fence Screening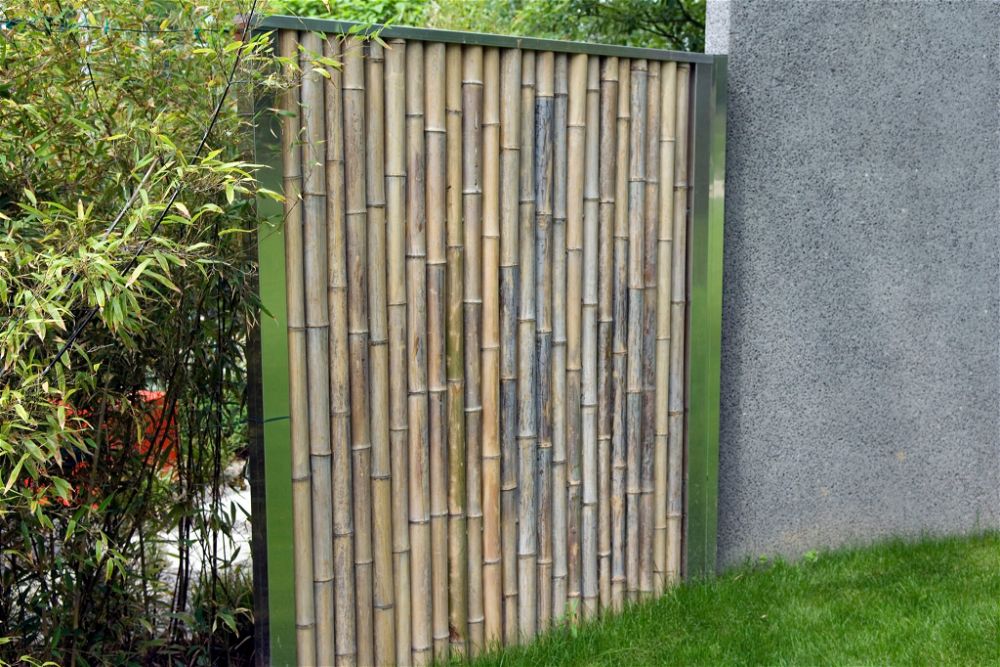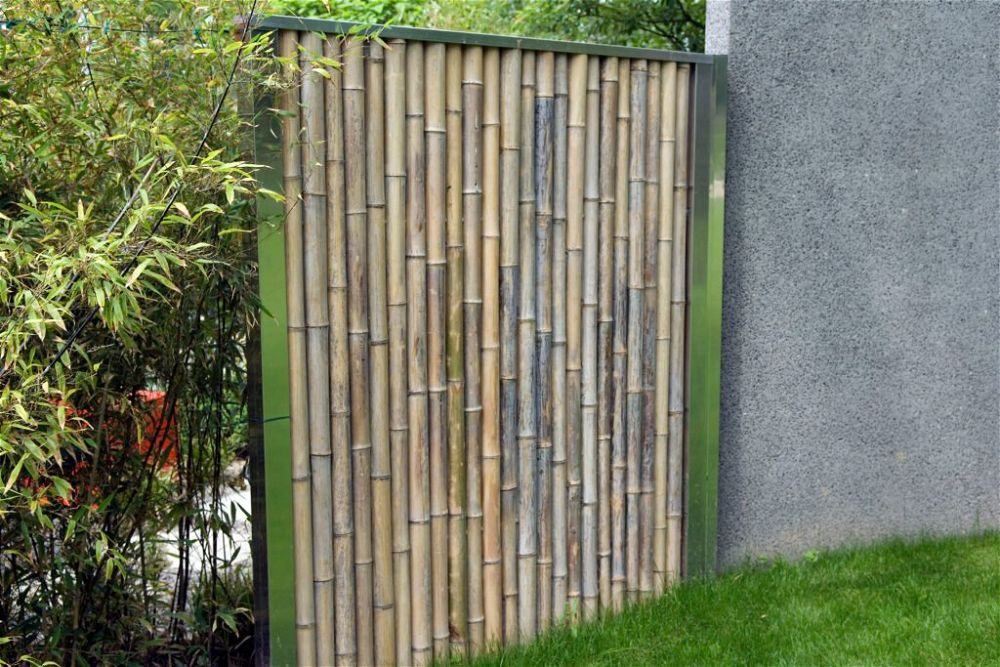 There are plenty of ways to block out nosy neighbours and passing traffic. Here thick sections of natural bamboo are screwed into a frame. This can be used along a fence line or in the garden to screen off an area such as the kids' play den or your morning coffee spot.
This is simple to build and looks stylish too.
14. Grey Garden Fence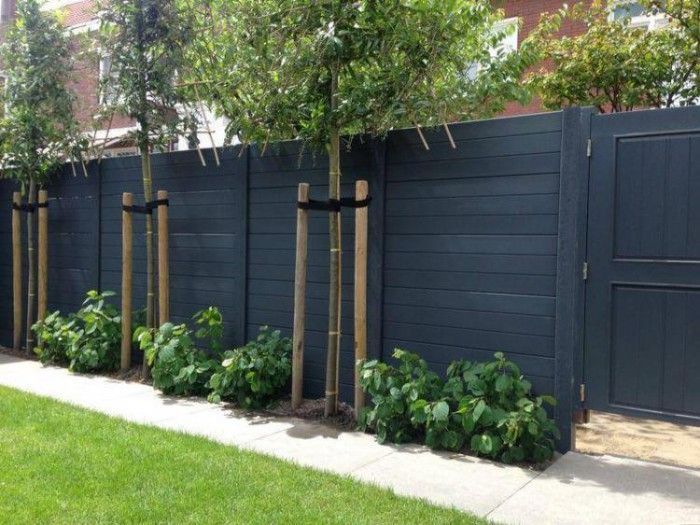 Grey is the on-trend colour for garden fences and luckily for us, it's a flattering colour.
One of the best ways to get your fence perfectly grey is to paint it and let the wood soak up the paint before applying another coat.
This dark fence line looks modern and it's a great colour for planting against. Greens, whites, and yellows all pop against a grey background – and it's a good alternative to black that's always recommended for Japanese style gardens.
15. Garden Fence Panel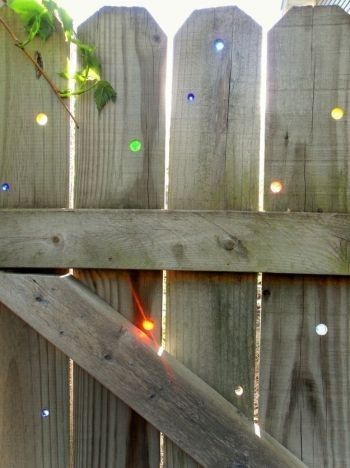 If you need a simple idea to improve a fence panel this trick with coloured marbles is great fun.
Drill holes in your fence panel and push marbles into the holes. When the sun catches them, they light up. It's also a good way to fill in those knots that naturally occur in wood.
16. Contemporary Garden Fence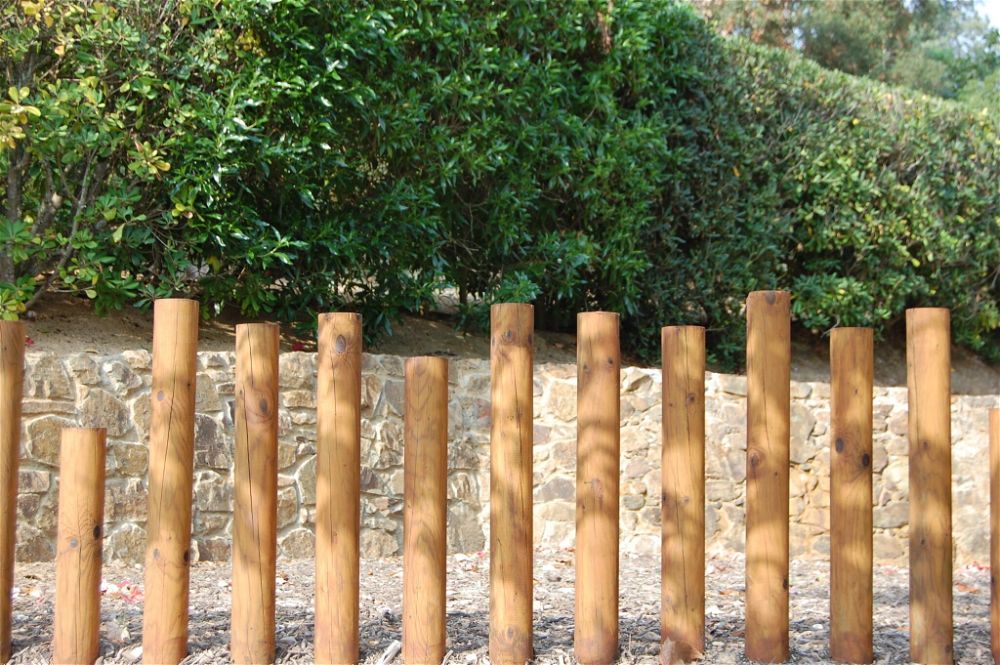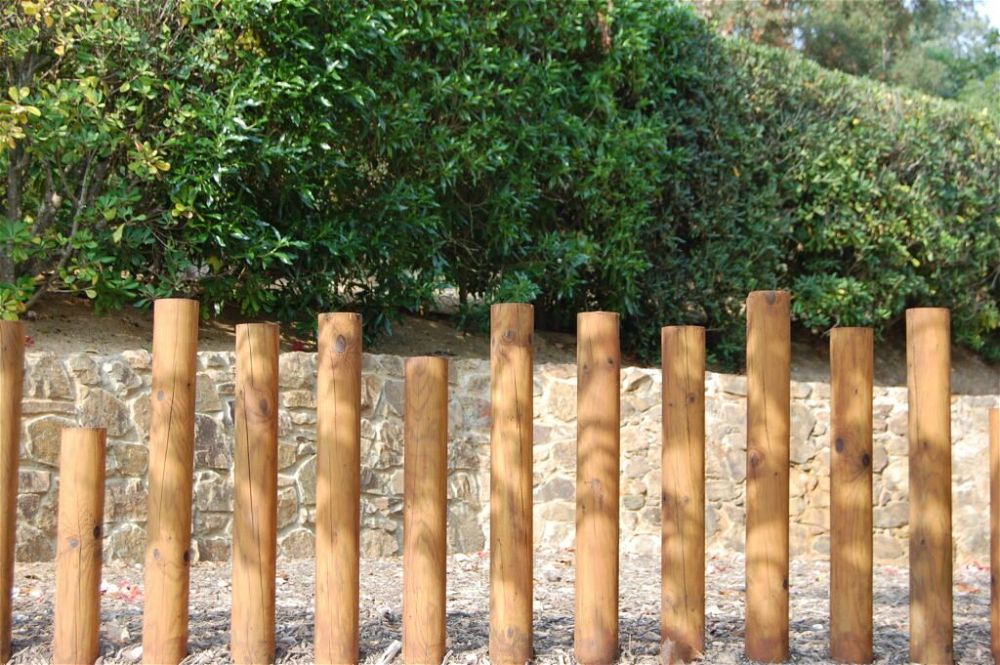 If security isn't an issue these posts create a contemporary fence line that doesn't block out all your light.
Differing height placement is what makes this design modern. It brings plenty of movement and is easy to achieve. Use postcrete to keep your poles in place and if you like colour, feel free to paint them.
17. Wooden Garden Fence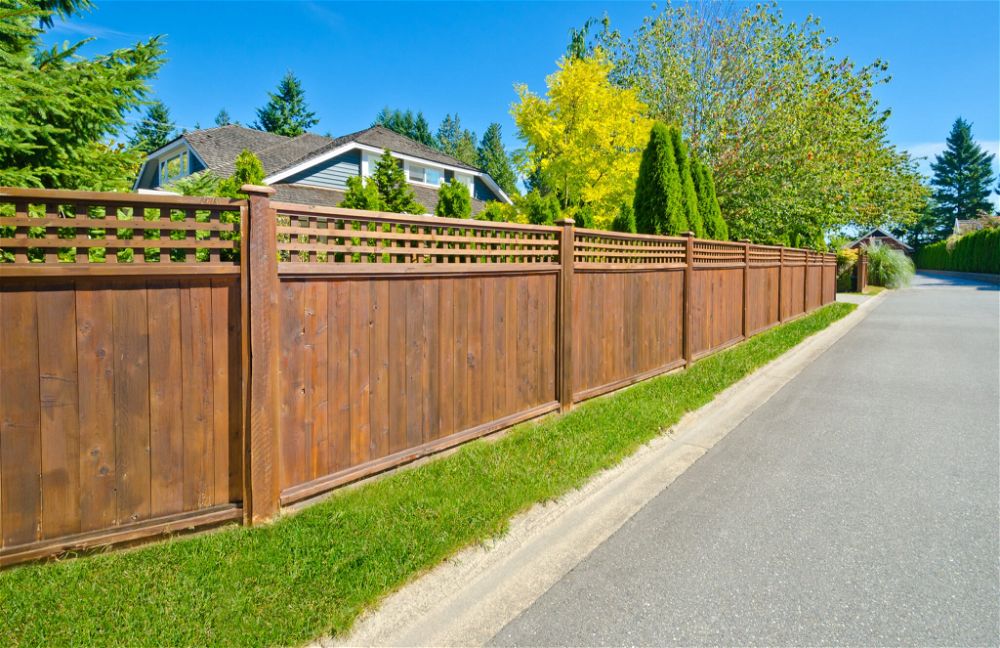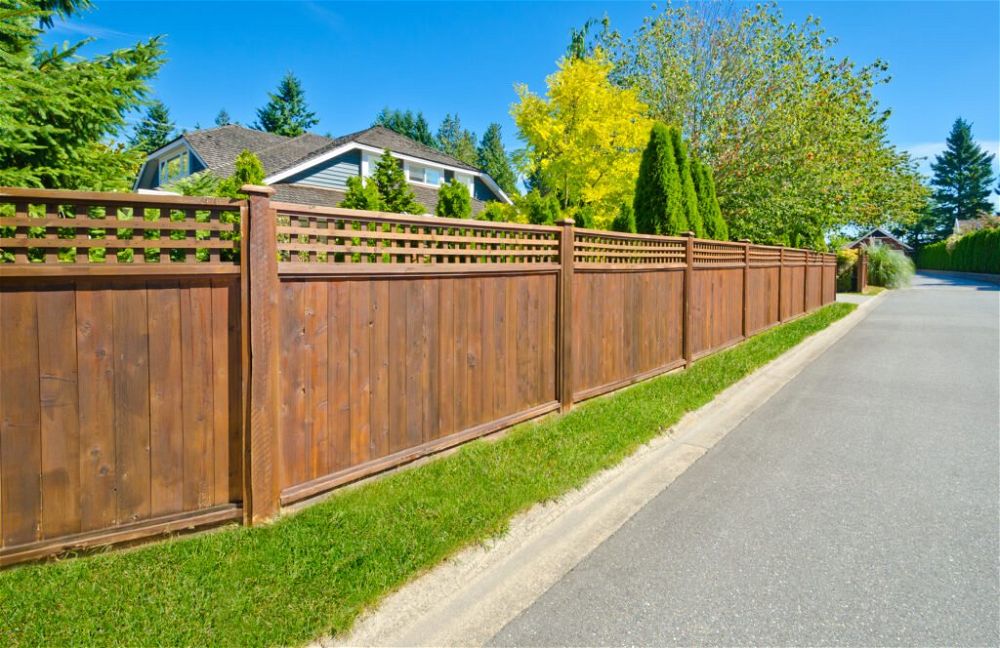 This is an upgrade on traditional wooden garden fence panels.
These panels are a deeper colour wood (cedar) and are much wider than standard panels. The wider version makes your garden appear bigger.
The addition of trellis on top stops them look too austere and is very useful for climbing plants.
18. Garden Fence Paint Colour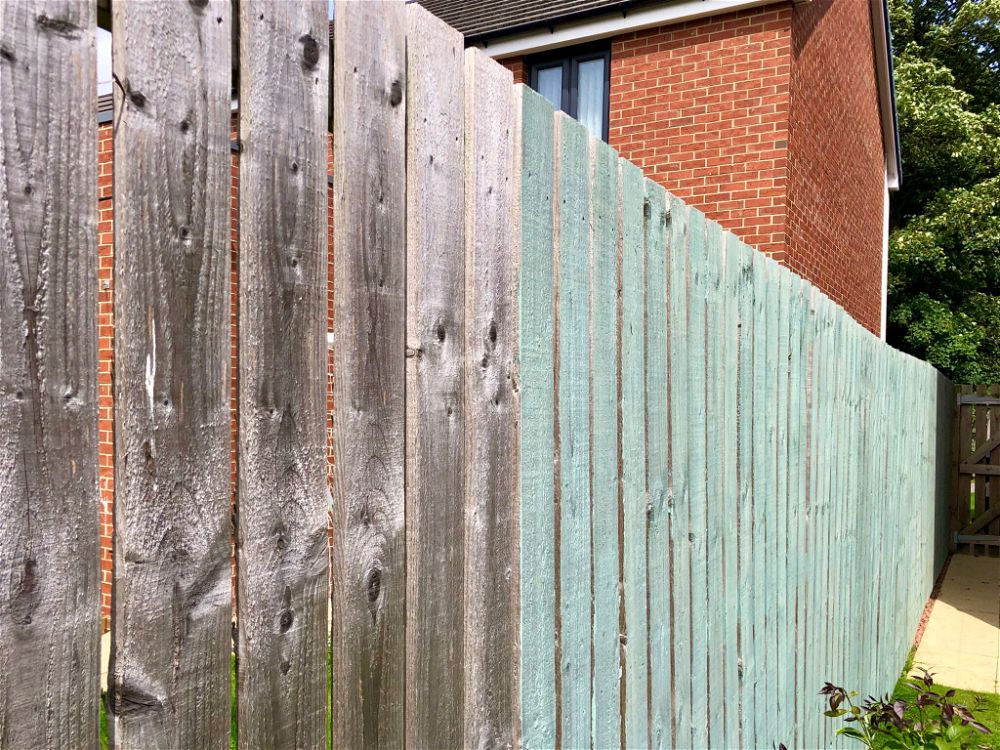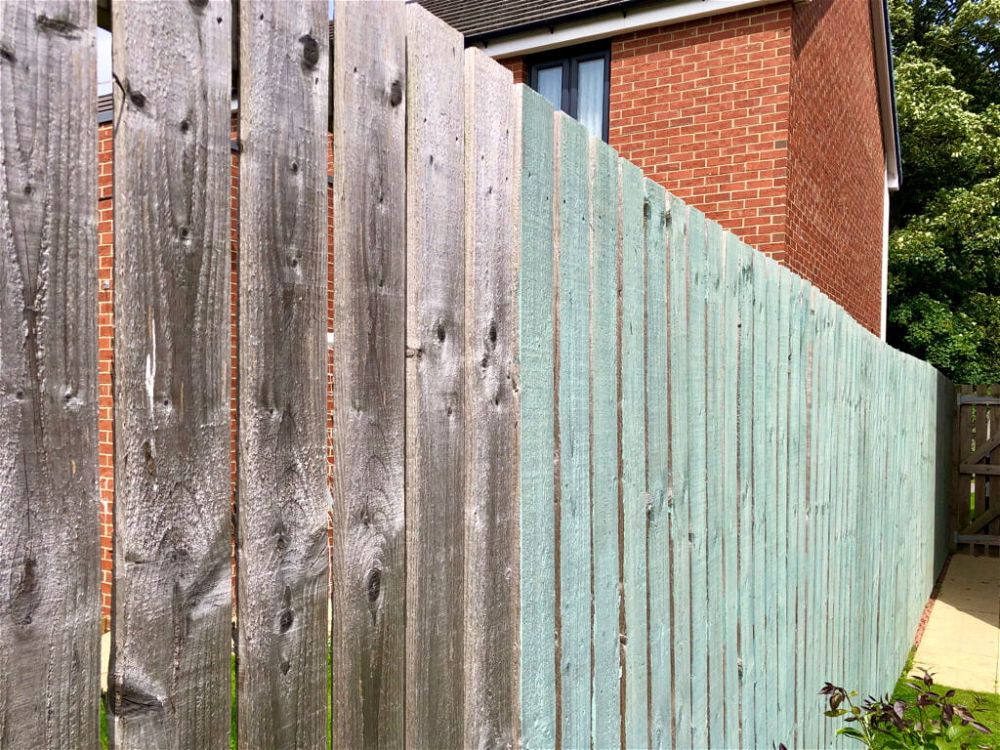 So it's not finished yet, but see how the choice of pale blue, duck egg, or light willow can transform a boring old weathered fence into something bright and exciting.
A paler colour on your fence brings light into a garden, which is especially welcome in our dull winter light. It also looks great behind darker flowering plants such as blues, purples, dark pink, or tree trunks.
19. Simple Garden Fence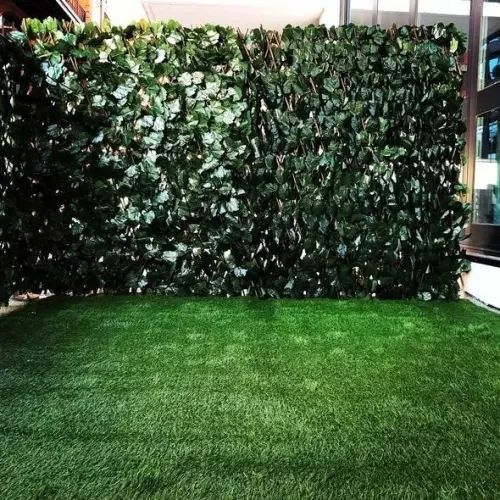 There's nothing simpler than a pull-out retractable garden fence.
Retractable fences can be used permanently if fixed into place, or pulled out when they are needed for privacy or wind shelter.
Many have artificial leaves attached or even fairy lights. It's a simple garden fence you don't need to spend a lot on.
20. Garden Fence And Gate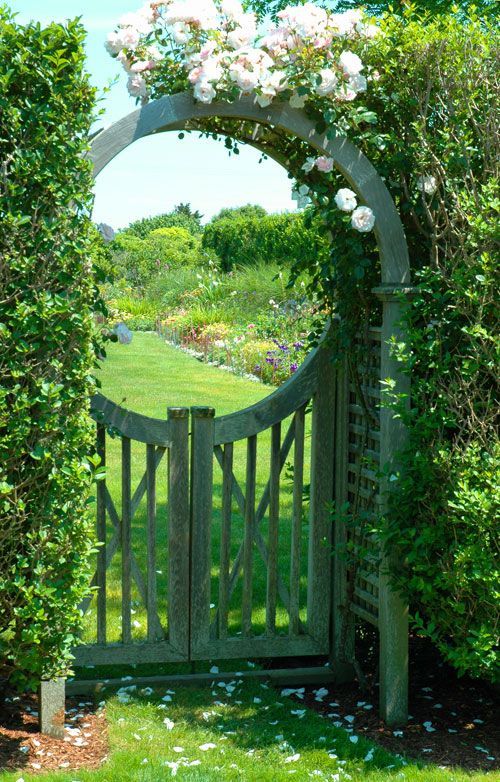 So you need a fence with a gate, or you just need a gate? stop!
Gates don't have to look like internal doors. What about a rounded shape? This one looks hobbit-like and is still practical enough to keep the kids and dogs inside.
This design is an archway with scoop design gates beneath creating the circle.
21. Back Garden Fence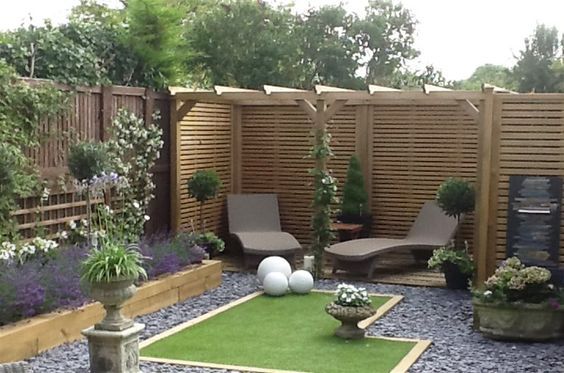 A back-garden fence can be used in different ways.
Here the back-fence forms part of a pagoda and a cosy place to relax. Pagoda struts can be decorated with a cloth to keep out the sun, hung with lanterns, or used as props to grow climbers. It's a multi-purpose practical back fence that makes the most of your space and looks stylish too.
22. Garden Wall Fence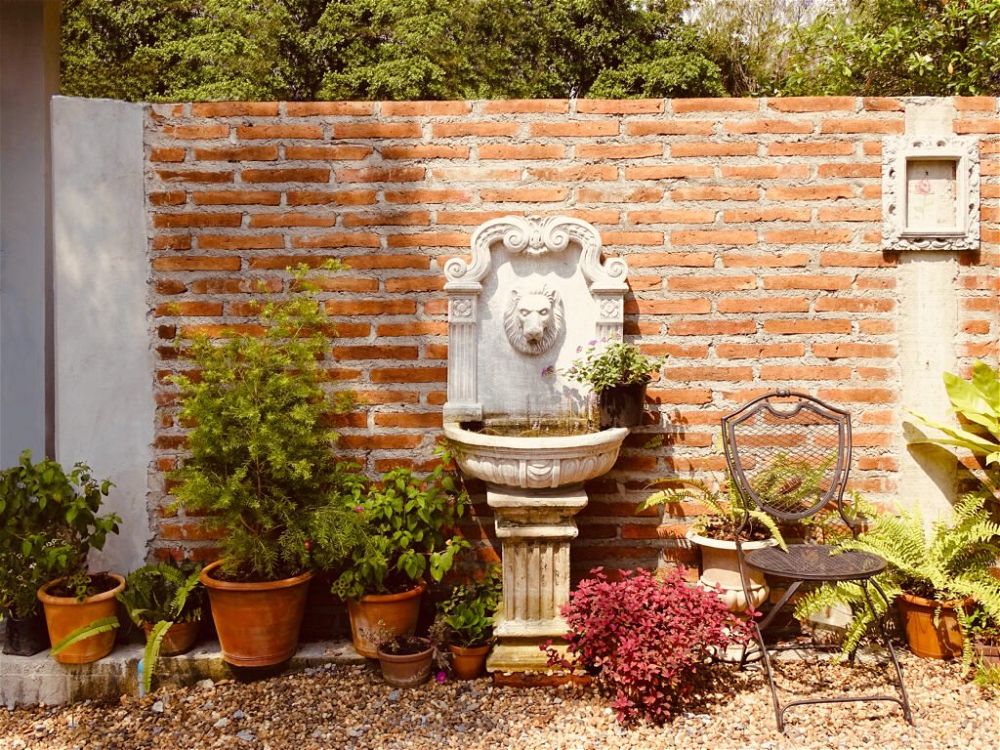 Garden wall fences are often more expensive, but they last longer and you can choose between modern or traditional styles.
Here we have a traditional red brick garden wall with a lion head fountain. It looks old but is newly built with reclaimed materials. This garden fence wall would create a lovely sun trap to relax or grow herbs and tomatoes in.
23. Short Garden Fence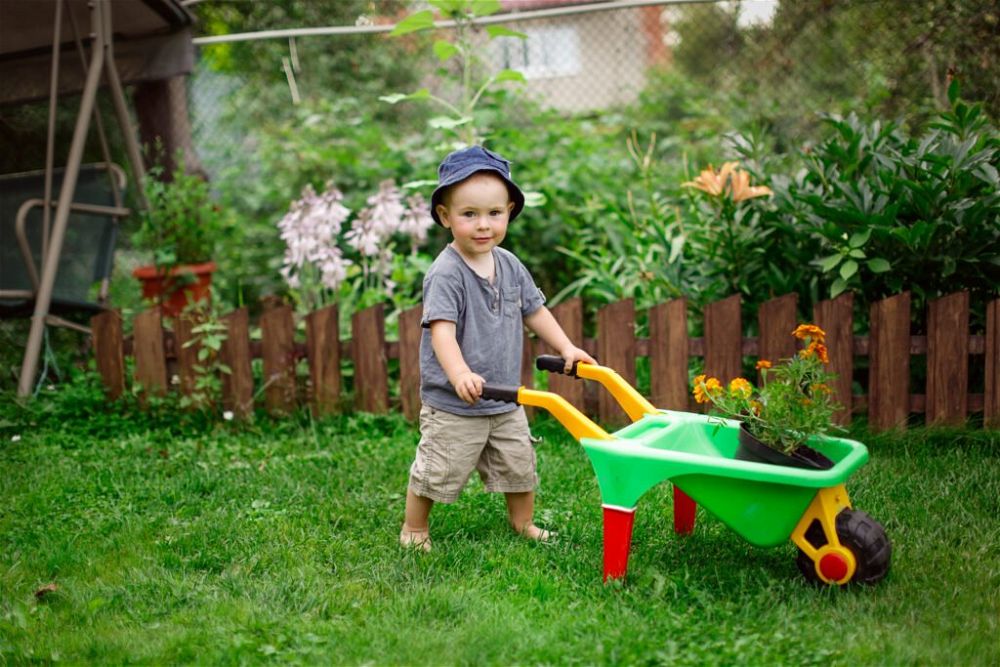 Short garden fences create shut-out areas you want left alone from pets or kids such as a vegetable garden or rose border.
The simplest way is to buy ready-made sections that push into the soil. They are available in small sections, curves, and a wide variety of colours. This is the simplest fence to build – they can be created in less than a day.
24. Garden Fence Covering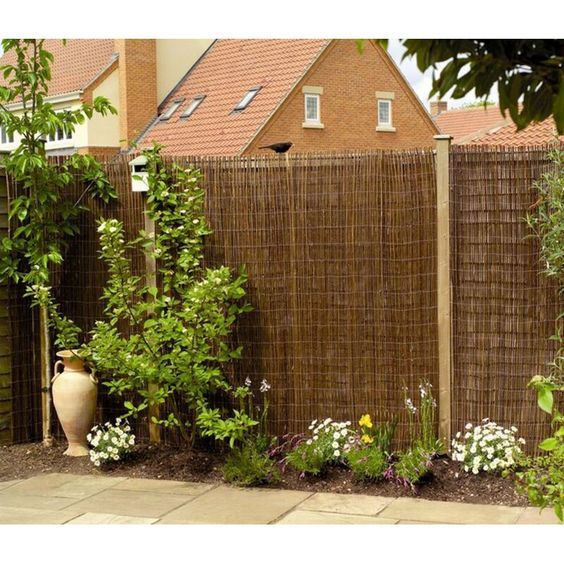 An ugly fence that's still practical can stay put. All you need is a covering. The best value coverings are willow or reed mats. These mats are lightweight and easily attached to an existing fence with cable ties.
Not only to do they make a great job of covering fence panels, but they provide hiding places for insects and grip for climbing plants.
25. High Garden Fence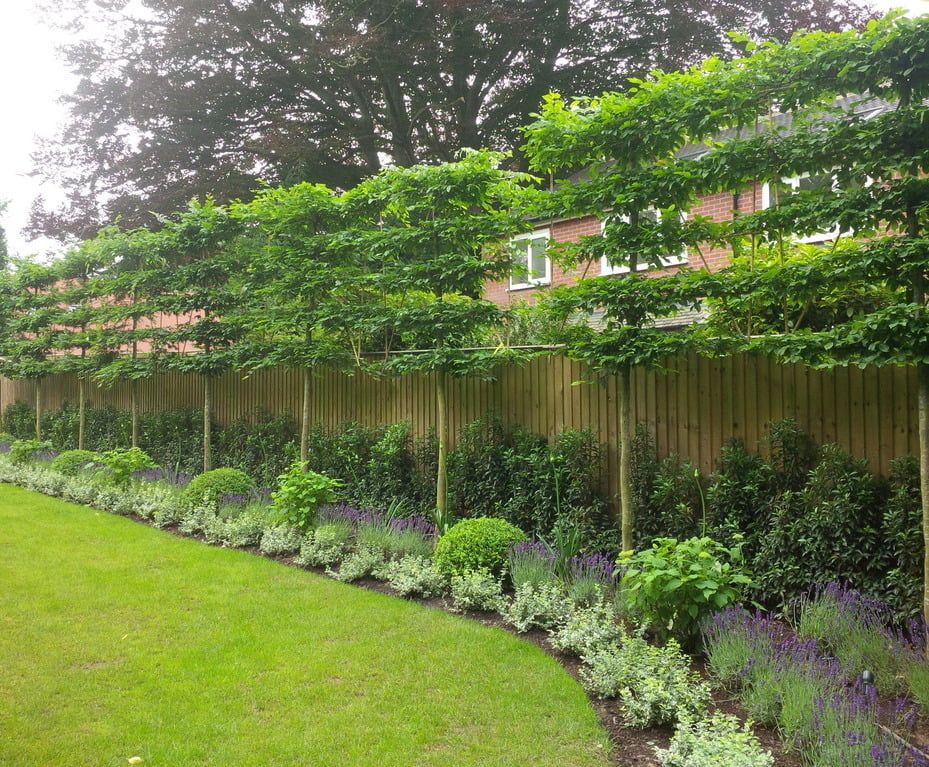 Whilst a high garden fence ensures your privacy, they can be pretty severe and block out the light.
A good alternative is a row of pleached trees. Pleached trees have a bare stem and branches trained into flat rectangles. They are bred to create a high garden fence line and look especially stylish.
Remember to choose evergreen if you'd like year-round privacy
26. Vegetable Garden Fence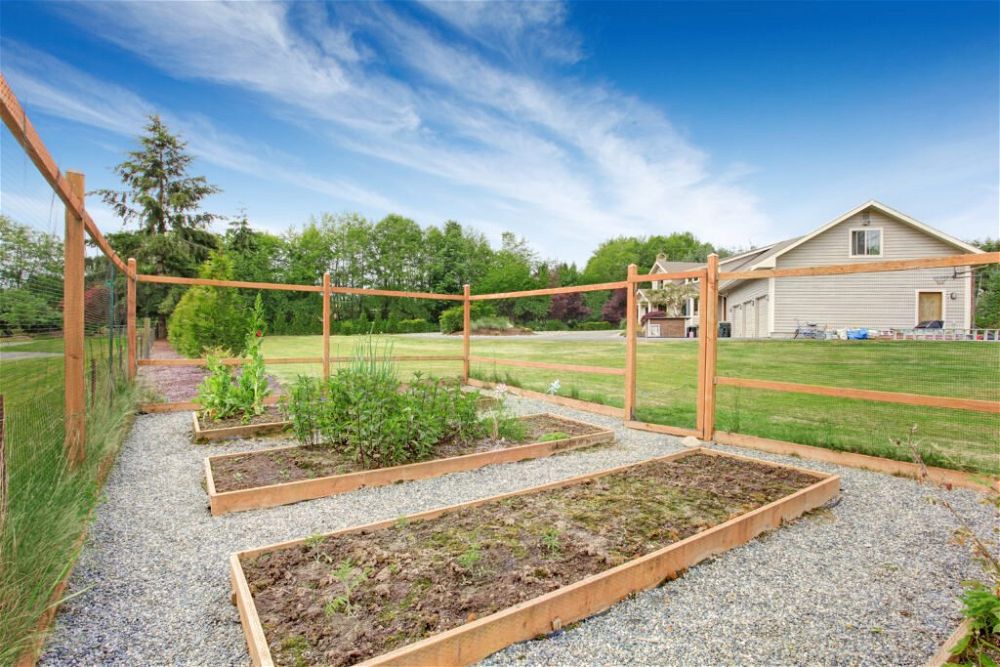 Growing your own is great fun and it's healthy too, but when pests get near your whole crop can be ruined in a few minutes – we're looking at you football-playing kids and pet dogs.
Erecting a simple fence around your veggie patch will keep your crops safe from damage. It'll also keep out harsh winds whilst letting in light. A few wooden posts with wire stapled to the uprights is usually enough.
27. Garden Dog Fence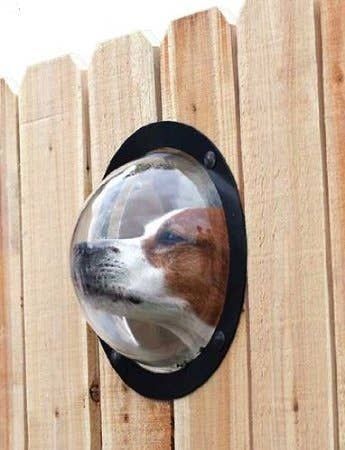 Dogs are masters of escape so many of us need a sturdy fence. This often means a high wooden affair to prevent your dog from jumping out.
Dogs bark at what they can hear but can't see, so an ingenious idea is to install a dog window in your fence. Bite proof and escape-proof, your dog will also love the view!
28. Easy Garden Fence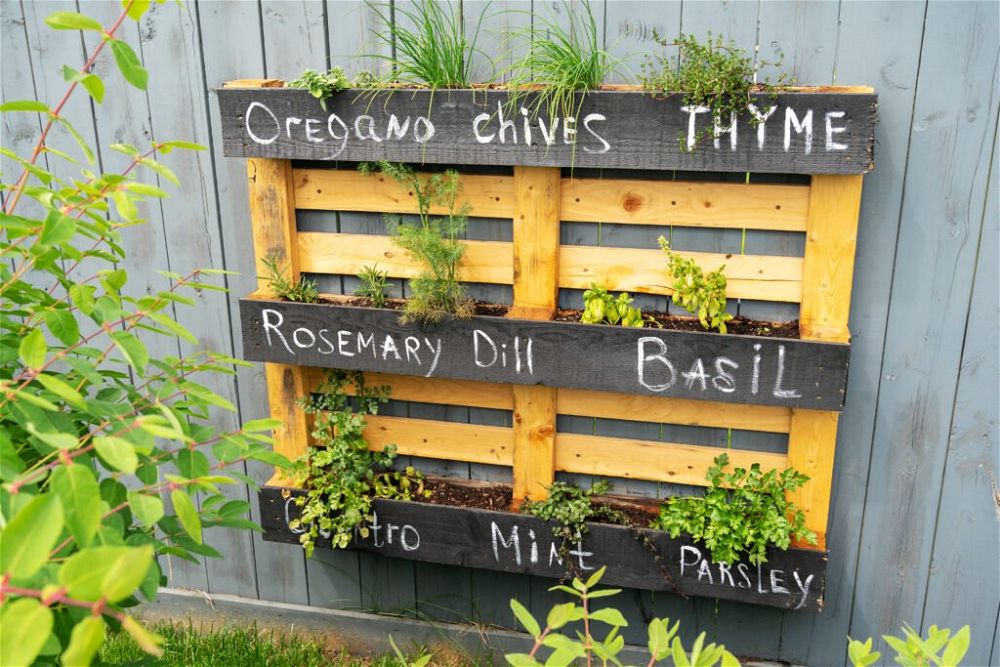 A simple way to improve your practical garden fence and make it stylish is adding greenery – and what could be easier than tough herbs that enjoy dry conditions.
Here a pallet has been screwed to the fence and faced with a chalk board. Pocket areas can be lined with plastic bags and filled with soil – then you're good to go. The perfect pasta is just a step away.
29. Garden Picket Fence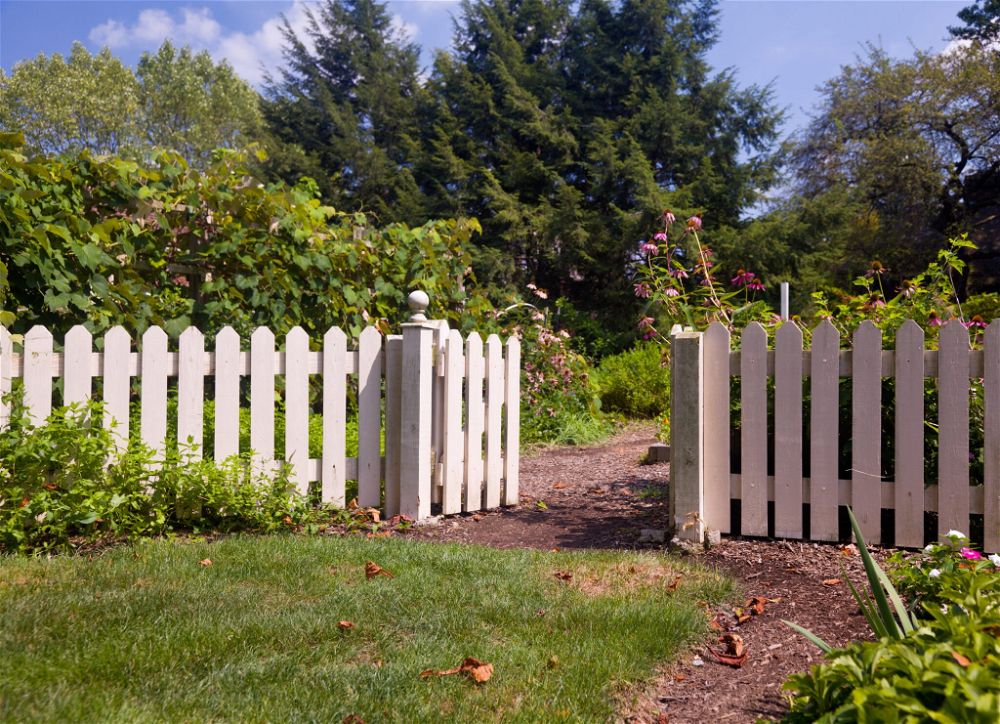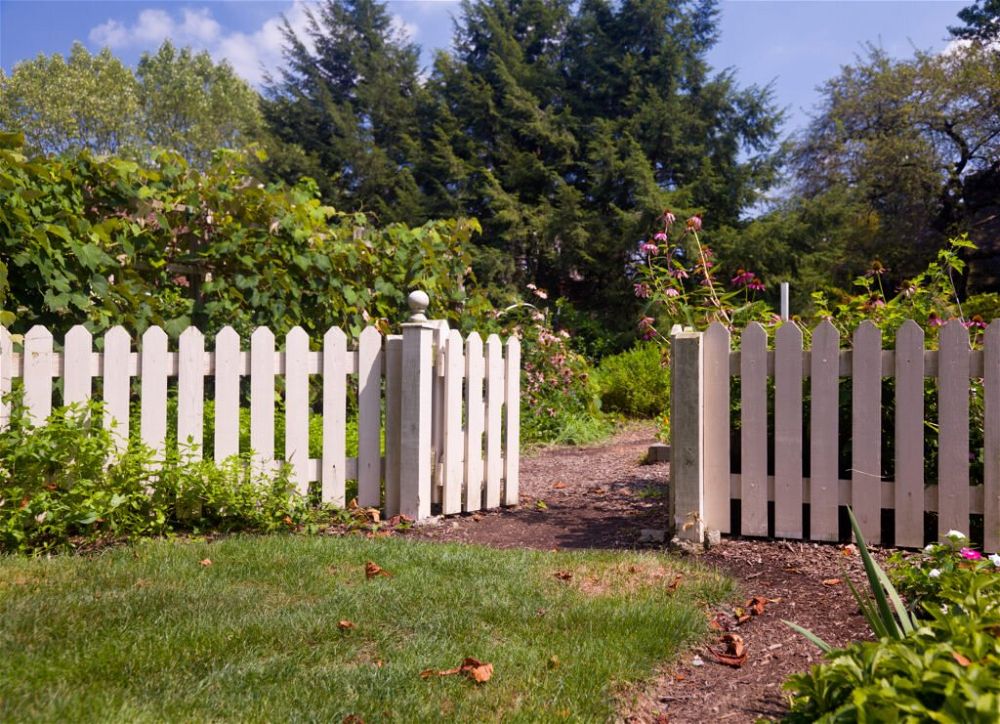 A picket fence marks property boundaries without blocking out light. They also divide up an outdoor space into different areas such as a seating area, veggie garden, or a kids' play area.
This picket fence is traditionally white, but there are plenty of other shades that suit depending on your style of garden. Pastels for a cottage garden or black/grey for a Japanese zen garden all look stylish.
30. Cottage Garden Fence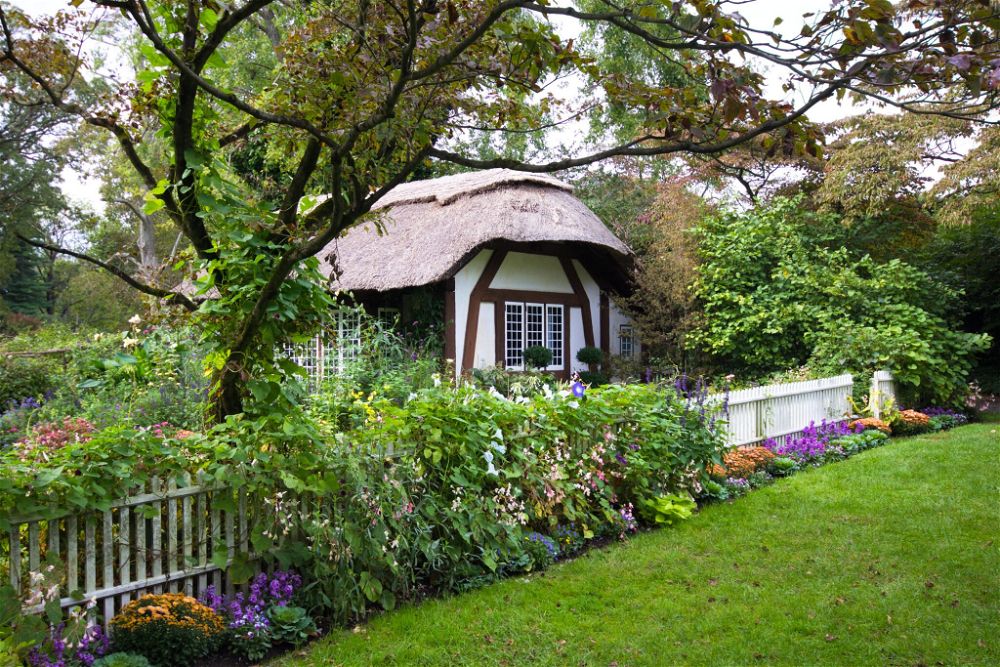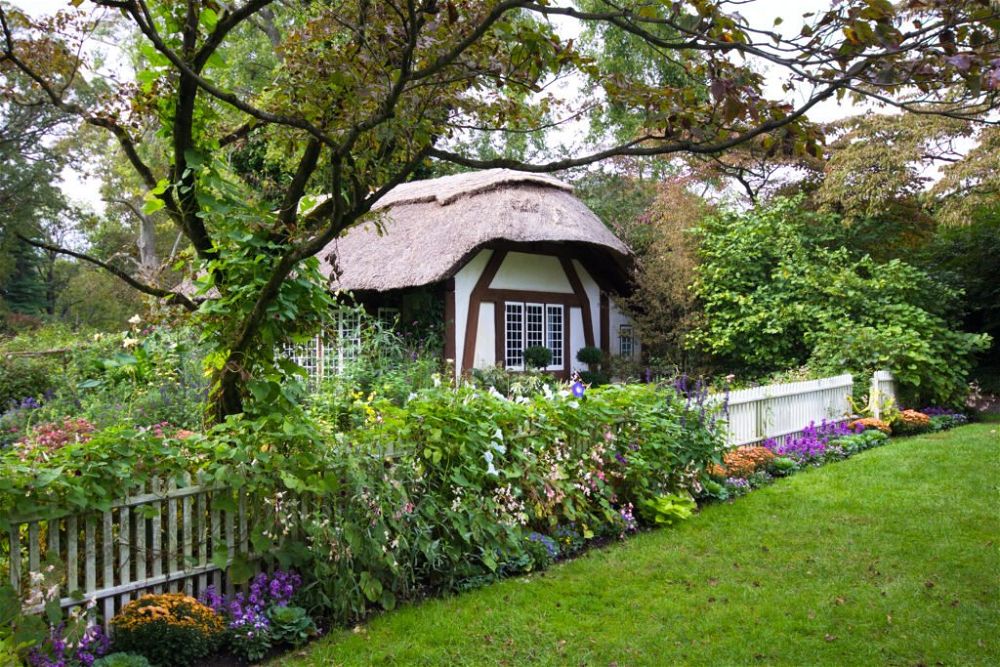 Cottage gardens are traditionally full of flowers, greenery and open space. The type of fence that best suits this style is a picket fence in plain wood, white, or pastel. Here the flowers and grasses can grow through the fence to soften it.
31. DIY Simple Garden Fence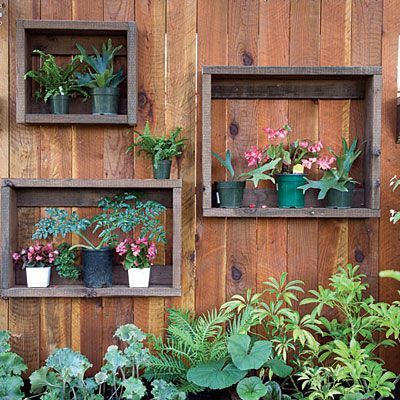 Adding picture frames is a simple DIY garden fence tip. Just as you would add pictures to a bare wall, frames on a garden fence bring it alive.
These frames are deep enough to stand flowerpots inside, so plant up herbs, trailing ivy, and pops of marigold to brighten the fence.
Fairy lights wrapped around the frames bring even more magic at dusk. This is a simple DIY tip anyone can do.
32. Wire Garden Fence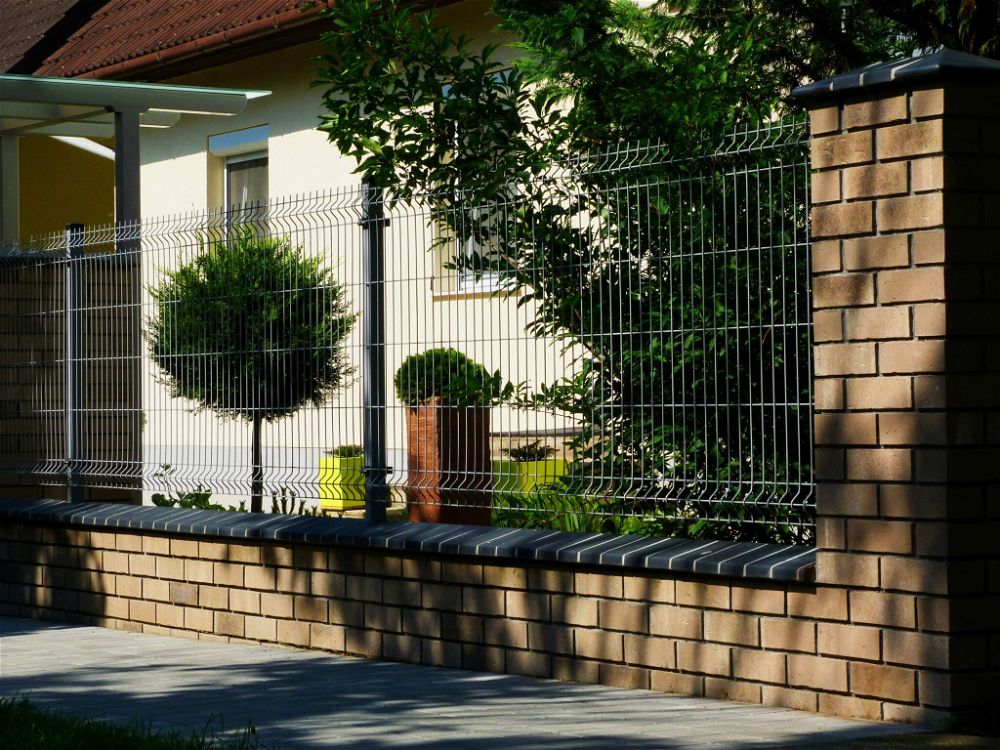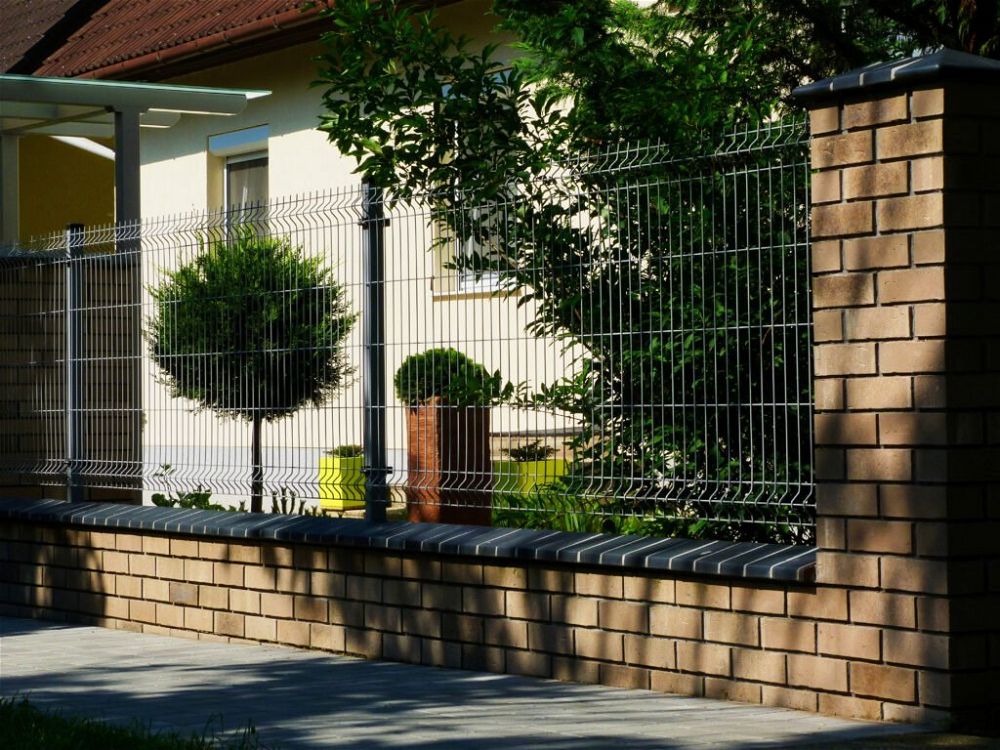 Wire is a good alternative to wooden panels. It lets in light and prevents that claustrophobic feeling. Wire is also the perfect choice for security.
Wire between brick pillars breaks up the line and looks stylish, especially when climbing plants have wound their way up.
33. Raised Garden Fence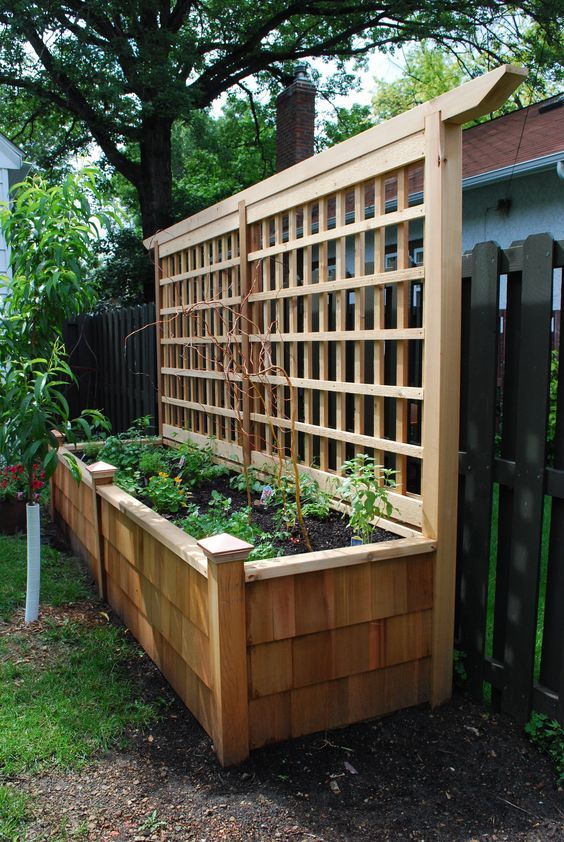 Garden fences doubling up as raised beds is a great idea to maximise your space and grow your own. Here the trellis of the raised bed is the garden fence. It reflects heat and prevents harsh winds from destroying your crops.
Using a back fence as the trellis of a raised bed saves space in a compact garden. It's perfect for new-build urban gardens.
34. Recycled Garden Fence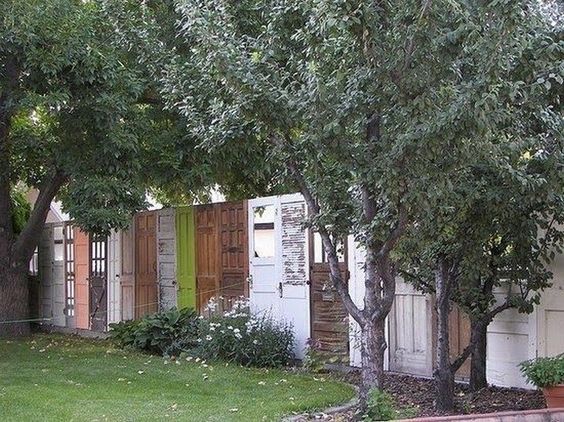 Recycled items create garden fences that stand out and help save the environment. Your neighbours wouldn't believe it!
A row of recycled household doors in various colours makes a sturdy and unusual fence resembling a street from Harry Potter.
35. Lattice Garden Fence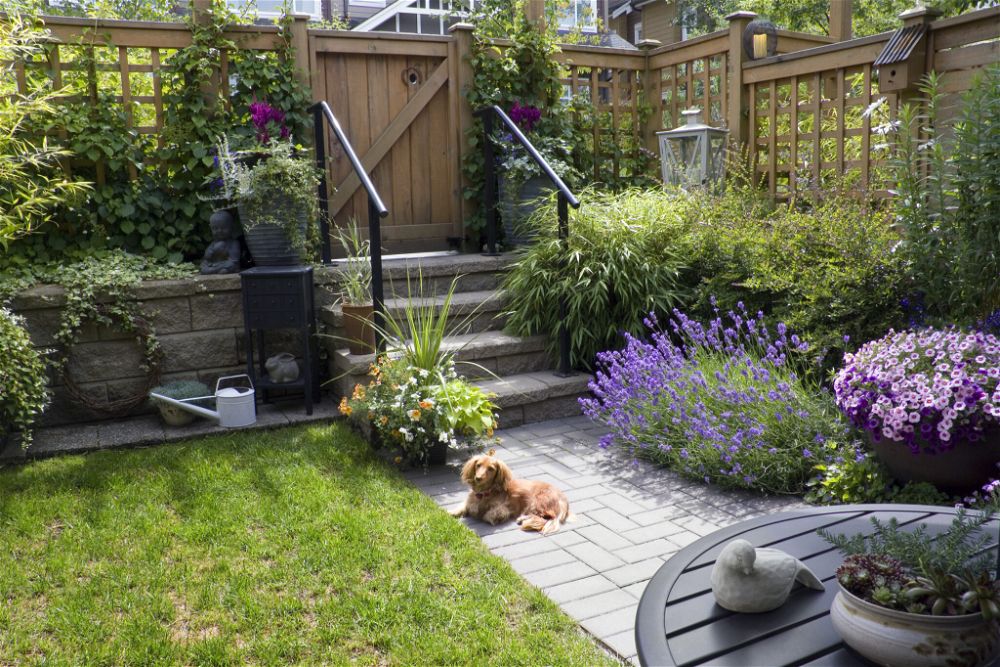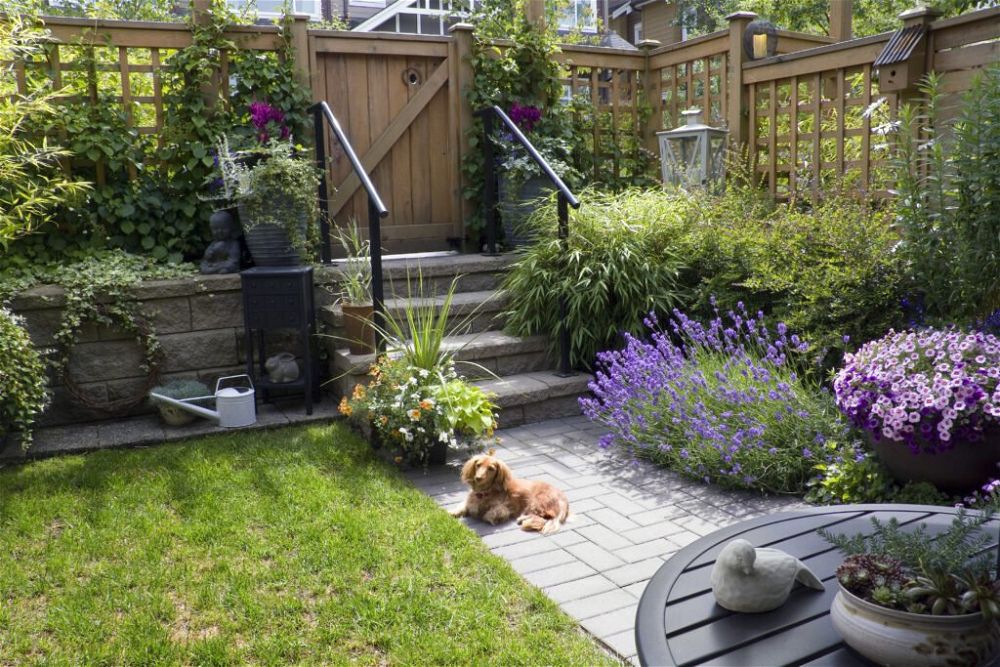 Lattice garden fencing is light and airy and able to support lots of climbing plants.
Lattice is an unusual choice for a fence but can be bought in standard sized panels. If you don't want your whole garden fence latticed, maybe pick out one or two panels. It's surprising how much light it'll let in.
Lattice is also great as a single panel privacy screen by your seating area.
36. Country Garden Fence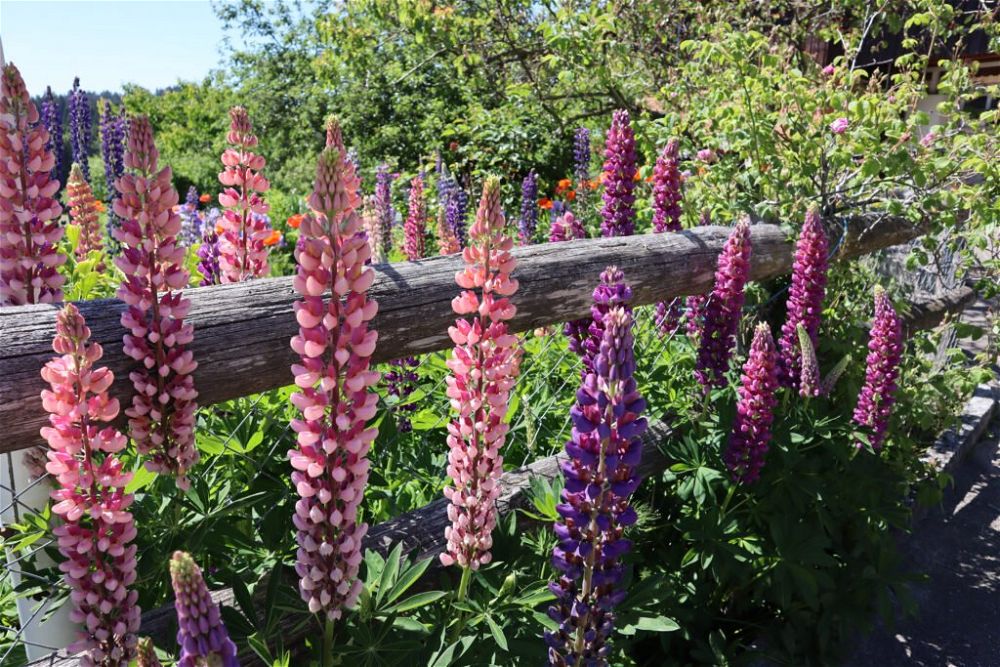 For a rustic country garden feel choose a fence that lets in the view beyond.
Large rounded planks of weathered wood lets grasses and flowers enjoy the light and heat while almost unnoticed wire keeps out unwanted visitors. It couldn't look more countrified.
This is also a great way to divide up a garden without casting large shadows.
37. Decorative Garden Fence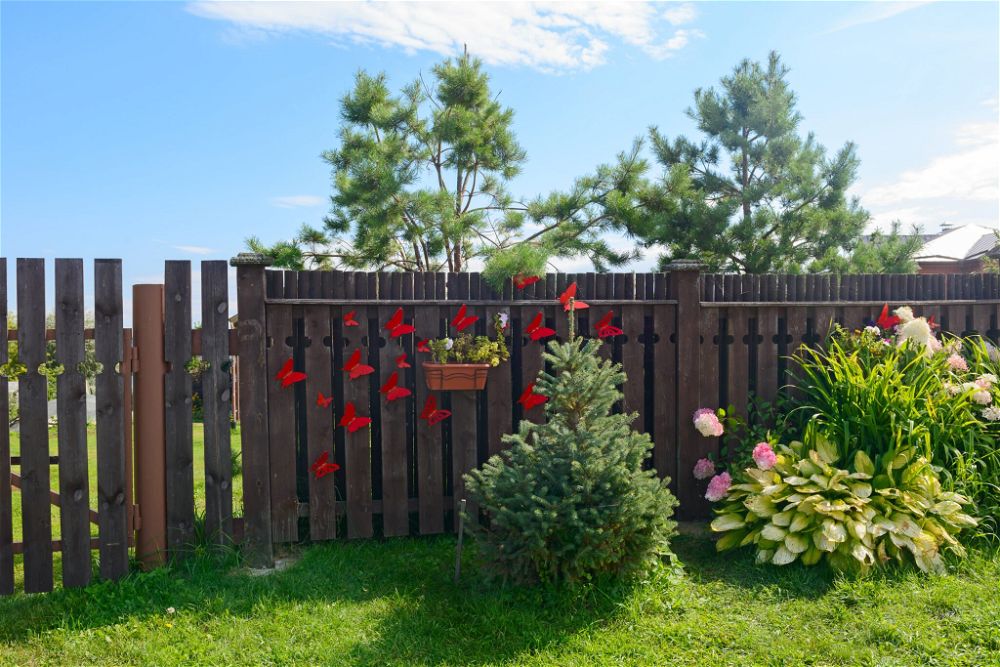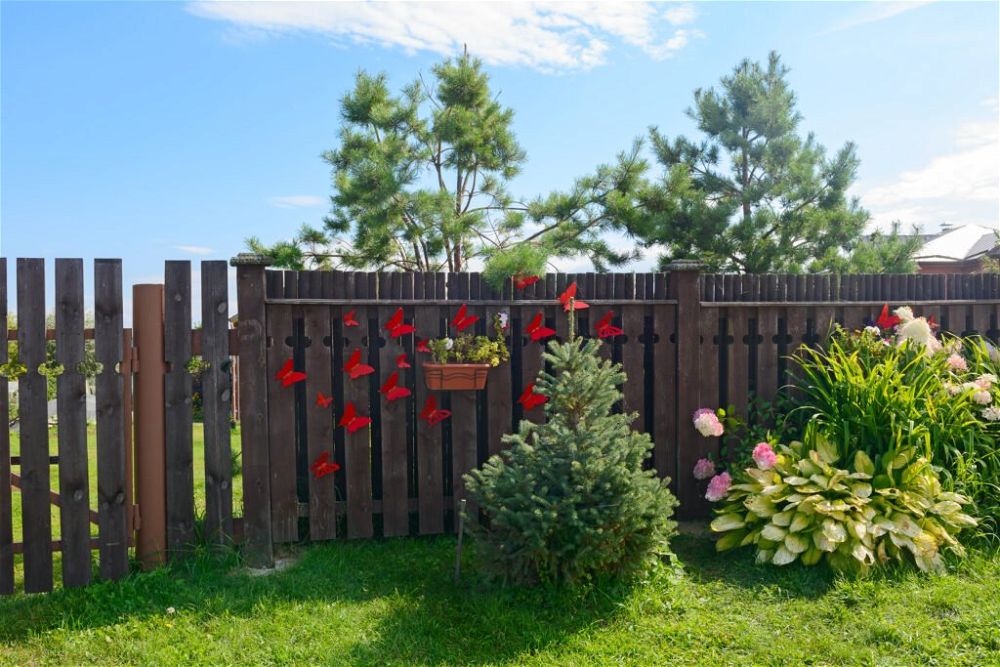 This practical garden fence has been brought to life with a stylish swathe of metal butterflies.
This works so well because the butterflies are one colour that really stands out. Couple them with red roses, poppies and camellias for one decorative fence the neighbours will turn green over.
38. Garden Fence Post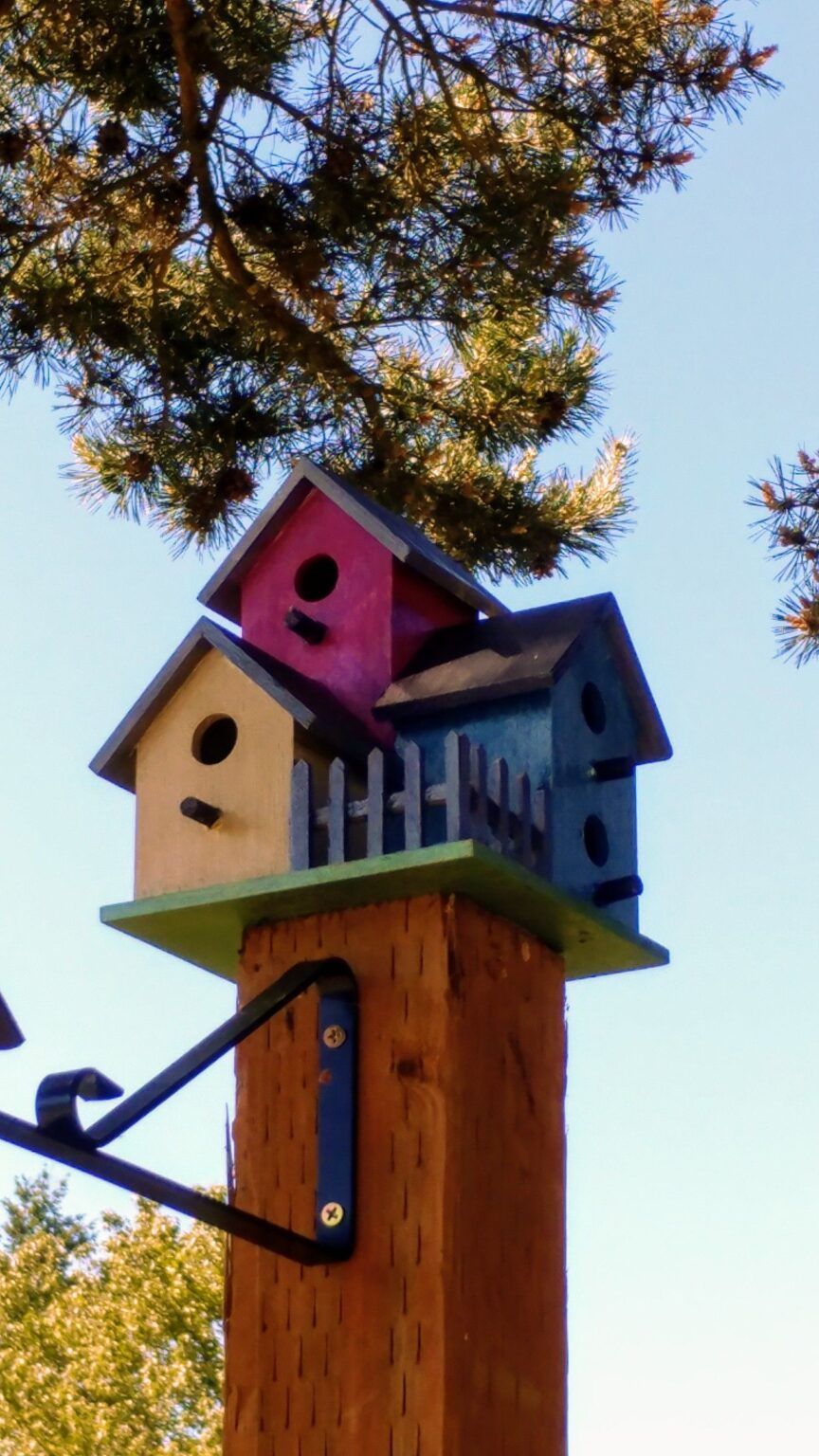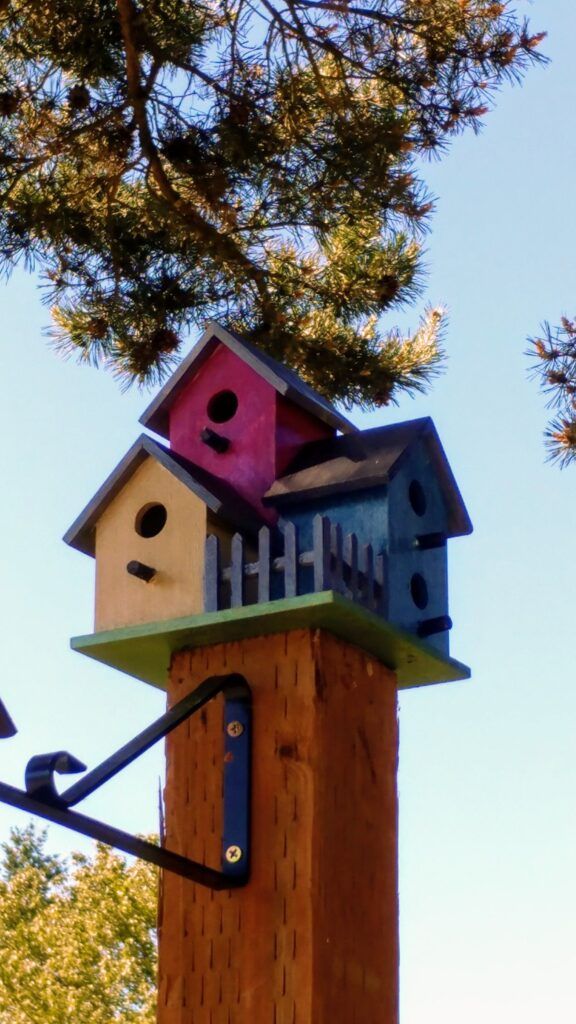 Fence posts are the practical end of fencing. But instead of topping them with a boring square cap, why not go all out with a mini apartment complex for birds?
This is a real talking point and one that the kids can enjoy too. It even has a little garden fence of its own.
39. Bamboo Garden Fence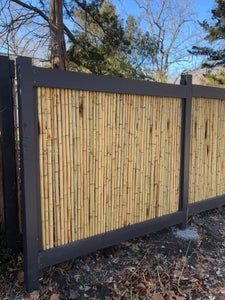 Bamboo is a versatile material and it's cost-effective too. Bamboo fences can be created from living plants, large poles driven into the ground, or matting on an existing fence.
Here a wooden panel frame holds vertical bamboo screening. This is a perfect dividing fence or a privacy shelter.
40. Metal Garden Fence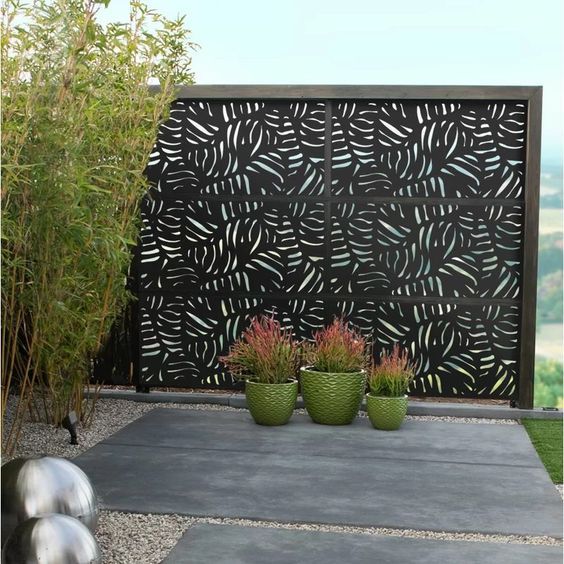 A metal garden fence is very modern. Lasers can cut all types of design into panels so you aren't stuck with the option of wrought iron – although that is very nice!
Laser-cut metal panels make interesting fences, letting in light and creating shadows. They can be pricey though, so you may want to choose just one or two to fit into your existing fence line.
41. Rustic Garden Fence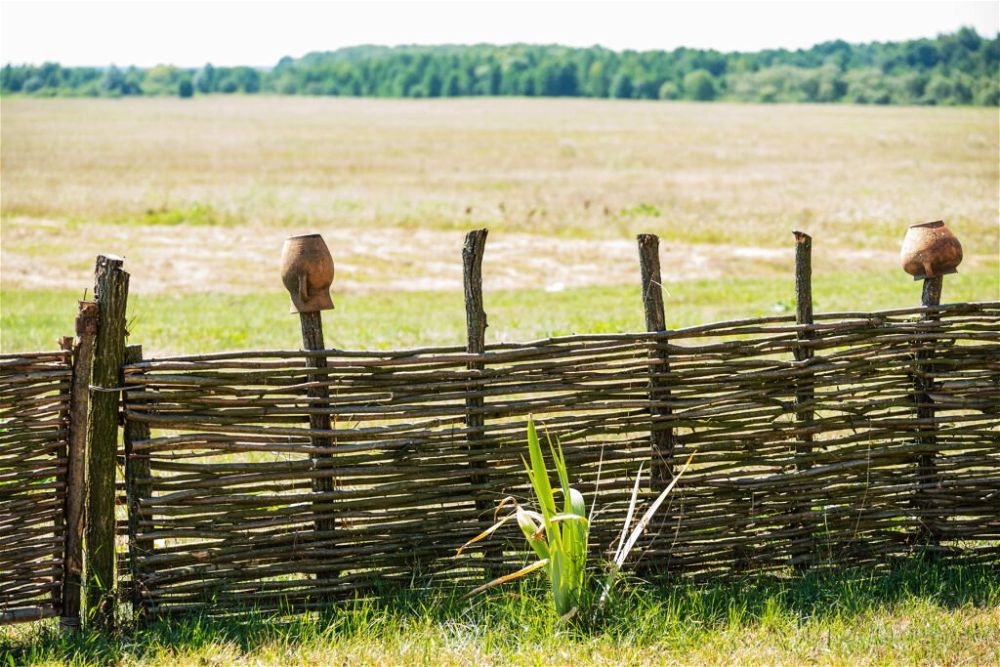 Wicker weaved fences with terracotta jugs draining on the posts – what could be more rustic?
This kind of fence suits a country cottage garden and is simple to erect yourself with sturdy posts and willow whips. What a great place to drain out your wellies after a long dog walk.
It'll only be a matter of time before the robin appears.
Practical and Stylish Garden Fence Ideas
A garden fence is something you'll spend many years looking at, so it's worth thinking about a design that is not only practical but stylish too.
From security fences to open weave rustic dividers, there's a fence out there for everyone – just take inspiration from our selection of stylish garden fences.