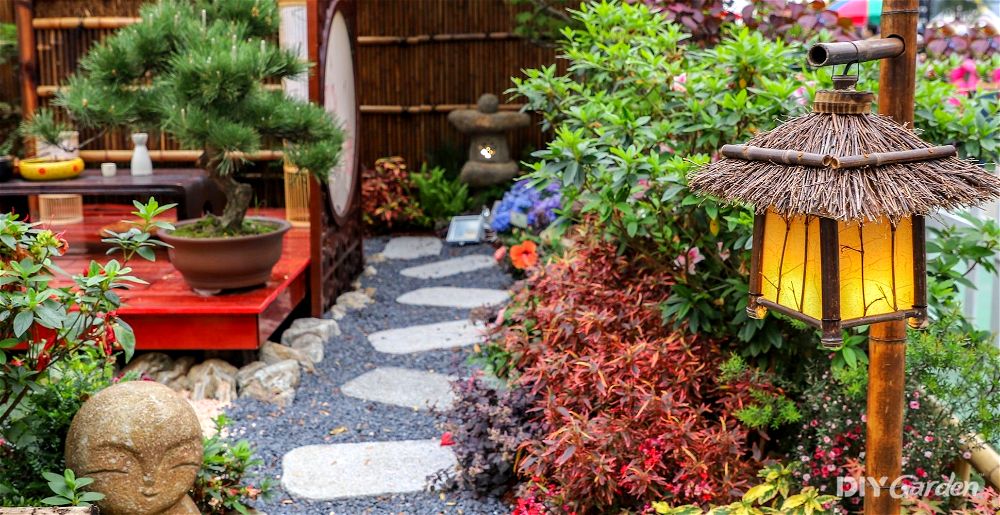 The Ultimate List of Zen Japanese Garden Ideas UK
1. Build a Miniature Garden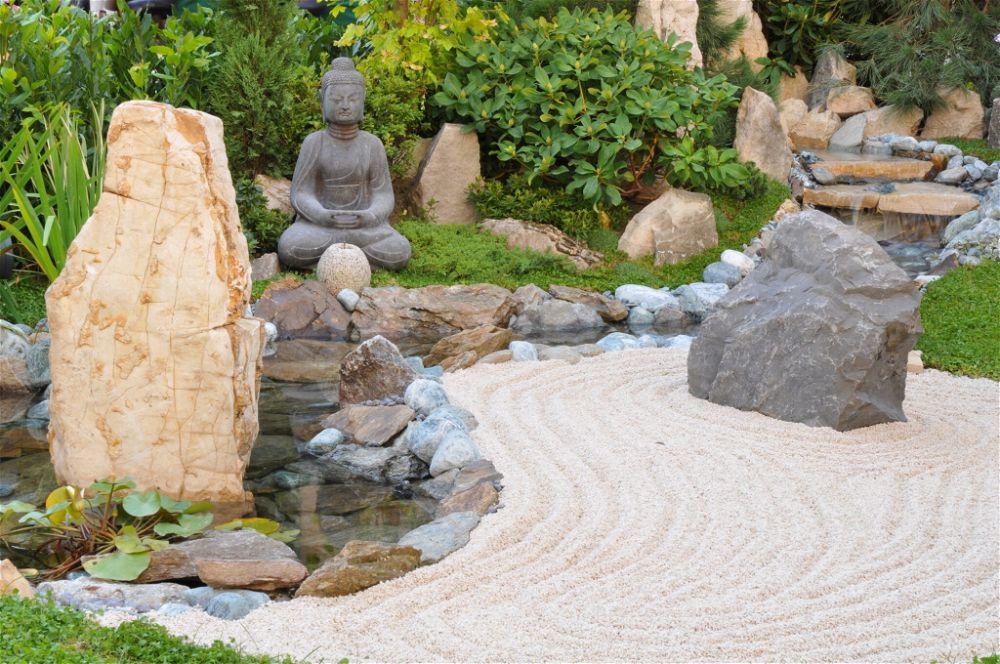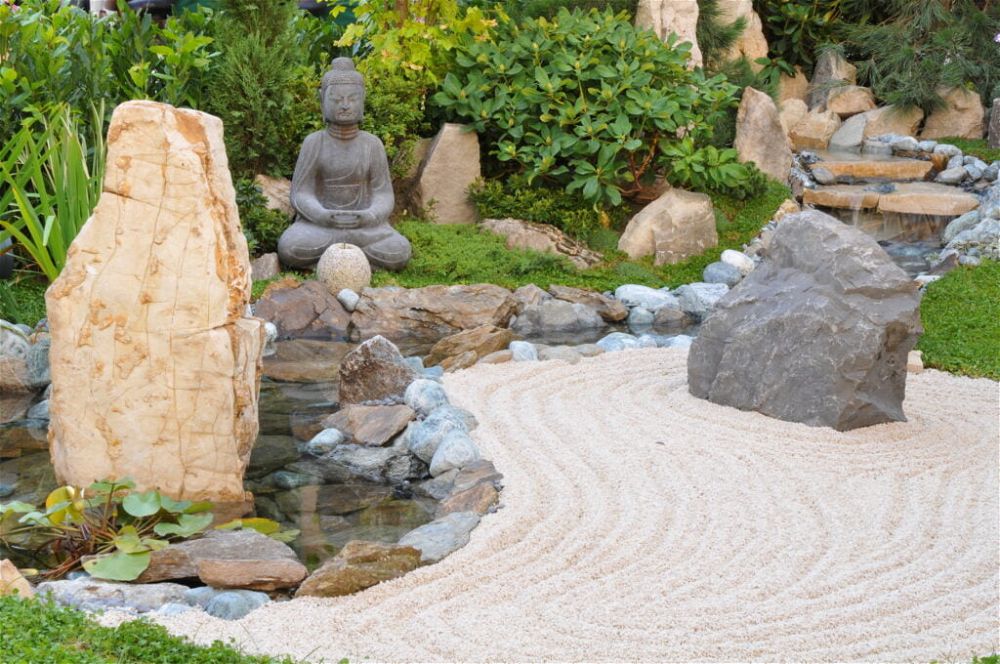 Here are all the aspects of a Japanese garden, but in a small space!
Combining several Japanese garden ideas in one place we have running water, rocks, decorative sands and a statue, combining to make a small but perfectly formed Japanese garden. Be sure to buy the dwarf variety of any plants so they don't outgrow their welcome.
2. Take Advantage of Corners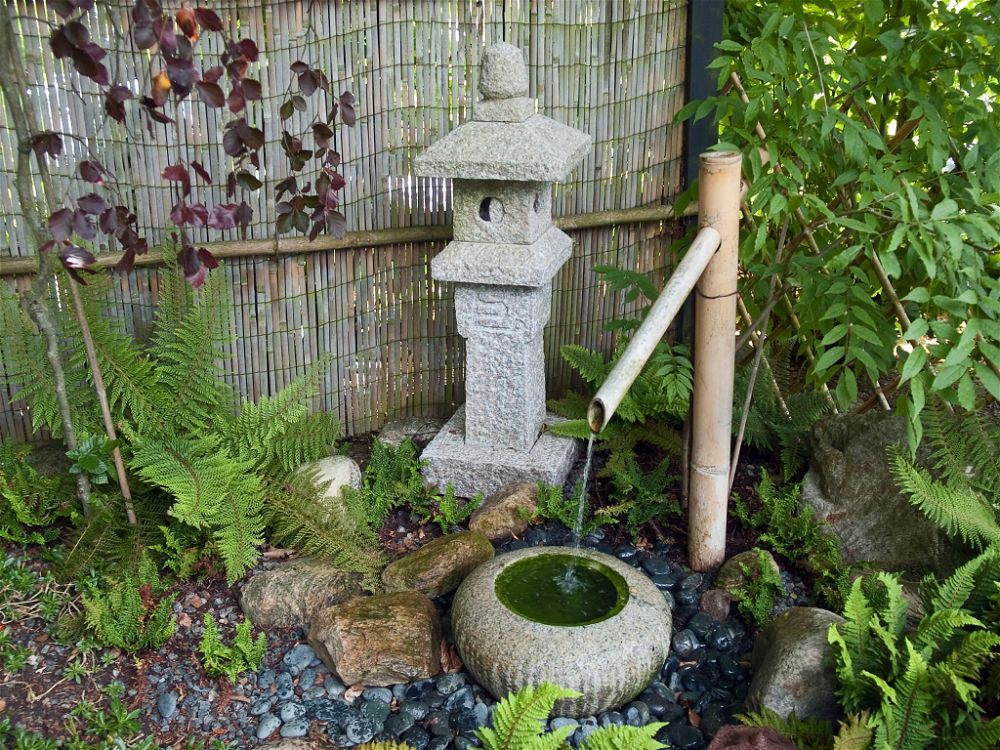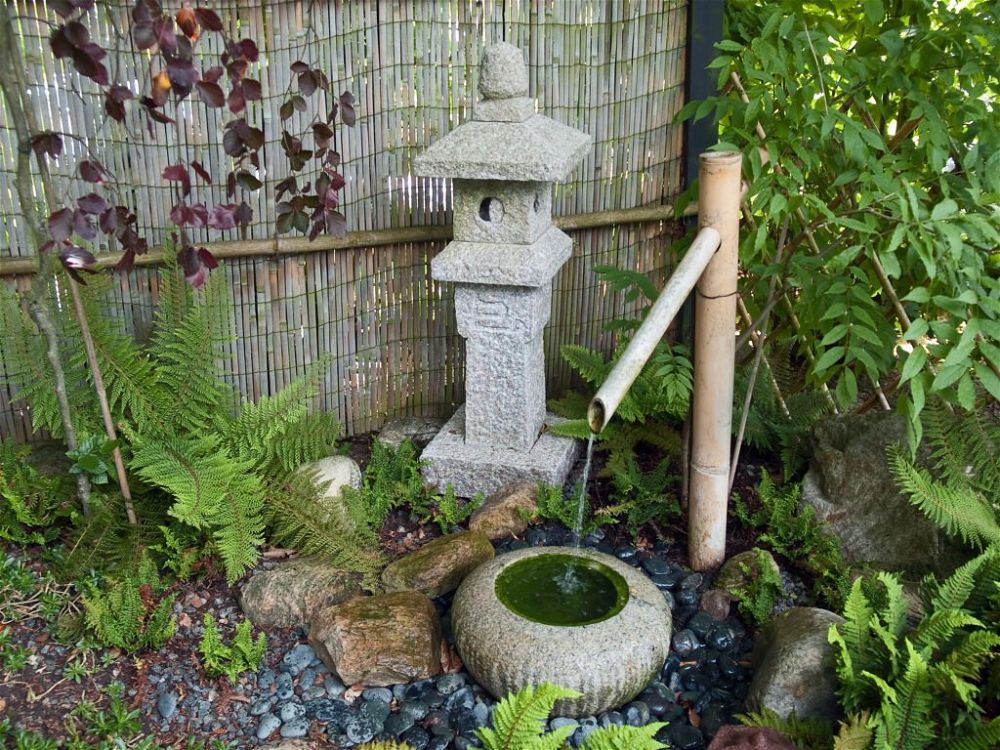 Small Japanese gardens are an eye-catching feature in any outdoor space. Here they've chosen a corner of the garden and added a bamboo water feature, a Japanese lantern, stones, and ferns. It's quintessentially Japanese but small enough to fit in anyone's garden.
3. Incorporate Bold Landscaping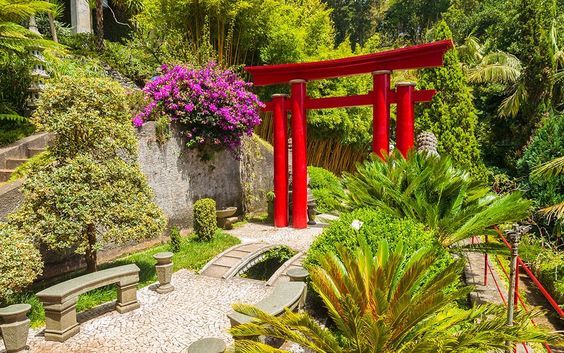 Here is a unique Japanese landscaped garden with no grass to mow! It's one of the bolder Japanese garden ideas, with the large red Japanese archway, but there's plenty of inspiration to be taken. The inclusion of several bridges, and plenty of benches, are essential elements that mix here perfectly.
When it comes to plants, the bright azalea and standing rock compliments the plain stone landscape too. It's so relaxing!
4. Choose a Stone Lantern Centrepiece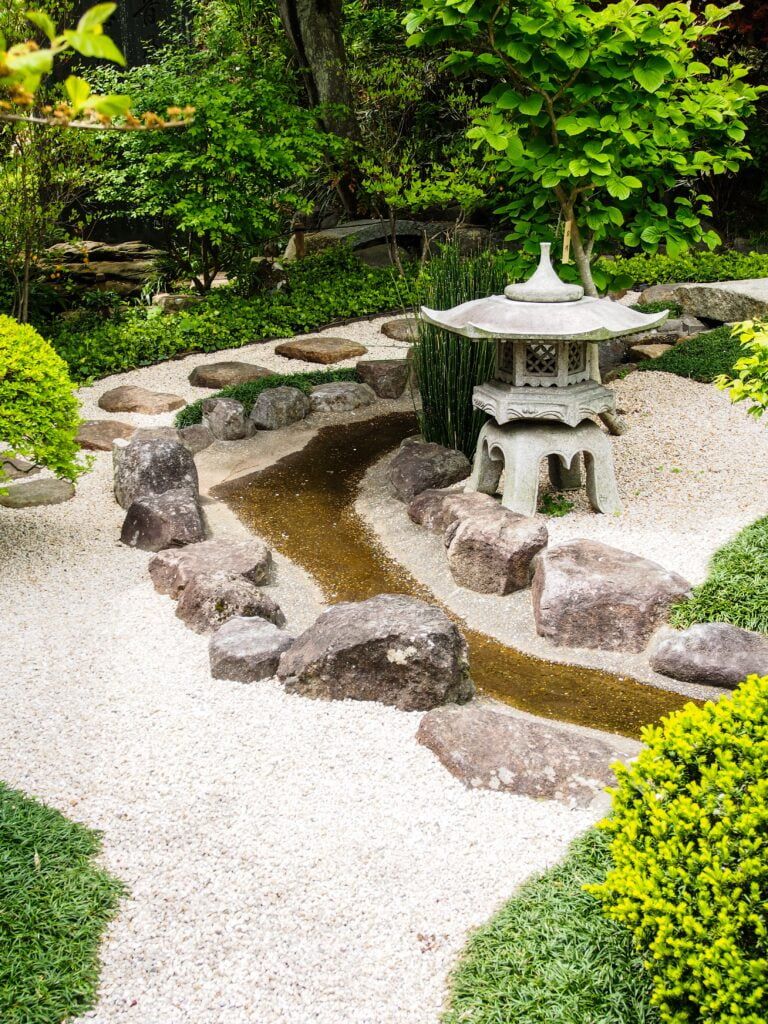 Japanese gardens need the main elements of water, stone, clipped evergreens and a main focal point (such as the lantern in the garden above).
We love how the bright white stone is offset by natural rocks and a trickle of water. Plus, the stepping stones around the outside create a gentle border and path.
5. Select Plants with Seasonal Tones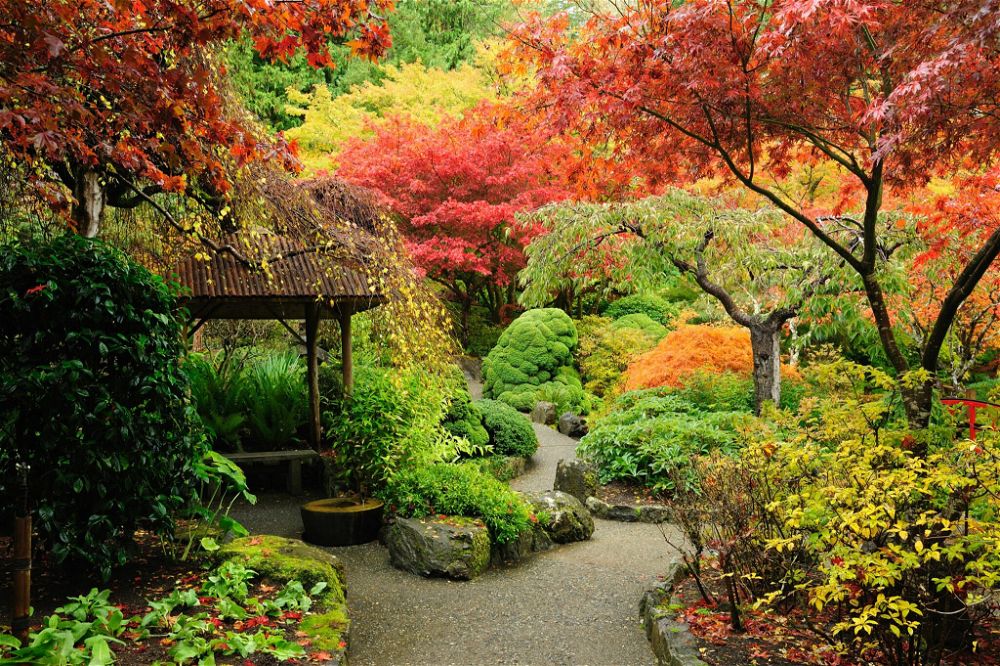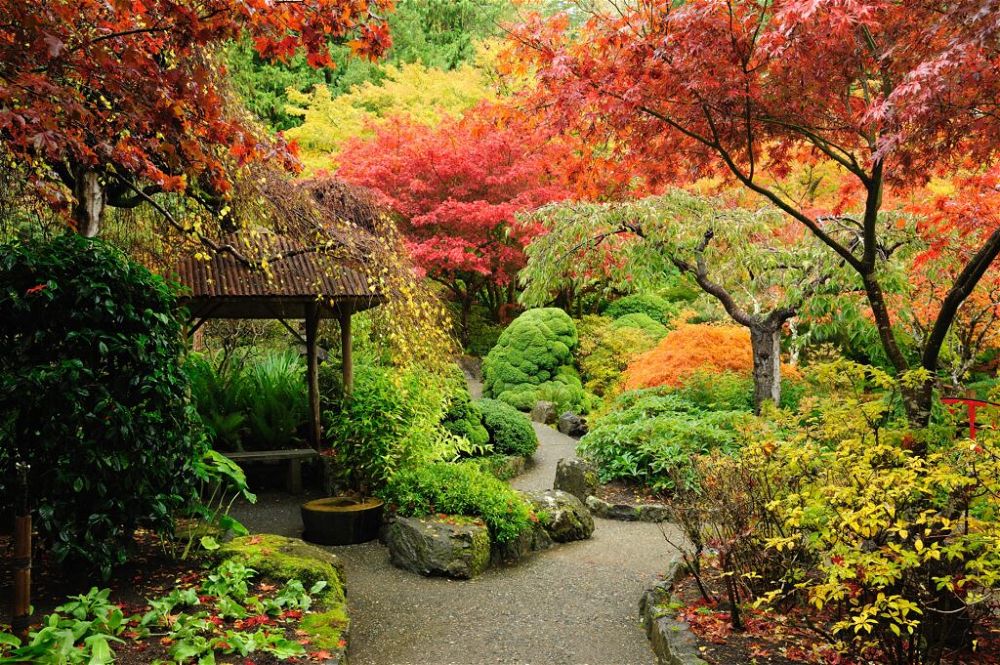 Most Japanese gardens pay thought to the changing seasons. When you're designing a Japanese garden be sure to think about how it will look in throughout the year, in winter, spring and autumn.
Japanese gardens often contain cherry trees that blossom in April and rich autumnal colours from acers and maples as we approach winter. Including a garden tree (or five!) is a great way to bring tonality to a Japanese garden. We love how the yellows, reds, and orange tones surround this seating area.
6. Combine Pale Gravel with Plants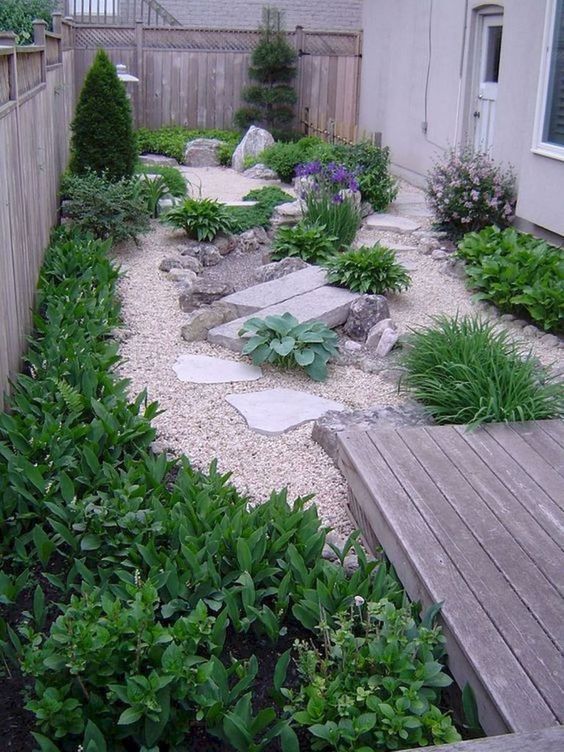 Transform a small garden with a Japanese design. This is a beautifully planted space with lots of greenery and a few well-chosen upright evergreens.
The pale gravel brightens the space matching with the house colour and a pop of interest is provided by the blue agapanthus. The garden makes use of excellent large natural stepping stones too, peacefully marking out the path.
The two larger stones in the centre act as a nod to Japanese zig-zag bridges. Zig-zag bridges create an interesting way to cross bodies of water without walking in a straight line.
7. Take on Cloud-Pruned Topiary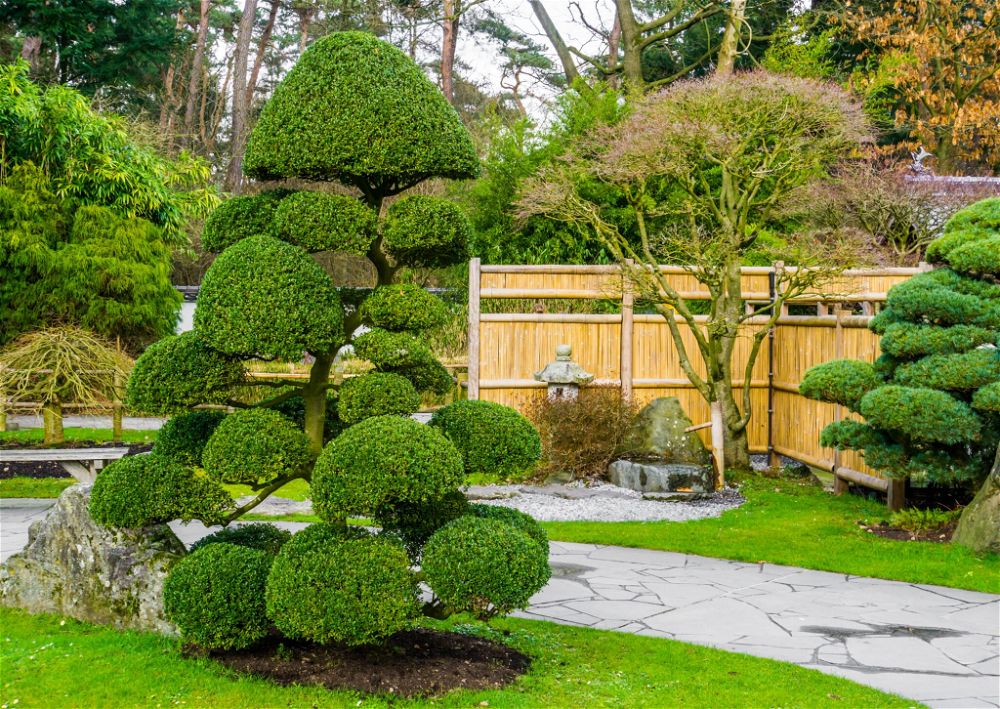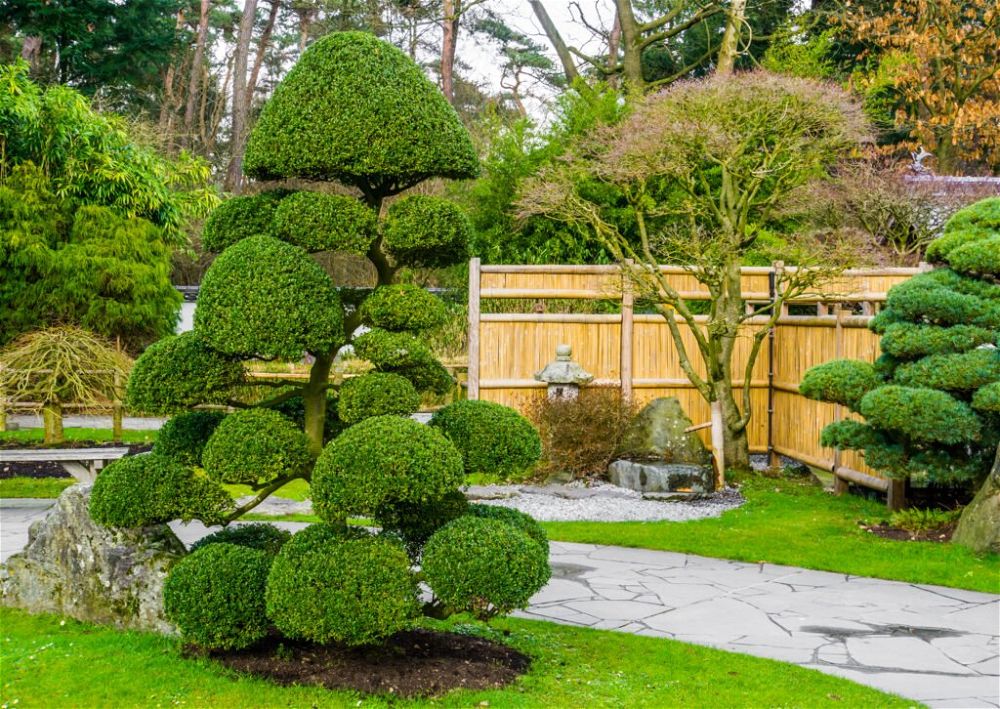 There are lots of options for Japanese garden planting, from maples and acers, to bamboo and long ornamental grasses. But there's also another option – the ancient Japanese art of cloud-pruned topiary.
Cloud-pruned trees are pruned to have a rounded shape. Done properly, the results are extremely striking – though cloud pruning can be challenging and it can take years to train the trees.
8. Keep it Simple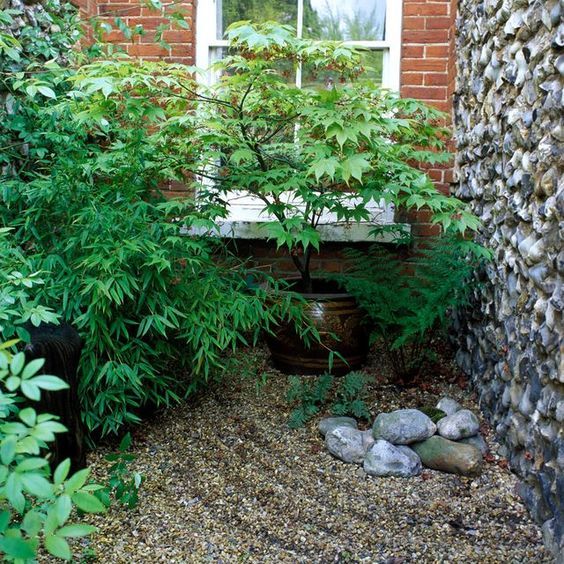 The simplest of Japanese gardens is right here!
Buy an acer for a Japanese style container and set it on fine gravel that you can rake into interesting shapes. Put an artful pile of neutral stones nearby and you have a simple Japanese garden to adore.
9. Mimic Water with Small Slate Pieces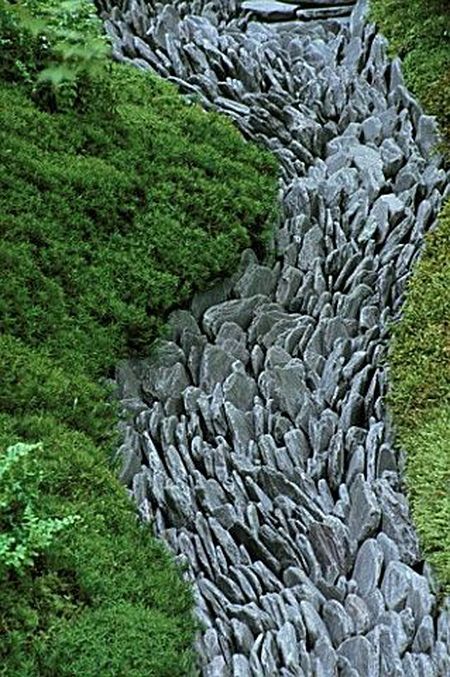 Stones and water are integral parts of Japanese gardens – so why not combine them with this fantastic idea. Upturned slates mimicking a river. It looks especially good contrasting with the bushy evergreens – another important aspect of Japanese gardens.
10. Create a Private Pathway with Bamboo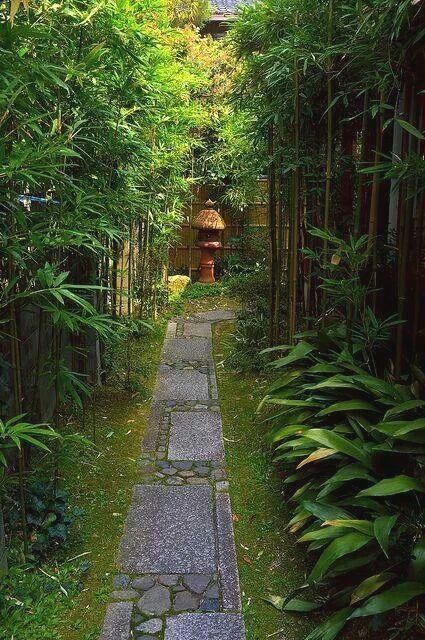 This is one of the best Japanese garden ideas for a small overlooked garden.
Run tall bamboo along the fence line to block out your neighbours and add paving stones to create a rustic path leading to a Japanese lantern. You could make this a water feature, or a bonsai tree, if inclined. What a way to spruce up smaller gardens!
11. Design a Japanese Tea Garden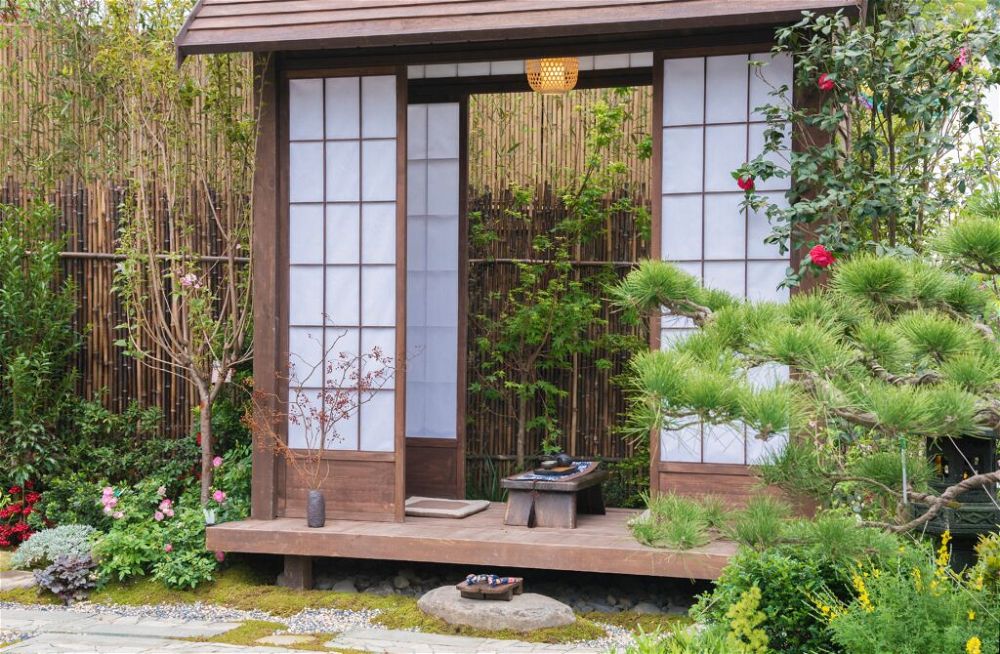 Tea houses or pagodas create a sheltered spot in which to enjoy tea and a moment of quiet contemplation. In the garden above, the tea house is complimented by the bamboo fence screening, natural stone touches and miniature trees.
12. Use Plenty of Bamboo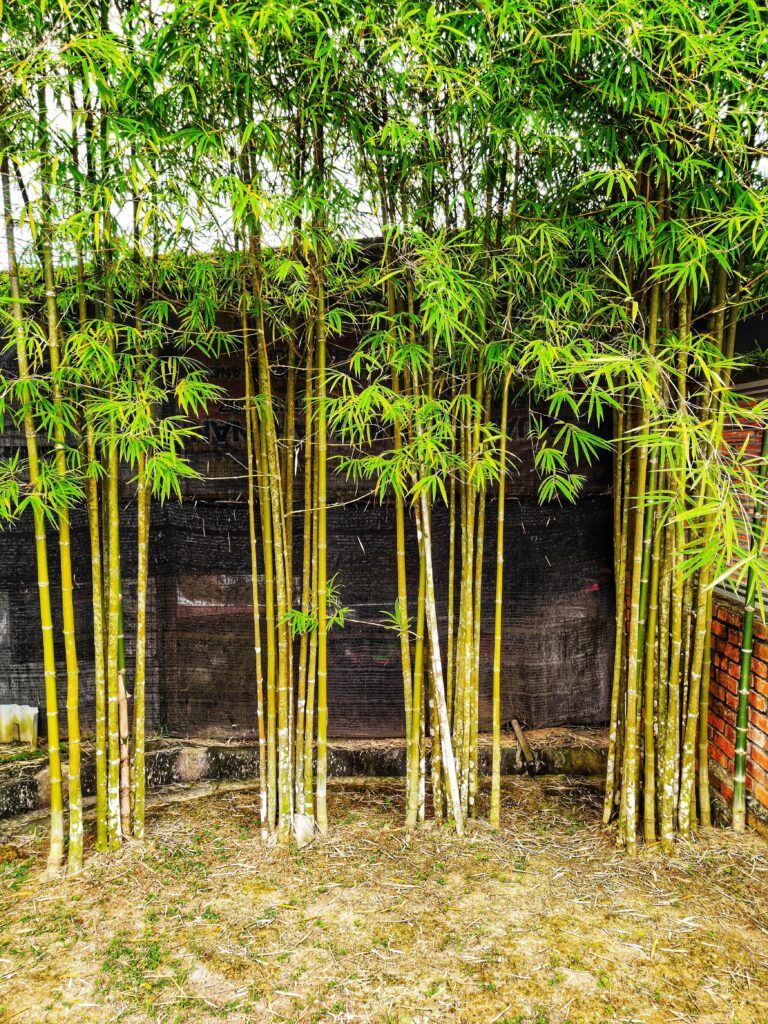 If you're looking for simple, affordable garden ideas for Japanese-inspired gardens, you can't go far wrong with bamboo. It looks beautiful all year round and the foliage whispers in the wind.
Many Japanese style gardens will feature bamboo somewhere in their design. It offers an easy way to feel a connection to the natural world. In the garden above, they've used golden bamboo, but there are black, green, and brown versions too. Be sure to use a rhizome blocker or container plant them as bamboo is invasive and will spread quickly.
13. Choose Themed Decorative Touches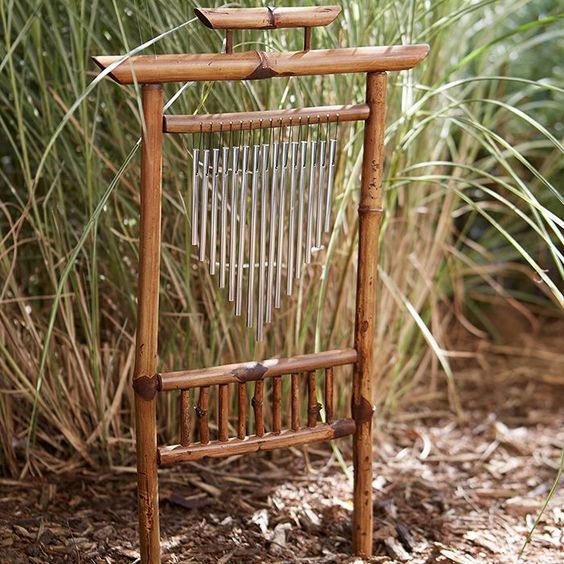 Check out this Japanese style wind chime. It's the perfect decoration for a themed garden and brings the added benefit of tinkling musical chimes to contemplate as you cross bridges and sip tea. The bamboo frame is in keeping and the shape is reminiscent of a Japanese arch. Wind chimes are one of these simplest elements to add to a Japanese inspired garden.
14. Restyle Your Balcony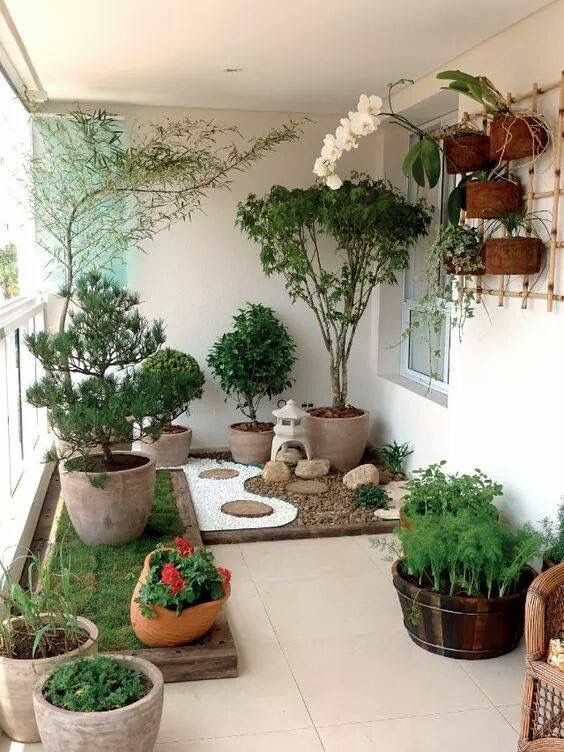 This balcony garden provides plenty of Japanese garden ideas. It's a masterclass in how to create a themed space when you haven't got a lot of room. If you have a balcony and want to style it with inspiration from Japanese gardens, take ideas from the garden above: acers, bamboo, contrasting gravel, natural stone and a feature area bring it all together.
This could also work on decking or in a garden pagoda.
15. Focus on One Area for a Budget-Friendly Approach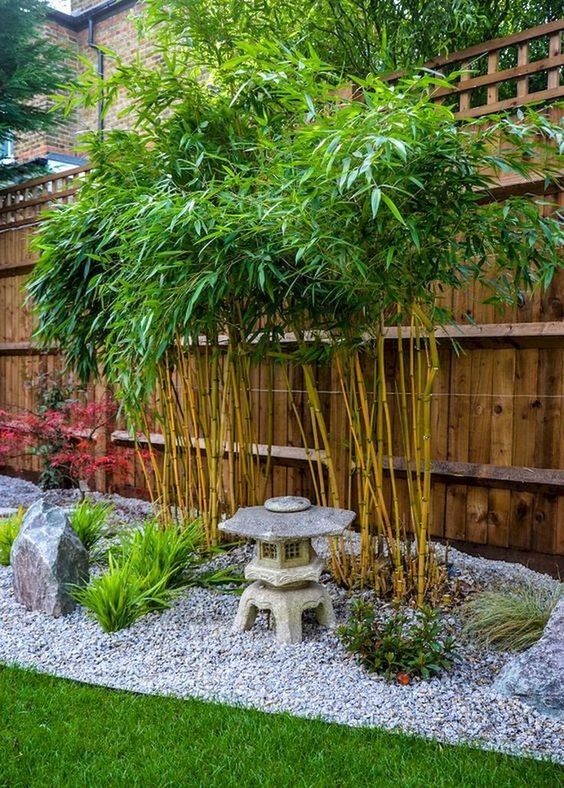 When creating in the style of Japanese gardens, working to a budget isn't a problem – choose a section of your garden and make it work rather than stretching across the whole outdoor space.
In the garden above, they've used inexpensive golden bamboo, gravel, an acer, one natural stone and one lantern decoration. You could use any strappy grasses or evergreens such as small bare-root box plants and trim them into cloud shapes as they grow.
16. Make a Rock Garden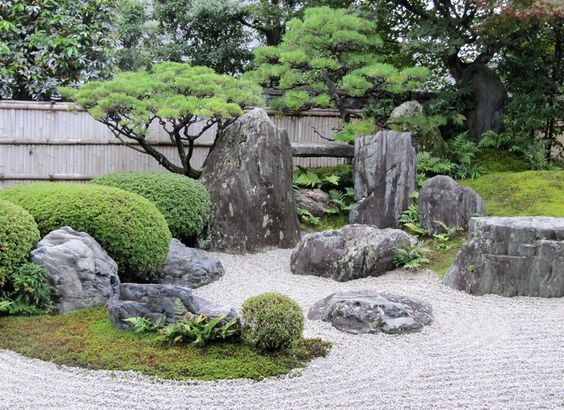 As Japanese garden ideas go, this rock garden is both interesting and relaxing. It has topiary evergreens and raked sand but it's the rocks that steal the show.
Low to high and some hiding behind greenery, they look fantastic and because the stones are natural every rock garden will be individual.
17. Make an Entrance with Garden Gates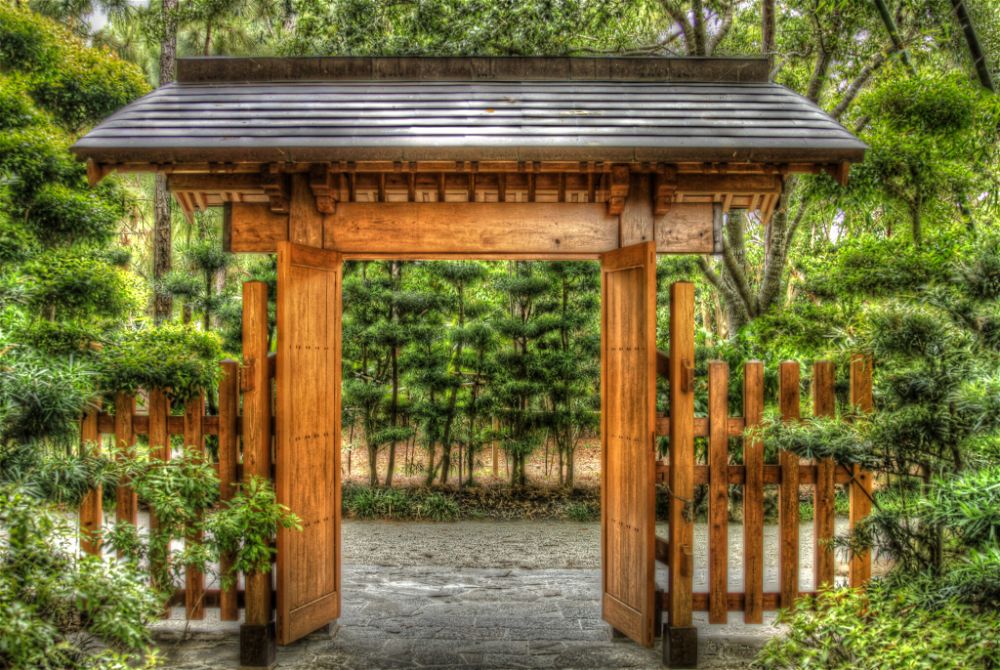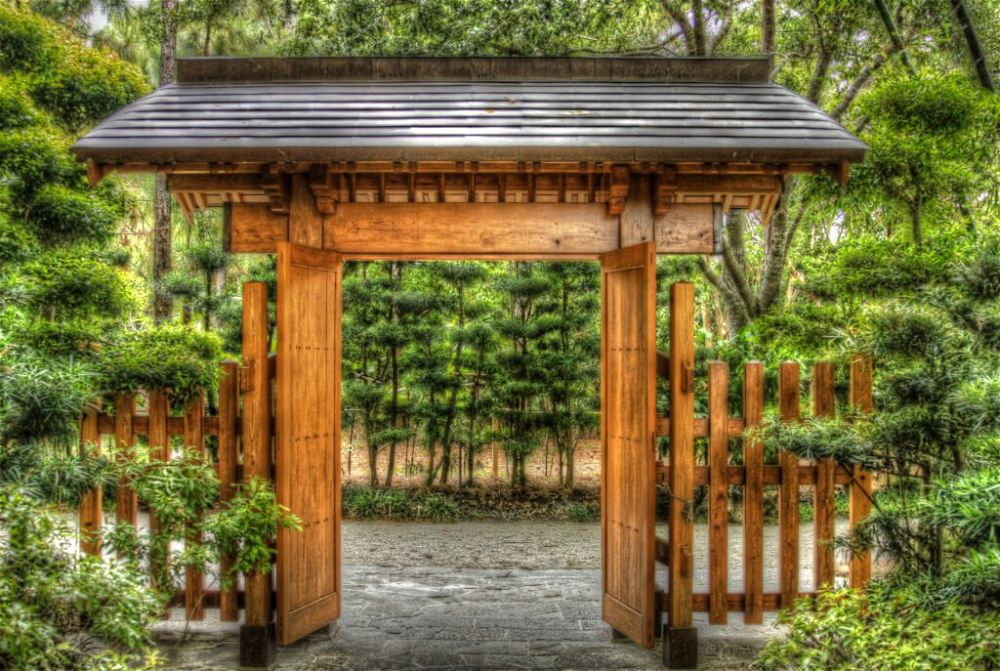 Although not a subtle option, these gates are worth considering if you want to incorporate striking Japanese garden ideas into your back or front yard. They're made from mid-tone wood with an oriental style roof and they certainly create some impact when approaching the garden.
These gates are the perfect entrance to any garden Japanese or not – talk about impressing the postman!
18. Use Bamboo Fencing for Privacy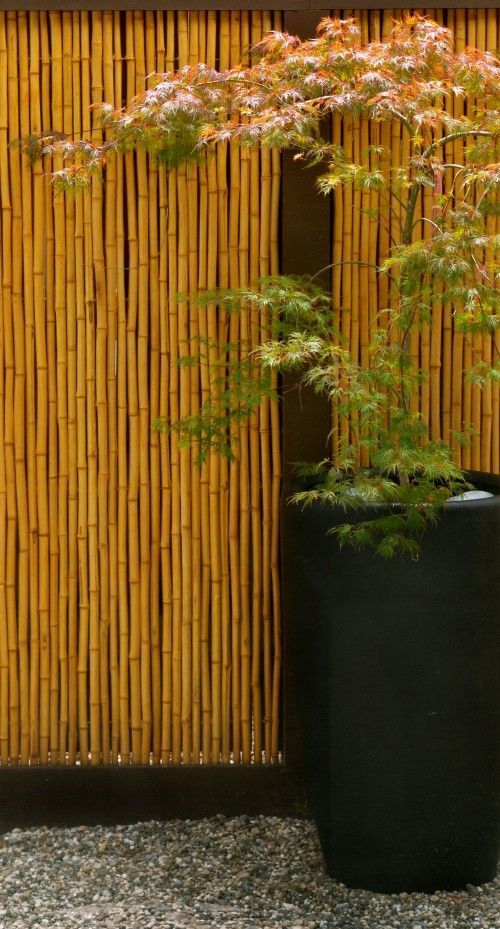 Building a DIY Japanese garden fence or a privacy screen is simple. You need a rectangle-shaped frame of sturdy wood filled with vertical bamboo canes.
This can be repeated around your garden or used as a focal point. If you're handy with a saw this is one of the easiest DIY projects around.
19. Create Layers and Levels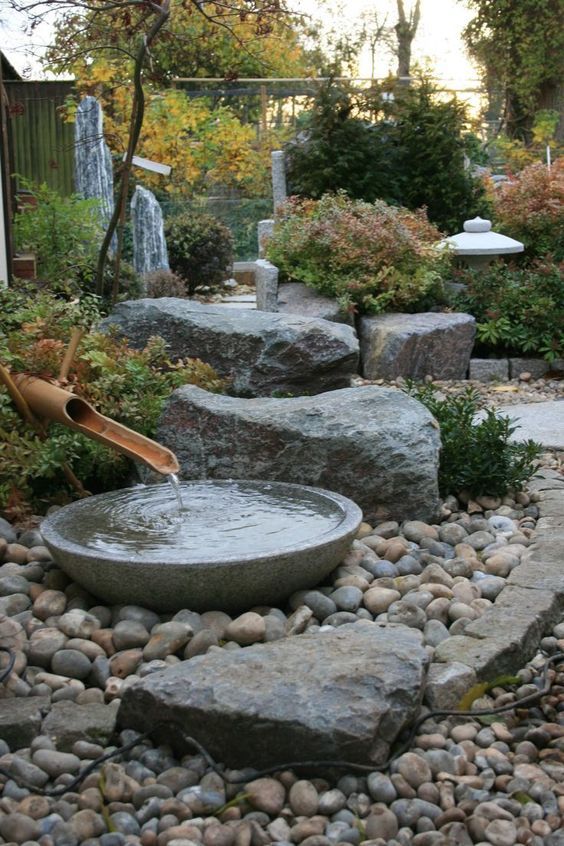 This Japanese home garden has a beautiful water feature complete with a bamboo waterfall. It sits so well in the rock garden of standing stones and pebbles. You could sit by this for hours with a cup of green tea contemplating the tinkle of water.
20. Build a Koi Pond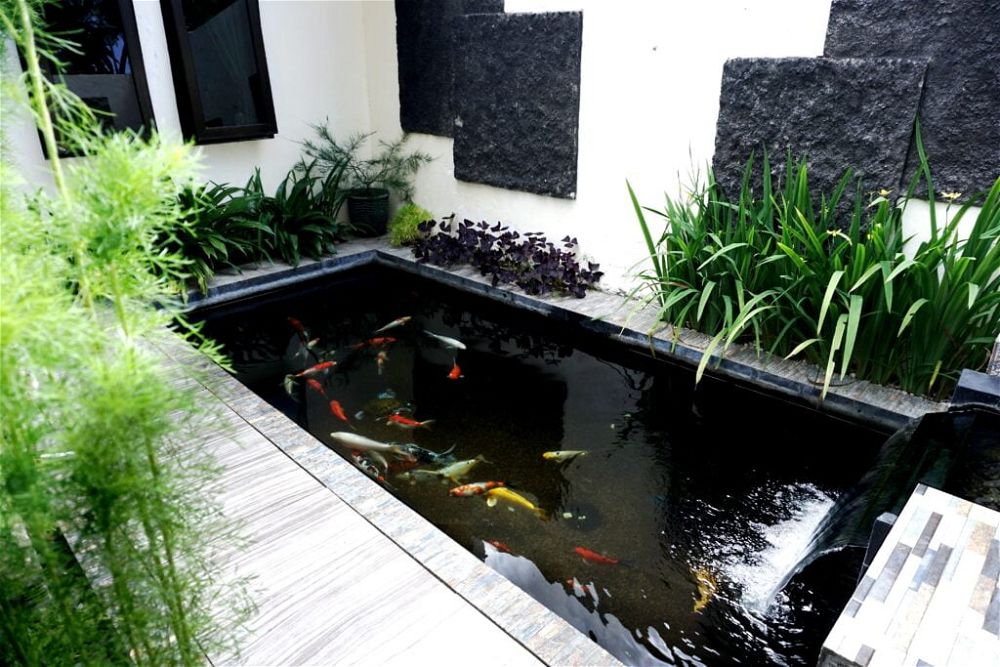 Why not take over your entire small garden with a large Japanese koi carp pond? This is one of the most stylistic Japanese garden ideas. If you don't need a lawn why bother mowing when you can sit here and relax.
In the garden above, we love the large slate wall squares that echo the pond shape and the sheet water fountain.
21. Incorporate a Bridge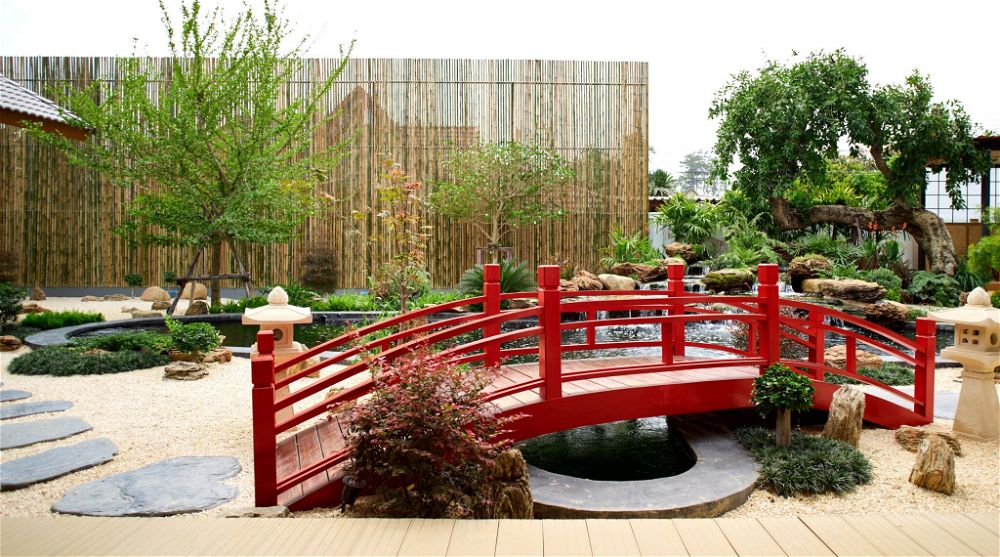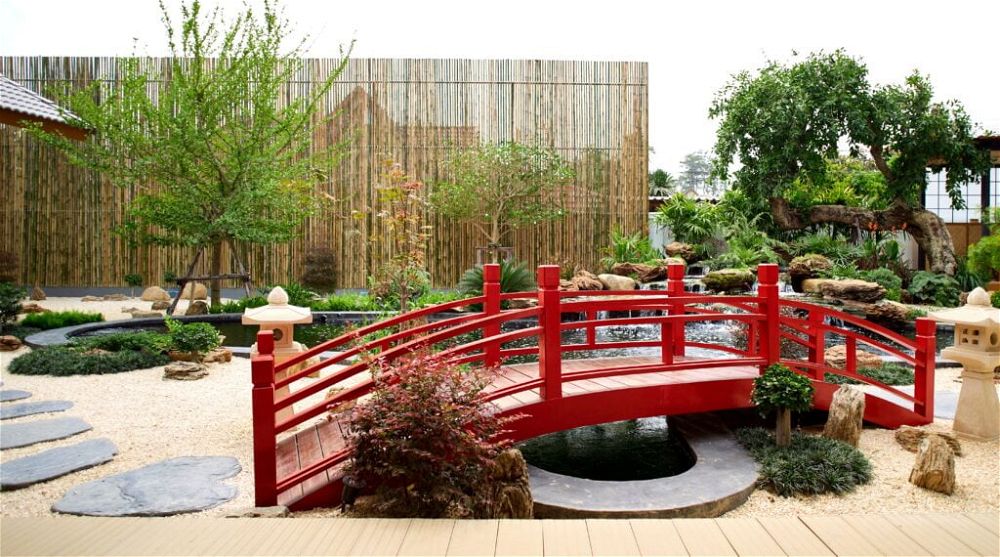 This is one of the most striking Japanese style gardens – you can't miss this bright red Japanese bridge over an untroubled pond.
As strolling gardens go, it's incredibly well designed, effortlessly guiding you through the space. The bamboo screen blocks out nosy neighbours. Plus, there's no grass to mow either, which certainly adds to the sense of relaxation.
Imagine walking around here on a warm day just drinking in the atmosphere, and then at night stone lanterns illuminate the bridge. Perfection.
22. Grow Japanese Maple Trees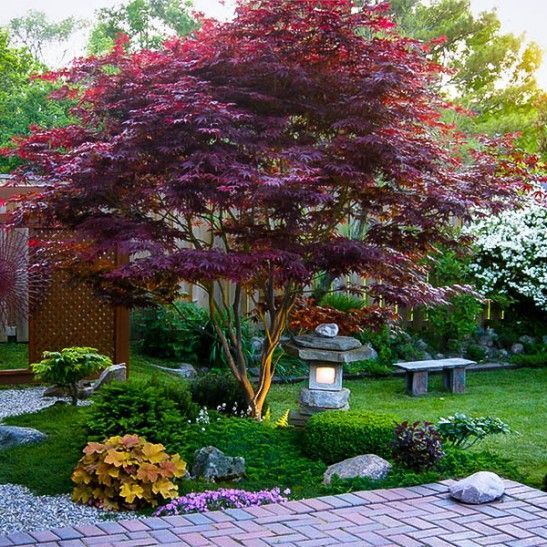 Japanese maples are stunning trees particularly in autumn when their leaves turn all shades of russet.
A maple garden is one of the few Japanese garden ideas that look best as the growing season is ending. Maples can be planted en-masse or use just one as a focal point.
There are white leaves, yellow leaves, burgundy leaves and all shades in between.
23. Go Contemporary with Clean Lines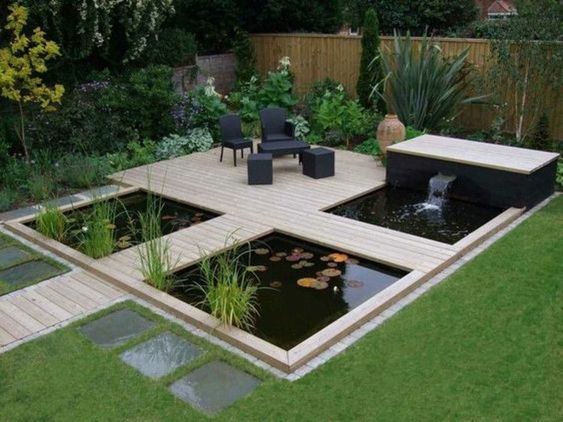 Japanese garden ideas can range from traditional to contemporary, and this option is certainly at the more modern end of the scale.
This garden features three equal-sized koi ponds bring a sense of balance; plus, there is some evergreen Japanese planting and a maple tree for interest. A small but important detail is the paving stone set up – three sets of three so it looks harmonious. The deck is an ideal place to set up some garden furniture and take some time out. The clean, straight lines create a relaxing, tranquil space.
This type of Japanese garden would work well in an urban environment.
24. Create an Oasis with Blurred Edges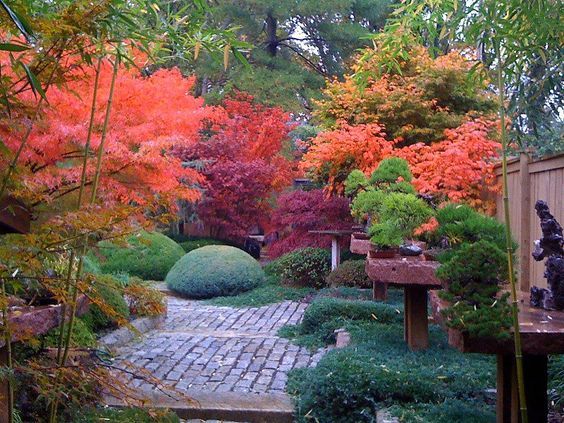 Feeling peaceful, relaxed, and zen is the aim of this Japanese style garden with its mixture of different coloured maples, bonsai trees and rounded evergreens.
When it comes to Japanese garden ideas that don't feel overly curated, this is a great option. It's something that you could feel totally relaxed, with blurred lines creating a soothing landscape that merges gently between one section and the next. Moss covered rocks and paving are an additional way to create a garden that feels relaxing, with a gentle flow – another way to blend sections together.
There is an old Japanese philosophy, wabi sabi, that focuses on an acceptance of imperfection. Examples of this are asymmetry, perhaps handmade objects that come out a little uneven, and objects that show the signs of aging.
This is great to bear in mind when creating a Japanese garden like the one above – things don't have to be perfect to work.
25. Use Screens in Long Gardens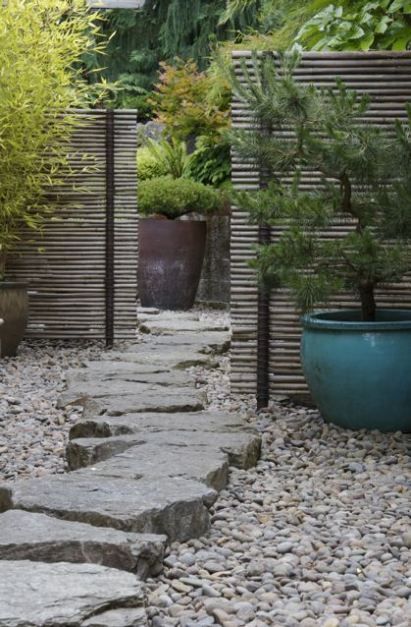 This Japanese style garden looks impressive but it's very simple. The bamboo screens cut the garden into sections, leading you on to the next part without revealing what's ahead.
It's a design trick that ensures you're totally absorbed in the moment. Stone and evergreen pine trees keep the Japanese theme going.
This would be a great design for a long thin garden.
26. Create Balance with Coloured Gravel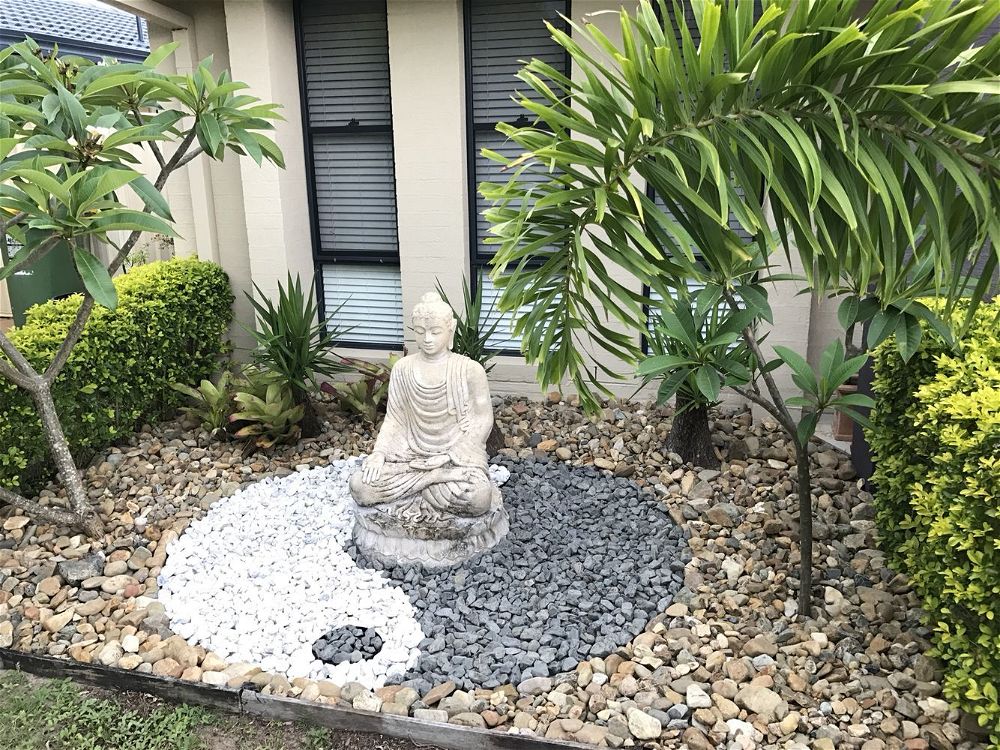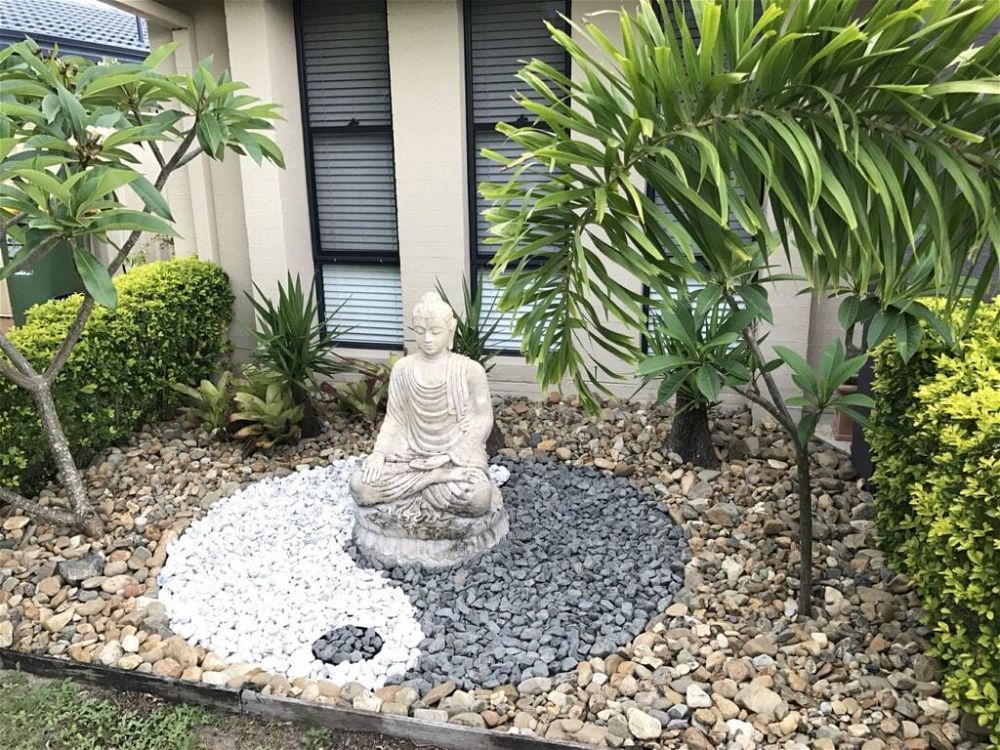 A simpler low maintenance front garden you couldn't find.
Love the ying-yang symbol in coloured stone with the relaxed buddha plus the evergreen box hedges that mark the boundary with softness.
You'll soon be friends with neighbours and passers-by as they stop to admire your handiwork.
27. Be Consistent with Materials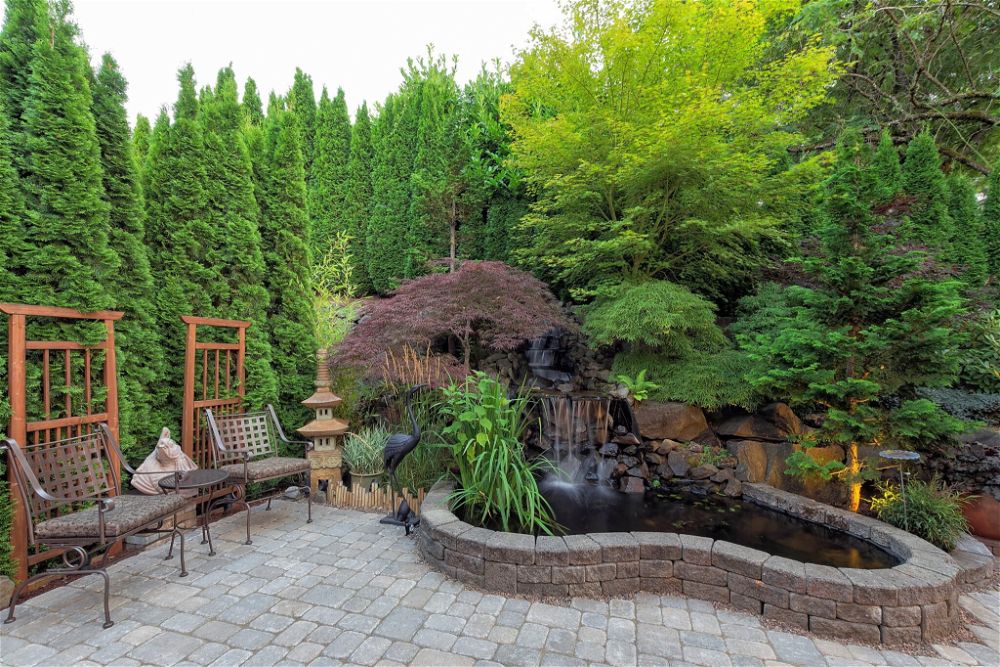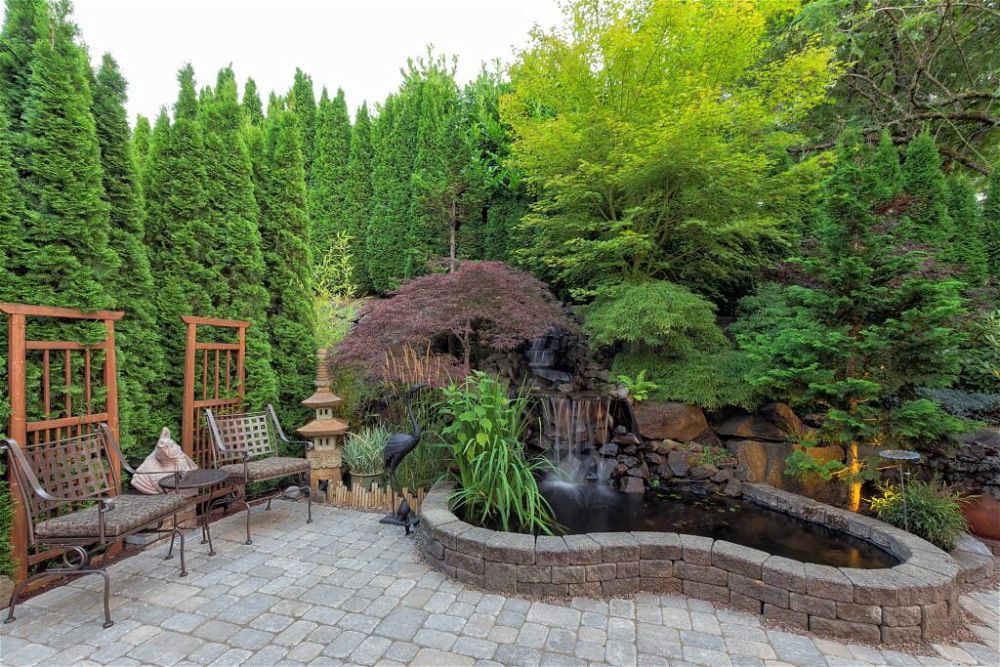 Creating a harmonious space is one of the main aims of these Japanese garden ideas. With that in mind, what a fantastic idea it is to build a koi pond in the patio's brickwork. This gives it a modern feel and the continuity of stone is very relaxing.
Acers and Japanese style planting soften the overall effect and let's not forget the ornamental lantern. It's the perfect patio for evenings by the gently lapping koi pond.
28. Build Horizontal Bamboo Fencing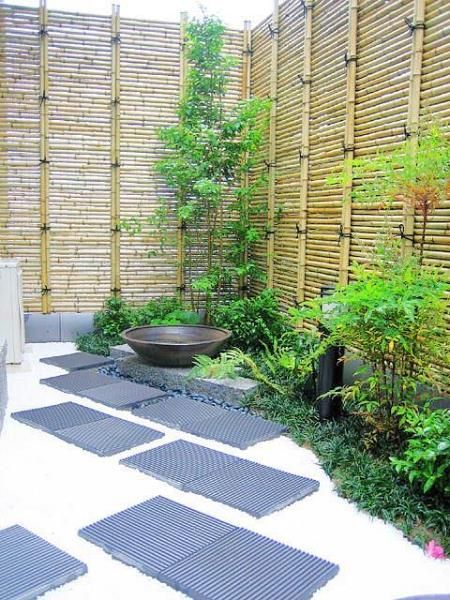 Bamboo is the best design for a beautifully zen outdoor fence and if you have live bamboo in the garden it pulls the theme together.
Bamboo fencing comes in different colours and you can use it horizontally or vertically. Here it sits extra high to block out the neighbours and create a perfectly calm place to relax.
FAQs
How can I create year-round interest in my Japanese garden?
There are seasonal plants that will add colours at certain times of the year, such as cherry trees for cherry blossom in spring, and maple trees for autumnal tones after summer. However, to make sure that you also have trees that will look good all year round, make sure to include some evergreen options like bamboo, curated pine trees and Japanese privet.