Japanese Garden Ideas
1. Japanese Garden For Small Spaces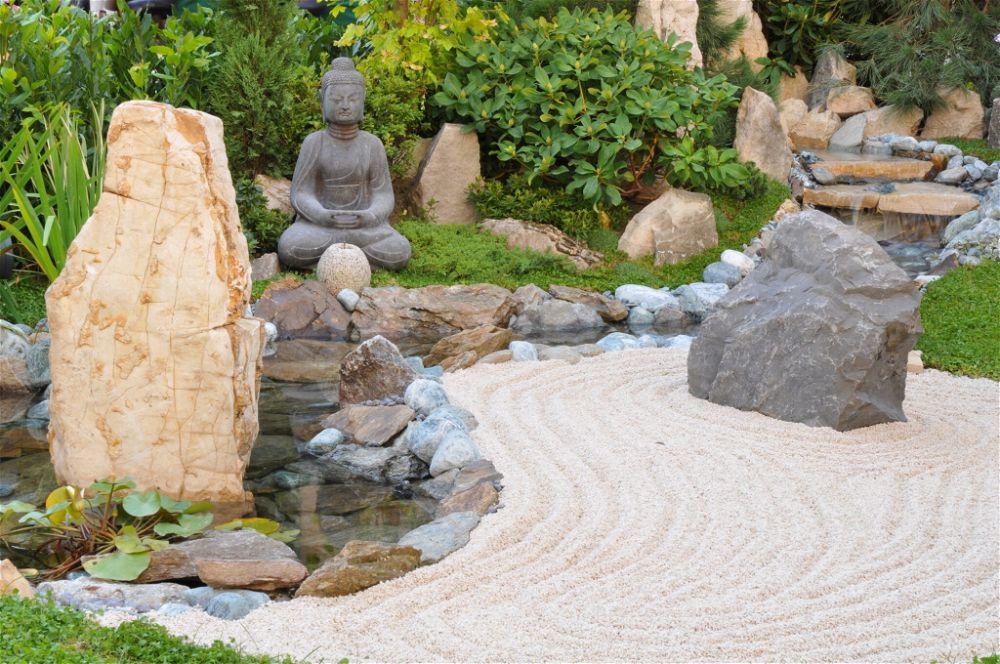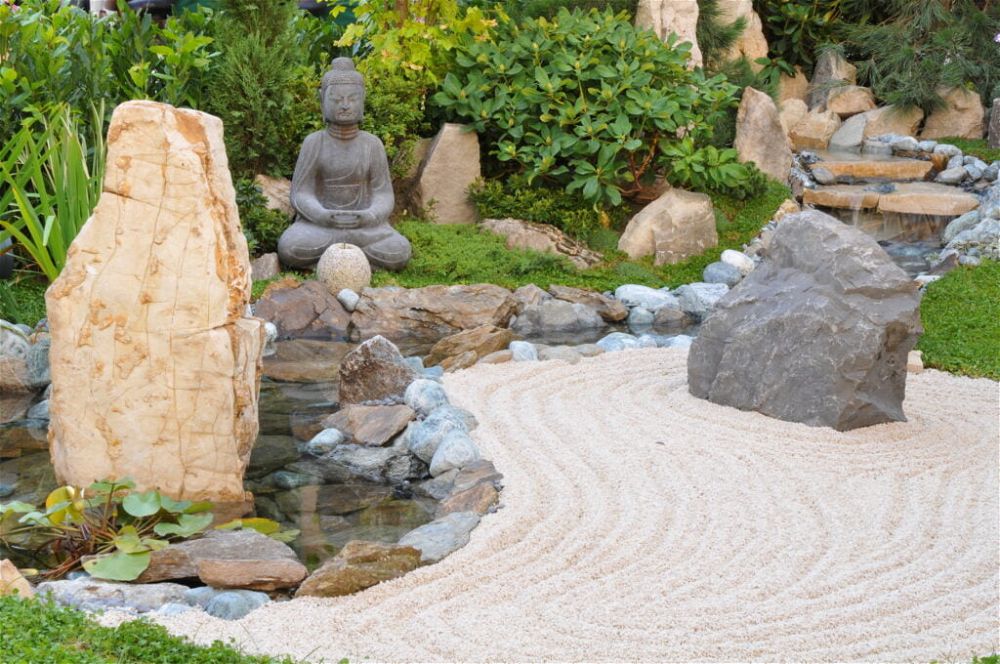 Here are all the aspects of a Japanese garden but in a small space!
We have running water, rocks, decorative sands, and the Buddha combined to make a small but perfectly formed Japanese garden. Be sure to buy the dwarf variety of any plants so they don't outgrow their welcome.
2. Small Japanese Garden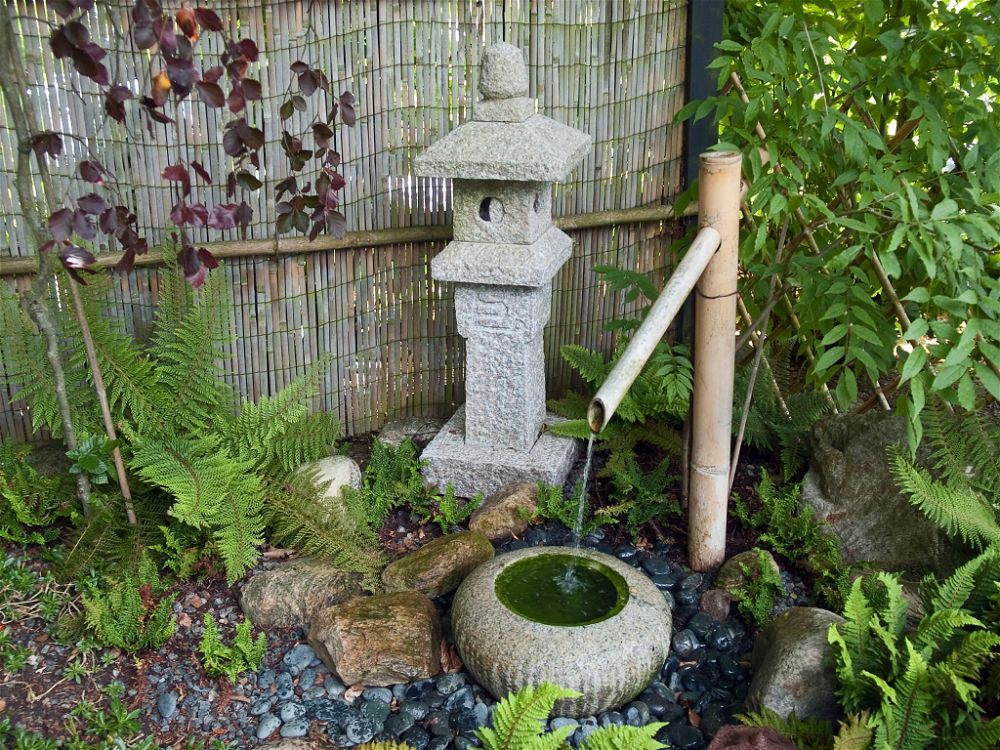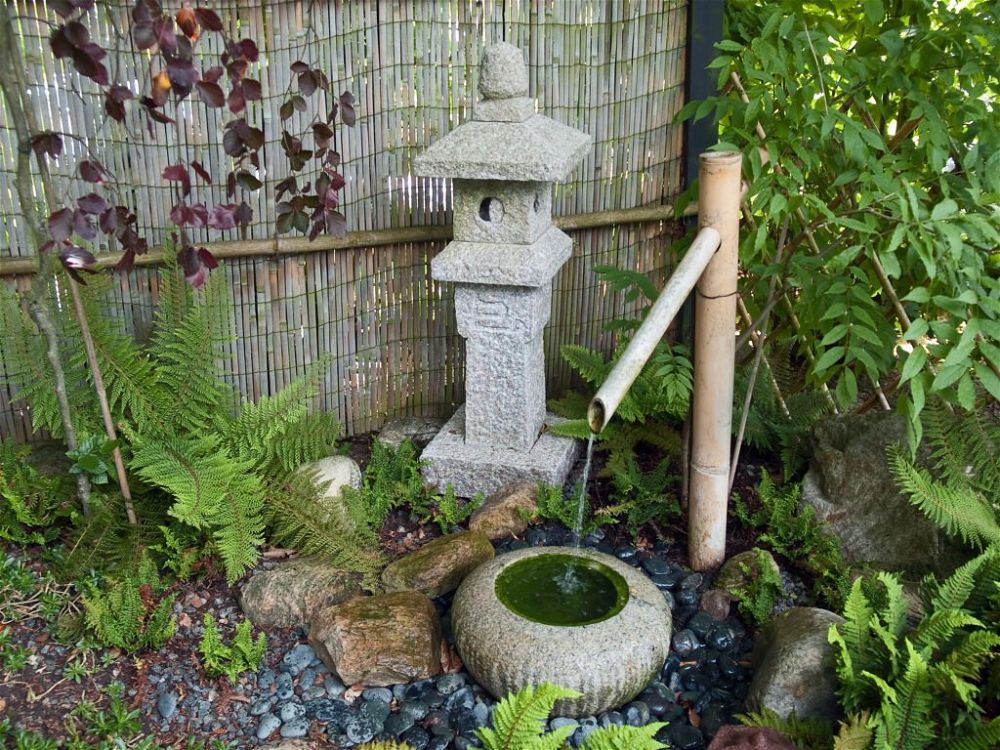 Small Japanese gardens are an eye-catching feature in any outdoor space. Here they've chosen a corner of the garden and added a bamboo water feature, a Japanese lantern, stones, and ferns. It's quintessentially Japanese but small enough to fit in anyone's garden.
3. Japanese Garden Landscaping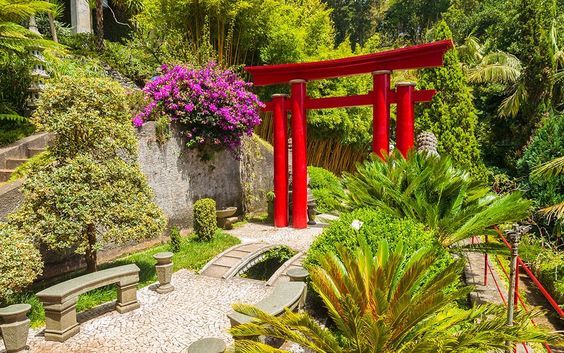 A unique Japanese landscaped garden – no grass to mow! The red Japanese archway, bridges, and plenty of benches to contemplate life are essential elements and mix here perfectly.
The bright azalea and standing rock compliments the plain stone landscape too. It's so relaxing!
4. Japanese Style Garden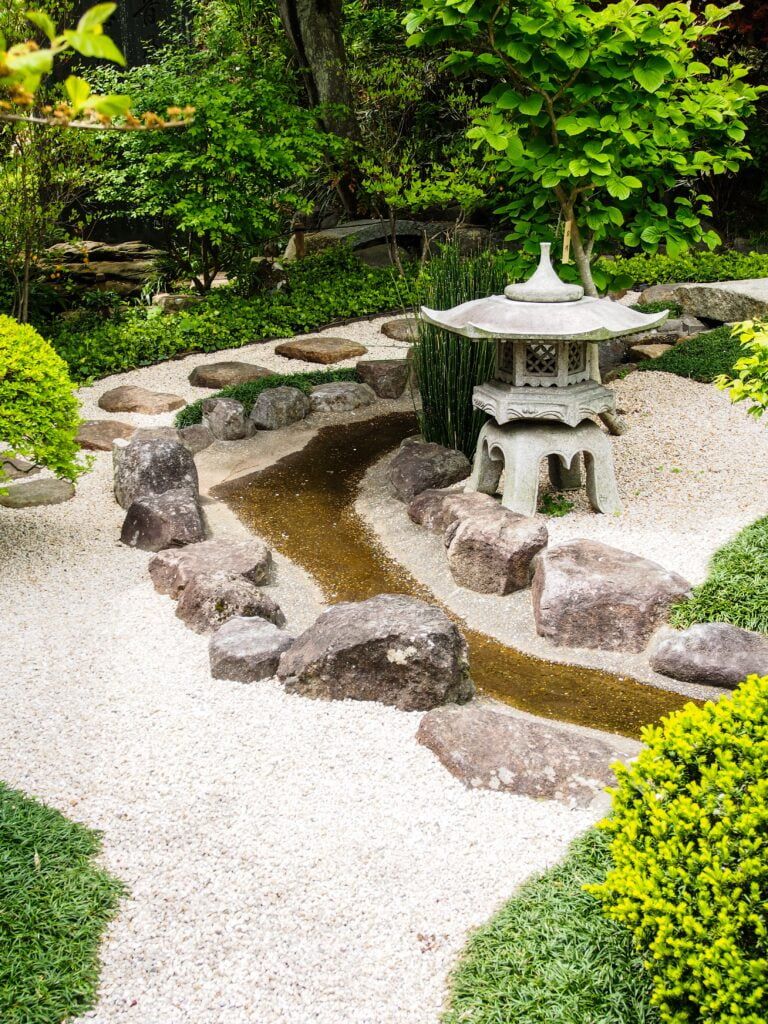 A Japanese garden needs the main elements of water, stone, clipped evergreens, and a main focal point – such as this stone lantern. Love how the bright white stone is offset by natural rocks and a trickle of water – just enough to make a relaxing musical sound.
5. Japanese Garden Design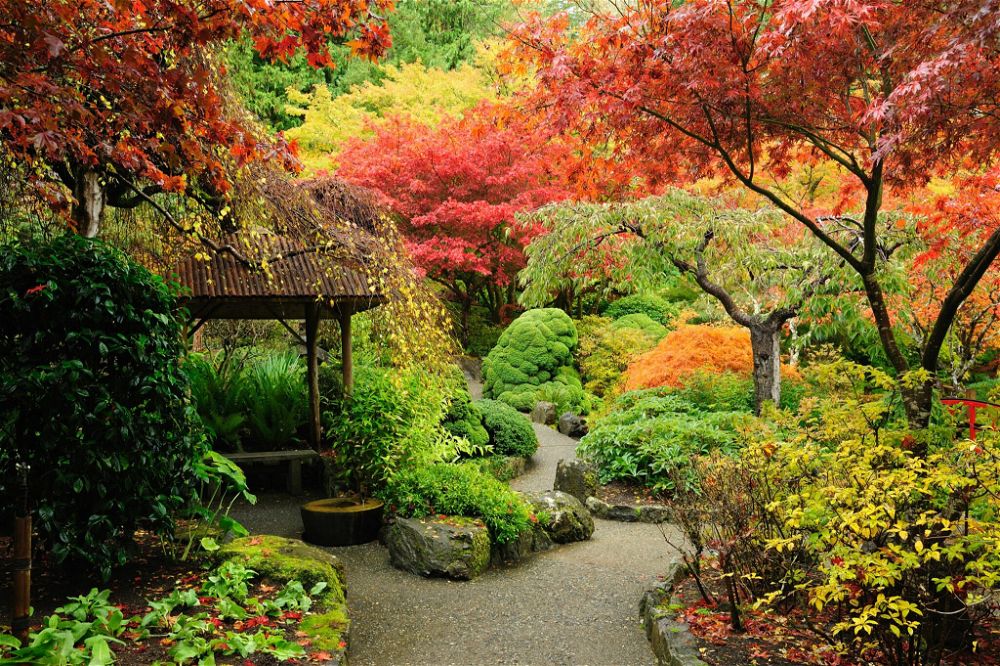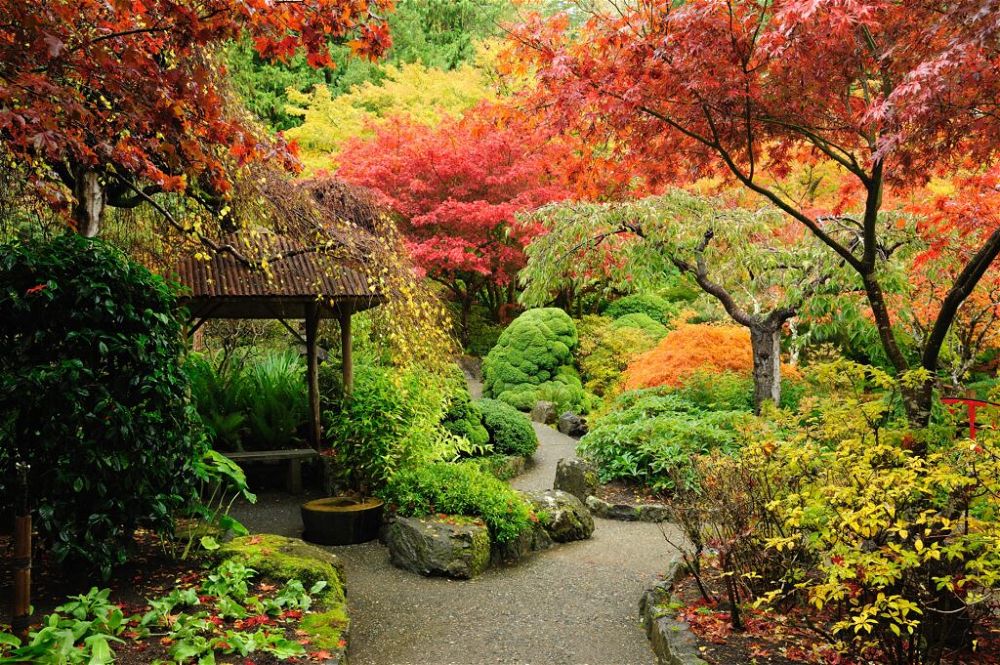 When you're designing a Japanese garden be sure to think about how it will look in spring and autumn.
Japanese design gardens often contain cherry blossom in April and rich autumnal colour from acers and maples as we approach winter. Love how the yellows, reds, and orange tones surround this seating area.
6. Small Japanese Garden Design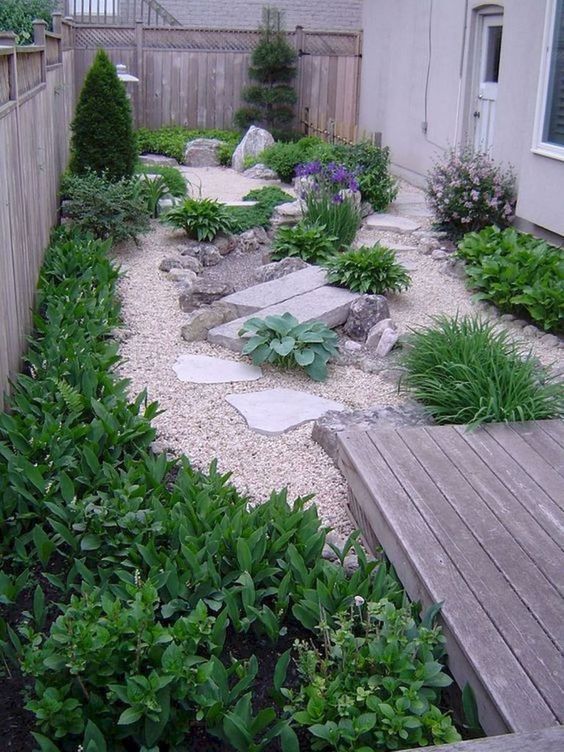 Transform a small garden with a Japanese design. This is a beautifully planted space with lots of greenery and a few well-chosen upright evergreens.
The pale gravel brightens the space matching with the house colour and a pop of interest is provided by the blue agapanthus. Excellent use of large natural stones too – and all in one small area.
7. Japanese Garden Planting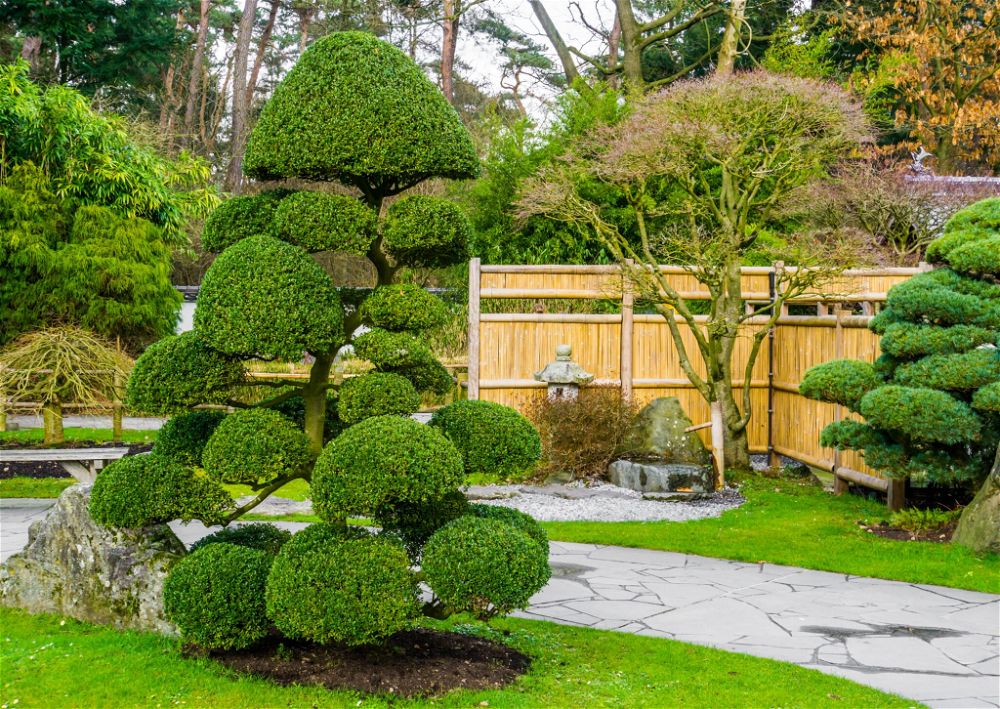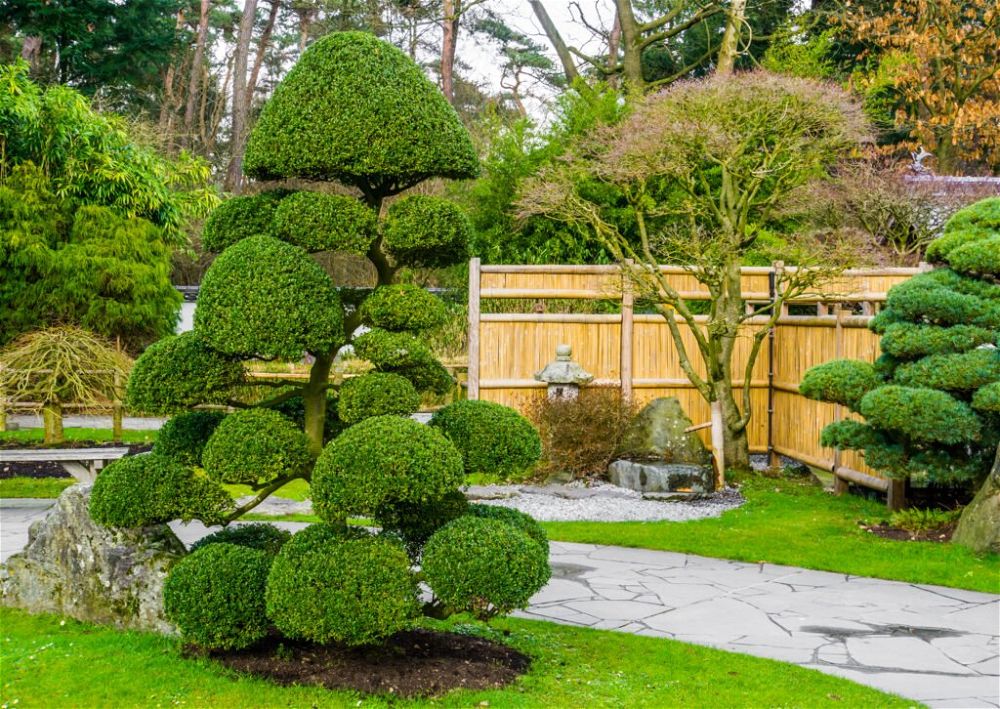 There are lots of options for Japanese garden planting from maples and acers, to bamboo and long grasses but there's also cloud-pruned topiary.
Cloud-pruned means you can prune it any way so long as it makes rounded shapes. It's easy to achieve and looks great all year round.
8. Simple Japanese Garden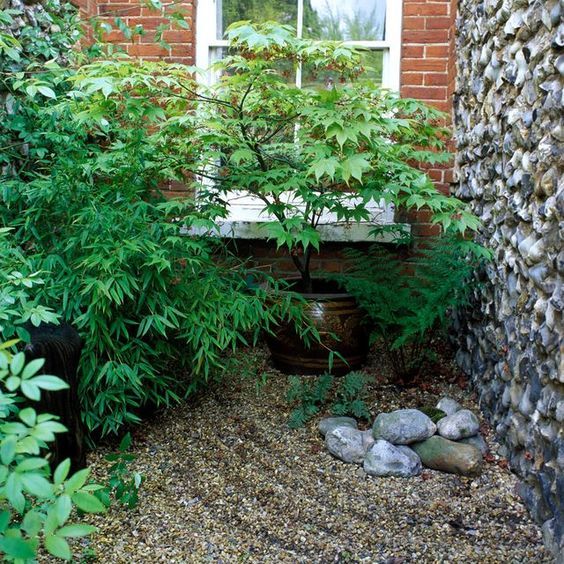 The simplest of Japanese theme gardens is right here!
Buy an acer for a Japanese style container and set it on gravel that you can rake into interesting shapes. Put an artful pile of neutral stones nearby and you have a simple Japanese garden to adore.
9. Japanese Stone Garden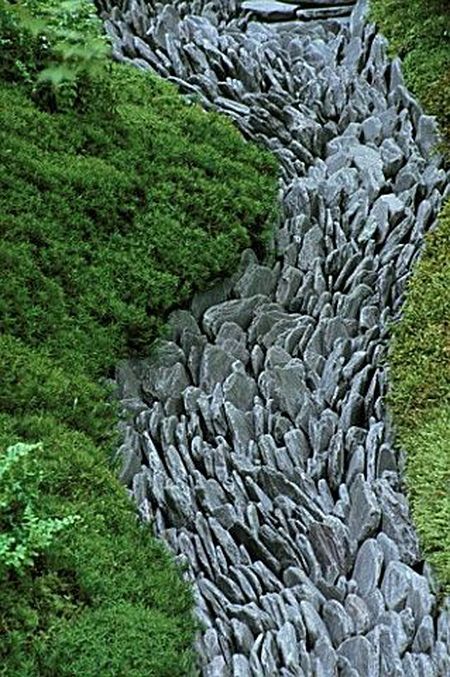 Stones and water are integral parts of Japanese gardens – so why not combine them with this fantastic idea. Upturned slates mimicking a river. It looks especially good contrasting with the bushy evergreens – another important aspect of Japanese gardens.
10. Small Backyard Japanese Garden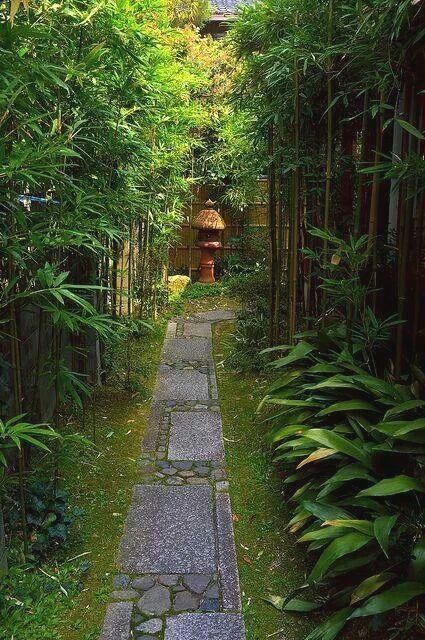 A small overlooked garden is transformed with Japanese styling.
Run tall bamboo along the fenceline to block out your neighbours and add a natural stone path to a Japanese lantern. You could make this a water feature if inclined. What a way to spruce up your small backyard!
11. Japanese Tea Garden Design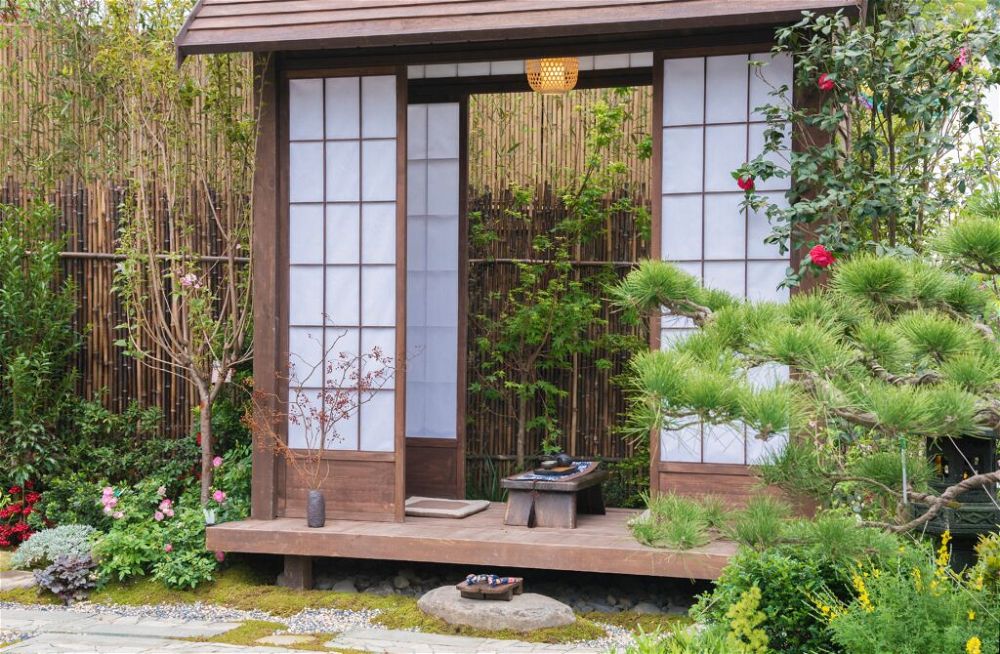 Tea in the garden? Yes please – and it's even better Japanese style. A tea house or pagoda is the best place to drink your green tea on a hot day – or even if it's raining. Love the bamboo fence screening and natural stone touches.
12. Japanese Garden Plants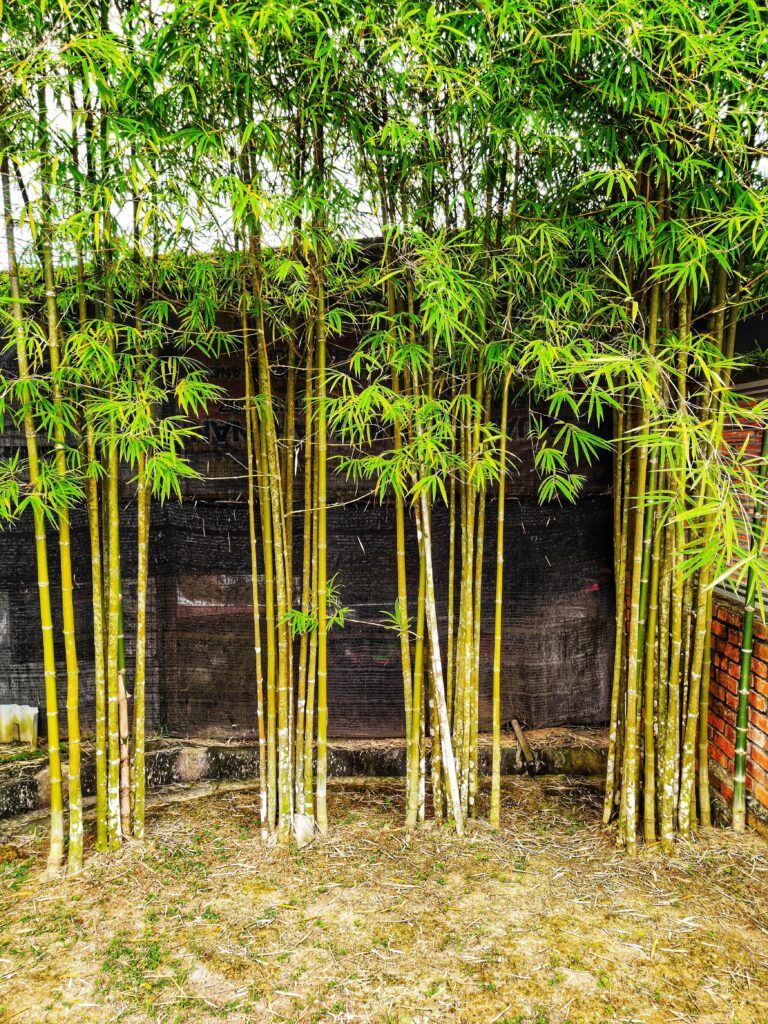 Bamboo is the ultimate in Zen planting. It looks beautiful all year round and the foliage whispers in the wind.
This is golden bamboo but there are black, green, and brown versions too. Be sure to use a rhizome blocker or container plant them as bamboo is invasive and will spread quickly.
13. Japanese Garden Decorating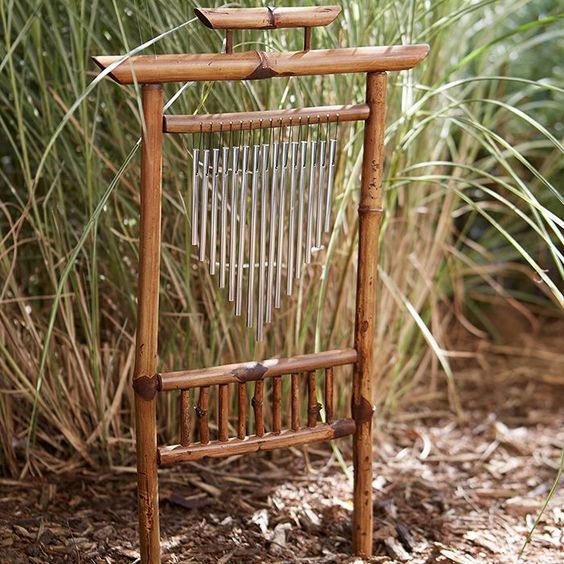 Check out this Japanese style windchime. It's the perfect decoration for a themed garden and brings the added benefit of tinkling musical chimes to contemplate as you cross bridges and sip tea. The bamboo frame is in keeping and the shape is reminiscent of a Japanese arch.
14. Japanese Balcony Garden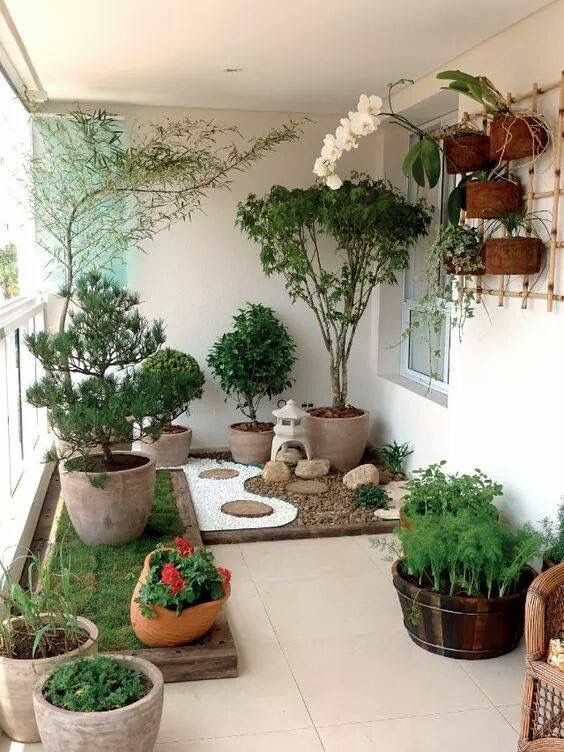 If you have a balcony and want to theme it in the Japanese style check out this small balcony with plenty of character. Acers, bamboo, contrasting gravel, natural stone and a feature. Best balcony garden ever.
This could also work on decking or in a garden pagoda.
15. Japanese Garden On A Budget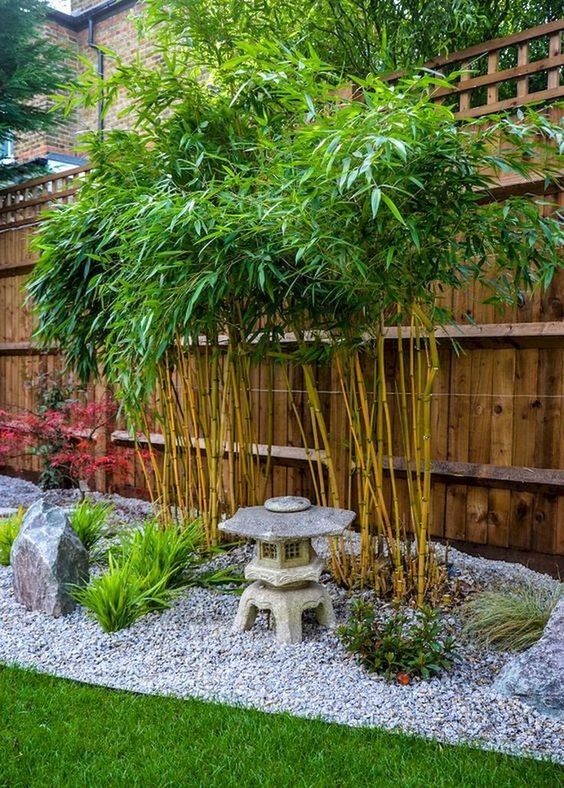 Working to a budget isn't a problem – choose a section of your garden and make it work rather than stretching across the whole space.
Here they've used inexpensive golden bamboo, gravel, an acer, one natural stone and one lantern decoration. You could use any strappy grasses or evergreens such as small bare-root box plants and trim them into cloud shapes as they grow.
16. Japanese Rock Garden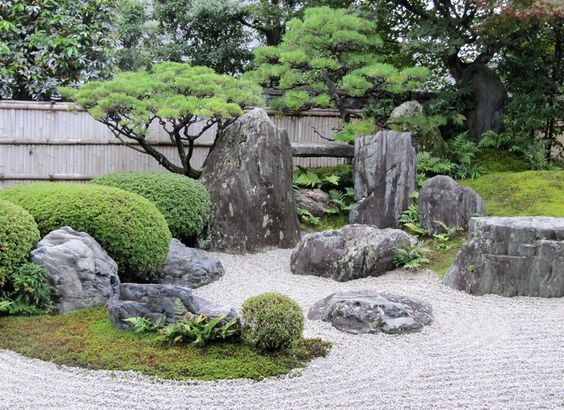 This Japanese rock garden is both interesting and relaxing. It has topiary evergreens and raked sand but it's the rocks that steal the show.
Low to high and some hiding behind greenery, they look fantastic and because the stones are natural every rock garden will be individual.
17. Japanese Garden Gates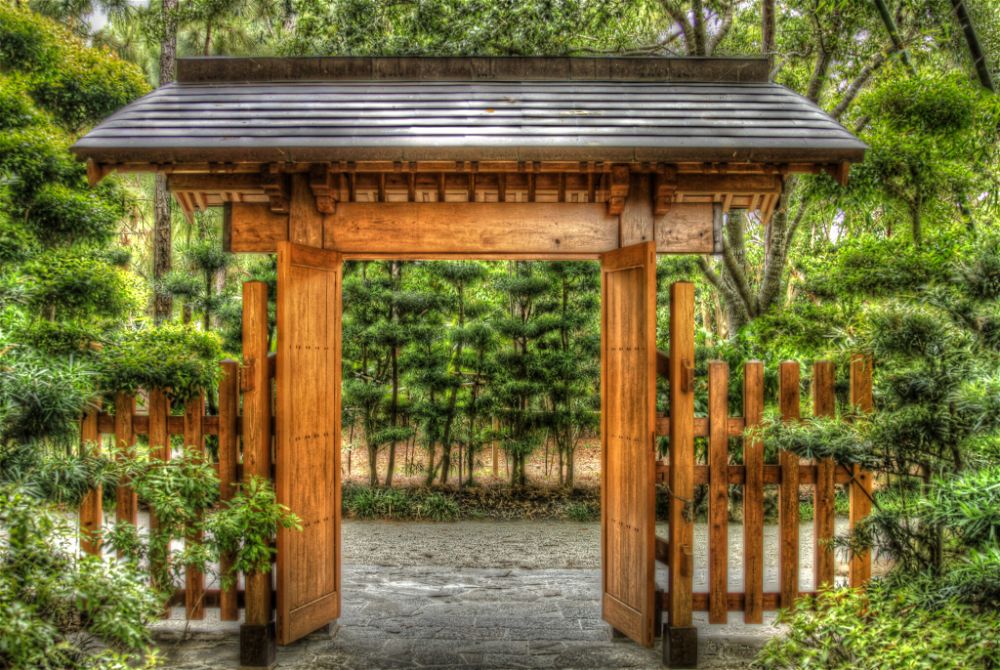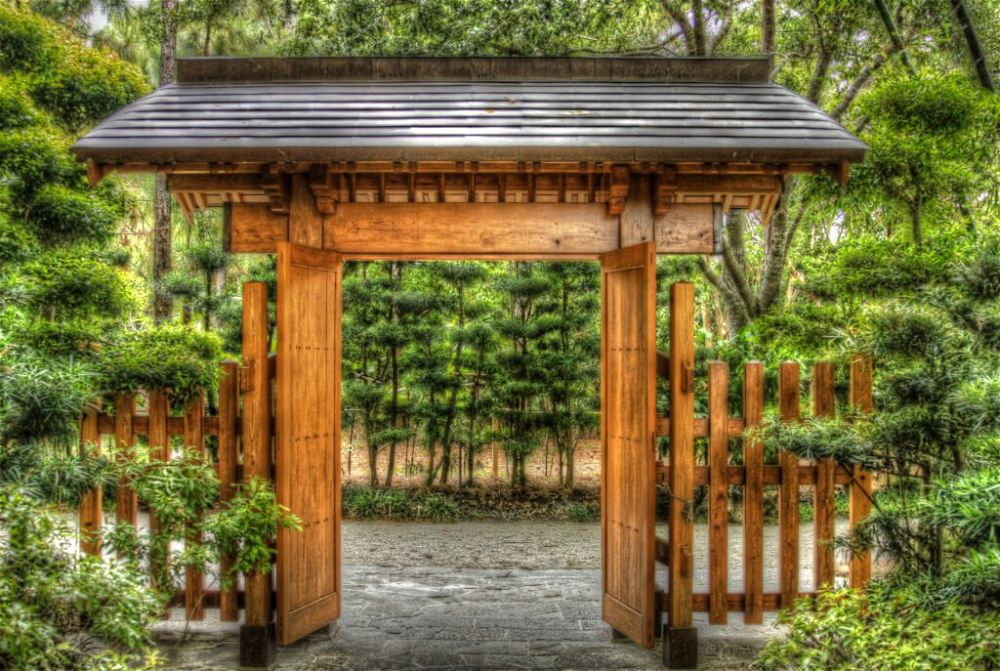 Love these Japanese garden gates. They're made from mid-tone wood with an oriental style roof and they certainly create some impact when approaching the garden.
These gates are the perfect entrance to any garden Japanese or not – talk about impressing the postman!
18. DIY Japanese Garden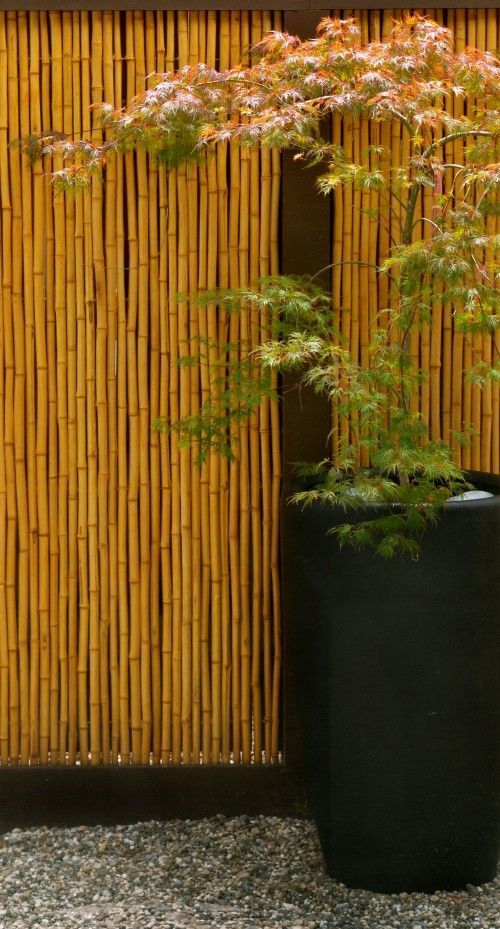 Building a DIY Japanese garden fence or a privacy screen is simple. You need a rectangle-shaped frame of sturdy wood filled with vertical bamboo canes.
This can be repeated around your garden or used as a focal point. If you're handy with a saw this is one of the easiest DIY projects around.
19. Japanese Home Garden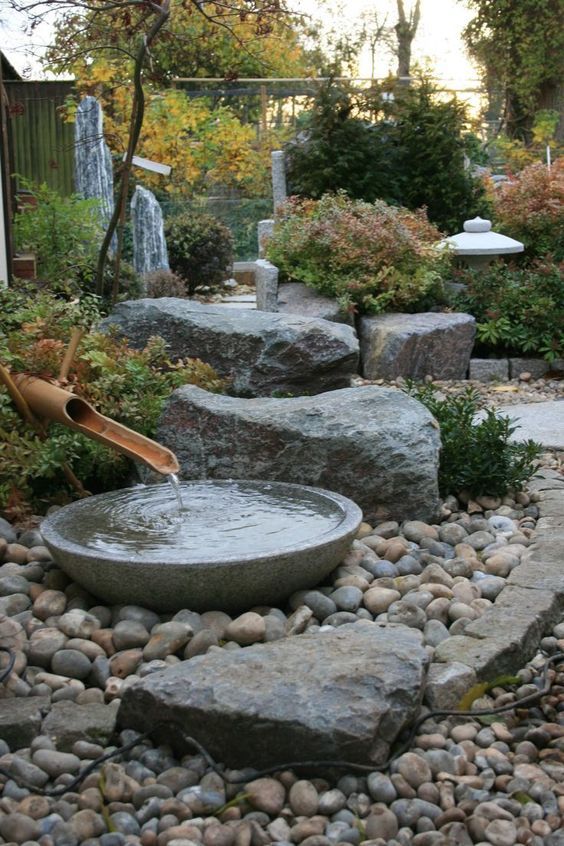 This Japanese home garden has a beautiful water feature complete with a bamboo waterfall. It sits so well in the rock garden of standing stones and pebbles. You could sit by this for hours with a cup of green tea contemplating the tinkle of water.
20. Japanese Garden Design For Small Gardens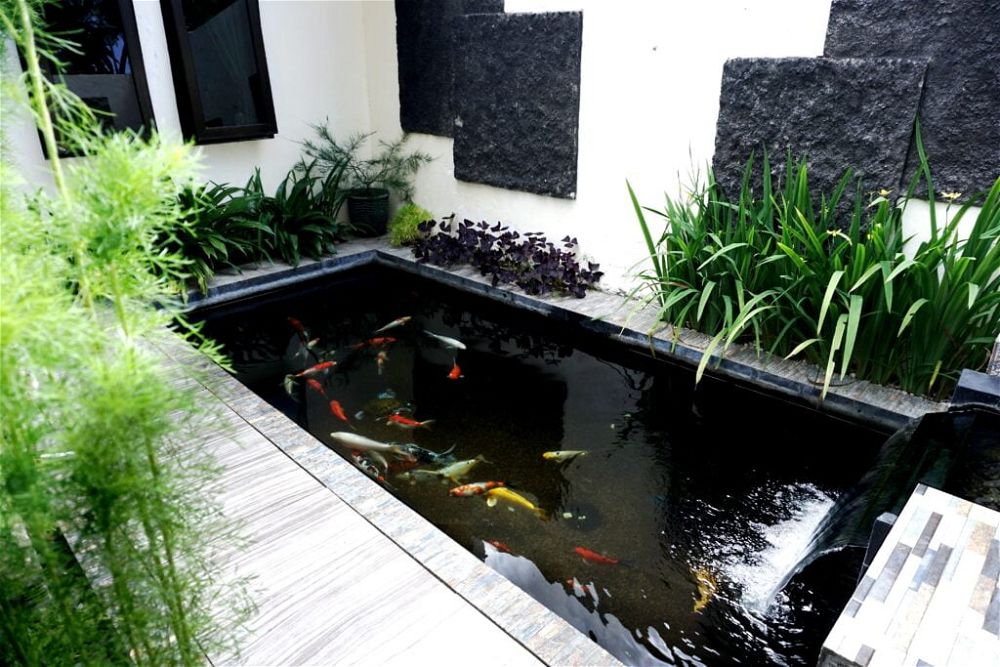 Why not take over your entire small garden with a large Japanese koi pond? If you don't need a lawn why bother mowing when you can sit here and relax.
Loving the large slate wall squares that echo the pond shape and the sheet water fountain – don't forget the bamboo!
21. Japanese Theme Garden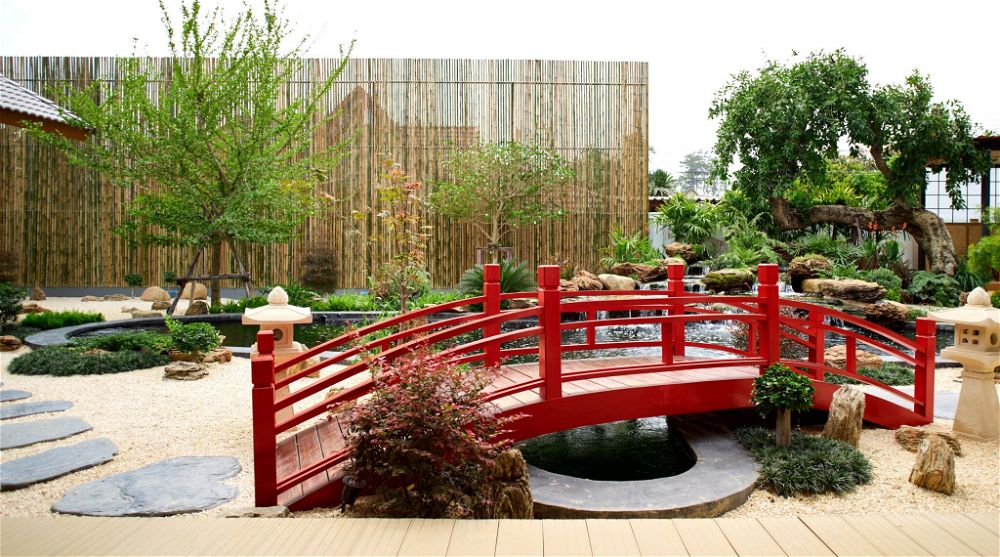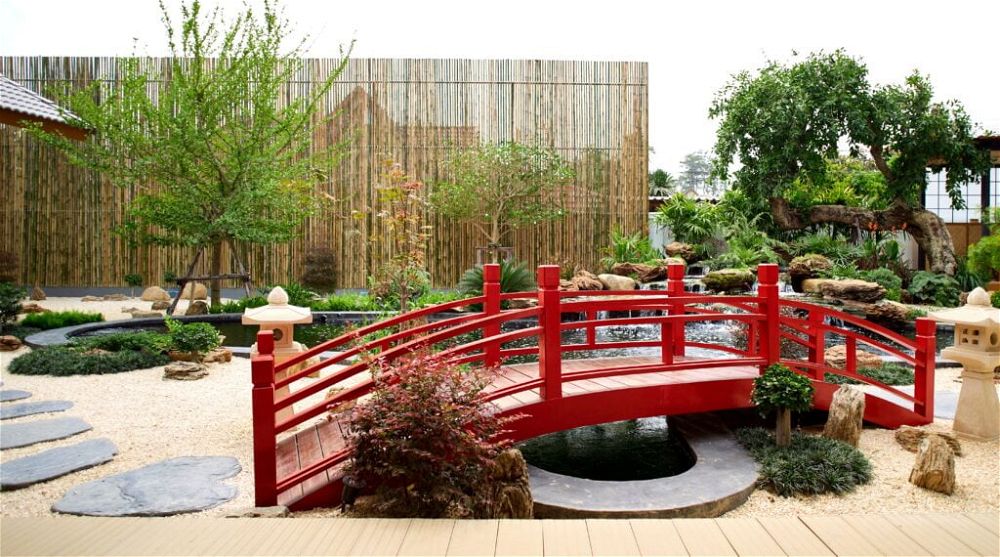 You can't miss this bright red Japanese bridge over an untroubled pond.
This Japanese theme garden is full-on and looks amazing. The bamboo screen blocks out nosy neighbours and there's no grass to mow – woo!
Imagine walking around here on a warm day just drinking in the atmosphere, and then at night stone lanterns illuminate the bridge. Perfection.
22. Japanese Maple Garden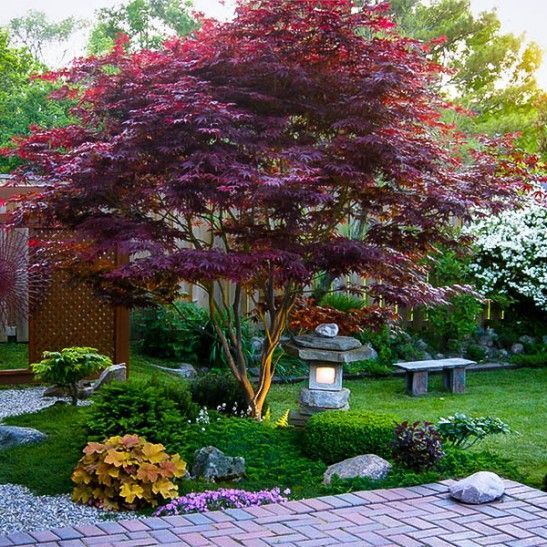 Maples are stunning trees particularly in autumn when their leaves turn all shades of russet.
A Japanese maple garden is one of the few styles that look best as the growing season is ending. Maples can be planted en-masse or use just one as a focal point.
There are white leaves, yellow leaves, burgundy leaves and all shades in between.
23. Contemporary Japanese Garden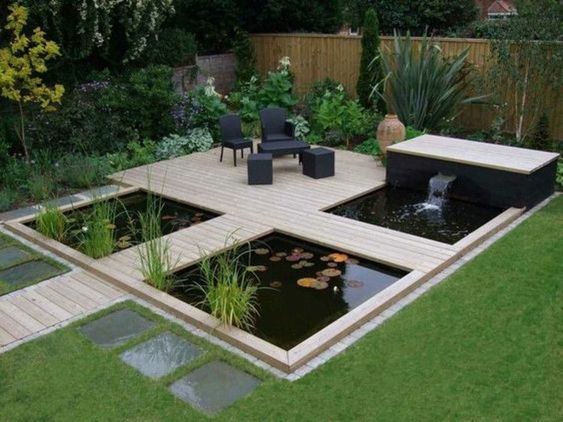 Bang up-to-date this contemporary Japanese garden is a pleasure to spend time in.
Three equal-sized koi ponds bring a sense of balance and we have the evergreen Japanese planting plus a maple for interest. A small but important detail is the paving stone set up – three sets of three so it looks harmonious.
This type of Japanese garden would work well in an urban environment.
24. Japanese Zen Garden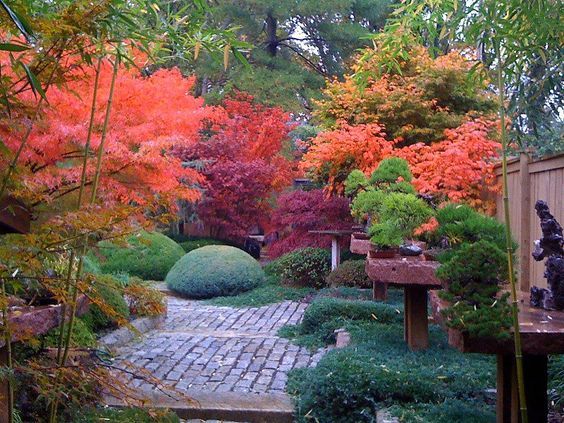 Feeling peaceful, relaxed, and zen is the aim of this garden with its mixture of different coloured maples, bonsai stands, and rounded evergreens.
This is somewhere you could feel totally relaxed. There's so much to look at you'll forget all those worries.
25. Easy Japanese Garden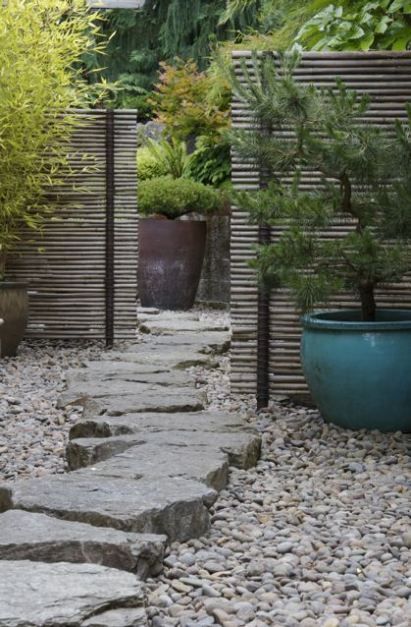 This Japanese style garden looks impressive but it's very simple. The bamboo screens cut the garden into sections which lead you on to the next part.
It's a garden design trick that ensures you're totally absorbed in the moment. Plenty of stone and evergreen trees keep the Japanese theme going.
This would be a great design for a long thin garden.
26. Japanese Front Garden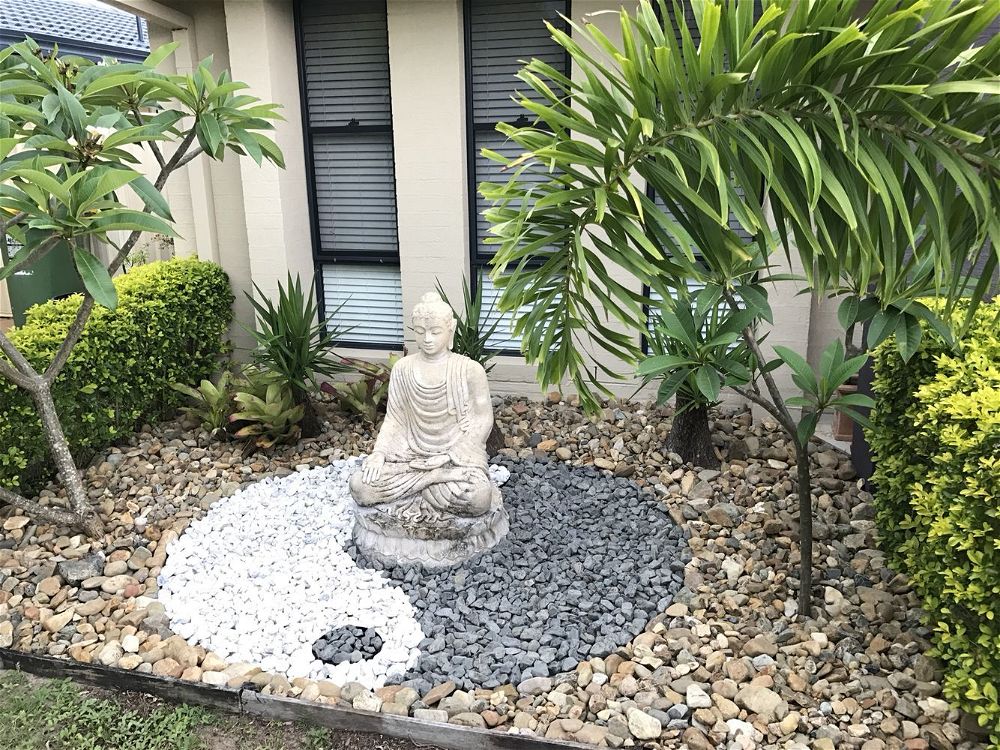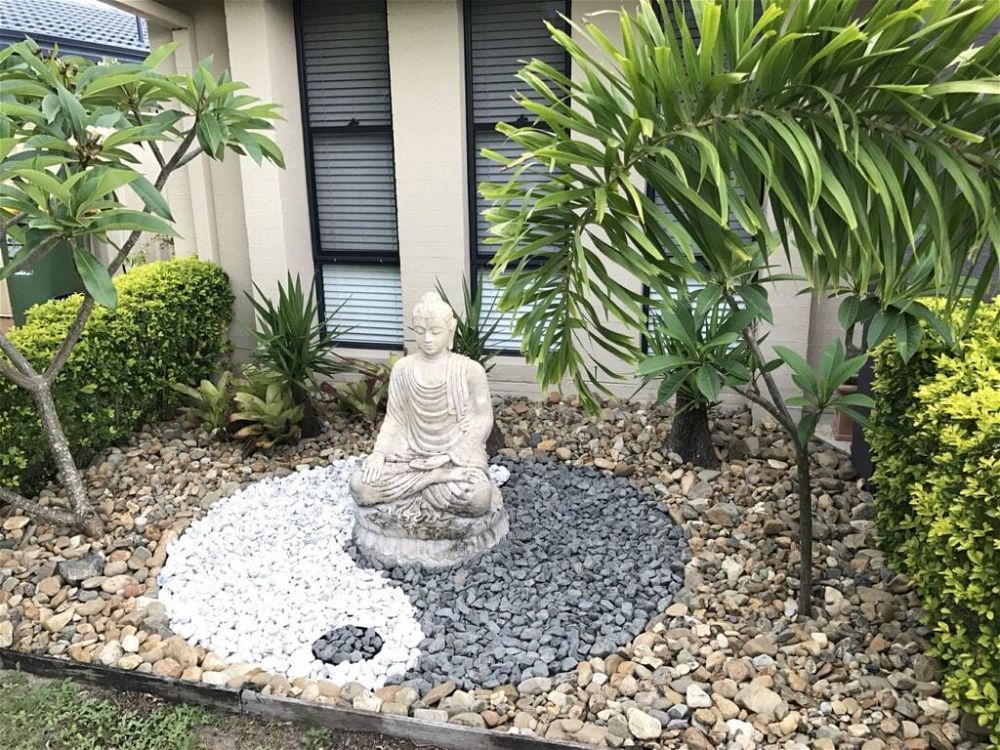 A simpler low maintenance front garden you couldn't find.
Love the ying-yang symbol in coloured stone with the relaxed buddha plus the evergreen box hedges that mark the boundary with softness.
You'll soon be friends with neighbours and passers-by as they stop to admire your handiwork.
27. Japanese Garden Patio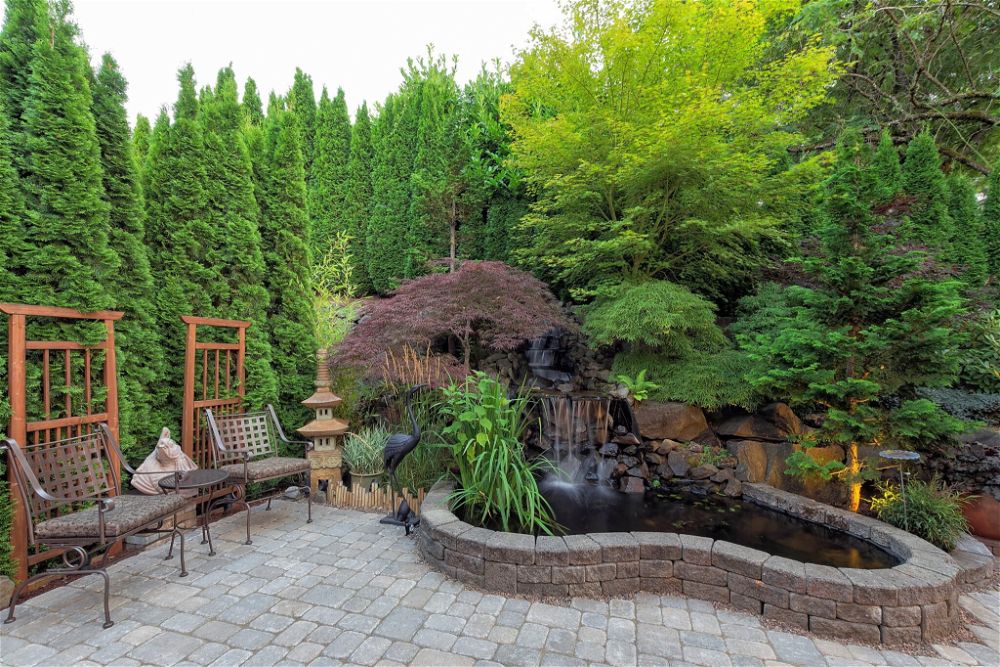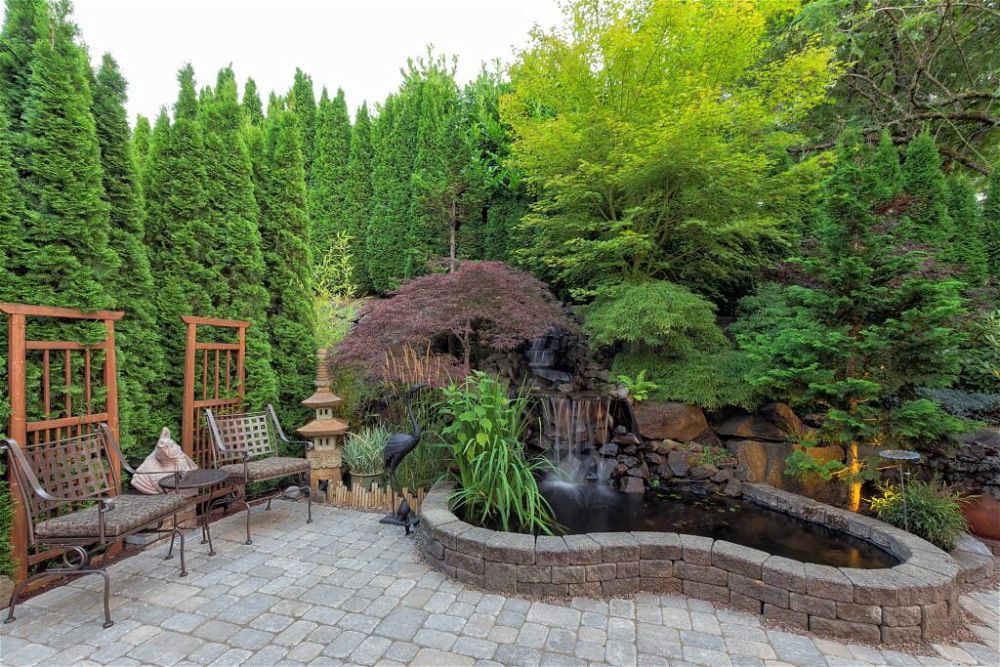 What a fantastic idea it is to build a koi pond in the patio's brickwork. This gives it a modern feel and the continuity of stone is very relaxing.
Acers and Japanese style planting soften the overall effect and let's not forget the ornamental lantern. It's the perfect patio for evenings by the gently lapping koi pond.
28. Japanese Garden Fence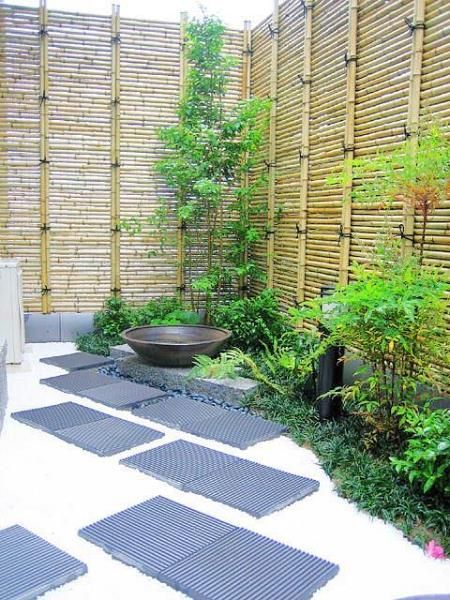 Bamboo is the best design for a beautifully zen outdoor fence and if you have live bamboo in the garden it pulls the theme together.
Bamboo fencing comes in different colours and you can use it horizontally or vertically. Here it sits extra high to block out the neighbours and create a perfectly zen relaxing space.
Japanese zen gardens are a pleasure to create and then relax in!
You don't have to transform your entire outdoor space to enjoy a zen garden. If you have limited space choose an area and concentrate on perfecting it. Just make sure you have a seat nearby so you can enjoy the zen atmosphere and forget the world's hassles.