Garden Ideas on a Budget
1. Small Garden On a Budget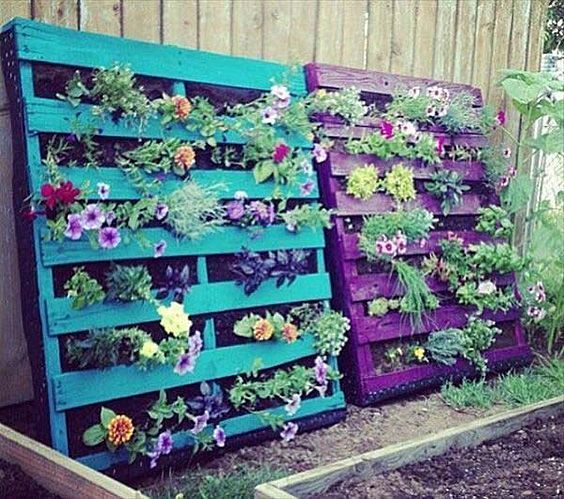 Small gardens can be beautiful without spending lots of cash. This budget-friendly pallet is blinged up with vibrant paint and filled with inexpensive bedding plants.
Bedding plants are cheap to buy especially if you choose plug plants and grow them on. You could make just one of these pallet planters or a whole set of them lining the garden fence.
2. Front Garden on a Budget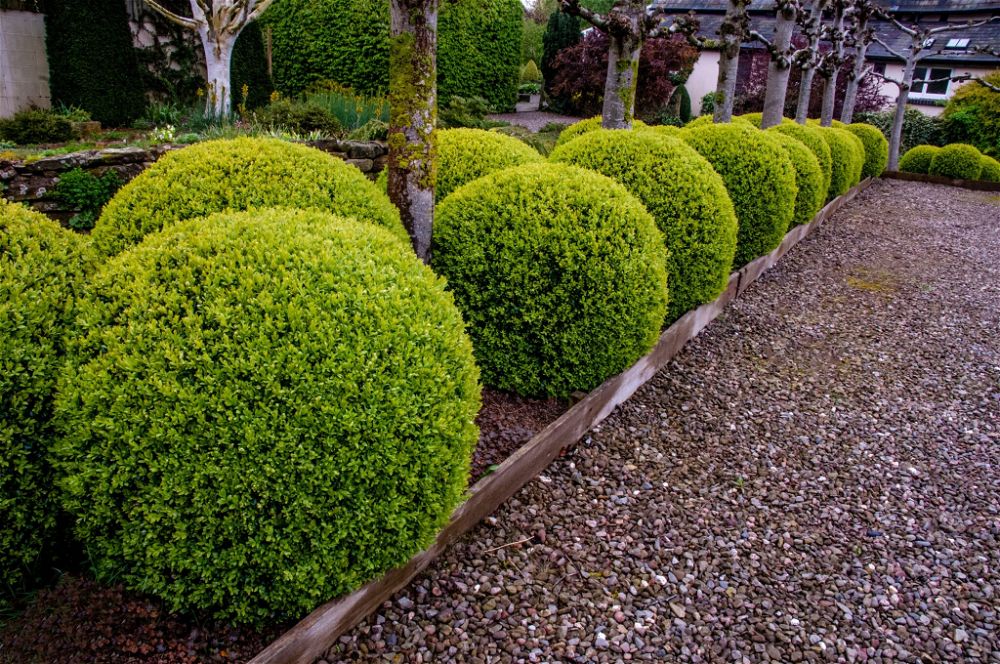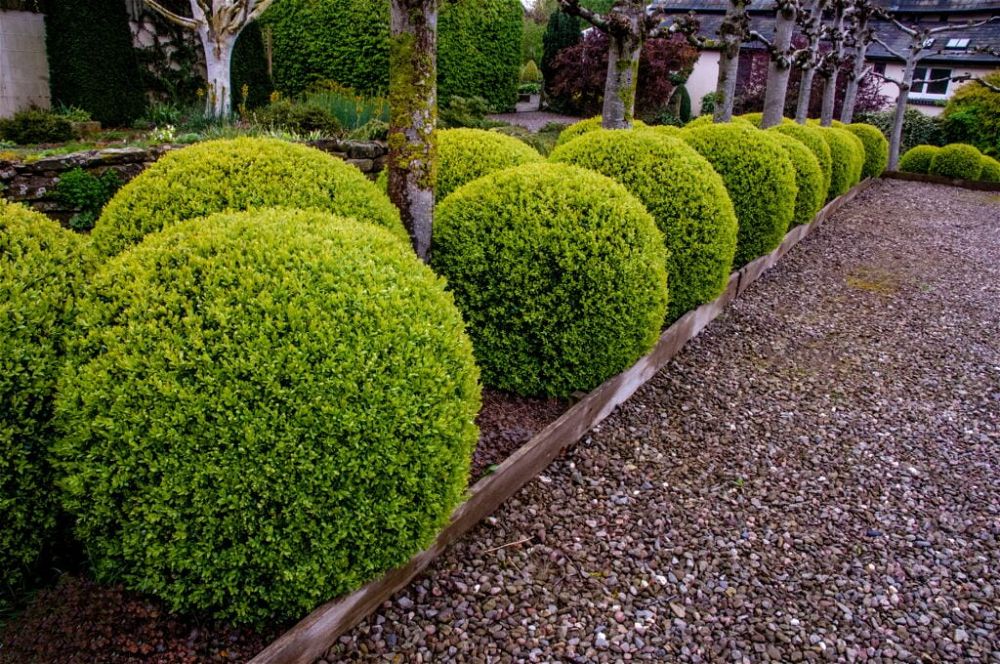 Front gardens always look smart with box balls. These are large and pricey, but you can easily grow box plants from a smaller size.
Buy a pack of eight in the garden centre, water, feed, and trim them regularly and within two-three years you'll have box nearing football-size adorning your front garden.
3. Garden Design on a Budget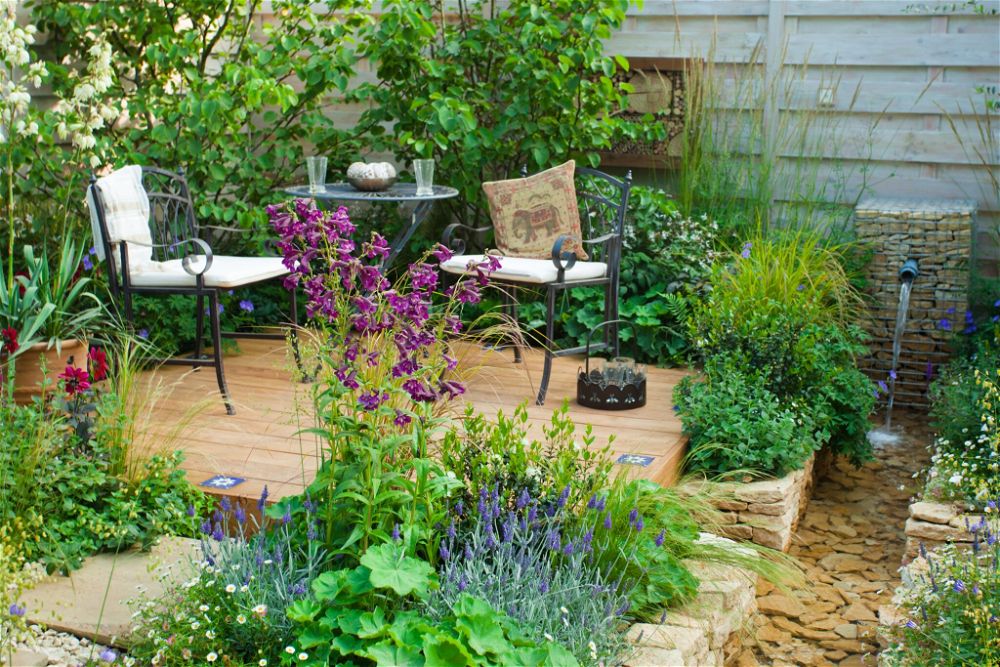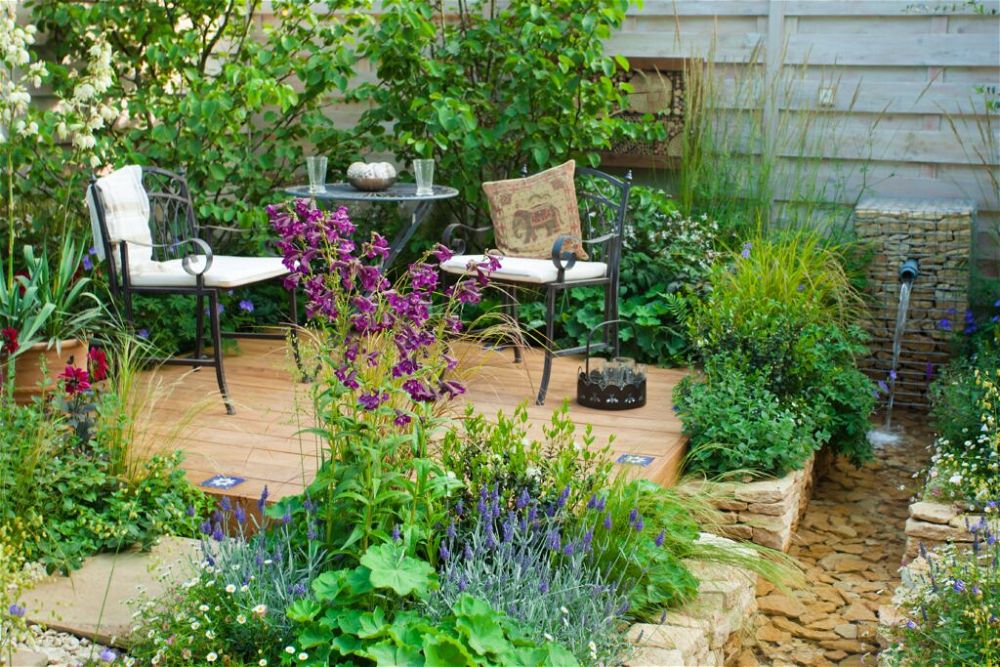 Take inspiration from this photo and design a relaxing area on a budget.
Here they've created a small raised deck and filled the exposed edges with brick and stone raised beds.
Lavender fills the air with a relaxing scent and there's barely any outlay once it's finished. This garden design is future budget-friendly.
4. Simple Garden on a Budget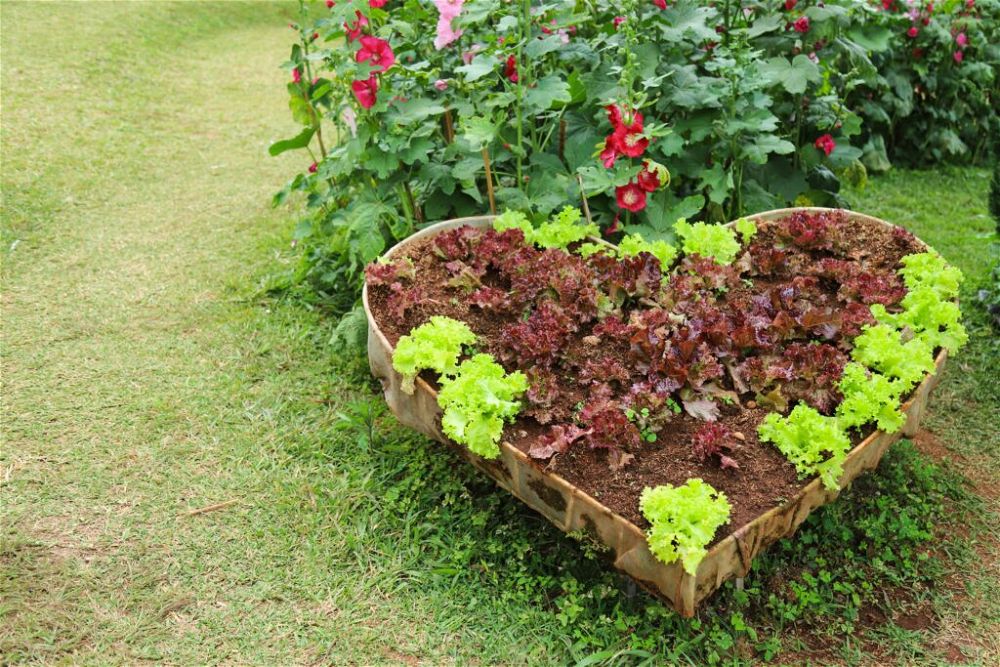 Here's a simple but fabulous garden on a budget!
Raised beds are great for growing your own veggies and this heart-shaped bed is a twist on the standard rectangle.
There are two different types of lettuce in this bed and the colours have been planted out in an eye-catching way. Who would have thought lettuce could be a design feature? Take up the challenge and find a cheaper plant option!
5. Garden Patio on a Budget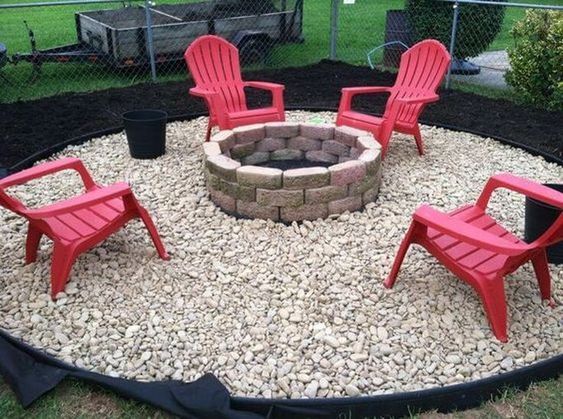 An unusual design on a traditional garden patio, this is pea gravel or stone-filled space without a paver in sight. You can buy pea gravel in bulk to make it budget-friendly.
The centerpiece here is a brick built fire pit that's perfect for cool evenings or cooking your BBQ. It's easy to build a brick BBQ yourself.
6. Small Garden Design on a Budget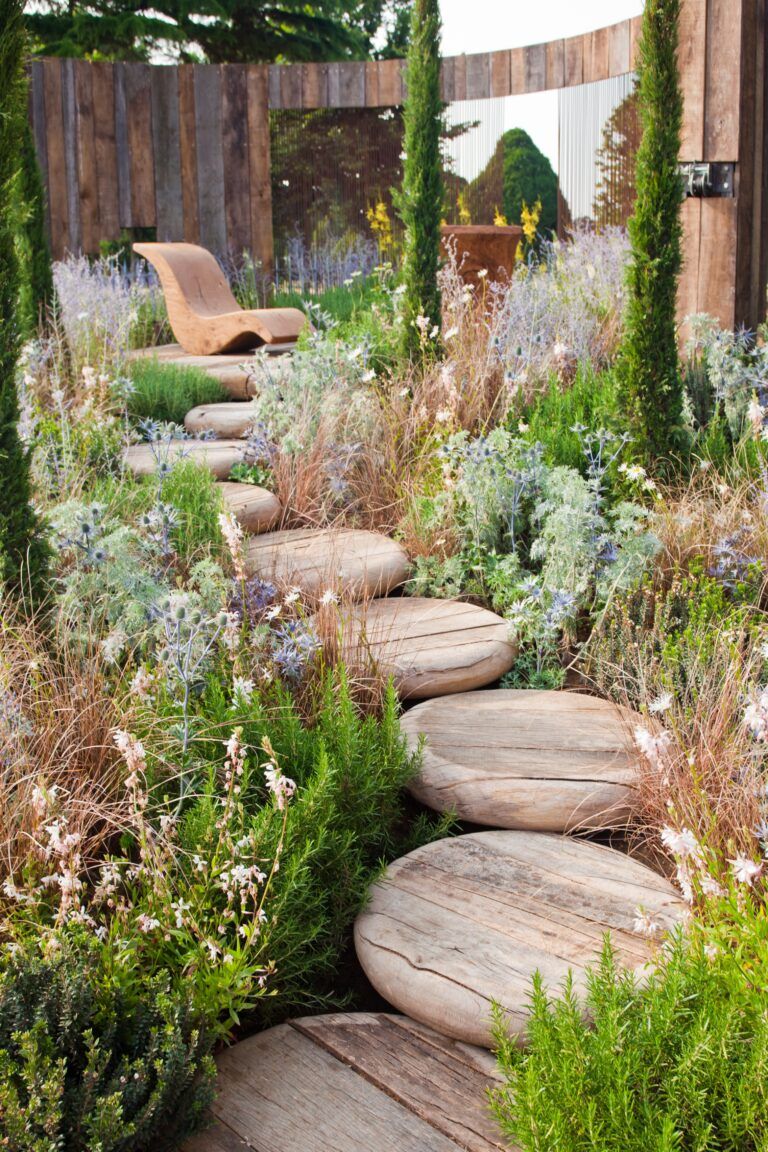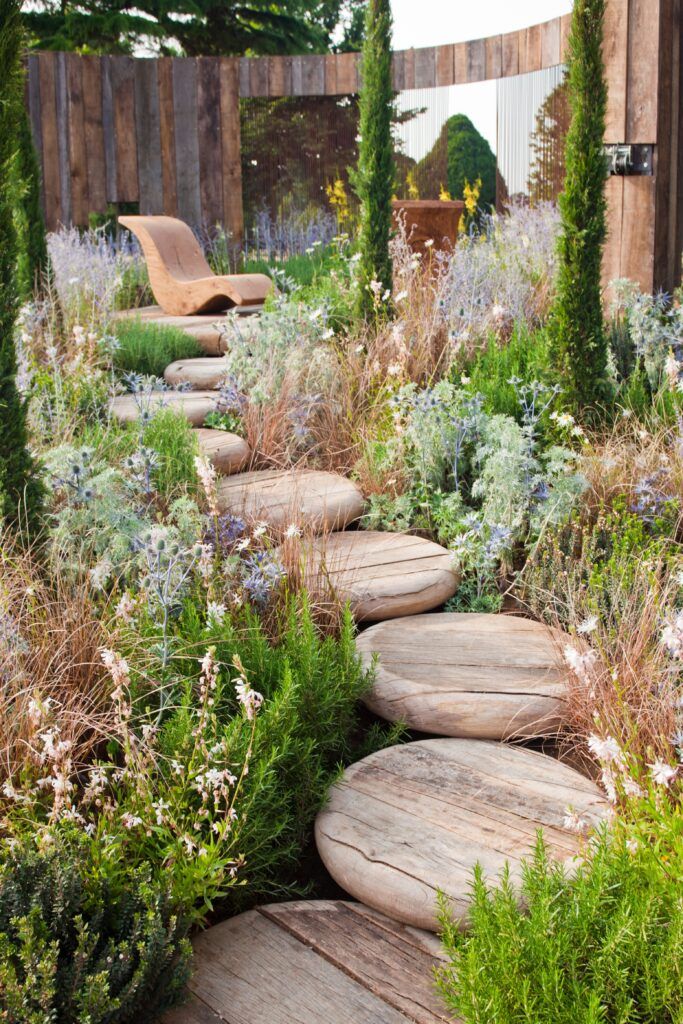 If you have a small garden it doesn't have to be small on planting! Check out this great small garden design.
Wooden pavers create a pathway to the eating area and the rest is planted up with rosemary, small conifers, echinops, and other tough plants that come back each season. Investing in perennials is a good idea on a budget as they'll last for years.
You'll soon have all sorts of wildlife moving in to share this space.
7. Garden Seating On A Budget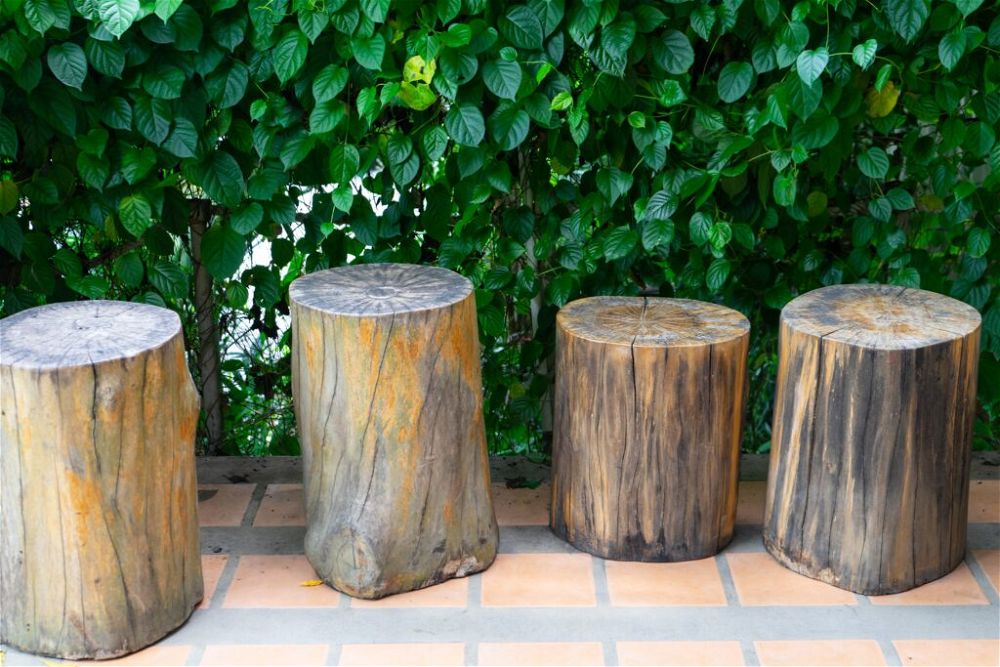 Forget benches and plastic seats, the way forward on a budget is natural seating!
These logs make excellent seats and don't scream primary colours at you. Ask a local tree surgeon if they have any logs. Often, they're paying to get rid of excess waste like logs, branches, and wood chippings and will be pleased to offload them at your house for free.
8. Very Small Garden on a Budget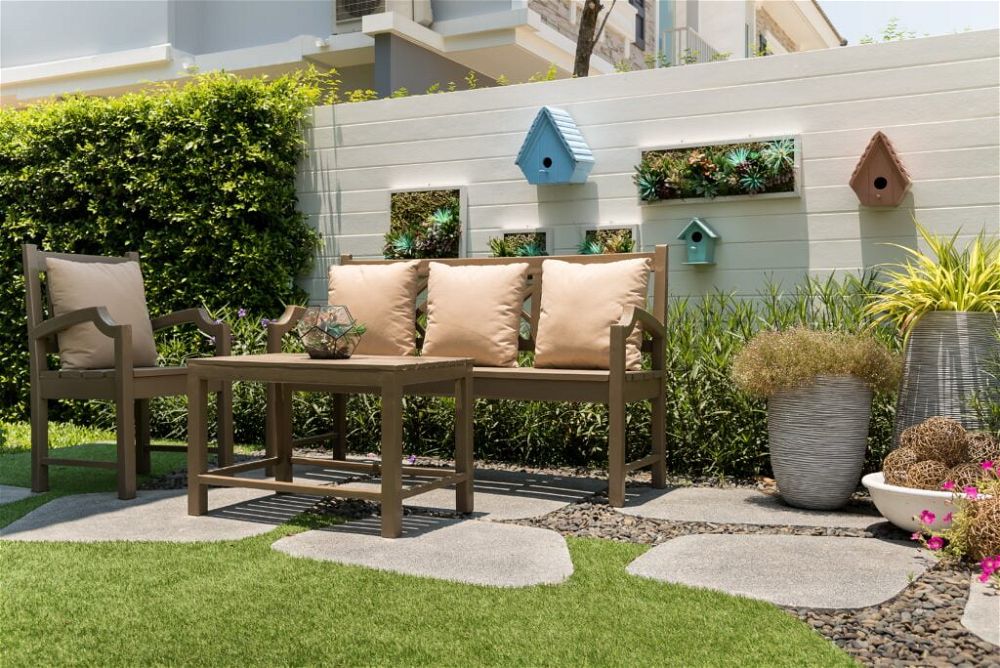 Here's a very simple idea for a tiny garden that creates enough space to sit and eat.
The patio is a set of random stones rather than a block of pavers and the addition of birdhouses and succulents on the vertical means you don't miss out on nature either.
Large stones and large containers make a small space look larger. This is a great design for tiny gardens.
9. DIY Garden on a Budget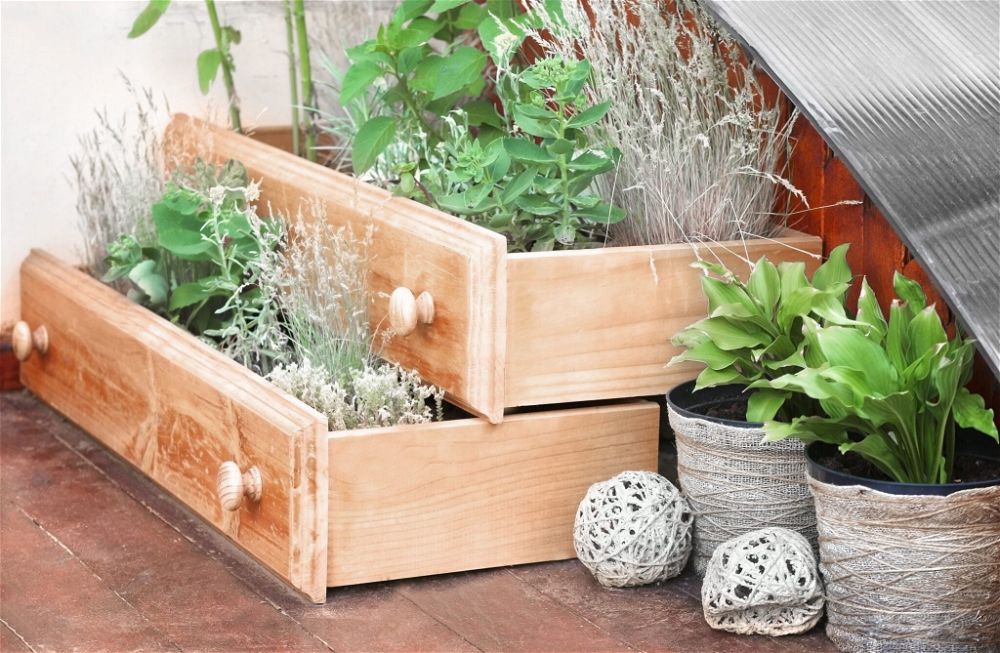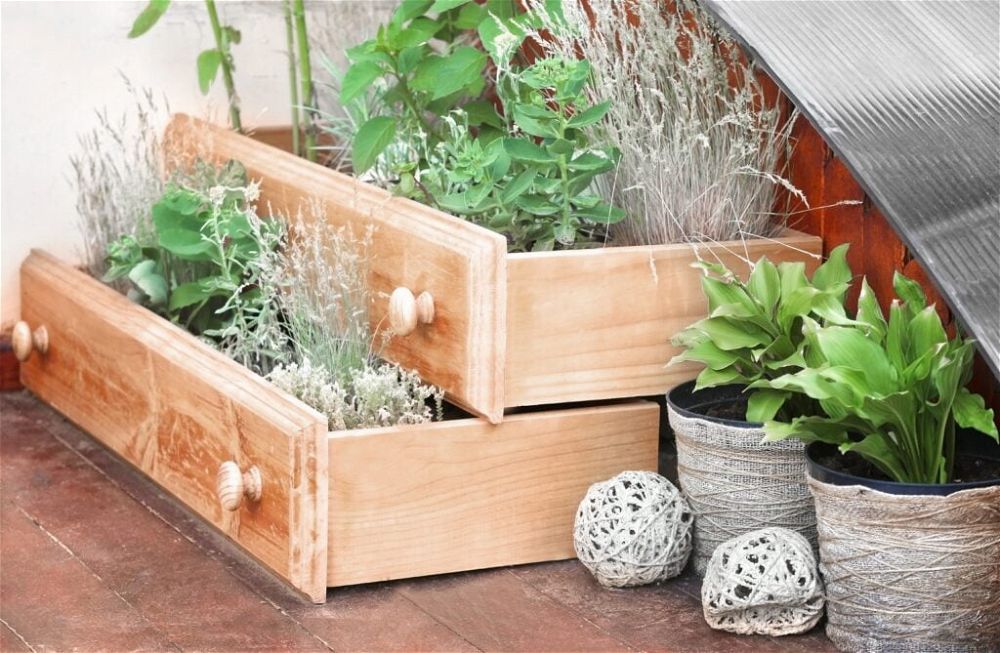 You'll often spot an old chest-of-drawers on freecycle or a local Facebook group so grab one and use the drawers as raised beds.
You could stain the wood a colour you prefer so it lasts longer and just fill it with compost (line it with bin bags first to stop water rotting them from the inside). Grow flowers, veggies, herbs, a butterfly garden – endless DIY options!
10. Front Garden Ideas on Budget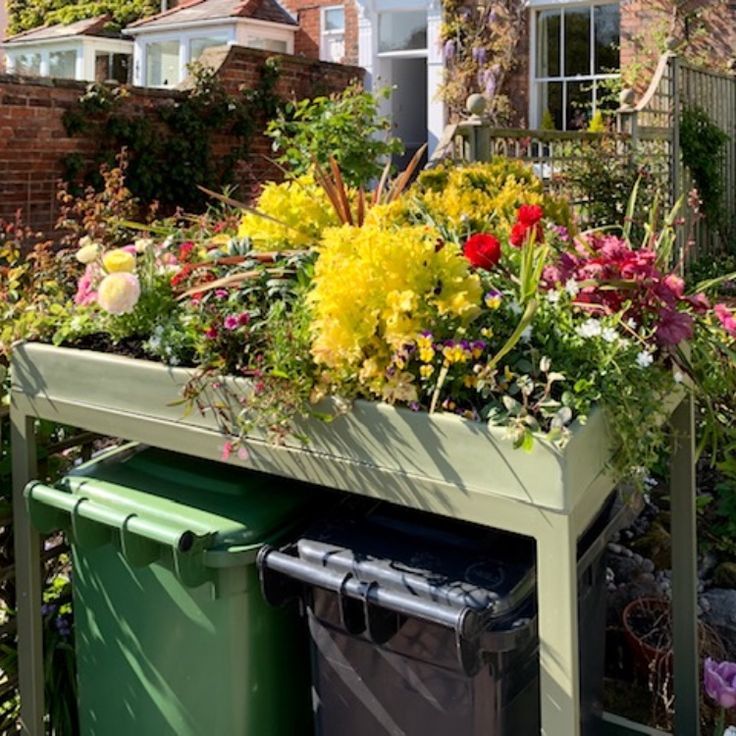 Lots of us share our front garden with a car and the wheely bins. This is a shame as they take up plant room.
This is an ingenious idea to not only cover your bins but grow pollinator-friendly plants or even herbs for your dinner.
If you're DIY handy the gardener's friend Mr Pallet could be transformed or you can buy these cheaply online.
11. Sloped Garden on a Budget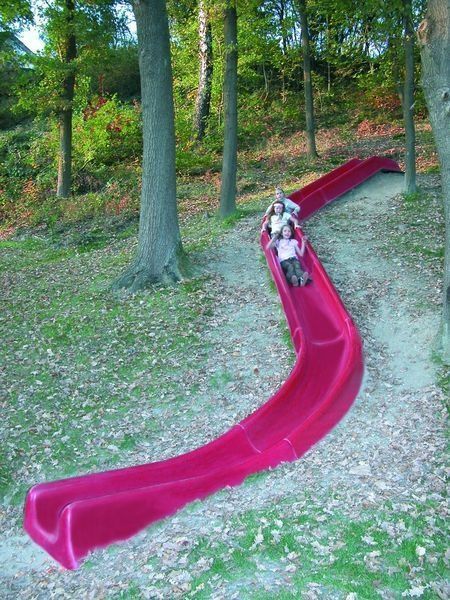 Building a tiered garden is expensive so why not turn your sloped garden into a playground for kids!
Sections of slide form this mega-long slide to keep them entertained for hours and it costs a great deal less than landscaping with machinery.
You could install a bark chipping pathway up one side to avoid a mud bath and gradually add scented plants to the slide edges as your budget allows it.
12. Large Garden on a Budget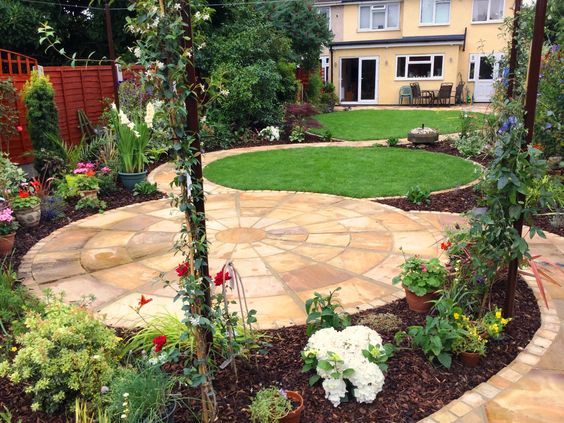 A large garden looks best when it's separated into several areas or 'rooms'.
This effect has been created with circles, two of which are simply cheap grassed areas.
The final circle is a patio to relax on once you've walked the length of your large back garden admiring the plants and soil that's neatly covered with inexpensive wood chipping.
13. Small Garden Decking on a Budget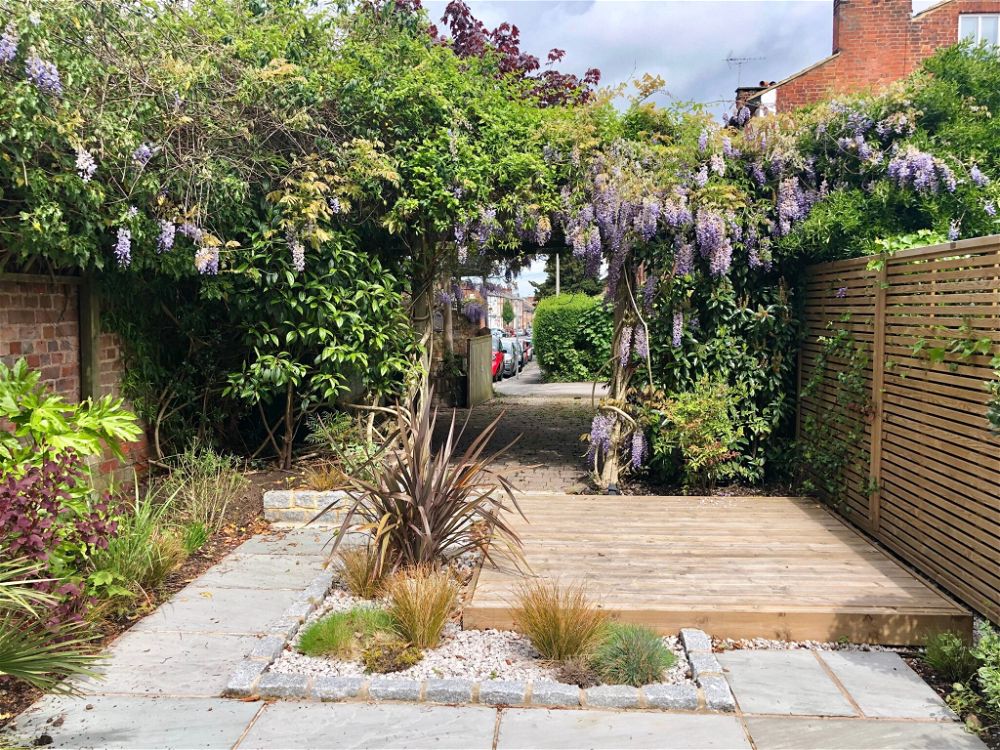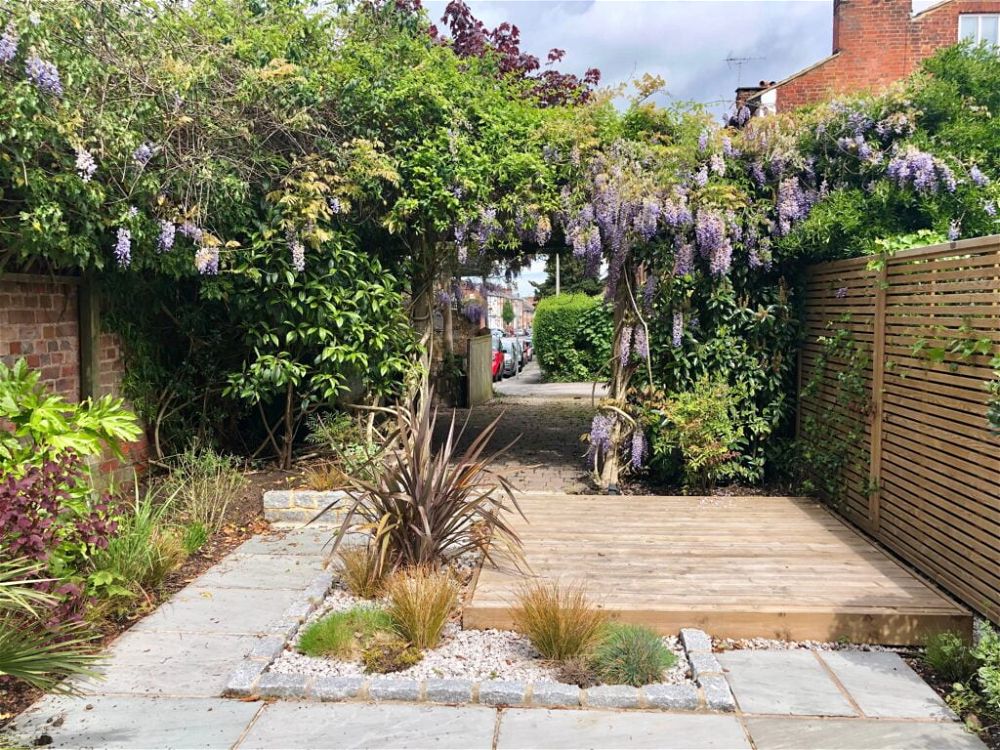 This small urban garden has smashed it with garden decking. They've chosen the sunniest spot and built a small raised deck right in it.
The investment wisteria sets off the romantic atmosphere and a few pavers mean there's no grass to deal with either. It's perfect for drinks, BBQs, and a safe kids' play area if you pop a gazebo over the top.
14. Garden Landscaping on a Budget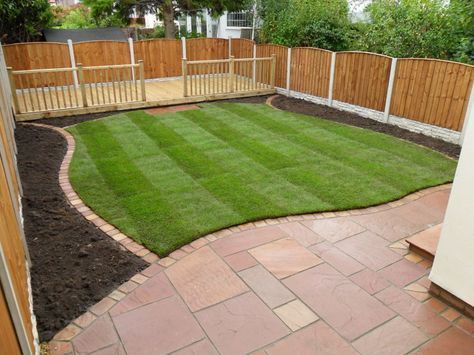 This simple garden landscape design transforms the space but is cost-effective.
A patio of different sized pavers, a shaped grass lawn, and a raised deck at the foot of the garden creates a makeover that's well proportioned.
The borders on either side would look great with cheap nature-friendly wildflowers spilling over the sides.
15. Small Garden on a Budget No Grass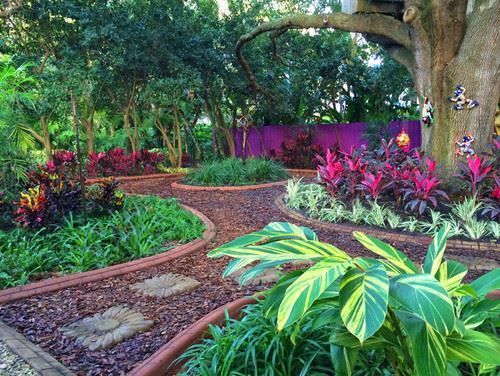 A no grass garden is perfect if you lack time. Who wants to mow when you could relax?
This small garden with no grass is built around a series of interconnecting paths and it's simpler to build than you'd think. Map out the design with spray chalk before you start to lift turf – just to be sure you like it!
The flower beds are full of drought-tolerant plants and bright paint enhances the fence. Buying small shrubs and using cheap wood chipping for the path will save money.
16. Modern Garden on a Budget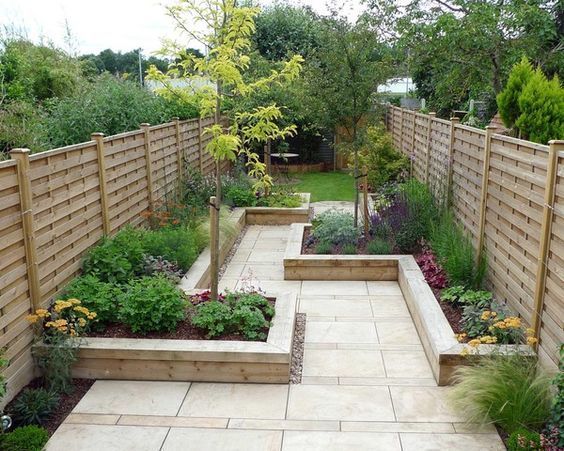 This neat modern garden has been transformed on a small budget.
The main features are the wooden beds that fit like a jigsaw to add interest in this long garden. Building raised beds is a fairly simple affair if you're handy at DIY.
Modern pavers, contemporary grasses, and trees create a chic effect that's perfect for an urban townhouse.
17. Garden Decorating on a Budget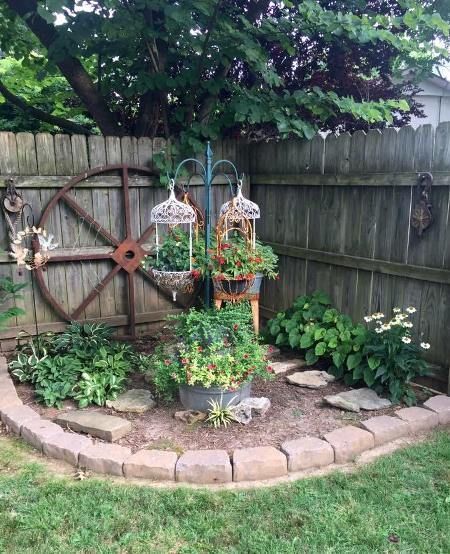 Have fun scouring the markets and eBay for second-hand decoration items. Just channel your inner Bargain Hunt and haggle for a birdcage!
Hanging cages on a bird feeding pole is a great idea because the flowering plants will attract bees and butterflies to your garden. It's a low-cost feature that'll make you smile each time you look out the window.
18. Zen Garden on a Budget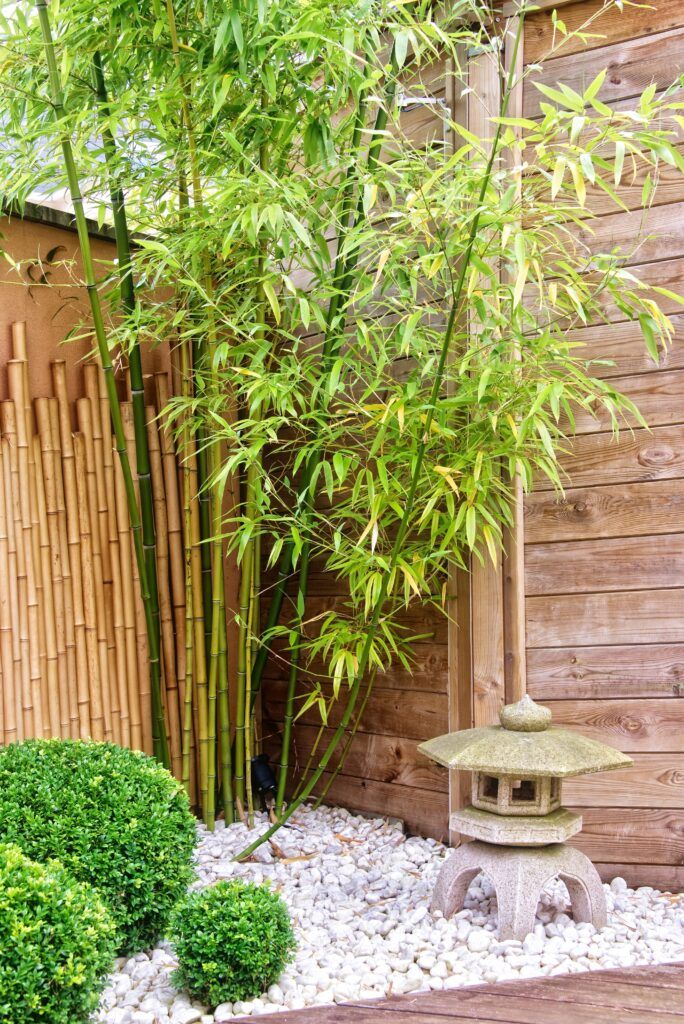 Choose an area of your garden to create a relaxing zen space on a budget.
This one has used clean white stones, contemporary box balls, and bamboo to create a peaceful area. The addition of a single Japanese lantern creates a beautiful focal point.
Try buying young box and bamboo plants. They are cheaper that way but grow very quickly with plenty of love, water, and sunshine.
19. Japanese Garden on a Budget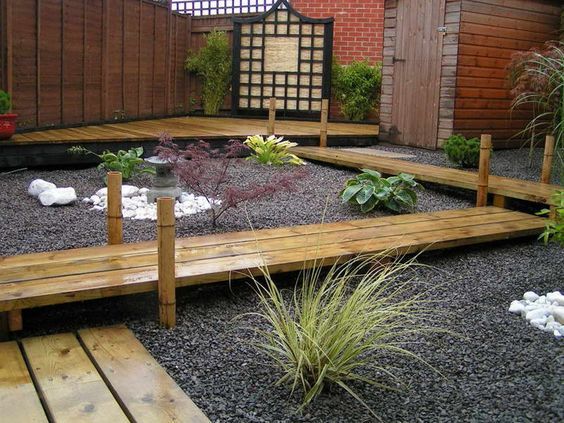 A simple Japanese garden is easily achieved on a budget with gravel instead of water.
This garden uses a series of decks over stones to recreate a traditional bridge over water effect. The decks lead to a relaxing zen area with a single Japanese screen focal point. You can add costs as you please here – some bamboo, a lantern, or cloud pruned trees.
20. Patio Garden on a Budget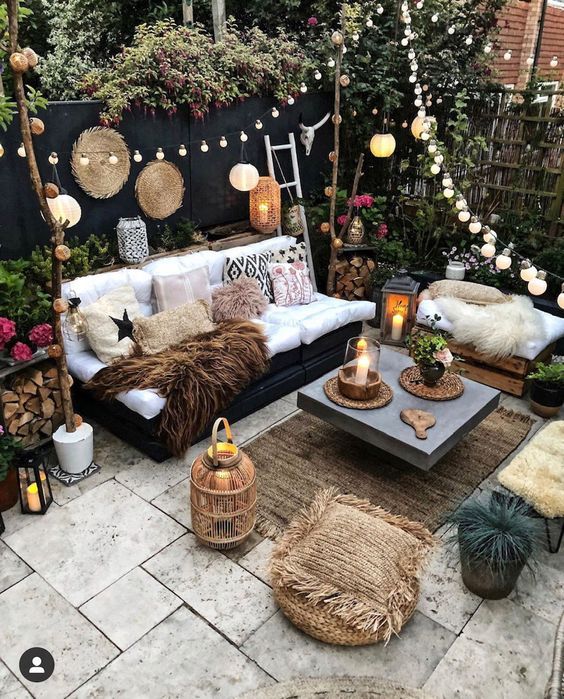 This little patio garden is all about the décor. Jazz up your tired garden furniture and pavers with fairy lights, lanterns, and plenty of soft furnishings.
The black fence is modern and makes little details stand out – even cheap items such as wicker shapes. Try to stick to one or two colours so it doesn't appear overwhelming.
21. Outdoor Garden on a Budget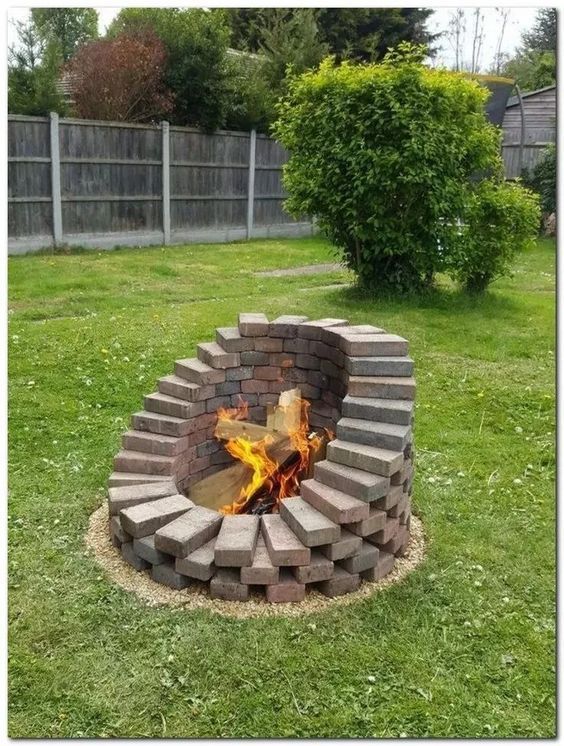 Check out this budget fire pit!
Fire pits are very popular but they are expensive items. You can easily build one with bricks on a sandpit. This design is great for blocking out any wayward breezes, but you can build other shapes and styles to fit your garden style. Bricks are cheaply bought at builder's merchants.
22. DIY Summer Garden on a Budget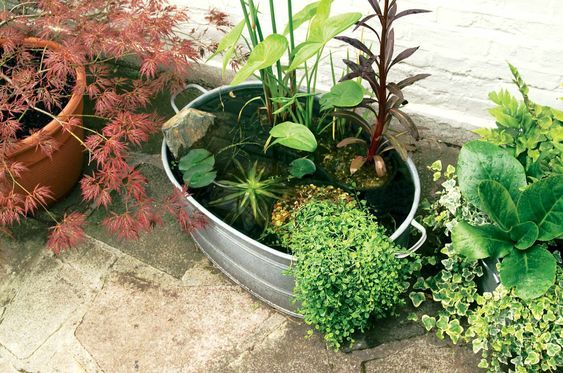 There's nothing better than messing around with water in the summer. By re-creating this mini pond on a budget, you can have cooling fun and help thirsty wildlife.
This pond is simply an old zinc tub filled with water and plants. You could use a barrel, a butler sink, anything watertight and frost proof to create your mini pond.
Create That Beautiful Budget Garden!
You don't need to spend a lot of cash to improve your garden. There are plenty of ways to create an interesting outdoor space and make your garden beautiful without it costing the earth.
Get creative, enjoy the project, and see how much cash you can save this year!