In this outdoor playhouse review, I thoroughly compared design, entertainment, durability, safety and value for money for multiple products. After hours of research and testing, I recommend the Smoby Kids Customisable Friends Playhouse as the best outdoor playhouse on the UK market.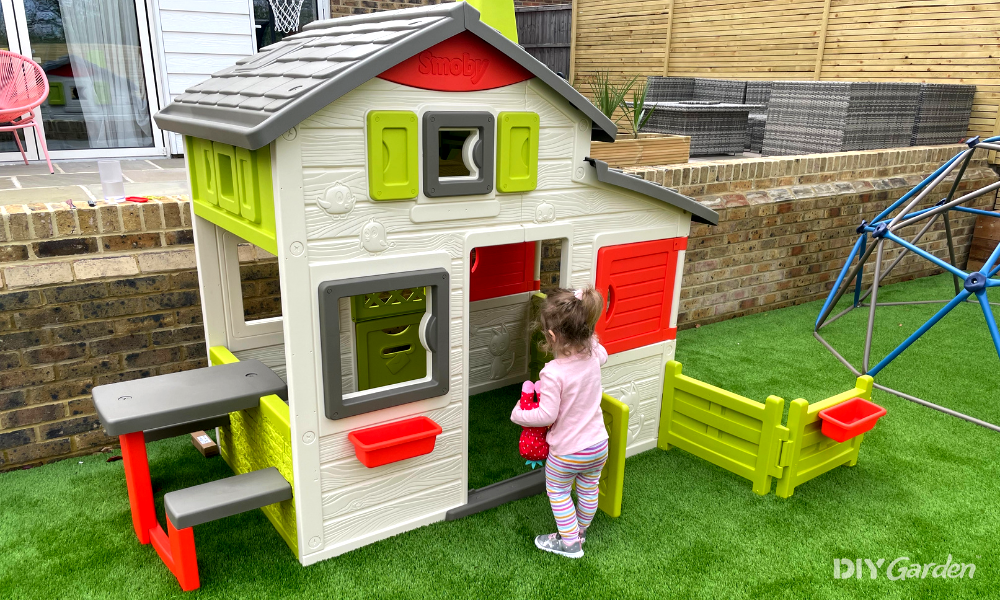 My Top Recommended Outdoor Playhouses
How I Tested
Product Tester:

To find the best outdoor playhouses on the market, I tested a broad selection of different-sized playhouses and assessed each model individually. I evaluated their ease of assembly, overall design, how entertaining they are for kids, their safety, and their value for the money spent. Here are the factors I considered when testing each of those elements:
Design: I examined how durable the design was, how sturdy the plastic or wood was, and each model's ability to withstand UV, high winds, and regular wear and tear. I considered whether or not you could add additional features to the playhouse, which gave it a higher rating, and the model's compactness, which is essential for those with limited space. However, I also assessed each model on how much space it has for kids to play, which is especially important when you need more room for multiple kids (and adults!) to use it simultaneously. I evaluated things like ease of moving, ease of cleaning, and whether or not it had a built-in floor since they can get muddy inside and require extra cleaning. I also looked at how well moving parts like doors worked and if the playhouses were wooden, whether they needed any maintenance or finishing. 
Entertainment: How much fun the kids have with the playhouse is one of the most important considerations to look at. I examined how interesting the design was and how many interactive elements and fun accessories came with it. Other factors I considered were how well they encouraged imaginative play and whether there were any learning lessons inherent in the design. Again, I looked at whether multiple kids could play with it simultaneously and if it was suitable for entertaining multiple age groups, which is especially important for larger families. 
Assembly: I examined how easy the instructions were to follow – if the instructions were straightforward, these models were given a higher rating. If the instructions were unclear or lacked proper labelling of parts or screws, I gave it a lower rating. For assembly, I looked at how easy it was to put together, how long it took, if additional tools were required, and if it could be done with only one set of hands. It got a good rating if it was straightforward and went together relatively fast (ideally under 30 minutes) without additional help. 
Safety: I examined safety factors like sharp corners and if there were small parts that would require closer supervision for young children. With those with doors, I looked at whether or not the kids might get their fingers caught in them. It got a very high rating if it was safe for any children of any age.
Value For Money: To determine the value for the money spent, I looked at how much fun the kids would have in terms of features and accessories for the amount of money spent. I also factored in how suitable it was for multiple children of multiple ages to play with, giving the playhouse more versatility and additional value for your money.
My Top Recommendation Based on Real-world Testing
Other Outdoor Playhouses Worth Considering
Tips For Buying a Children's Playhouse
Even small playhouses offer a lot of play potential for younger kids. A playhouse that measures approximately 100 x 100 cm will be suitable for children aged 3 – 5. It may not sound very big, but generally two children can play together comfortably in a house of this size. To accommodate three children, the playhouse needs to be around 130 x 110 cm.
For younger children, choose a plastic playhouse as this will help to avoid bumps and knocks

. Another benefit of small, plastic playhouses is that they generally weigh between 10 – 20 kg and can be moved between inside and outside.

Wooden playhouses are more permanent fixtures. You might want to choose a wooden playhouse for something that children will continue to use as they grow

. A roof height between 130 – 140 cm will accommodate children up to 10 years old.

If you want to get in the playhouse to assist younger children, look for a height of at least 150 cm

. You'll still have to crouch, but it will be a bit more comfortable.

On top of these practical features, there are a lot of design elements to consider as well. Whilst standard houses are great for imaginative play, specifically-themed playhouses can encourage certain games

. You'll see that there is a shop playhouse in the list below, as well as an eco-focused option. Additional elements, such as doorbells, flowerpots, moving doors and windows, will all give children more features to interact with.
I've picked the Smoby Kids Chef Playhouse and Kitchen as my top recommendation. It appeals to a wide age range and has a highly engaging design. This café-style playhouse is great for aspiring chefs, as well as future entrepreneurs, and it also comes with a number of accessories included.
Why You Can Trust DIY Garden
At DIY Garden, we believe your trust is earned through our knowledge and transparency. Our team of experts has over 75 years collective experience in the gardening and DIY space. Since the website's creation in 2016 we've tested over 275 products, ensuring our recommendations are based on real experience. We're open about what we've tried and what we've researched, and this is clearly labelled in our product reviews. Every year, we revisit and update our suggestions to include worthy new additions to the market. Our aim is to give you straightforward, honest, and helpful recommendations, so you can confidently choose the best tools and equipment for your projects.
How to Choose The Best Children's Playhouse
Deciding What Size to Buy
There are three main questions to consider when working out what size playhouse to go for:
How much space do you have available? Have you got a small garden? Do you want the playhouse to be positioned exclusively outside, or would you like it to be used indoors on occasion?
How old are your children, and do you want them to 'grow into' the playhouse, or have it be the perfect size for them straight away?
Do you want to be able to fit into the playhouse as well, to have another place to interact and spend time with your child, or is this not important?
READ NEXT: Magical Fairy Garden Ideas
Available Space
It's important to consider how much space you have available; some outdoor playhouses look a lot smaller in pictures than they are in real life!
For very young children, small playhouses made from plastic are ideal. These tend to have a footprint of less than 110 x 110 cm and are often suitable for children aged from around 2 – 5 years. These can be used both indoors and out depending on how much space you have available.
Larger outdoor playhouses are more suitable for older children. As a rough guide, they might be around 200 cm wide and can be made from plastic or wood. You might find them better value for money because children can use them for longer – this is especially true of the bigger wooden houses; they're not just "little kids' toys". In fact, it's not unheard of for even young teenagers to want an outdoor clubhouse!
Work out exactly how much space you have available by physically marking out the area beforehand. You need a flat area of garden in a safe location. Being able to visualise how much space the playhouse will take up is useful as a playhouse which is too large will cramp your garden.
Age Suitability
As mentioned, smaller playhouses tend to be suitable for children up to around the ages of 5 – 7.
The age suitability of a certain playhouse often comes down to a couple of factors: the height of the doorway, height of the ceiling, and weight capacity of any furniture.
Children can be slightly taller than the height of the door frame and duck to enter the house, as long as there is still enough space for them to move around. Take into account the lowest roof measurement when deciding if a playhouse will be suitable for your child.
Average children heights are as follows (to help when comparing against the roof height of playhouses):
3 years old – 95 cm
4 years old – 101 cm
5 years old – 108 cm
6 years old – 115 cm
7 years old – 121 cm
8 years old – 128 cm
9 years old  – 133 cm
10 years old – 138 cm
11 years+ – 144 cm+
If you want the best value for money, you may choose to buy a larger playhouse that the child can 'grow into', but that may mean that they need assistance using it (for example, unlocking and locking wooden doors) initially.
Interior Space
The amount of interior space will dictate how many children can fit inside the playhouse, as well as whether you can squeeze in there too.
At least two children can normally fit in even a small plastic playhouse. If the side measurement is closer to 200 cm, at least three children will likely be able to fit inside.
If you're hoping to squeeze in occasionally too, take note of the door frame size and the height room available. These will likely be an adult's biggest challenges when getting into a playhouse.
If there's sufficient interior space, it should also be possible to fit children's furniture into the playhouse. A table and chairs will likely encourage kids to spend even more time outside, so it's worth taking note of the interior area of the playhouse for this reason too.
READ NEXT: How to Build An Epic Garden Racetrack For Your Kids!
Construction Materials
Outdoor playhouses tend to be made of either plastic or wood. There are pros and cons to each material, which are detailed below.
Plastic Playhouses
Playhouses for younger kids are often made from plastic which tends to be a good choice for them; it's durable and waterproof as well as safe and low maintenance. Generally speaking, plastic playhouses have rounded edges and extra gaps to stop little fingers getting trapped.
Plastic has the added bonus of being very easy to clean – even if it gets a bit grubby outside, you can simply hose it down. If you want a plastic playhouse that will last, you should make sure that the plastic is anti UV – this will stop the colour from fading and degrading in sunlight over time.
The majority of playhouses made from plastic are easy to assemble with plastic pieces that 'slot' into place. They require limited DIY skills: the most you'll need to do when putting these together is tighten large plastic screws. For this reason they're also relatively easy to take apart for winter storage if necessary.
Plastic playhouses also tend to be quite light, generally weighing between 12 – 20 kg. As a result, they are more mobile than wooden playhouses and can be moved around the garden if necessary. This can come in handy when mowing the grass or trying to give worn out grass a break. However, lighter playhouses may need to be kept an eye on during very windy weather.
Wooden Playhouses
A wooden playhouse tends to be traditional and charming. These playhouses are normally better suited to older kids because everything is just a bit more solid. Wooden playhouses might have sharper corners (although some models will take care to curve them off), and don't always have all the safety allowances that plastic houses may have (like extra gaps around the doors). This can make them less suitable for young children or mean that more supervision will be required.
A wooden playhouse can help deliver a more pleasing aesthetic to the garden compared to a plastic playhouse. Depending on the size that you buy, a wooden playhouse may also be used for longer, as your children grow up. Children can quickly outgrow a small plastic house, but a wooden playhouse often stays relevant for longer.
The downside of a wooden playhouse is that they aren't always as weather resistant as plastic houses. If not properly maintained, wooden playhouses can be susceptible to rot. Look for one made from pressure-treated wood as this will mean it is already protected against rot or insect infestation. After a few years, you will need to apply a wood treatment to even pressure-treated wood to keep it effective.
Wooden playhouses with felt roofs will have more protection against rain coming in through the roof. This can make them more waterproof inside. Building a wooden playhouse on some sort of foundation can also stop water seeping up from the floor and causing rot.
In terms of assembly, wooden playhouses require more time to put together. You'll likely need a few tools, some DIY knowledge and an extra pair of hands.
READ NEXT: How to Build a Bowling Alley in Your Back Garden
Keeping Children Safe
There are a few things that can help keep children safe when they're playing in their playhouse.
Firstly, always check that the playhouse is age appropriate for your child. Most playhouse manufacturers will state the recommended age range for the equipment and this shouldn't be exceeded.
For younger children, as mentioned, it can be good to check that the playhouse has finger gaps around any moveable windows and doors so that their fingers don't get trapped.
Children should be supervised at all times, and it's always a good idea to regularly check any playhouse for anything that may have broken or be hazardous.
With wooden playhouses, check for rough timber that could splinter, and make sure screws are well embedded or covered with safety caps.
If you do purchase a wooden playhouse, you should do a 'safety check' every so often. This way you can sand down any splintering wood and check out other potential problems.
Ensure that the playhouse isn't positioned under any trees to prevent branches falling on the roof and potentially damaging it.
You  should also make sure that the playhouse is situated away from any obstacles which children might accidentally run into when playing in and around the playhouse.
If there is any sort of raised platform or slide, you need to leave a 2 m clearance zone on all sides of the structure. This will help protect children in case they fall.