Fairy Garden Ideas
1. DIY Fairy Garden
Can you spot how this fairy house is made? Lolly sticks! Let your inner Blue Peter out with this magical little home for fairies that's just perfect indoors or outdoors.
Match it to your fairy garden colour scheme or let it stand out in a bright new colour. A few flowers, some decorative moss, and you have a DIY fairy garden to be proud of. All the more reason to eat those expensive magnums.
2. Outdoor Fairy Garden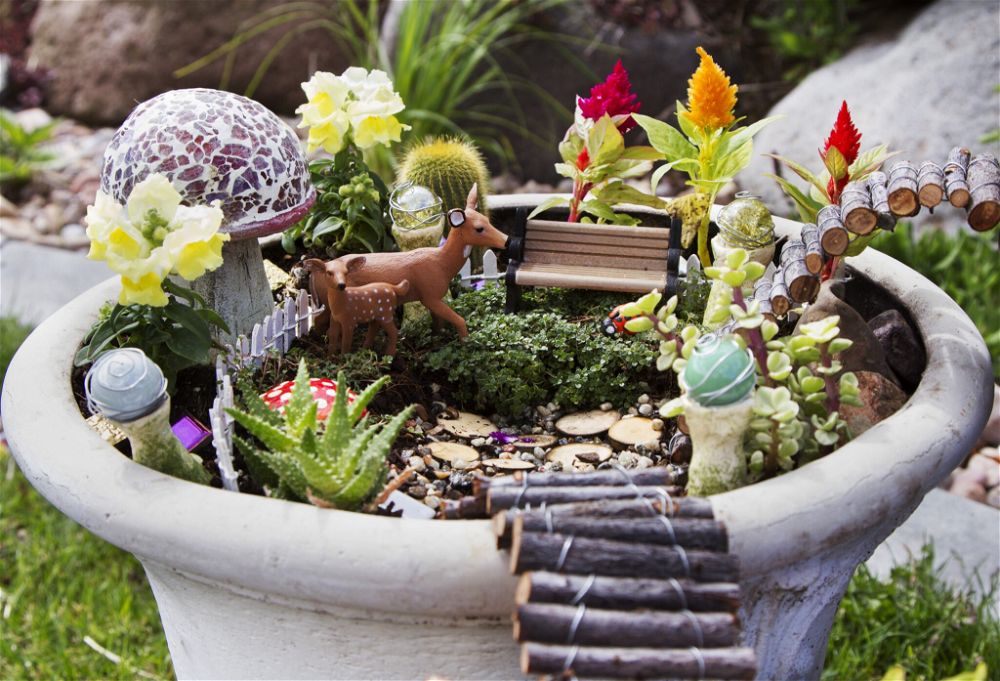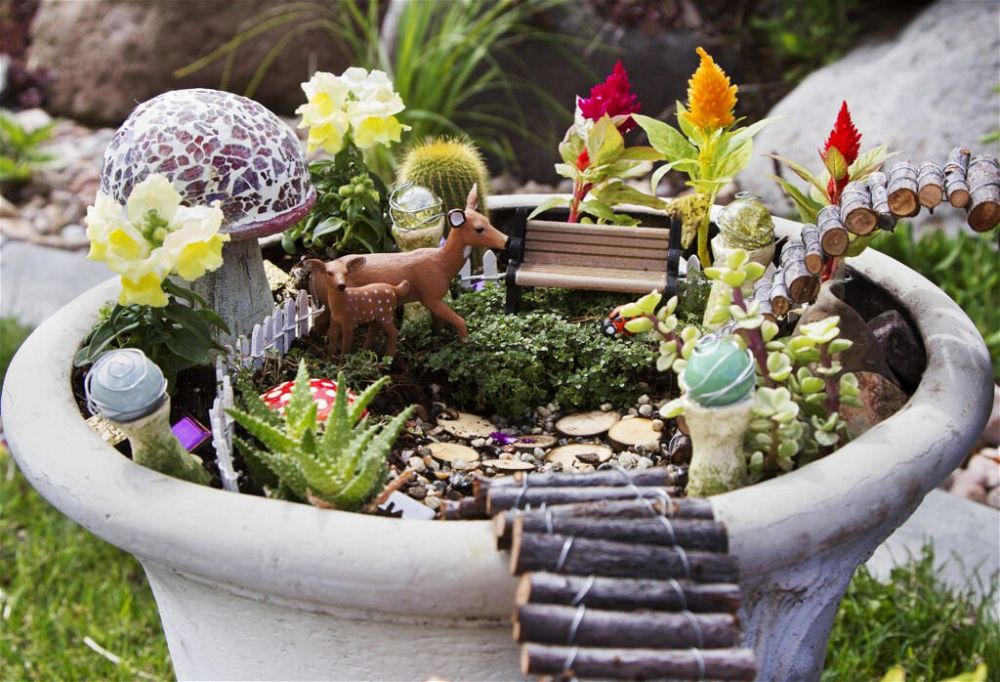 Here's a magical and enchanted fairy garden made from a plant pot and weatherproof toys!
You could plant real flowers and sun-worshipping succulents here to give your outdoor fairy garden an authentic look and attract pollinating insects – real ladybirds and butterflies on your fairy garden couldn't be more magical.
3. Fairy Garden Landscaping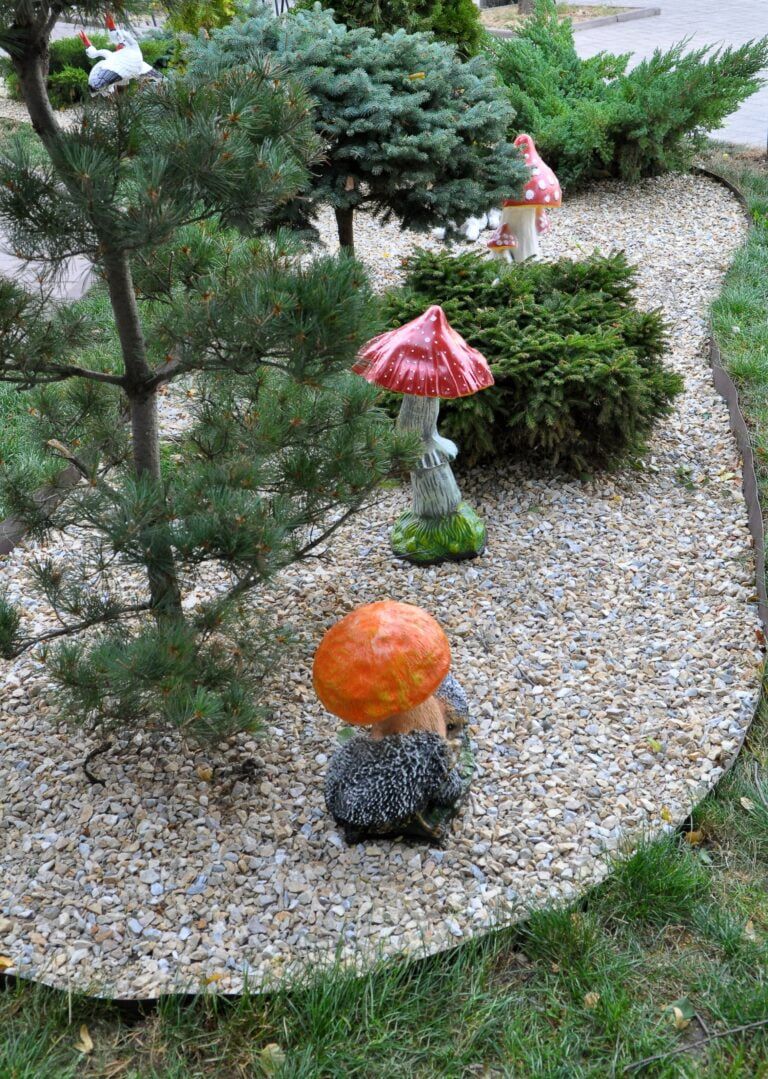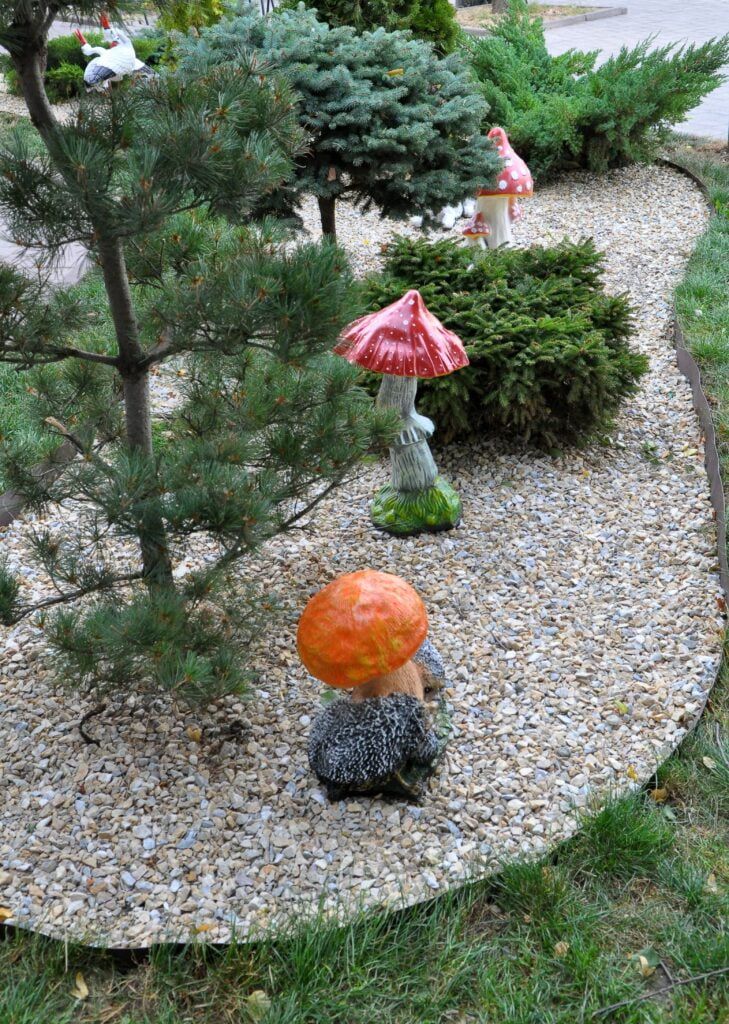 Why stick with a small fairy garden when you could incorporate it into a landscaping project. Here garden ornaments (fairy-attracting fly agaric mushrooms of course), gravel, and small Japanese-style shrubs bring a magical atmosphere to a fairy garden. A fairy garden here could expand into a fairy village over time, maybe even a fairy city.
4. Fairy Garden Container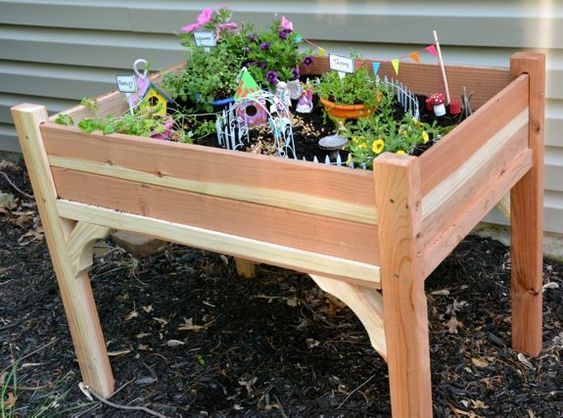 Buy a ready-made raised bed to contain a fairy garden! When a fairy garden is on raised legs it allows little kids to stand up and keep their knees dry, plus everything is in one place so you can't lose the bits.
A raised fairy garden container is a great idea for pet owners too. No-one wants Rover burying Queen Fairy in a flower border.
5. Fairy Garden Lights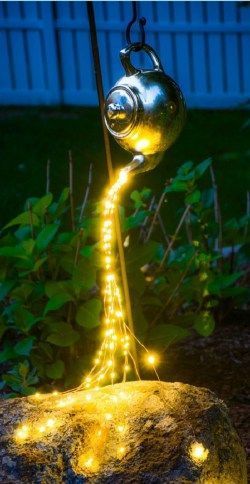 This is such a lovely idea to light up your fairy garden inside or out.
The lights tumbling from this teapot are powered by batteries inside the pot– or you could go solar outdoors. Either way, there's no arguing this isn't the cutest way to light up a whimsical fairy garden.
Another great object could be a watering can or a shower attachment. Let your imagination take over. Inexpensive battery-powered string lights are readily available in shops or online so there's nothing to stop you.
6. Fairy Gardens For Outdoors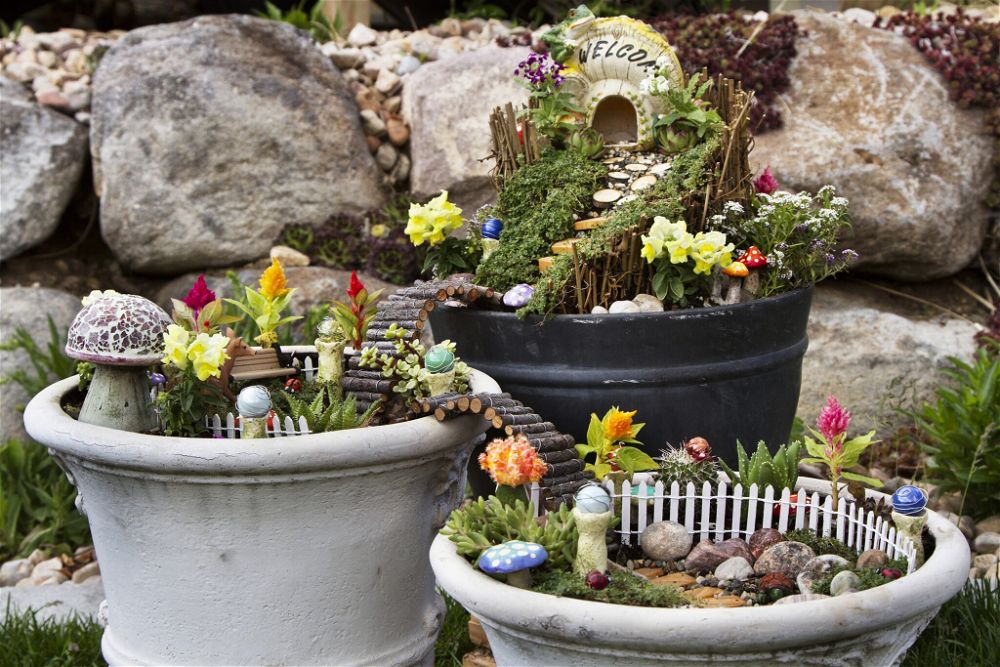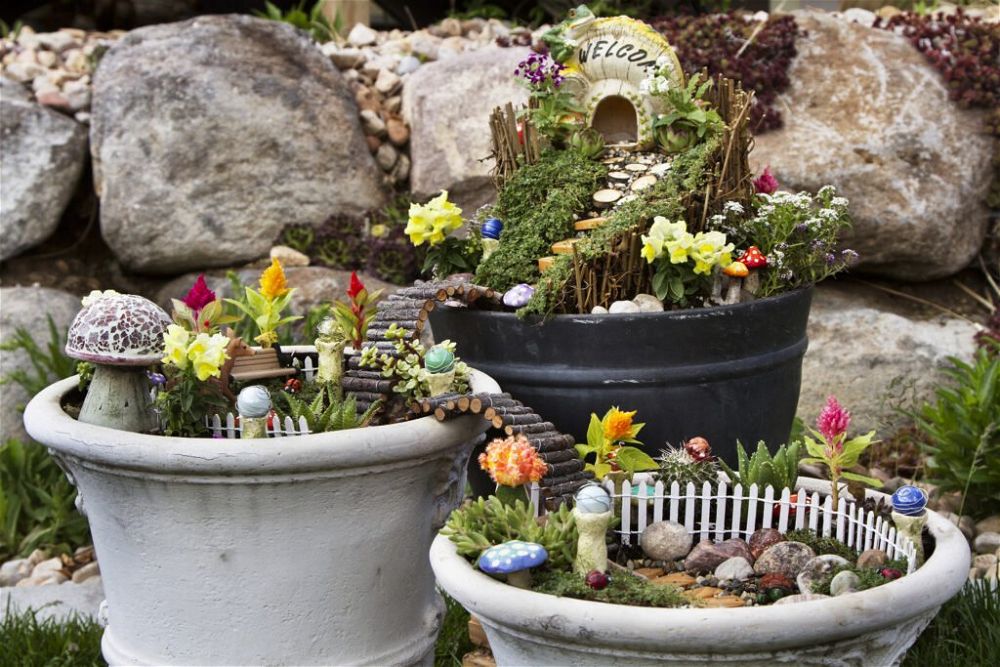 There's more room outside so go large with a three-tier fairy garden all packed neatly into containers. This a good idea if more than one child wants to play – or you just love fairy gardens! What a great way to get the kids outside more often.
An outside fairy garden can incorporate seasonal flowers and free biodegradable decorations such as twigs, acorns, and leaves.
7. Fairy Garden Ideas For Kids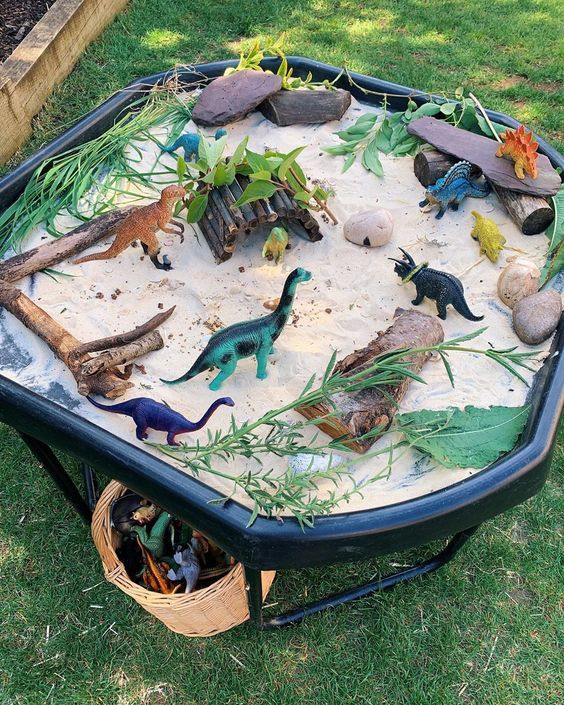 Fairy garden and dinosaurs? Why not! If your kid isn't into fairies mix it up with their favourite creatures.
A dinosaur fairy garden needs an environment, housing, and decorations all of which provide hours of fun. We'd like a Pachycephalosaurus in there please!
If dinos are not the current 'in' thing go for dragons, mini Pokemon figures, trolls, unicorns – whatever they're enjoying. This is imaginative play at its best.
8. Miniature Fairy Garden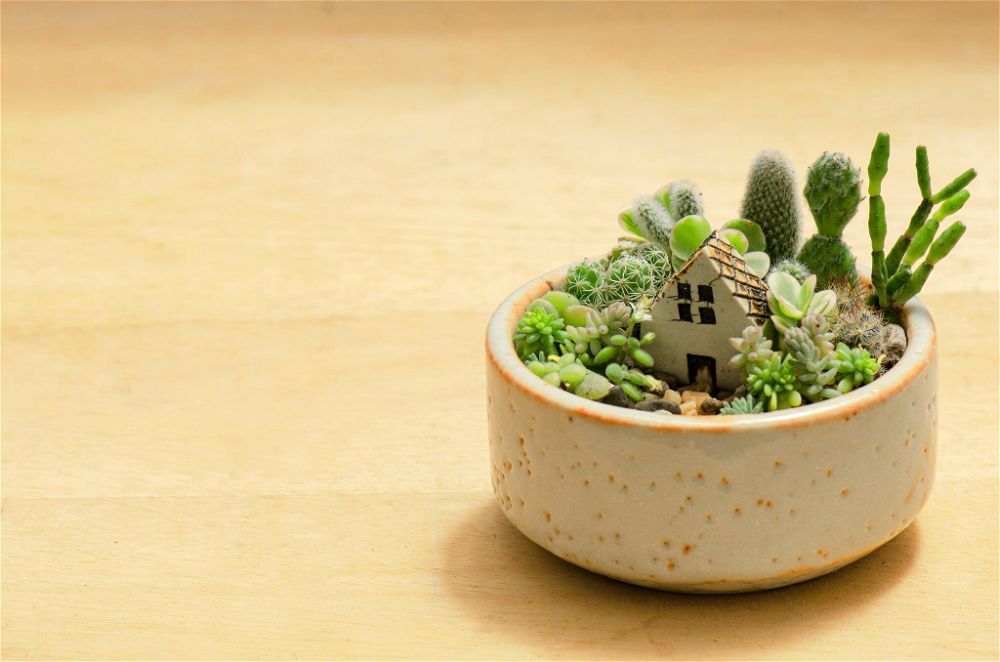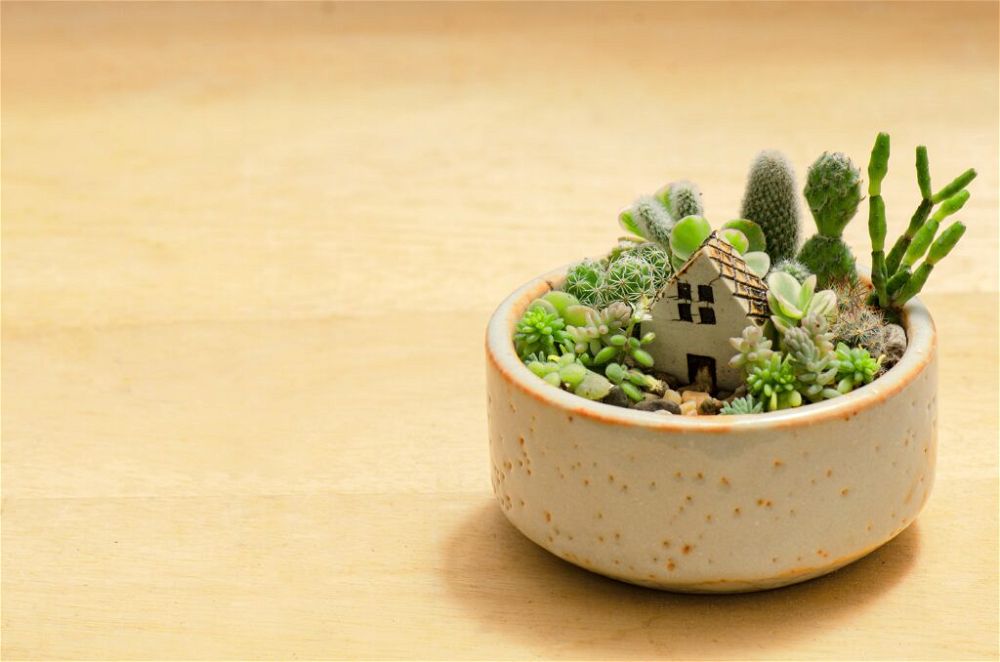 The most miniature fairy house can only be a succulent garden in a ceramic pot!
Here succulents double up for landscaped trees and the teeny-tiny house is made from a triangle of wood with a painted door so small you'll have to get new glasses to see it. You could create a village of miniature fairy gardens this way.
9. Fairy Garden Tea Party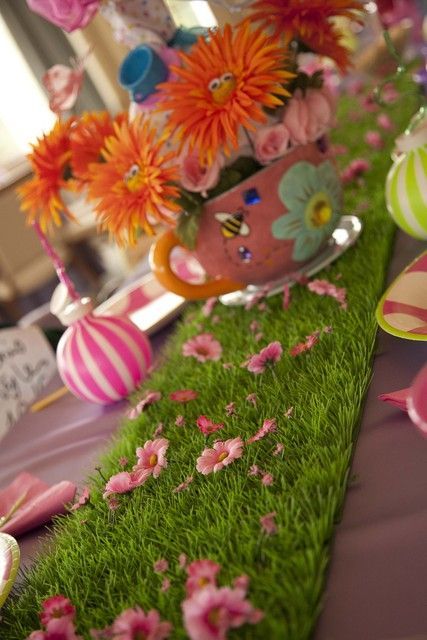 The best tea parties have fairies! Next time you want to throw a fairy garden tea party decorate with artificial grass, pretty teacups, and flowers with eyes to make them come alive.
Who knows where the fairies are but any birthday kid is going to love this fairy theme tea party, they'll be the talk of school all week.
10. Fairy Garden Design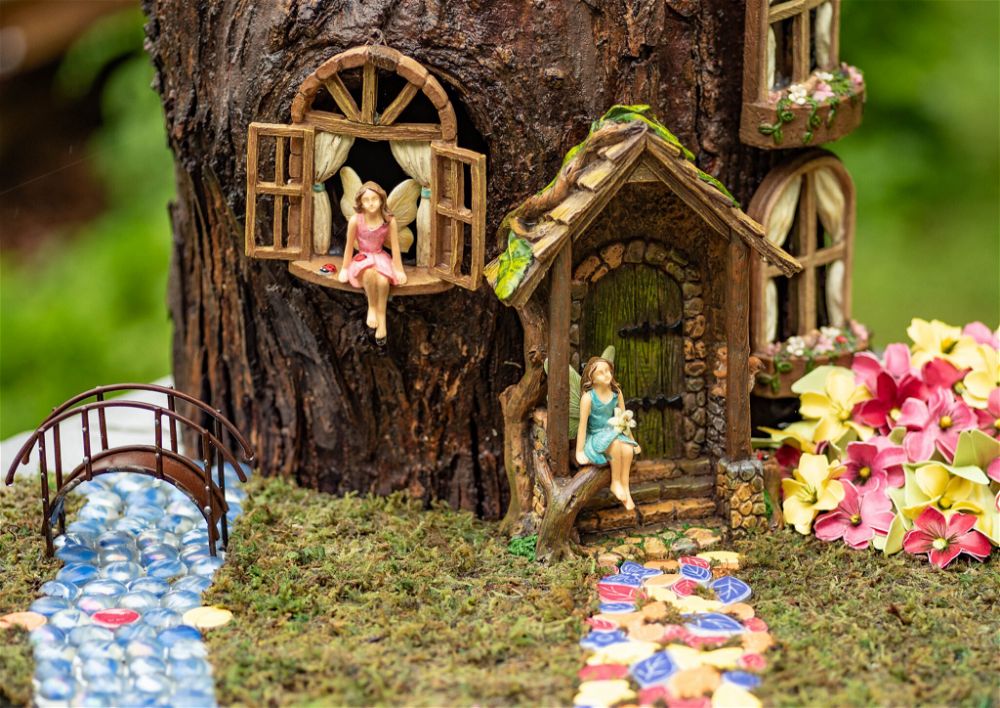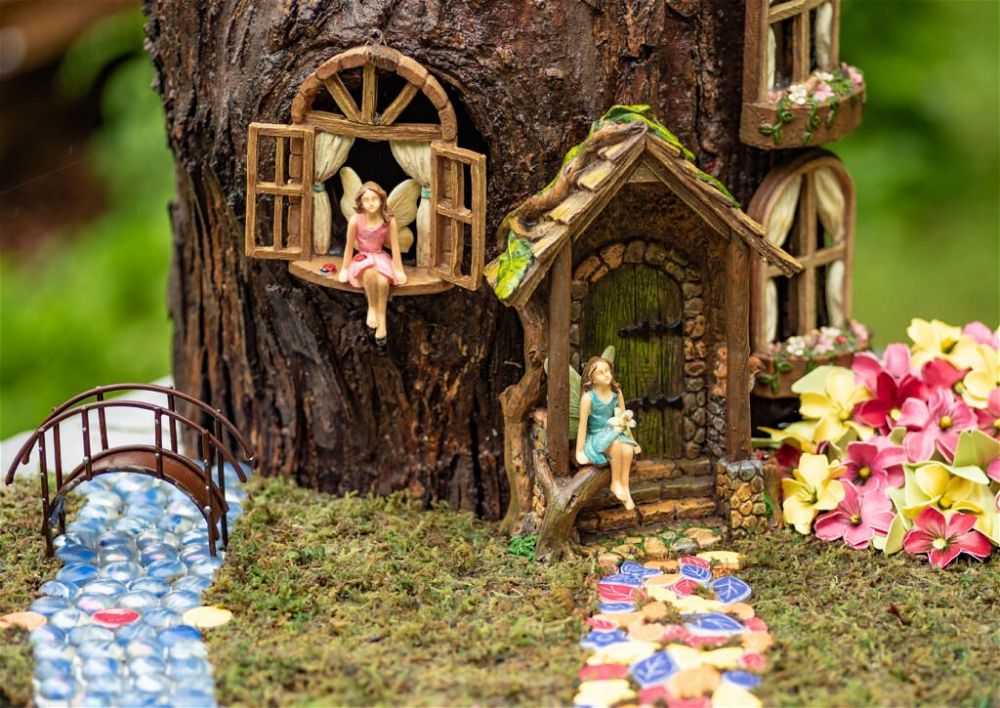 Here's perfection in fairy house design that you could create indoors or out.
Love the pathway and river made from coloured glass and that mossy front garden! This is perfect as it is, and you can add to it over the years making it a hobby rather than a one-off project.
11. Large Fairy Garden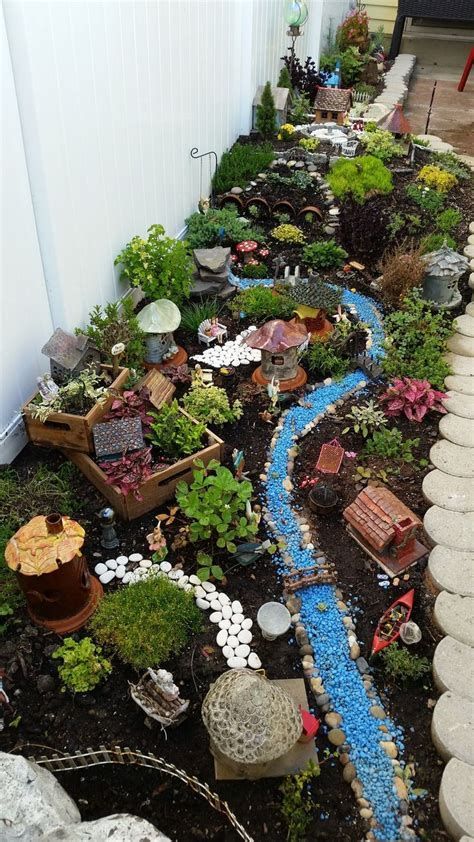 If you've got a border where nothing will grow it makes sense to create a large fairy garden.
The great thing about this is the blue stone river that pulls the separate areas together. Love the mini canoe ready for a day of fun and the old wooden crates adding interest too!
Why not grow a few edibles in there including herbs to give your large fairy garden a delicious scent and pep up your pizza.
12. Fairy Garden Craft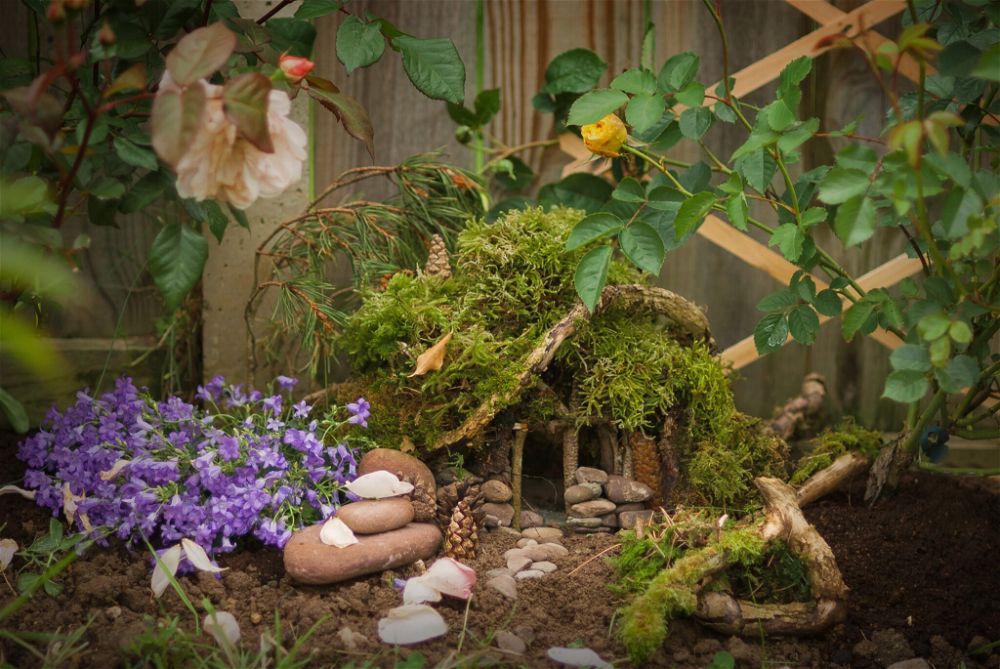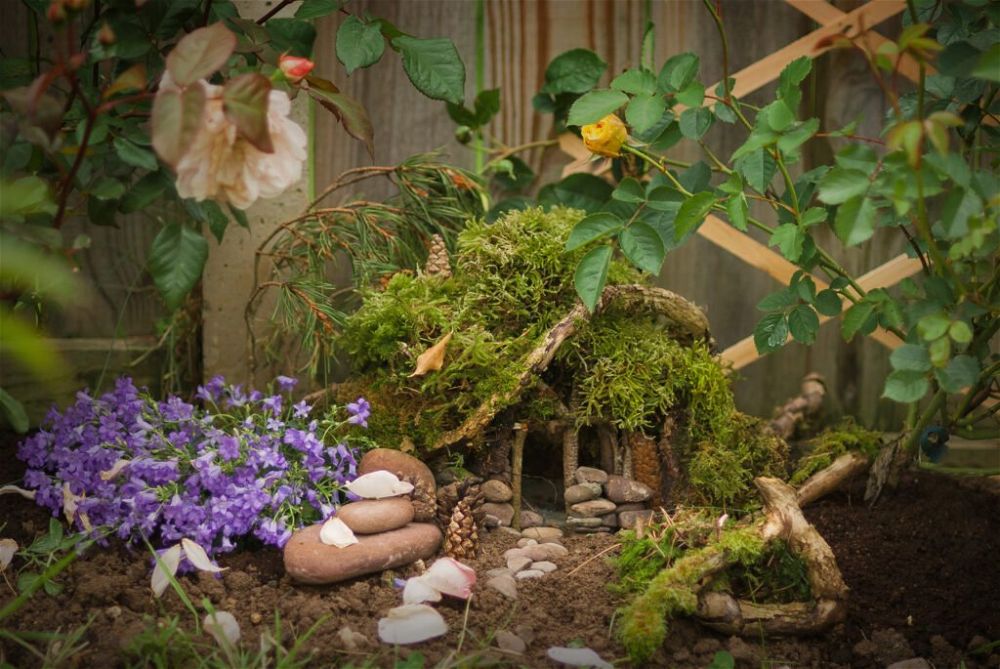 Craft this fairy garden from wood, moss, pebbles, and rose petals. It's reminiscent of a hobbit hole but much tinier.
Crafting a fairy garden is great fun and you can personalise it however you'd like. The majority of these crafting materials you could find on a walk so it's low cost too and healthy for all the family.
13. Small Fairy Garden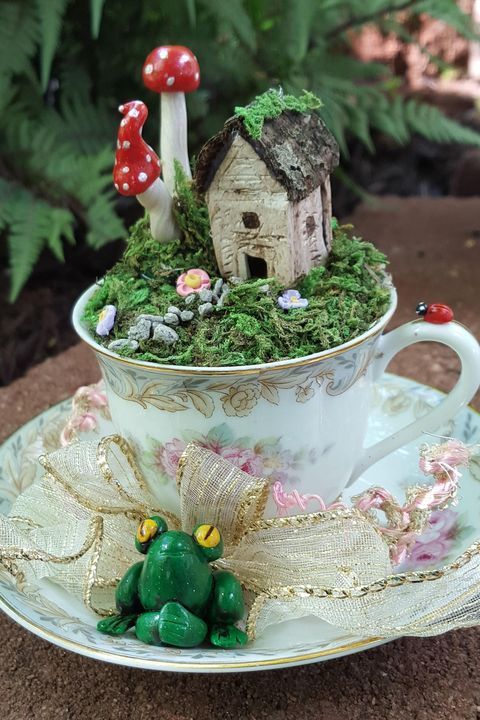 A tinsy-tiny fairy garden in a teacup – could you find anything smaller!
This small fairy garden is too cute for words and best of all you can take it anywhere you please. It would make a great gift – we love the ladybird that gives it a sense of scale.
You could add blue tissue paper to create a waterfall into the saucer, or add a small rope ladder to help the fairies get home. There are endless fun options in a small fairy garden.
14. Fairy Garden Decorating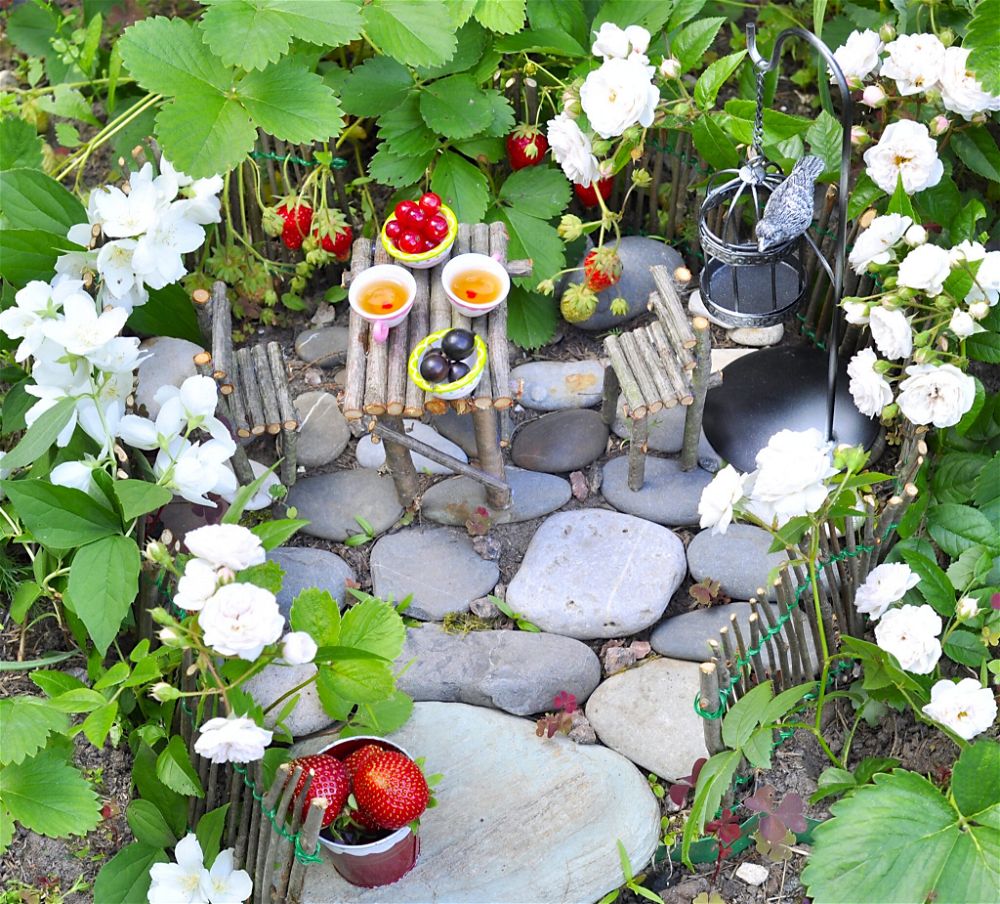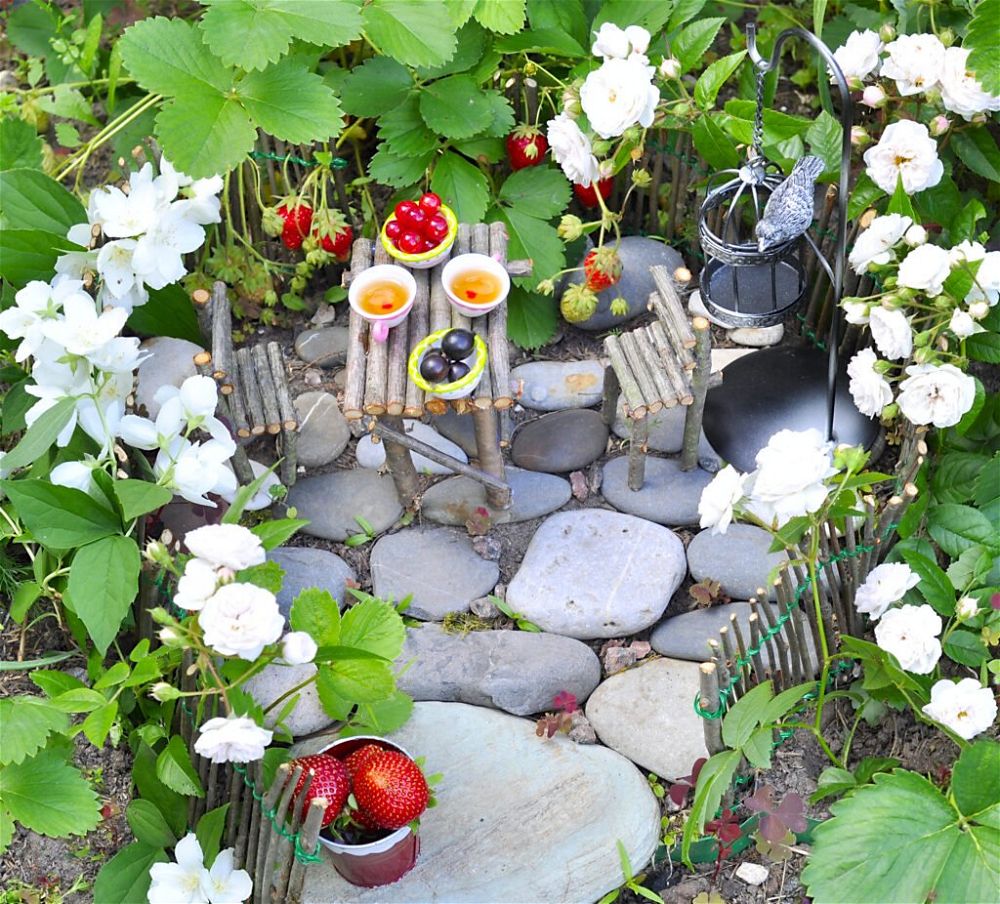 Every fairy garden needs an actual garden!
Check out the magical picnic area complete with stick-made picnic bench and chairs, a patio of flat beach stones, and bowls of fresh berries. Nothing will go to waste here because the birds will find this finest fairy feast and clear it up for you.
15. Fairy Garden Terrarium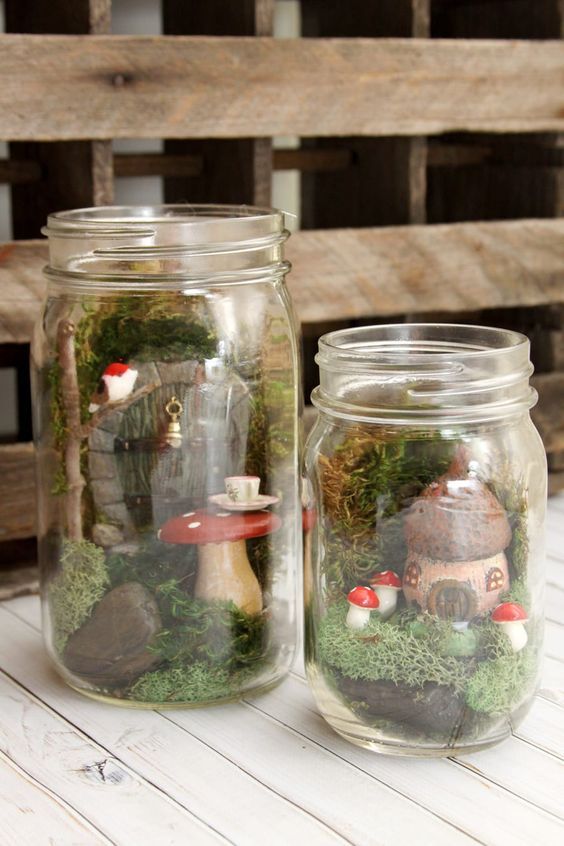 Check out this inexpensive way to build a fairy garden in a terrarium. These cheap mason jars are just as good as a pricey terrarium and they still keep the dust off.
Mason jars are made from tough stuff, so if your kid is playing with this they're a safer bet. No-one likes to nag 'be careful' every few seconds and no kid will be able to keep their hands to themselves with these beauties.
16. Fairy Garden Furniture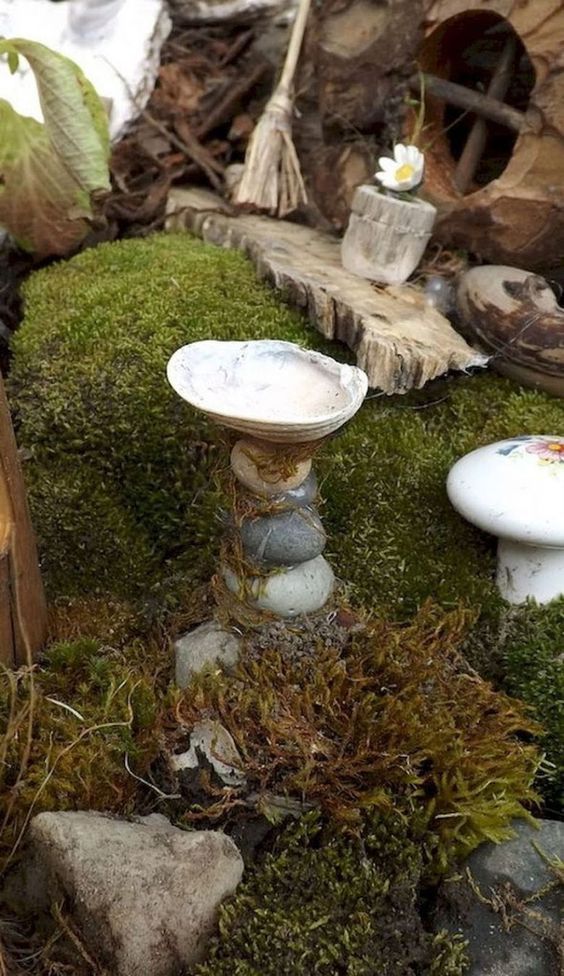 Here's a lovely idea that makes a pretty and unusual piece of fairy garden furniture.
It's a sink created from a tower of pebbles and an upturned shell. So simple and so effective! You could use this in lots of ways such as a table, a bird bath, a reading lamp, a storage area for tiny books. The options are endless.
17. Fairy Garden Plant Pot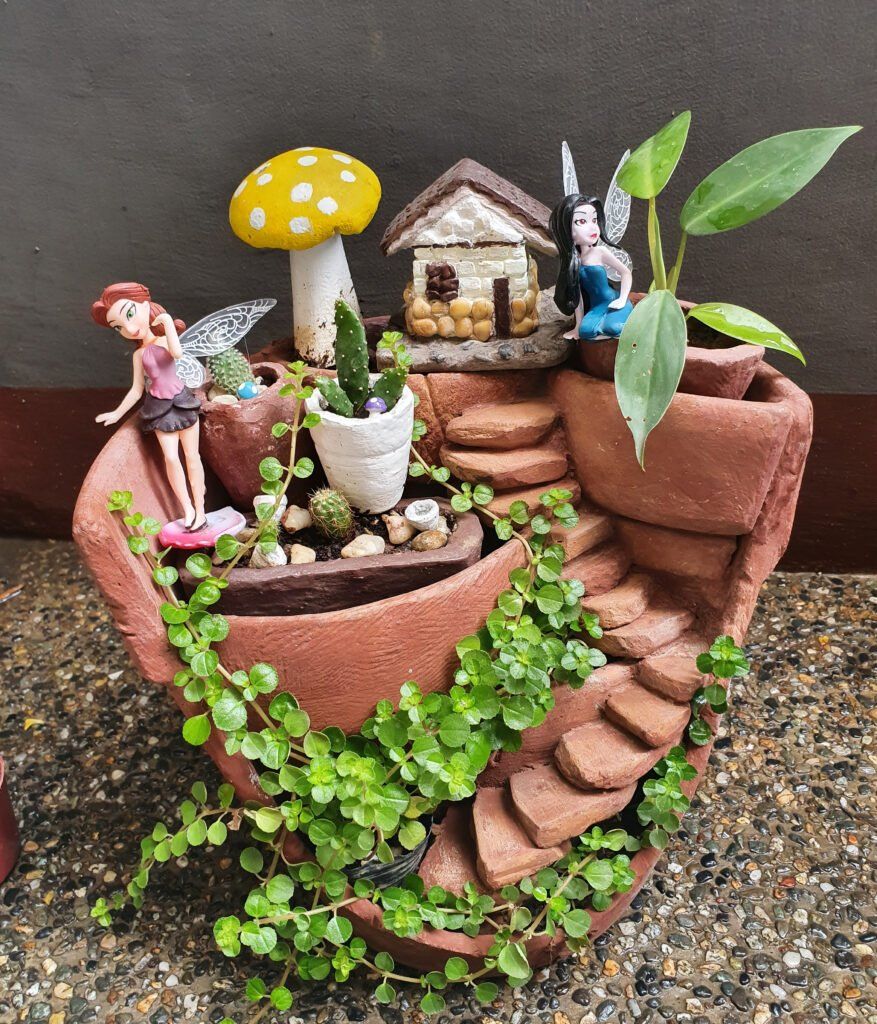 The very best way to make use of a broken pot – a recycled fairy garden!
Here we can see the broken sections have been repurposed to create areas that hold pot plants in place and create a winding pathway to the fairy house door. It's portable and easy to clean too!
18. Fairy Garden Sign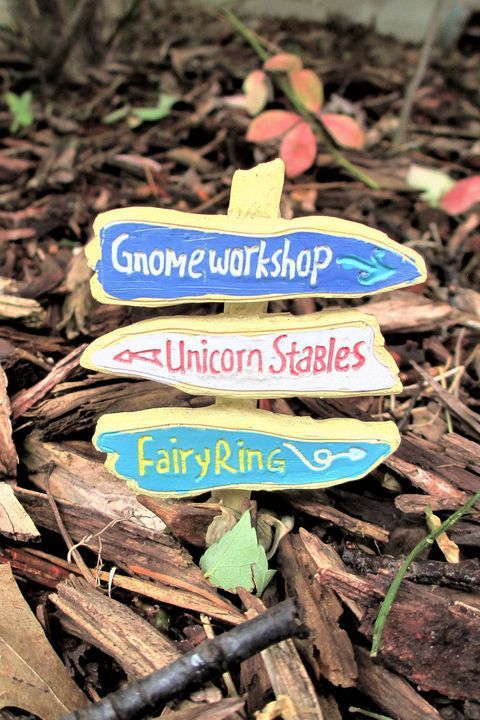 Inject some magic into your fairy garden with a magical sign – gnomes, unicorns, and fairies were here!
Little signs spread around the garden to create a treasure hunt is a cute way to entertain young and older guests. They could point the way to treasure at Halloween, Easter, and birthdays throughout the year.
19. Simple Fairy Garden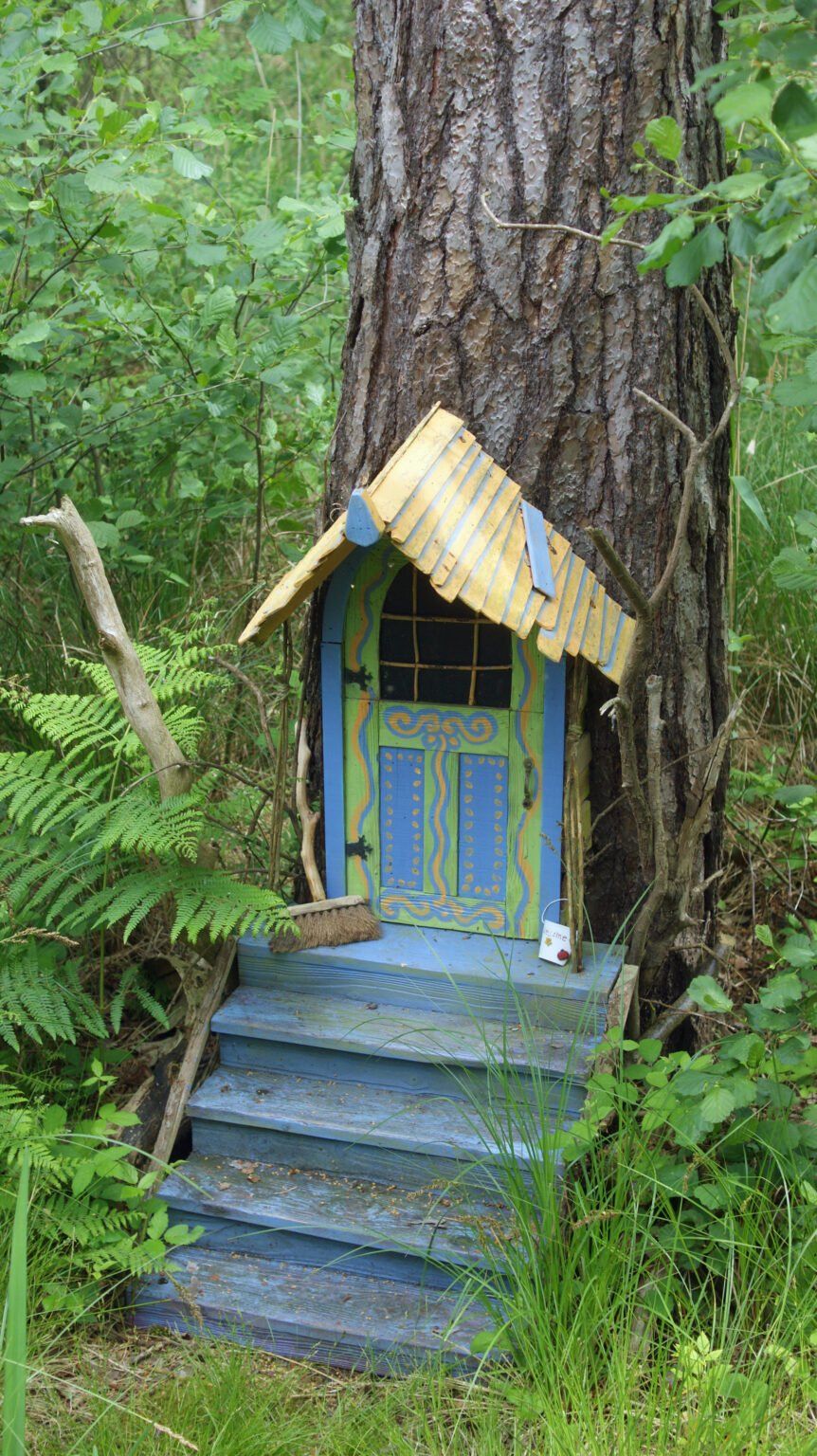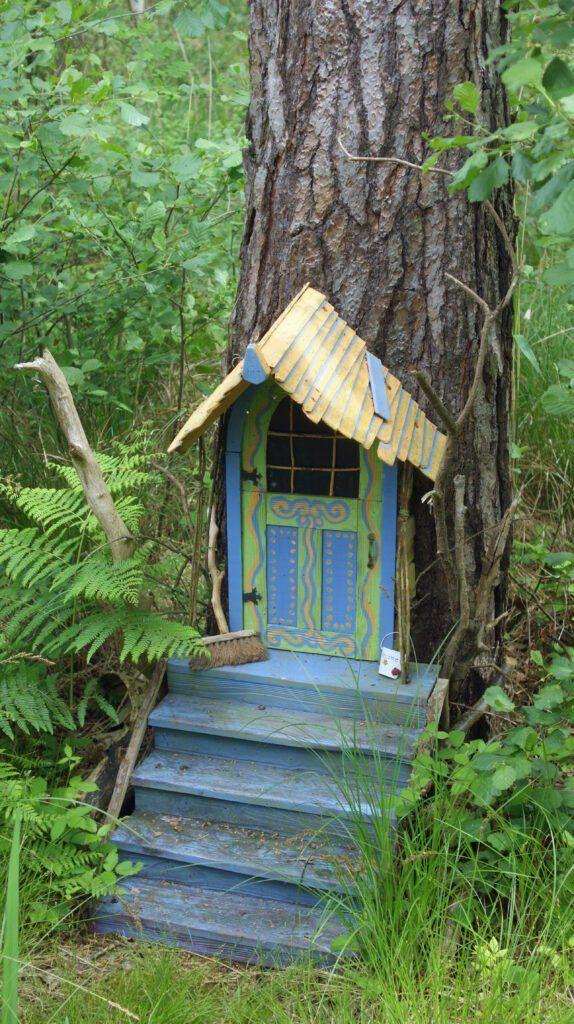 The simplest of fairy gardens are doors placed against tree trunks, fencelines, or plant pots. This gives the illusion of fairies without creating a whole garden of tiny things to clean.
The miniature broom and welcome sign add character. If you have regular visits from kids swap these out so they don't get bored. How about a little pair of shoes or a tiny basket of acorns?
20. Secret Fairy Garden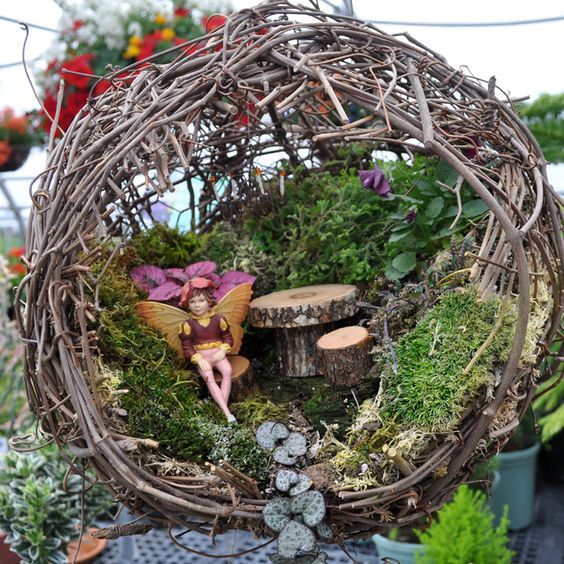 Keep that fairy garden secret above everyone's head. No-one will know you have fairies if they are tucked away in a tree!
Use a sturdy bracket or hang fairy houses from a branch and giggle to yourself as people pass beneath. Only the birds will know!
Fairy gardens are cute little decorative additions to a kids' garden and playroom – or a curiosity to entertain young-at-heart gardeners.
From secret hanging homes to tiny terrariums and recycled plant pots, there's a fairy garden to suit every budget.