The grass will always need cutting, so you're always going to need a lawn mower. It's as simple as that.
Below, you'll find out the exact lawn mower size you need to achieve the perfect cut for your garden. Once you know that, you can choose the mower type that's right for you. Easy!
How Big Is My Lawn?
When thinking about lawn mower size, the first thing to consider is how big your lawn is. Is it small and intimate, or does it get lost on the horizon? Maybe it's somewhere in the middle?
Take a stroll down your garden. You can go prepared with a tape measure or simply count your steps as you walk. Don't worry – the measurement doesn't need to be exact, you only need to calculate your lawn size to the nearest 50 m².
If you're measuring your lawn using just your steps, it pays to know that a man's stride is 76 cm (30 inches) on average, whilst a woman's stride is typically 66 cm (26 inches). Multiply the width by the length to find out the area.
Now you know your lawn size, it's time to think about how long you want to spend cutting it!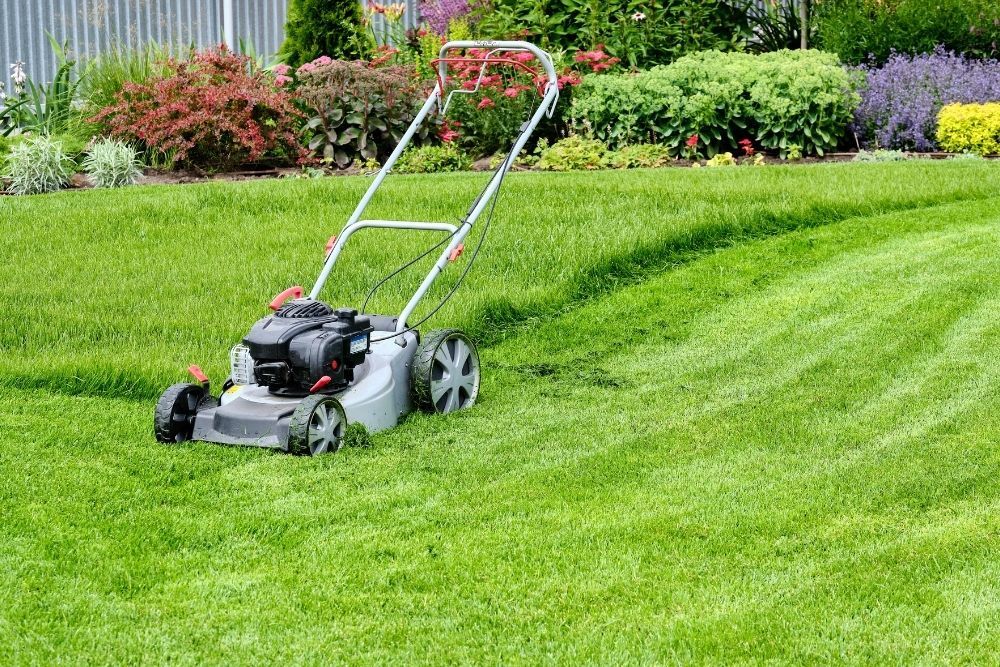 Got Much Time for Mowing?
Do you lead a busy life that doesn't leave much time for mowing? Or are you an avid gardener, and mowing is one of your favourite gardening tasks?
Think about how much time (and patience!) you have for mowing. This will determine the most suitable lawn mower type and size for you – a self-propelled mower will cut the lawn faster than a push mower, but you might not find the speed as relaxing.
Alternatively, if you only have a small lawn, or find the process of mowing therapeutic, you might be happy taking things back to basics with a manual push mower.
The rest of this article will go into detail about the style and size of lawn mower that will be most suitable, based on the size of your garden.
What Lawn Mower Size Do I Need?
So, you've calculated your lawn size and you know how much time you want to spend cutting your grass. Now, it's just a case of checking tables below to work out which size mower will work for your garden.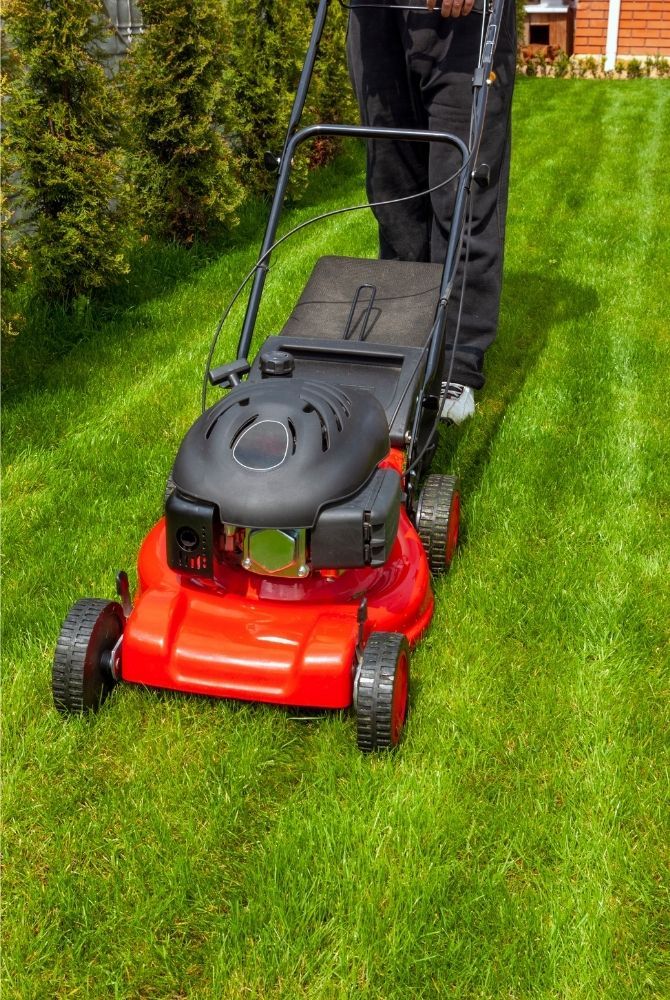 Small Size Lawn
If you've only got a small garden with a lawn under 250 m², a push lawn mower will be the most practical and cost effective choice. But what size?
| | |
| --- | --- |
| Lawn Size (m²) | Recommended Push Mower Cutting Width (cm) |
| Up to 100 | <30 |
| 100 – 250 | 30 – 33 |
m² = metres squared, cm = centimetres.
Medium Size Lawn
A medium garden requires a little more thinking as you've got the choice of a push or self-propelled mower.
| | | |
| --- | --- | --- |
| Lawn Size (m²) | Recommended Push Mower Cutting Width (cm) | Recommended Self-Propelled Mower Cutting Width (cm) |
| 100 – 250 | 30 – 33 | Not recommended – too powerful |
| 250 – 500 | 34 – 36 | 30 – 33 |
| 500 – 750 | 37 – 41 | 34 – 41 |
| 750 – 1000 | 42 – 45 | 34 – 41 |
| 1000 – 1500 | Not recommended – too taxing | 42 – 45 |
m² = metres squared, cm = centimetres.
Large Size Lawn
When lawns start getting over 750 m², you'll want to consider a self-propelled mower. Otherwise, you'll be doing a fairly substantial workout every time it comes to cutting the grass.
You still have a choice of an electric mains-powered mower or a petrol model, but just bear in mind that electric mowers tend to have a cable length of 10 – 12 m.
| | | | |
| --- | --- | --- | --- |
| Lawn Size (m²) | Electric Self-Propelled Mower. Recommended Cutting Width (cm) | Petrol Mower <175 cc. Recommended Cutting Width (cm) | Petrol Mower >175 cc. Recommended Cutting Width (cm) |
| 750 – 1000 | 34 – 41 | 34 – 41 | Not recommended – too powerful |
| 1000 – 2000 | Not recommended – too restrictive | 42 – 53 | 40 – 50 |
| 2000 – 3000 | Not recommended – too restrictive | 54 – 59 | 51 – 56 |
m² = metres squared, cm = centimetres, cc = cubic centimetres.
Which Lawn Mower Should I Buy?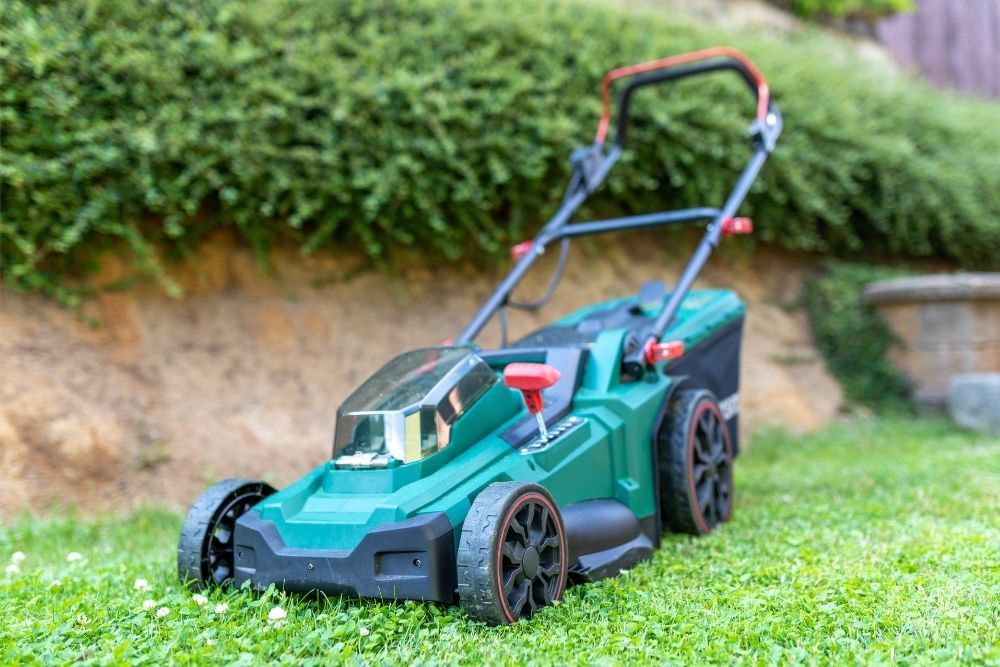 So, you know that a push mower is best for a little garden, whilst the self-propelled option is suitable for both medium and large spaces. However, the decisions don't end there. You'll also need to choose between different styles like cordless, mains powered, petrol, etc.
Let's break down the options based on garden size.
Small Lawn: What Lawn Mower to Buy
For a small lawn, your options are:
Electric mains-powered lawn mower
Cordless (electric) lawn mower
Hover lawn mower
Robot lawn mower
Manual push hand lawn mower
Electric mains-powered mowers are relatively lightweight and easier to manoeuvre than petrol mowers. Their power cords measure around 10 – 12 metres which is generally fine for small/medium. In fact, we've reviewed some of the best electric lawn mowers for small gardens; it's worth a look if you want some viable options!
Cordless battery-powered lawn mowers run for anywhere from 15 – 45 minutes on one charge. Generally, they're more than sufficient for maintaining small lawns, and there are no cables to bother with. You don't even need a plug near the garden which makes them super easy.
Hover lawn mowers are lightweight and easy going on the arms. Plus, you don't have to cut in lines (because you're not restricted by wheels) so you can avoid any stripes or dents in the grass. The downside is that not all hover mowers have a grass collection box, and even those that do often spill grass onto the lawn. However, many hover mowers mulch grass clippings instead of collecting them, which is great news for grass health.
Robot mowers are a bit more of a recent invention (or are they? Take a look at our robot lawn mower article to find out when they first came on the scene!). They're great for hassle-free mowing and perfect to use in a small garden.
Alternatively, if you like the simple life, consider a manual push mower. It requires minimal maintenance and there's no need for batteries or electric cables. Plus, these simple mowers are practically silent, too!
Medium Lawn: What Lawn Mower to Buy
For medium lawns your options are:
Electric mains-powered mower
Petrol mower
Cordless (electric) lawn mower.
The electric mower can easily be moved around medium gardens and won't take much time to cut your grass to the right length. But it's vital to consider the cable length – is the cable long enough to reach the farthest corners of your garden? Power cables on electric mowers are generally between 10 – 12 m (you can check out our page on mains-powered mowers for a better idea!).
Otherwise, you could opt for a cordless mower if you're struggling to find an electric mower with an appropriate cable length. When it comes to medium gardens, checking battery life is especially important – you don't want the battery to die halfway through. I'd recommend getting a spare battery where possible, it's the best approach with cordless machines.
Petrol mowers are a good choice for medium/large gardens. They generally offer plenty of power, which makes them suitable for tackling longer grass and mowing quickly. Here at DIY Garden we've extensively tested some of the best petrol mowers on the market, so we've got a good idea of how they perform!
Large Lawn: What Lawn Mower to Buy
For large lawns your options are:
Electric mains-powered mower
Petrol mower
Ride-on lawn mower
If you are keen to stick with an electric model, you might find that the mains power cable is what creates the biggest obstacle. At most a mains-powered lawn mower will have a cable of 12 m. This is no-where near long enough for a lot of large gardens, so you'll probably find it necessary to use an extension cable which can be both time consuming and hazardous.
Most people find a petrol mower to be the most convenient for a large lawn. These are powerful and can come with pretty large cutting widths in order to speed through the job. Naturally, one of their main benefits is that they offer cordless freedom, without any battery restrictions.
Opt for a ride-on mower if you want to go one step further and make mowing as easy as possible. You'll cover sizeable square footage in no time at all, and all with minimal effort made! Unfortunately, the downfall of a ride-on mower is the time spent maintaining it. They're not all fun and games, unfortunately! They'll need regular servicing and lots of TLC.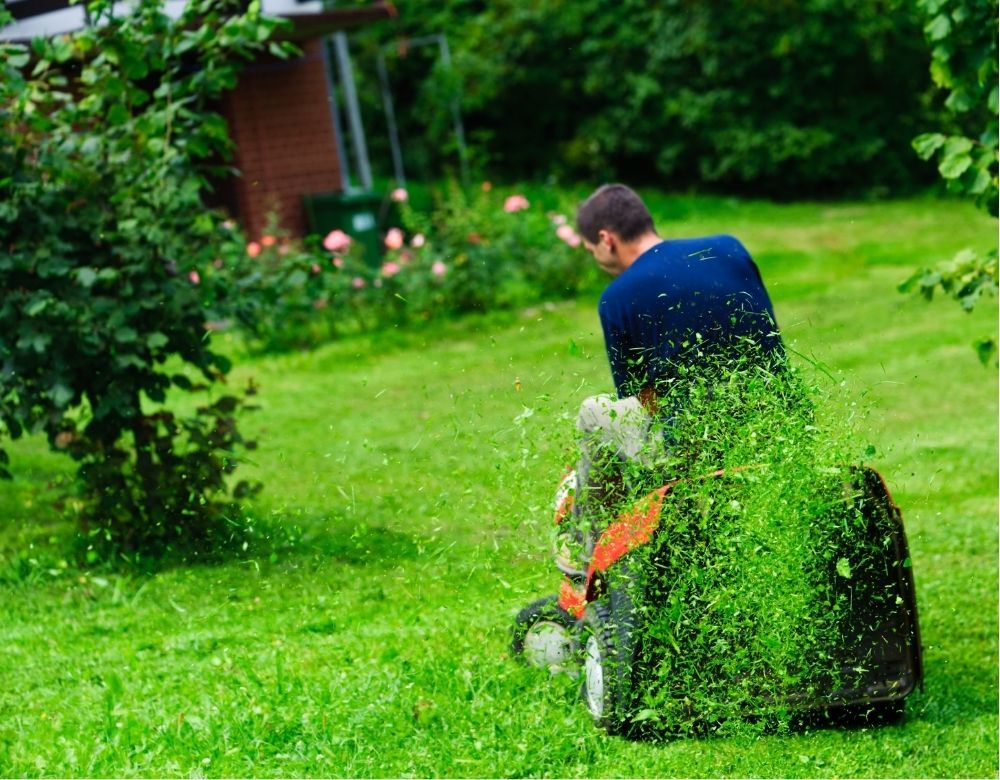 Let's Go Buy a Lawn Mower!
Now you know all there is to know about mower types and sizes, there's only one thing left to do – buy a lawn mower!
To recap: for a small garden under 250 m², you don't need to fork out for a self-propelled mower. The best mowers for a small garden are electric, cordless, hover, manual or robot.
With a medium garden (up to around 750 m²), you can can go either way – push or self-propelled. Check electric and cordless mowers for suitability, or choose a petrol mower for an easy decision.
To avoid a mammoth workout, choose a self-propelled mower for large lawns over 750 m². The most practical mower will be petrol; however, if you're against using petrol machines you might be able to get a mains-powered mower, or even a cordless mower, to work for you – the cable length and batteries will be the biggest obstacles. Alternatively, you could make mowing the garden a real pleasure with a ride-on option. But don't forget to service it!